This collection of the 32 best gourmet burger recipes features mouthwatering creations that are guaranteed to tempt any appetite. These unique burgers cover everything from traditional beef burgers, to pork, wild game, and even vegetarian options. So if you are craving a good burger, you came to the right place!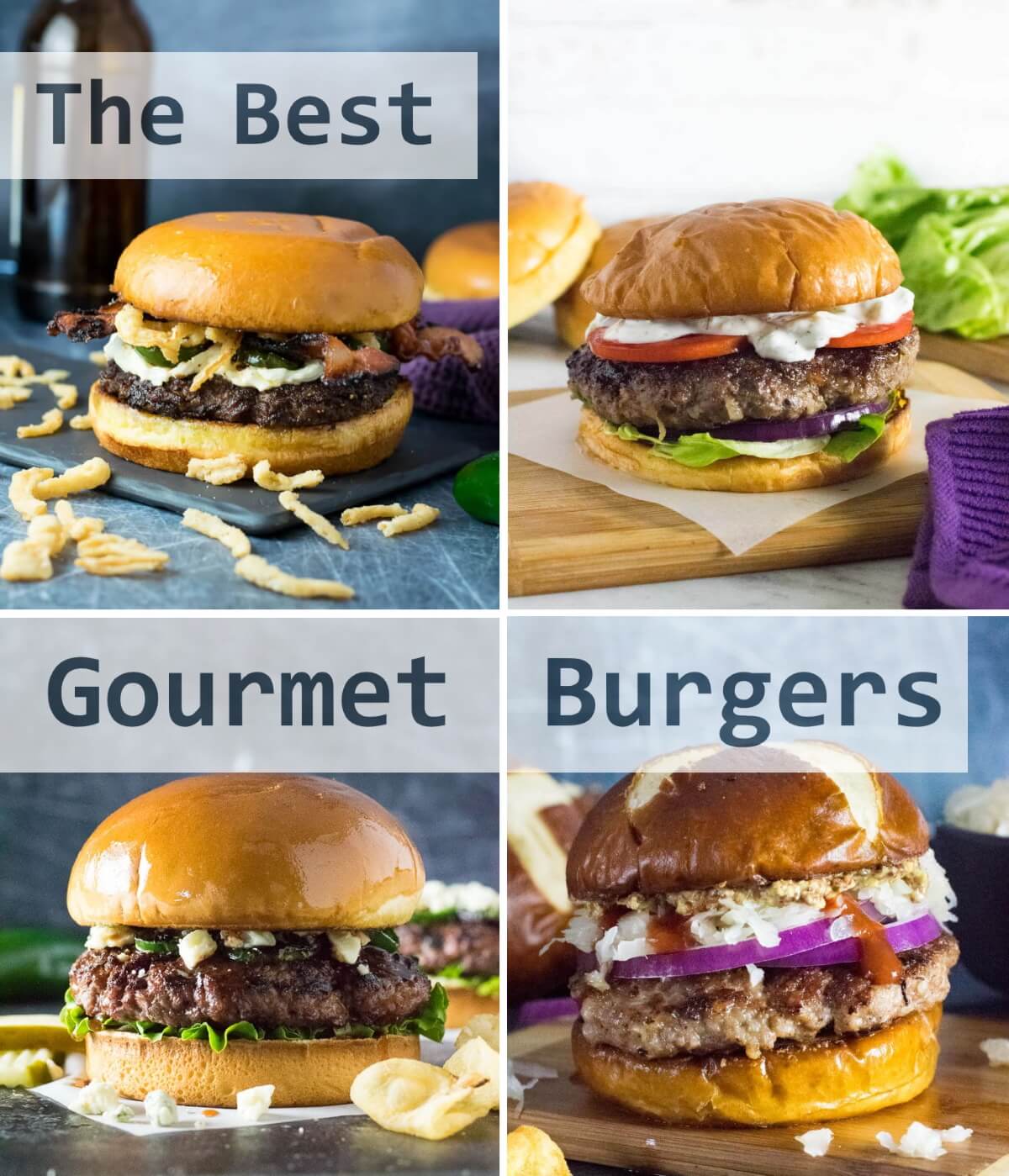 Gourmet Beef Burgers
These juicy pub burgers are topped with melted sharp Cheddar cheese, sweet caramelized onions, and a tangy mustard sauce generously slathered on a pretzel bun.
Everything is better with butter and these burgers are no exception! Take one bite of these incredibly tasty burgers and see what all the fuss is about.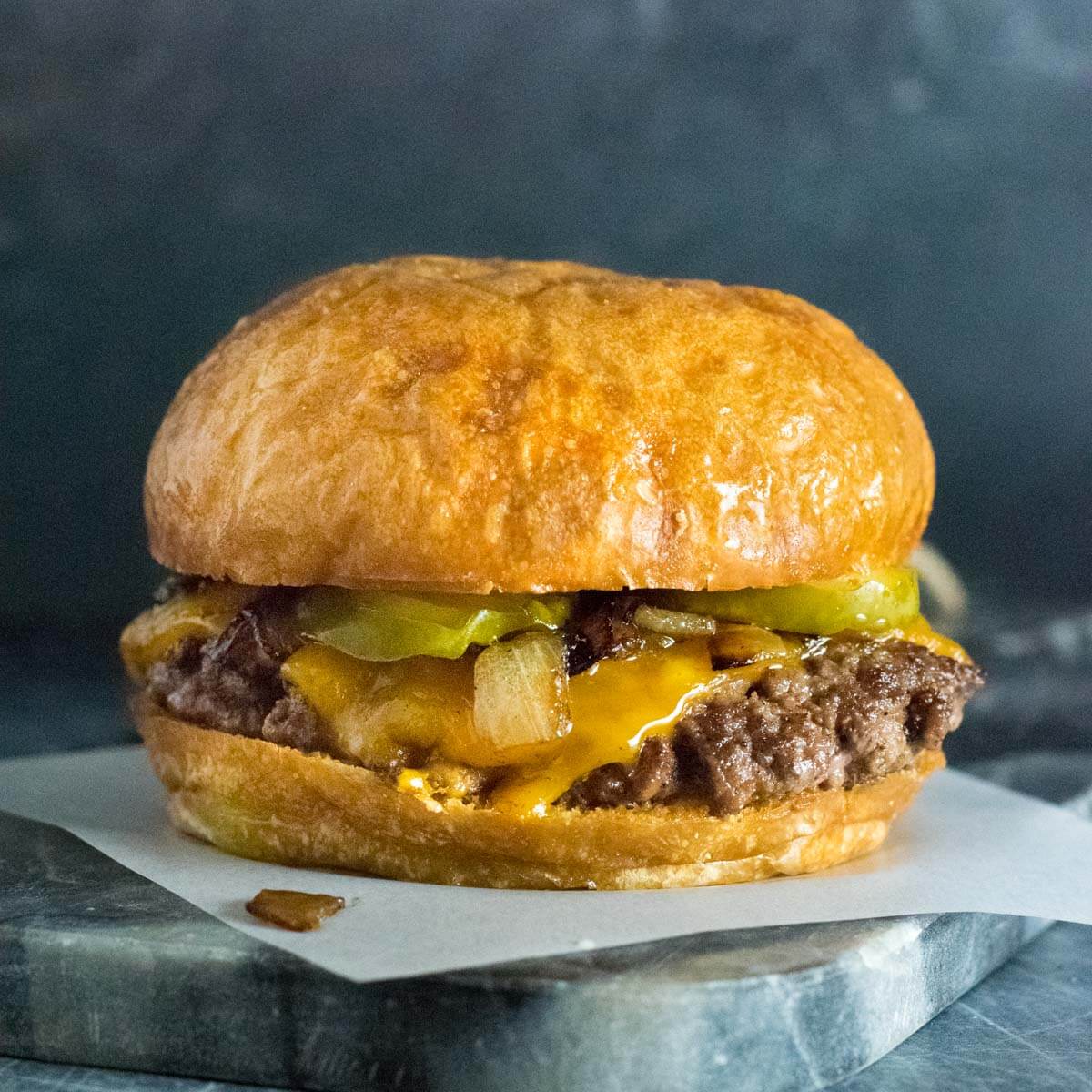 Quite simply, this is the best mushroom Swiss burger you are going to find. Rather than simply topping a patty with sauteed mushrooms and Swiss cheese, this gourmet recipe goes one step further to construct an incredible mushroom gravy to slather over everything!
Making hamburgers in your smoker infuses each bite with deep smoky flavor. You can customize these burgers with your favorite toppings, or keep it simple and use my creamy steak sauce mayo with Cheddar cheese and red onion.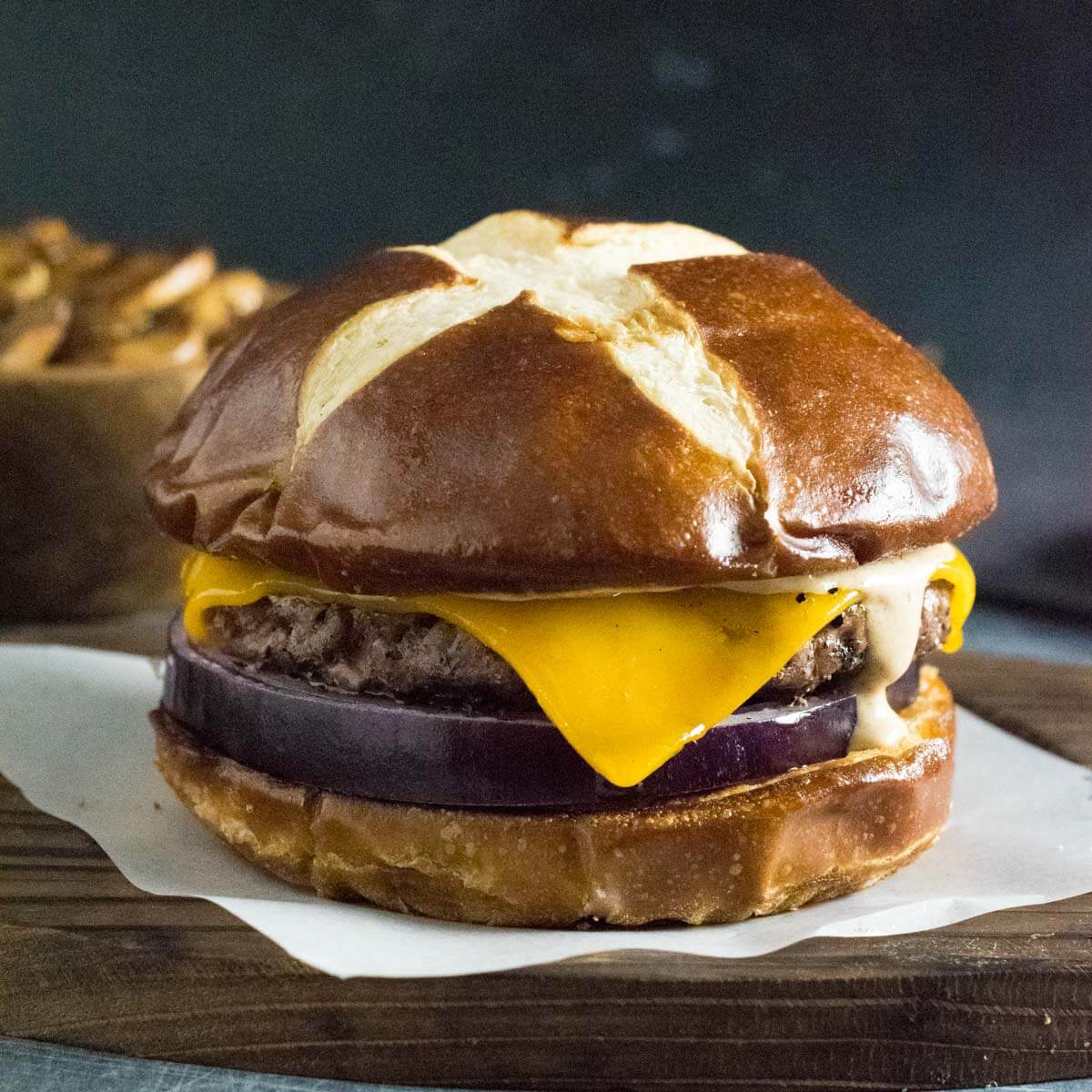 Check out this sweet and smoky burger topped with sticky bacon jam! You'll be licking your fingers long after this burger is gone.
Anyone can make a bacon cheeseburger, but to really make the best bacon cheeseburgers ever you need to understand the tips and tricks that most people miss.
Anyone familiar with wagyu beef already knows this is the ultimate gourmet burger. For the best flavor, you absolutely don't want to overcook this savory patty.
This is the classic bacon and blue cheese burger found at any gourmet burger eatery... but better! This recipe perfects the bacon blue burger by pairing it with a balsamic mayo and a pretzel roll.
Attention onion lovers! These juicy patties are loaded with sweet and sticky caramelized onions, a dollop of balsamic mayo, and served on an onion roll.
Loaded with jalapenos, blue cheese, and a sweet and spicy burger sauce, this is the perfect burger when you really want to bring the heat! A must-try for any heat lovers!
Attention jalapeno popper lovers! This is the burger you have been waiting for! Ranch-seasoned cream cheese, sauteed jalapenos, and crispy fried onions combine to create this savory gourmet burger with just the right touch of heat.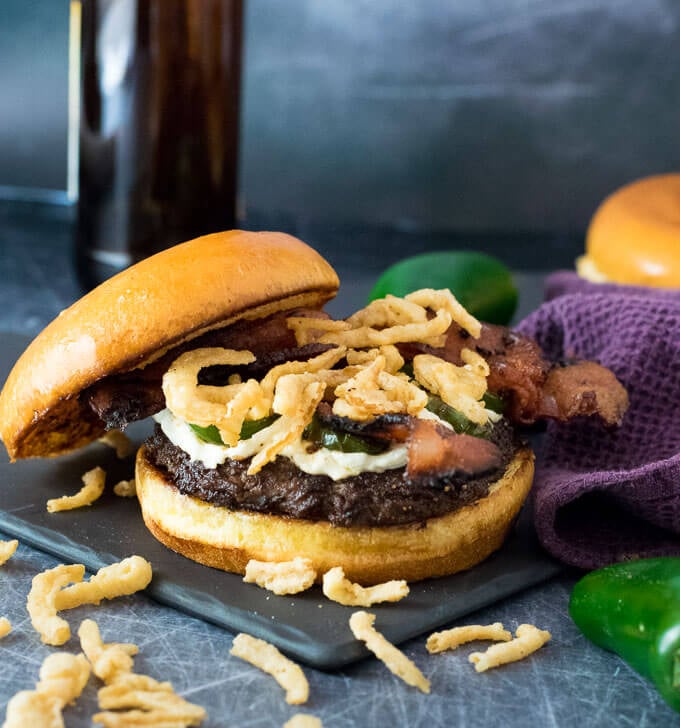 Skip the buns! These keto-friendly burger bowls are a flavorful low-carb option for the burger lover who is trying to cut carbs in their diet.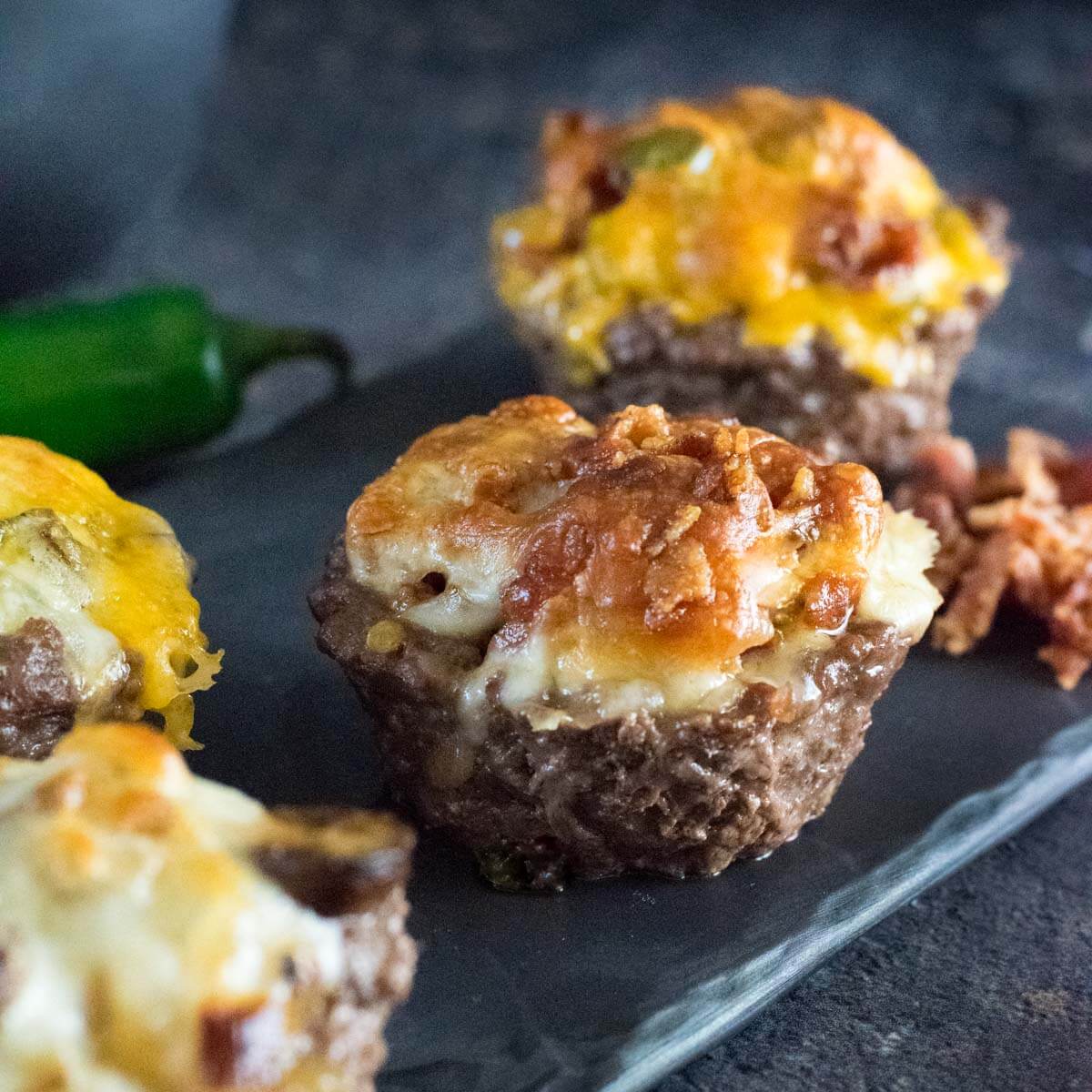 These truffle burgers are a must-try for any burger lover. Pickled onions provide a deliciously tangy contrast to the bold umami flavor of the truffle burger sauce.
Non-Beef Burgers
I love this versatile gyro burger because it can be made with ground beef, ground lamb, or a mixture of the two. However you decide to craft it will be delicious!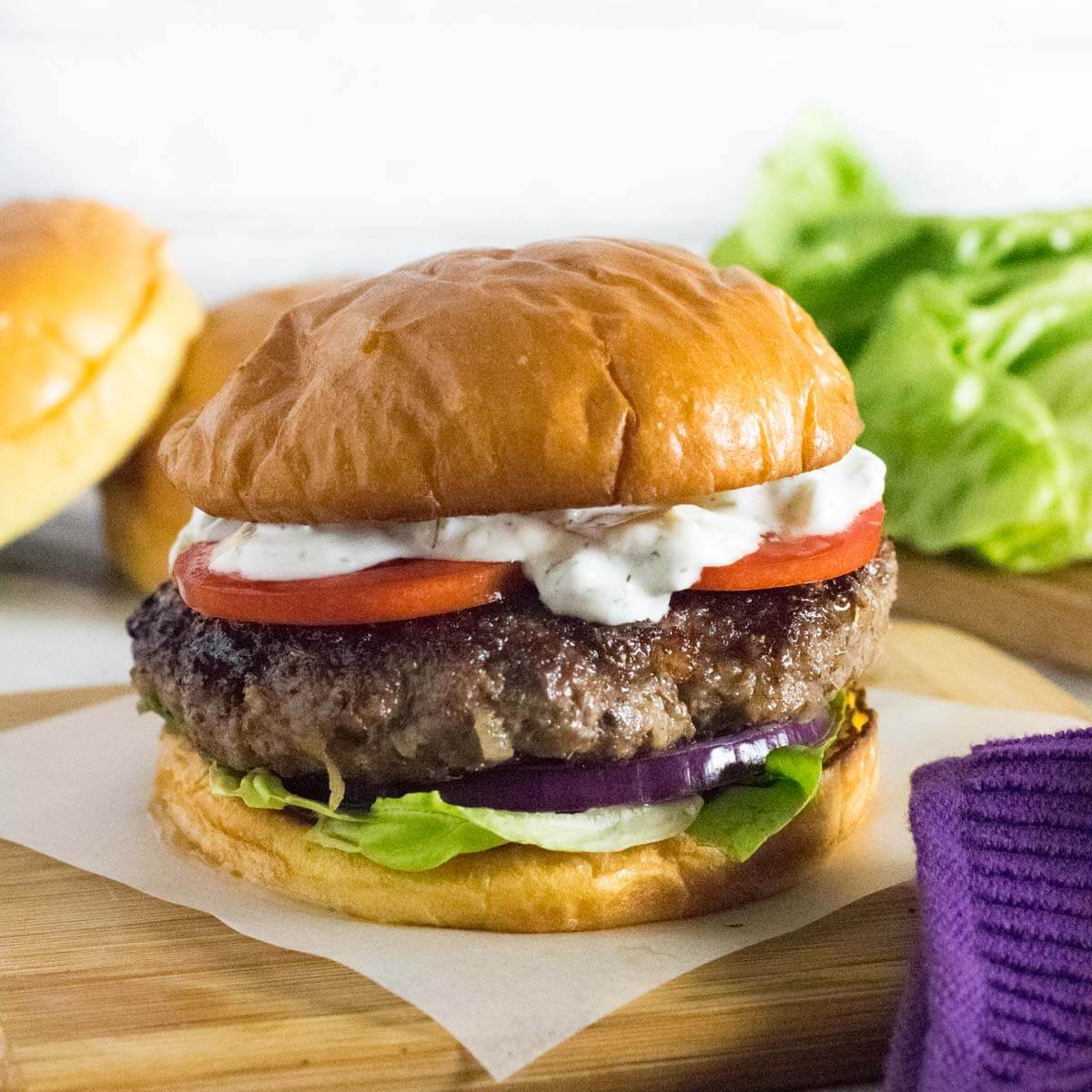 If you are lucky enough to have a freezer full of deer meat, grab some ground venison and cook up the best venison burger you have ever savored.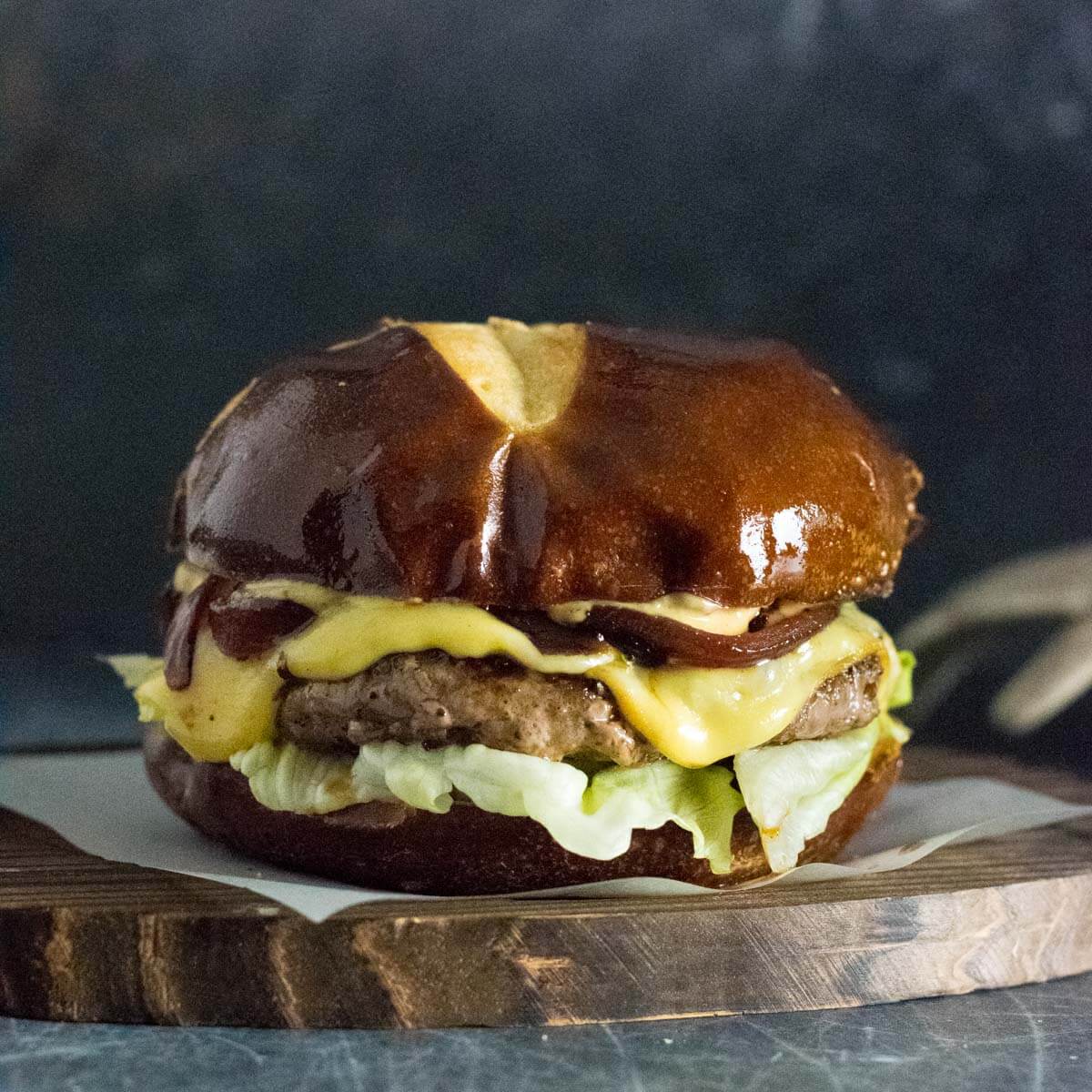 Chicken burgers are leaner than beef patties but choosing these healthier options doesn't mean they are skimping on flavor. Take one bite of these delicious homemade chicken burgers loaded with barbecue seasoning and you will see what I mean!
If you love grilling bratwurst, stop what you are doing and give these brat burger patties a try! Ground pork is aggressively flavored with brat seasonings and then topped with sauerkraut and onion.
The bold flavors of jerk seasoning permeate every nook and cranny of these ground pork patties. Add a few dabs of habanero hot sauce to really set the flavor on fire!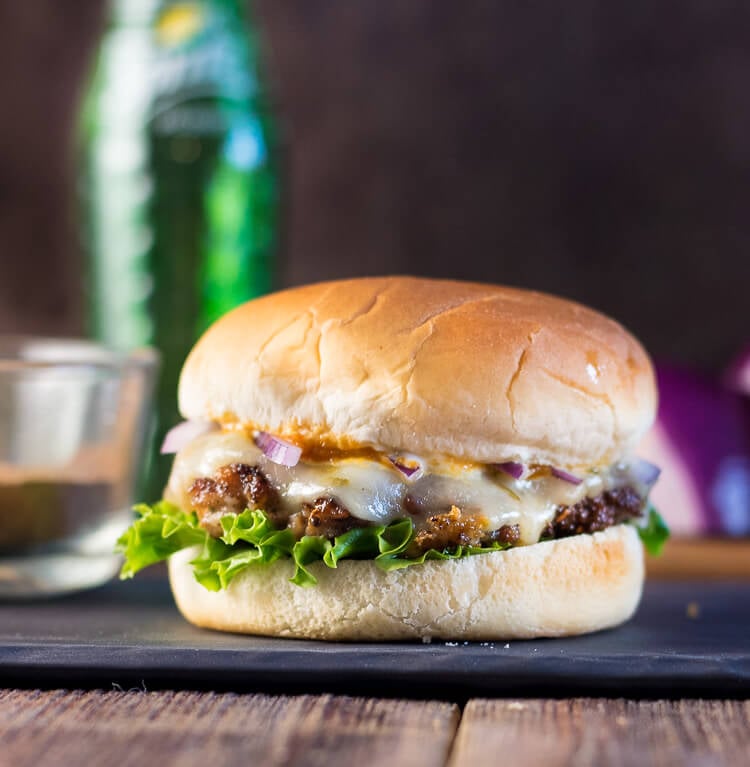 These blended chorizo patties may just be the most flavorful burgers I've ever savored. The non-traditional blend of pork chorizo and ground beef topped with avocado and melted cheese is simply a must-try!
Pineapple on a burger? Heck yeah! The sweetness of grilled pineapple pairs perfectly with the Caribbean-flavored pork patties!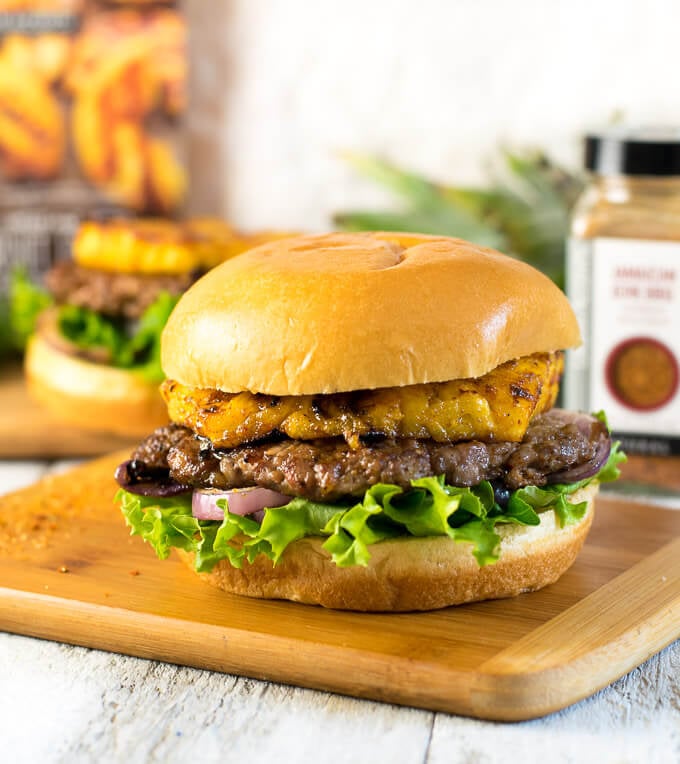 Vegetarian Gourmet Burgers
This hearty and healthy option tastes great and is loaded with your favorite seasonings from the southwest. These are quite simply the best veggie burgers you will find!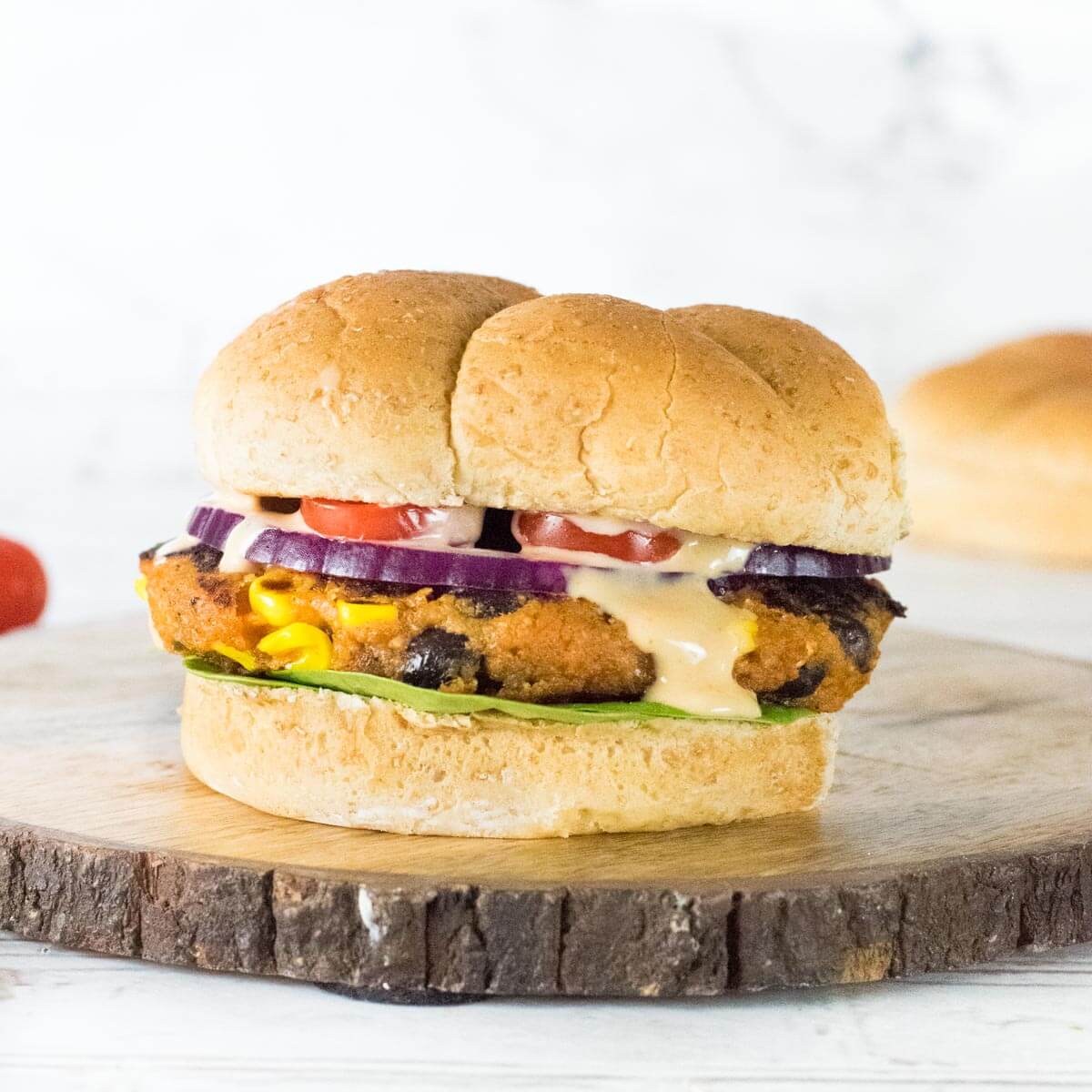 If you aren't quite ready for a true vegetarian burger, try this blended burger patty that is crafted with a mixture of lean ground beef and diced mushrooms. It is lower in calories, but huge in flavor. This is a great burger to serve on brioche buns!
Swap out the beef patty for a marinated portobello mushroom cap topped with arugula, red onions, and a creamy pesto mayo. You don't have to be a vegetarian to enjoy the explosion of flavors in this mouthwatering creation.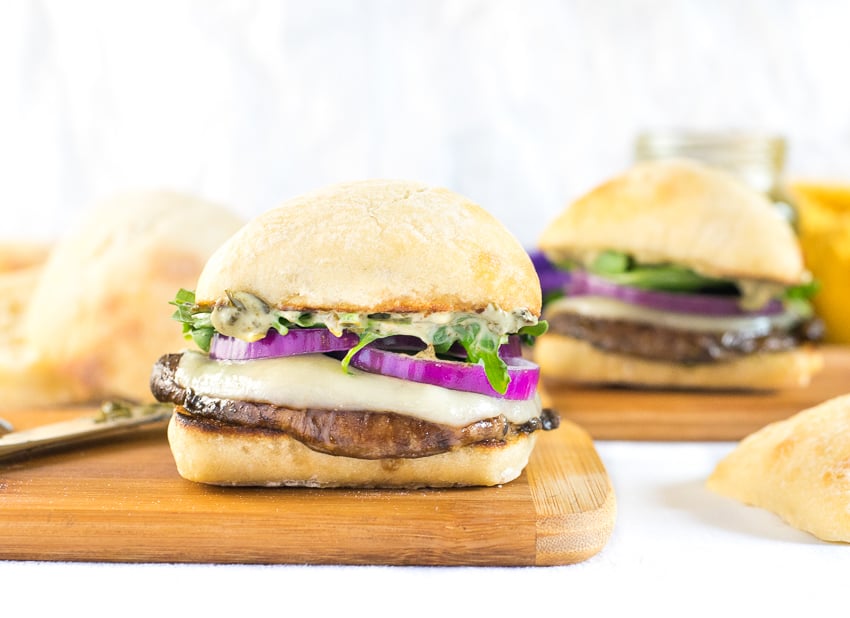 This restaurant-caliber vegetarian burger recipe was originally served on a gourmet burger food truck, but now you can make these vegan burgers in your own kitchen!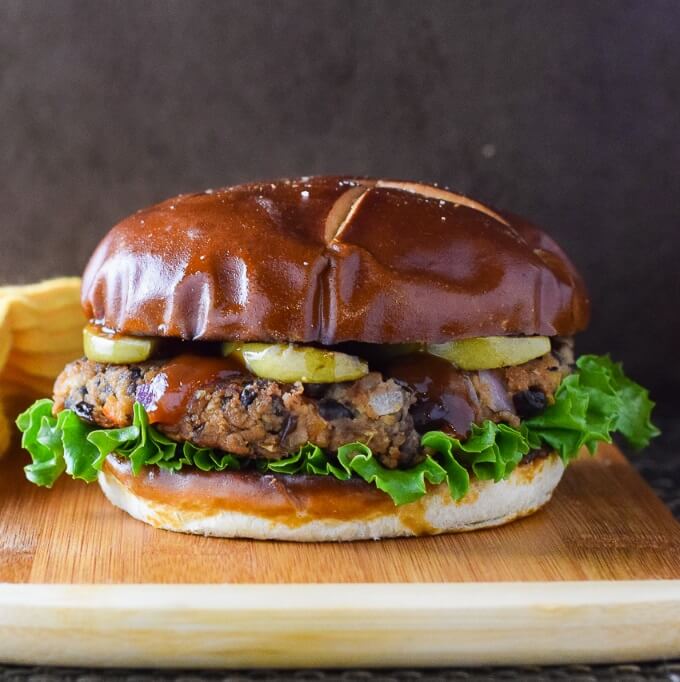 Gourmet Burger How-Tos
To make the best gourmet burgers, you have to be able to make the best hamburger patties. Check out this in-depth tutorial to make your own restaurant-quality homemade burger patties at home.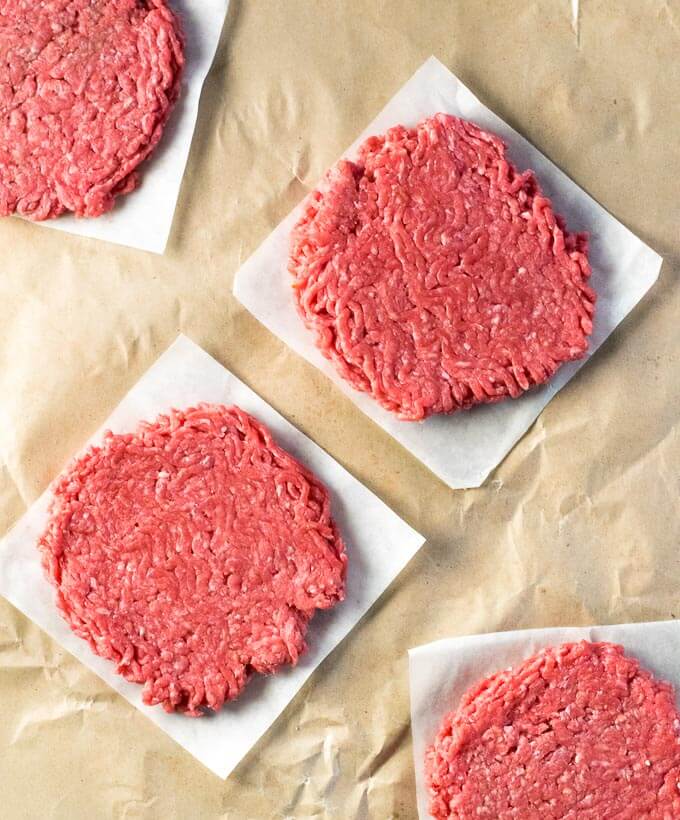 Don't let the name fool you! Fast food burgers can absolutely be gourmet creations if prepared properly. If you love smash burgers, check out how to make these flavorful thin burger patties at home and skip the drive-through window.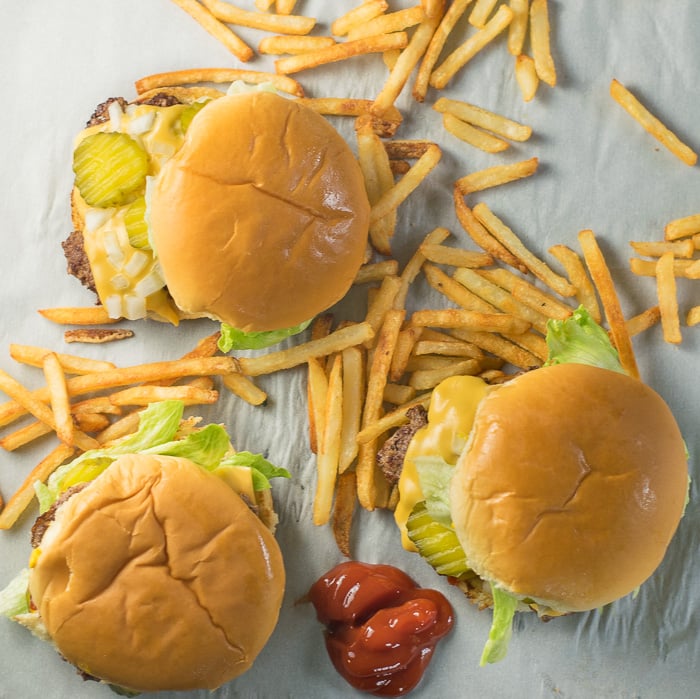 If you are looking to bring your grilled burgers to the next level, check out my how-to-grill burgers tutorial for in-depth tricks and tips!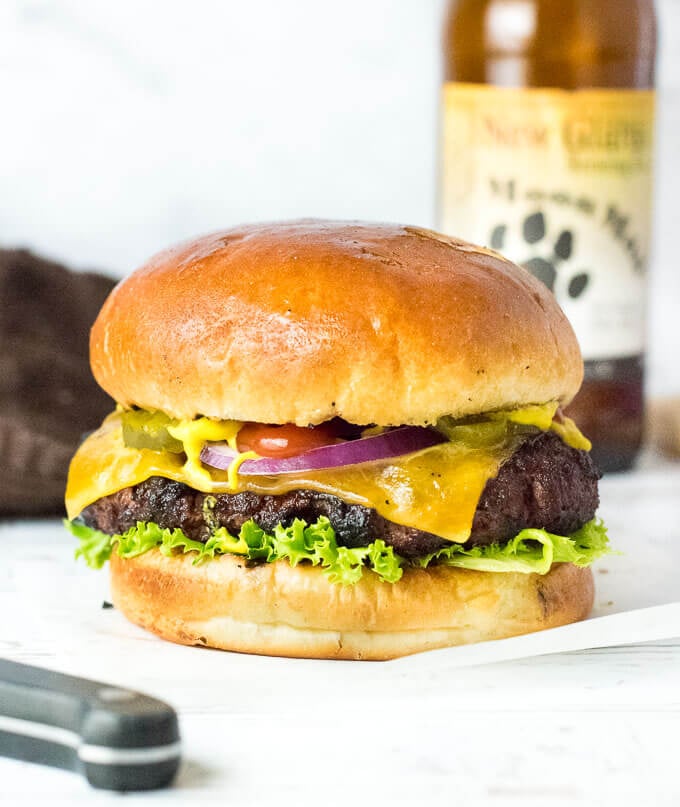 Whether you have never made a deer burger before, or are just looking to take your wild game burgers to the next level, take a look at this tutorial that covers everything from grinding venison to forming the perfect patty.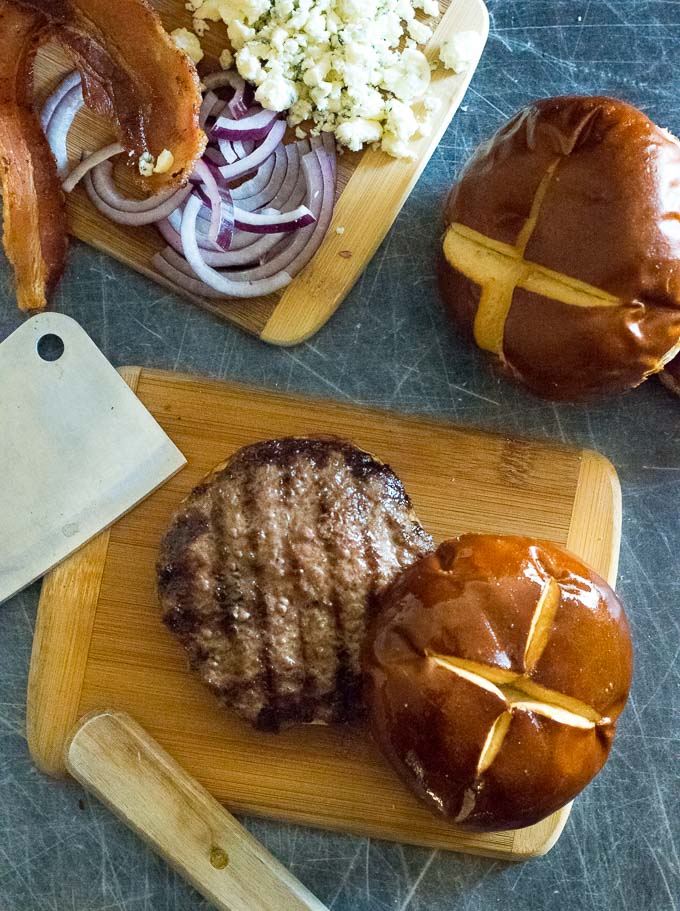 Gourmet Burger Condiments
A generous mixture of black pepper, balsamic vinegar, and mayonnaise is used to craft this creamy condiment which pairs particularly well with blue cheese.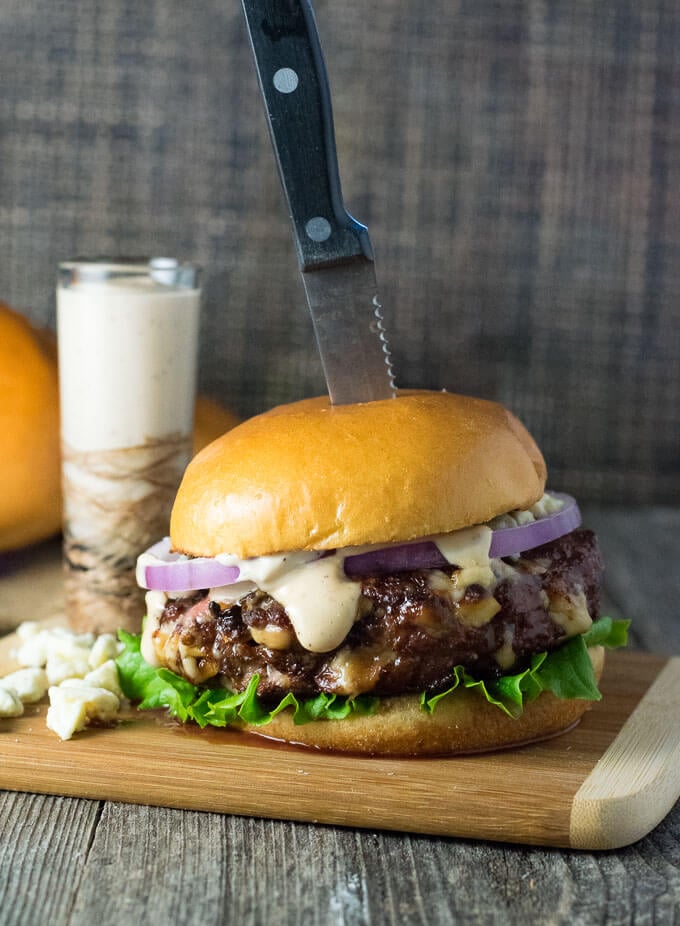 This tangy mixture of mayo, mustard, vinegar, and seasonings is the perfect addition to your favorite homemade burgers.
Make your own homemade big mac sauce with this perfect copycat recipe. This is perfect for making your own Big Macs at home, or just to use as a condiment with your own creations.
Upgrade any burger with this flavorful ketchup infused with the bold flavors of your favorite cocktail. This condiment is equally good to pair with French fries.
♥ Gourmet Burgers
If you love gourmet burgers as much as I do, I hope you were able to discover your next favorite burger creation. As always, feel free to get creative with your favorite additions and toppings. After all, the best burger recipes are the ones YOU enjoy most!