This Black Bean Burger with Seared Apple and BBQ Sauce is both hearty and packed with flavor! You don't have to be vegetarian to enjoy this burger!
My Black Bean Burger with Seared Apple and BBQ Sauce is a tried and true recipe I've made for years.  I actually developed this recipe when I briefly owned a food "truck".  Truck is in air quotes because I think a vehicle should actually have to run in order to be deemed a "truck".  Nonetheless, the moral to this story is my Black Bean Burger recipe won't leave you stranded in Georgia while waiting to be rescued by a castmember from Deliverance.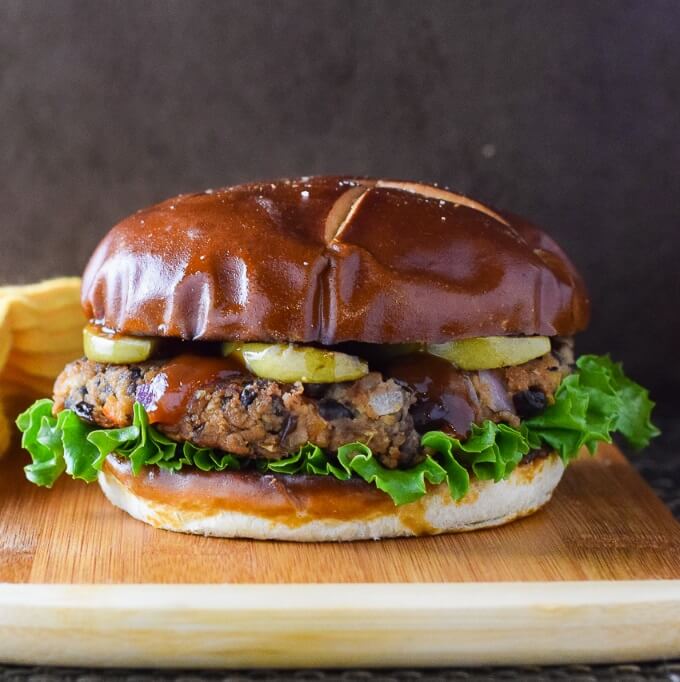 Do Black Bean Burgers Taste Like Beef
Anyone trying to convince you a meat substitute tastes like meat is trying to sell you a truckload full of tofu excrement. Black bean burgers do not taste like beef, but that doesn't mean they don't still taste great! Black bean burgers are full of contrasting textures and packed with seasoning, there is no reason not to enjoy them exactly for what they are.
Are Black Bean Burgers Good For You?
Black bean burgers are full of black beans, fresh produce, and seasonings, making them exceptionally healthy. If you want to make your black bean burger even healthier you can remove the bun and replace it with a healthy wrap instead. 
How to Make a Black Bean Burger
There are some tips and tricks to making a good black bean burger.  As the name may allude to, black beans are the most important ingredient.  That is what constitutes the "meat" of this vegetarian burger.  You'll want to ensure you sufficiently mash up the beans into a chunky paste when making this recipe.  Failing to do so will result in an overly crumbly black bean burger.
However, you don't want to over mash them either because you want to retain some texture from the beans. You can use a fork to mash the beans, but I find a potato masher (affiliate link) works more efficiently.  It does a good job mashing a wide area while still leaving some beans intact.
Similarly to making a classic meatloaf, breadcrumbs and egg will hold the black beans together as a binder. You will want to use classic breadcrumbs. If you substitute Panko, you will need a different ratio. 
Black Bean Burger with Seared Apple and BBQ Sauce
In my humble opinion, serving this hearty patty on a pretzel bun makes the best black bean burger! The chewy texture of a pretzel bun is a great compliment to the hearty vegetarian burger patty. I also believe the tart flavor of a Granny Smith apple pairs best with this burger and also stands up well to cooking.
Additionally, I find using a sweet and slightly spicy BBQ sauce to be the ideal condiment.  I recommend my Homemade BBQ Sauce. It plays really nicely with the hearty burger and the sweet Granny Smith apples.
What to Serve with Black Bean Burgers
Serving up fatty classic french fries would feel out of place with this healthy black bean burger. Instead, pair this meal with Oven-Baked Sweet Potato Fries and Cilantro Lime Sour Cream Sauce for dipping. I promise you, your lunch will be better than an order at any bistro!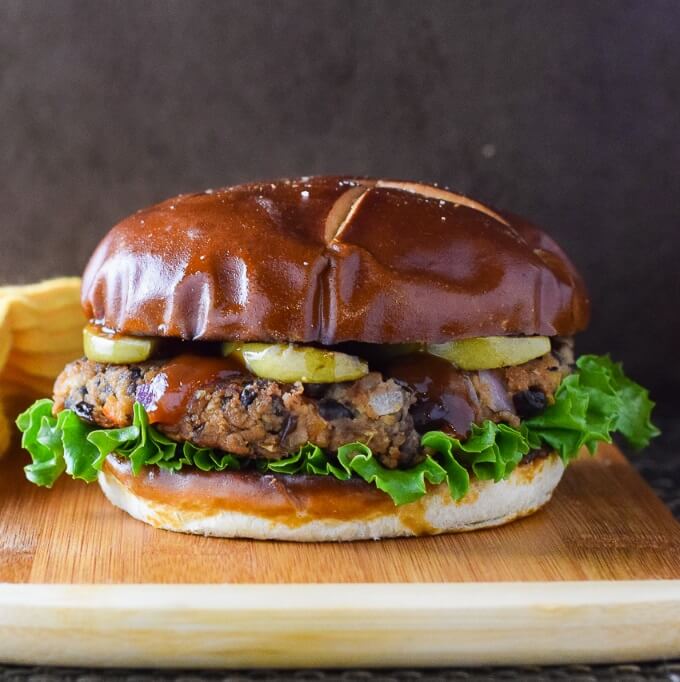 Print Recipe
Black Bean Burger with Seared Apple and BBQ Sauce
This Black Bean Burger with Seared Apple and BBQ Sauce is hearty and packed with flavor! You don't have to be vegetarian to enjoy this burger!
Ingredients
Patties
15

oz

can Black Beans

(rinsed and drained)

1/3

Green Pepper

(seeded and diced)

1/2

Red Onion

(diced)

3

cloves

Garlic

(minced)

1

Egg

1/3

cup

Breadcrumbs

2

tsp

BBQ sauce

1

tsp

Salt

1

tsp

fresh Black Pepper

1/4

tsp

Onion Powder

1/4

tsp

Garlic Powder

1/4

tsp

Paprika

1/4

tsp

Oregano

Oil for skillet
Fixin's
4

Hamburger Buns

4

Leaves

Green Leaf Lettuce

1

Granny Smith Apple

cut into 16 slices
Instructions
Patties
Drain and rinse beans and then mash in a bowl to form a chunky paste.

Add all remaining ingredients, minus oil, to the beans and combine thoroughly.

Form into four patties.

Place in lightly oiled skillet, working in batches as needed, and cook on medium heat until brown crust forms, flip and repeat. Patty should firm up during cooking, if not, turn down the heat and let it cook through.
Fixin's
Lightly butter inside of buns and toast in heated skillet until buns begin to brown..

Add apple slices to skillet and sear until tender, but not mushy.
Assembly
Place one slice of lettuce on each bun, top with black bean burger, 4 apple slices, and BBQ sauce.

Serve Immediately
Loved this recipe?

Be sure to rate it and share you thoughts below!
*Calories listed are a vague estimate and accuracy should not be assumed.
This recipe was originally published on FoxValleyFoodie.com January 6, 2016.
If you enjoyed my Black Bean Burger with Seared Apple and BBQ Sauce recipe then you should probably like me on Facebook and follow me on Pinterest too. That's what I would do at least, because if you don't get to know me but you still use my recipe it is kind of like taking candy from a stranger, and your mom taught you not to do that. Don't disobey your mom, subscribe to Fox Valley Foodie today.