This Big Mac Sauce copycat recipe is so close to the McDonald's special sauce, you won't be able to taste the difference!
This is as similar to the real thing as you are going to get. I watched a video of one of McDonald's executive chefs making the Big Mac Sauce and did my best to replicate the ingredient ratios. It took a bit of trial and error, but the taste is spot on!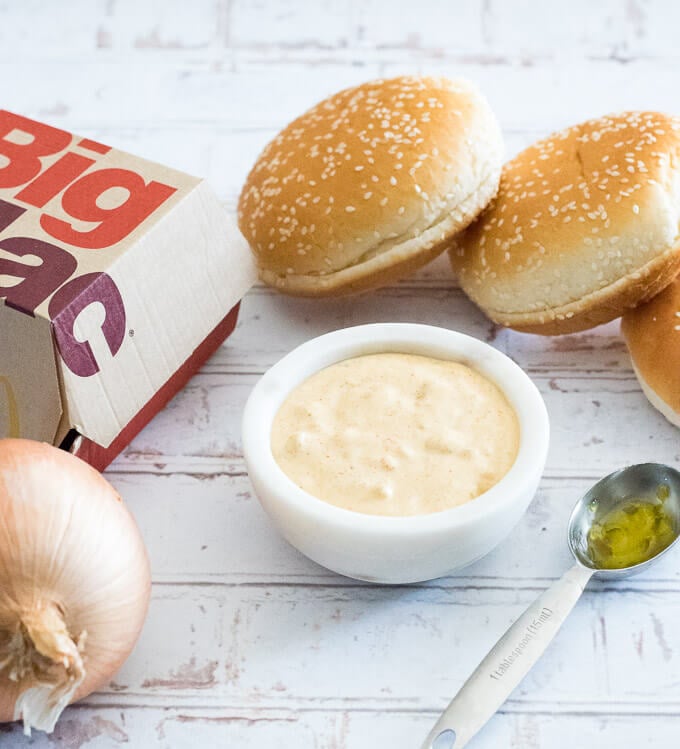 Is Big Mac Sauce the same as Thousand Island Dressing?
I spent most of my life believing McDonald's Special Sauce was simply Thousand Island dressing. Big Mac Sauce is not Thousand Island dressing. Thousand Island dressing requires tomatoes, which isn't actually an ingredient in authentic Big Mac Sauce.
For this same reason, I also make my Big Mac Sauce without French dressing. You will find 95% of the Big Mac Sauce recipes on the web call for French dressing. Don't be fooled. Though, I will admit the flavor is in the right ballpark, but, *spoiler alert*, it still tastes like French dressing.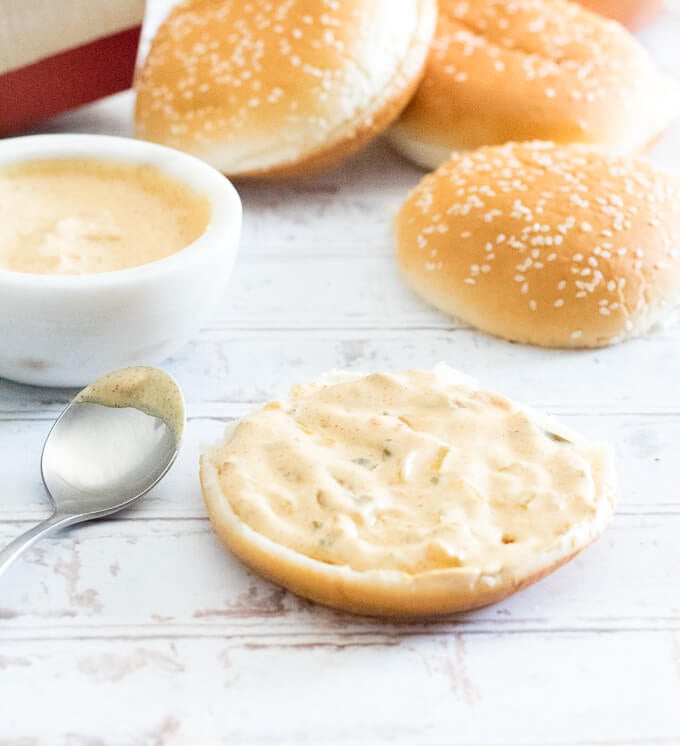 What are the Ingredients?
How do I know there are no tomatoes in McDonald's Special Sauce? Because, I looked up the ingredient list. This is what is in McDonald's Big Mac Sauce:
Soybean Oil, Pickle Relish (Diced Pickles, High Fructose Corn Syrup, Sugar, Vinegar, Corn Syrup, Salt, Calcium Chloride, Xanthan Gum, Potassium Sorbate (Preservative), Spice Extractives, Polysorbate 80), Distilled Vinegar, Water, Egg Yolks, High Fructose Corn Syrup, Onion Powder, Mustard Seed, Salt, Spices, Propylene Glycol Alginate, Sodium Benzoate (Preservative), Mustard Bran, Sugar, Garlic Powder, Vegetable Protein (Hydrolyzed Corn, Soy and Wheat), Caramel Colour, Extractives of Paprika, Soy Lecithin, Turmeric (Colour), Calcium Disodium EDTA (Protect Flavour)
How to make it
I'm going to go out on a limb and assume you don't have a pantry full of preservatives and chemical binders, so let me break this down into ingredients you understand. Based on the above ingredient list, you will need sweet pickle relish, mayo, vinegar, mustard, garlic powder, onion powder, and paprika. That sounds a lot more reasonable, doesn't it?
Make the sauce simply by mixing the ingredients together, then store it in the refrigerator overnight to allow the flavors to meld. You can enjoy it immediately if you are impatient, but letting it meld makes a big difference.
FAQs
Can You Add Big Mac Sauce to any burger?
Yes! This sauce isn't just great on a McDonalds burger, use it on any homemade burger you are craving. It is even great on thick, gourmet-style, patties.
How should I store it?
Store this sauce in an airtight container in your refrigerator. As a mayo-based sauce, it will spoil at room temperature if left outside of the fridge. It will also develop off-flavors if it is not sealed properly/
What are some other ways I can use it?
Beyond topping your favorite burger, use this sauce as a salad dressing, a dip for French fries, onion rings, and steak fries, or as a flavorful way to jazz up potato salad!
How to make a homemade Big Mac
Once you craft your own Big Mac Sauce, you are well on your way to earning your children's undying love and affection by making them homemade Big Macs! You will want to brush up on my fast food burger recipe to really hit these out of the park. Though I have been known to slather this sauce on larger homemade burger patties too!
To make a Big Mac, light toast a sesame seed bun, and grab an extra bottom bun to use as the middle piece. Spread the special sauce on the bottom bun, sprinkle with diced onion, shredded lettuce, and top with a slice of American cheese. Place one burger patty on the cheese, then add the middle bun, top with more sauce, lettuce, and add pickles. Finally add the second burger patty, top with the crown of the bun and enjoy!
More Burger Condiments
Looking for more great toppings to craft the perfect burger? Try these ideas:
If you enjoyed my Big Mac Sauce recipe then you should probably like me on Facebook and follow me on Pinterest too. That's what I would do at least, because if you don't get to know me but you still use my recipe it is kind of like taking candy from a stranger, and your mom taught you not to do that. Don't disobey your mom, subscribe to Fox Valley Foodie today.
Big Mac Sauce
This Big Mac Sauce copycat recipe is so close to the McDonald's special sauce, you won't be able to taste the difference!
Print
Pin
Rate
Ingredients
Instructions
Place all ingredients together in a bowl and whisk to combine.

Can be enjoyed immediately, but the flavor is best when allowed to sit in the refrigerator overnight. Store in an air-tight container.
Notes
If Yellow Mustard isn't common in your country, click here to see what is being referenced. (affiliate link)
IF YOU LIKED THIS RECIPE you need to check out my McDonald's Egg McMuffin copycat recipe too!