Loaded with creamy guacamole, pickled onions, and spicy cheese, this Mexican chorizo burger is dripping with flavor! The patties are crafted with a blend of beef and chorizo sausage and are perfect for topping with your favorite Mexican flavors.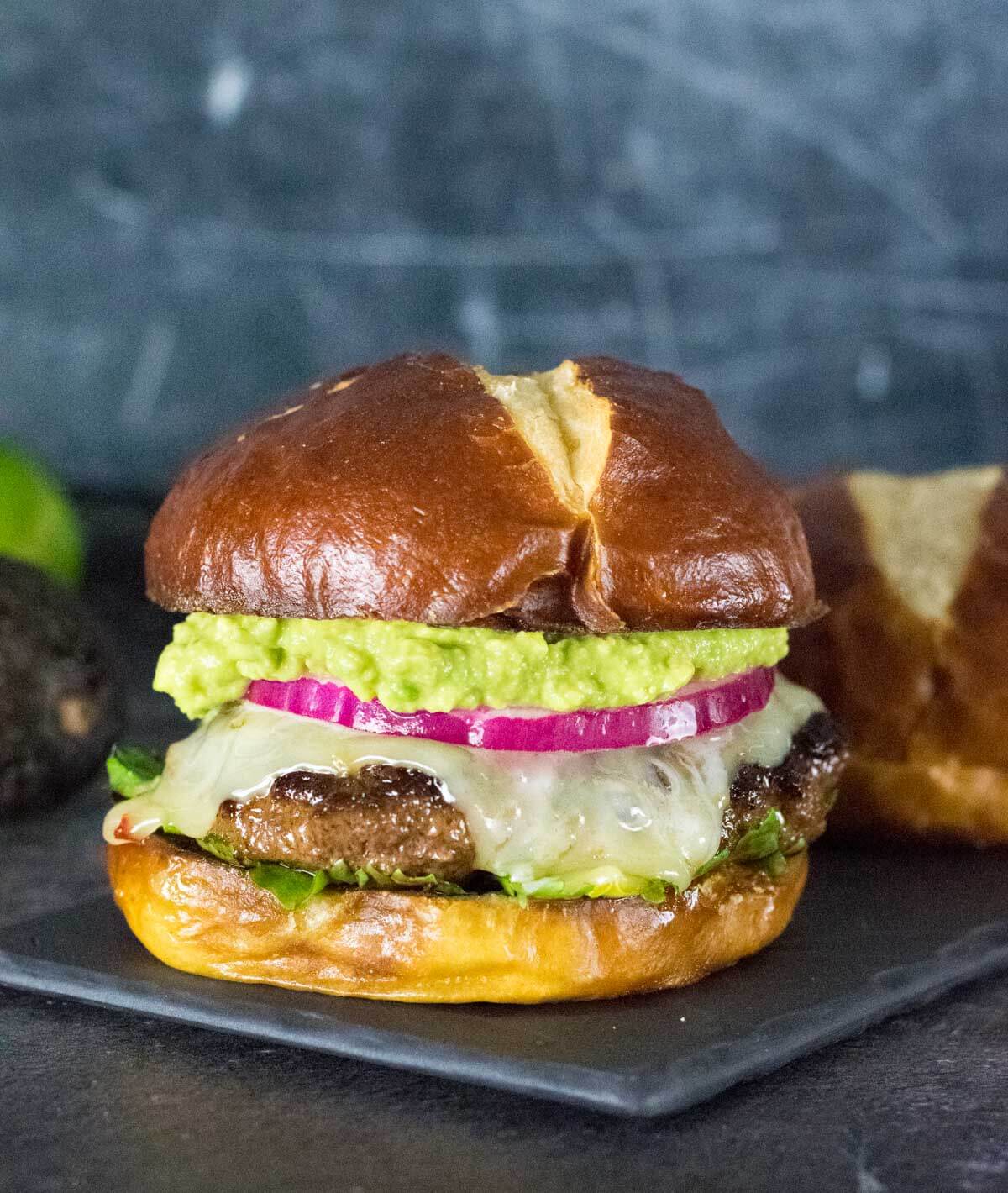 What is chorizo?
Chorizo is a popular spicy sausage in Mexican and Spanish cuisines. Traditionally it is made of pork and heavily seasoned with paprika, which gives it the distinctive red color it is known for. You can find chorizo as raw sausage or semi-cured.
For this recipe, it is important to use raw sausage, as shown in the next photo. If you cannot find it in bulk packaging, buy raw chorizo sausage and cut the meat out of the casings. This can also be used to make my chorizo chili recipe!
How to make a chorizo burger patty
Chorizo burger patty ingredients are simply a mixture of beef and raw chorizo sausage with bread crumbs as a binder. Since the fresh chorizo sausage is so strongly flavored the beef is needed to ensure the sausage seasonings don't overwhelm the flavor of the burger. I find two parts beef to one part chorizo to be the ideal mixture. However, you could also substitute ground pork instead of beef.
When making gourmet burger patties, I never recommend mixing the beef, as it can make the burger patty tough. However, that is unavoidable when combining two forms of meat, or making blended burgers. To combat the toughness of an over-worked patty I add breadcrumbs... breaking another cardinal rule of burger making.
Typically, I would argue you are making a meatloaf sandwich when adding breadcrumbs to a meat mixture, but since there is no way around overworking the meat when combining the beef and chorizo, I find breadcrumbs to be an acceptable deviation to get the ideal tenderness back into the patty.
Form your patties by mixing the beef, chorizo, and breadcrumbs thoroughly, then press flat into four equal patties.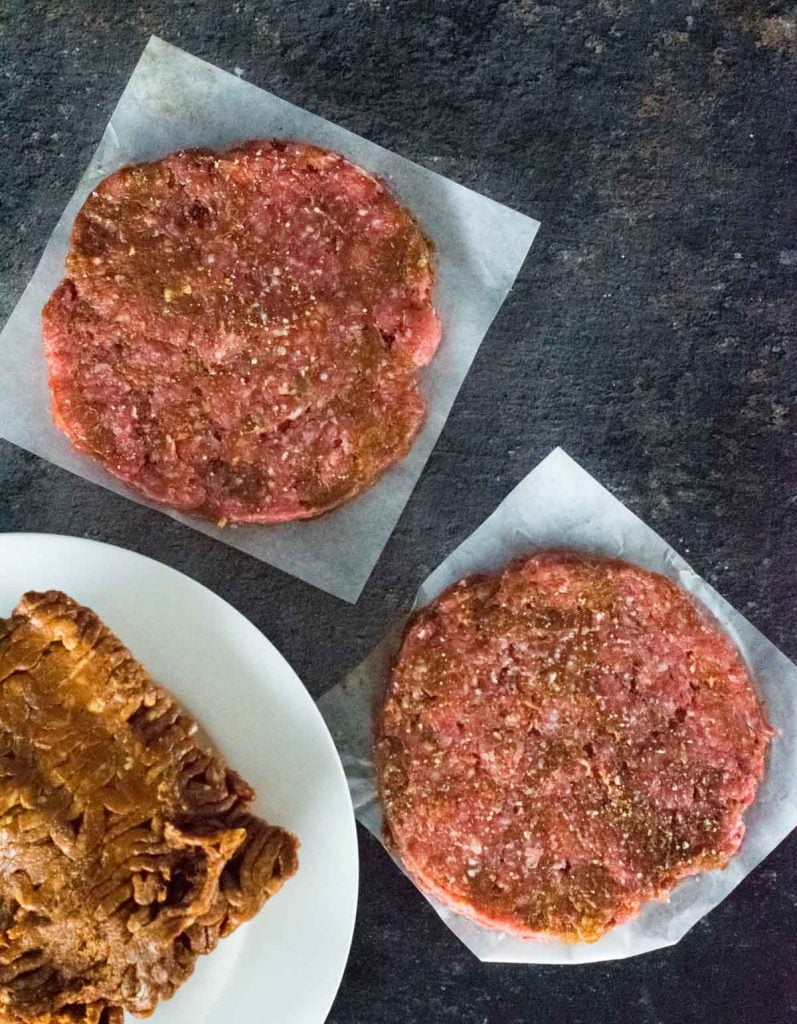 Chorizo Burger Toppings
Your chorizo burger patty is the perfect canvass to add your favorite South-of-the-border flavors on top of the burger. Lettuce, cheese, onion, and guacamole are great starts, but even this can be taken to the next level.
Avocado - For simplicity, my recipe includes a basic guacamole-style mixture, but if you are feeling adventurous my roasted tomatillo guacamole would make this burger taste insane!
Cheese - A spicy cheese, such as pepper jack is a great fit for this burger. My store sells a Ghost pepper cheese, which I think is even better!
Onions - Using quick pickled onions adds a tangy crunch that cuts through the richness of the burger.
Hot Sauce - This delicious burger doesn't need a condiment, but hot sauce would be a perfect upgrade.
You can get creative with any other toppings you wish to add. Pico de Gallo or even tomatillo salsa would each be a good fit. Combining tomatillo salsa with sour cream would transform it into a phenomenal sauce for this burger! Otherwise, keep it simply with a little fresh cilantro.
How to cook the burger patty
Since this burger patty includes pork sausage, say goodbye to rare burgers. Place burgers in a cast iron skillet set over medium heat and cook the chorizo patty for approximately 4 minutes per side, or until the internal temperature reaches 160 degrees.
It is important to note that your cooking time and burner temperature will vary depending on your stove and cookware. I have one pan that conducts heat exceptionally well, requiring me to cook burgers on low. Other pans require medium-high heat. Whenever cooking raw meat, I recommend using a digital meat thermometer to ensure your food is a safe temperature.
Tip: Do NOT press the patty while it cooks. This will expel the flavorful juices and result in a dry burger!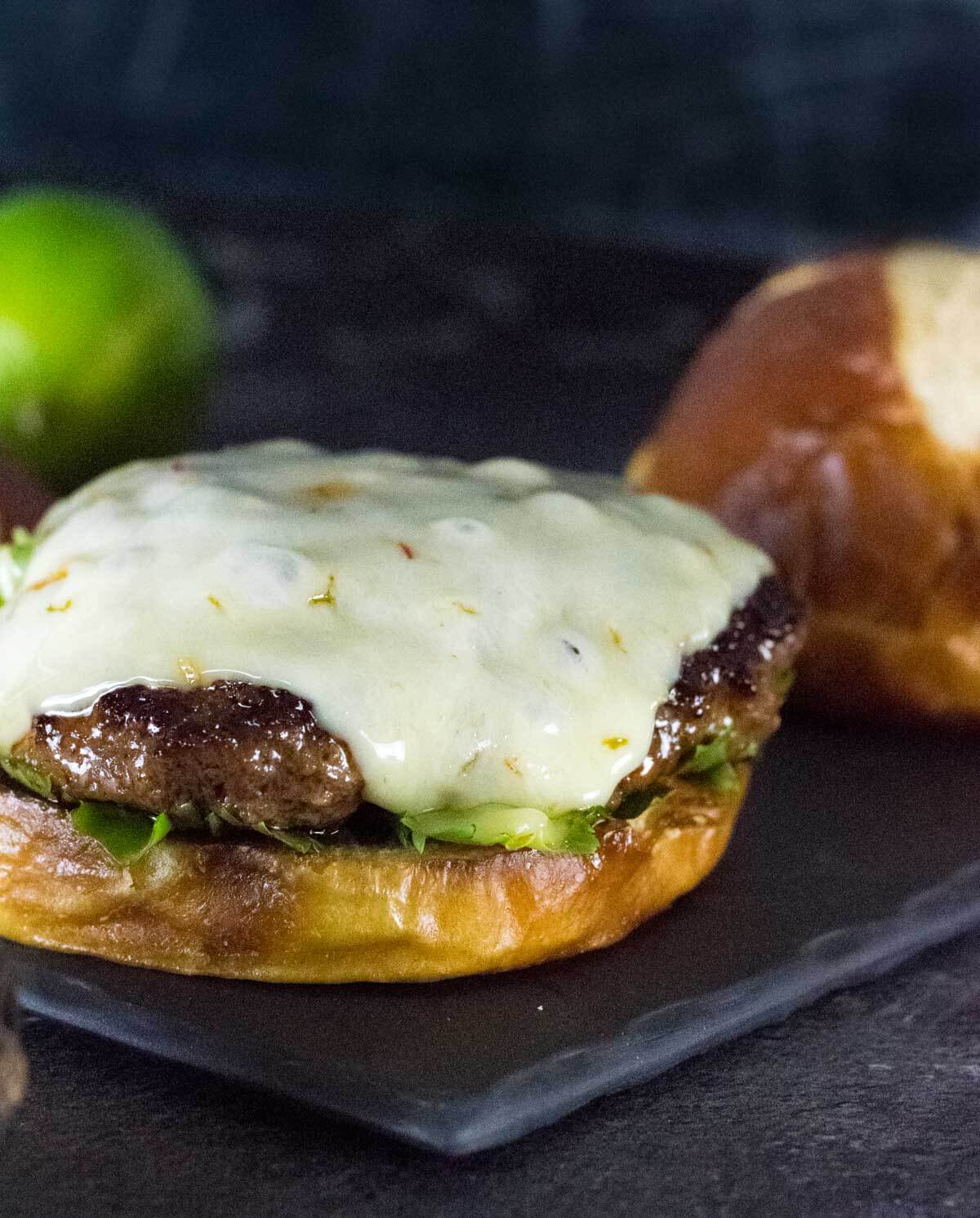 Best bun for these burgers
There is nothing particularly Mexican about Pretzel buns, but these soft and chewy buns work perfectly with chorizo burgers. They are my top choice. Otherwise, brioche buns are always a great choice for any burger. This is a gourmet burger, so it deserves a fresh bakery bun, don't downgrade the sandwich with cheap packaged hamburger buns from the bread aisle.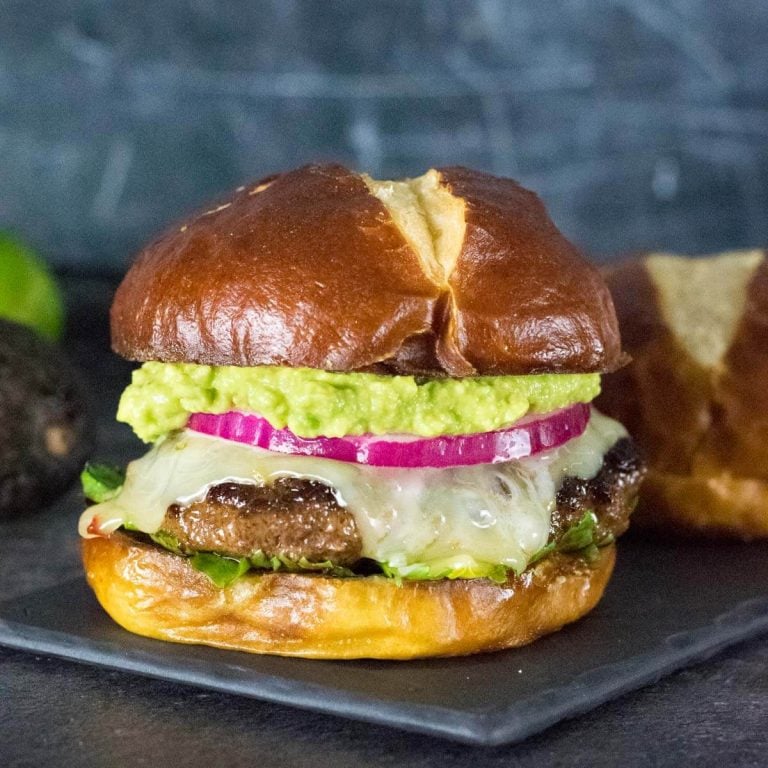 Mexican Chorizo Burgers
Loaded with creamy guacamole, pickled onions, and spicy cheese, this Mexican chorizo burger is dripping with flavor!
Print
Pin
Rate
Save
Saved
Ingredients
Burger patty
1

pound

ground beef

(recommend 80/20 beef)

½

pound

raw chorizo

2

tablespoons

plain breadcrumbs

salt and pepper
Toppings
4

slices

Pepper Jack cheese

1

pickled red onion

2

avocados

(peeled and pit removed)

1

lime

salt

4

leaves

Lettuce

4

Pretzel buns
Instructions
Burger patty
In a large bowl mix together ground beef, chorizo, and breadcrumbs.

Separate the meat mixture into 4 equal rounds and press flat to form into patties. Sprinkle each side with salt and pepper.

Set skillet over medium heat and cook the patties for 4 minutes per side, or until the internal temperature reaches 160 degrees. Top with cheese as they finish cooking to allow it to melt.
Toppings
Add avocados to a small bowl along with juice from 1 lime. Mash to combine and season to taste with salt.

Toast the interior of the pretzel buns while the patties cook.
Assembly
Place a leaf of lettuce on the bottom slice of your toasted bun and top with cooked burger patty, cheese, onions and avocado mixture. Cover with the top bun and serve.
Notes
Pickled red onions can be found in grocery stores, but they are often a gourmet item that comes with a gourmet price tag. They are very cheap and easy to make at home, just check out my quick pickled red onion recipe.
Traditional guacamole typically includes additional ingredients such as jalapeno, cilantro, and onions. You are welcome to add these to the avocado mixture or keep it creamy and basic. There are so many flavors already going on in this burger, I just kept it simple. Although, you get extra bonus points if you upgrade it with this Roasted Tomatillo Guacamole!
Nutritional Information
Calories:
647
kcal
|
Carbohydrates:
15
g
|
Protein:
33
g
|
Fat:
52
g
|
Saturated Fat:
19
g
|
Cholesterol:
139
mg
|
Sodium:
1087
mg
|
Potassium:
849
mg
|
Fiber:
8
g
|
Sugar:
2
g
|
Vitamin A:
634
IU
|
Vitamin C:
25
mg
|
Calcium:
215
mg
|
Iron:
4
mg