This easy beef and chili recipe is deliciously thick and hearty and perfectly seasoned with a bold blend of homemade chili seasonings.
If you have never tried chili with chorizo, you are going to love it! Chorizo is some of the best meat you can add to chili because it is already aggressively seasoned with very complementary flavors that meld perfectly in a big pot of chili.
What is it?
My made-from-scratch beef and chorizo chili con carne recipe is a real crowd pleaser that upgrades traditional chili with a flavorful mixture of ground chorizo and beef. This easy homemade chili is deliciously thick and hearty, loaded with simple ingredients such as peppers, onions, fire-roasted tomatoes, chili beans, chipotle chiles, and a custom blend of my homemade chili seasoning.
Ingredients and Substitutions
Lean ground beef - You can substitute other meat, such as ground venison.
Mexican chorizo sausage - You want raw, uncooked chorizo from the grocery store. It is fine if it is sold in sausage links with casings, however, the casing should be removed and discarded.
Red onions - Yellow onions and sweet onions can be substituted.
Bell peppers - I recommend choosing red and yellow bell peppers for their sweetness and pop of color. Otherwise, poblano peppers can be substituted to add a touch of heat.
Garlic cloves - One teaspoon of garlic powder can be substituted in a pinch.
Tomato Paste
Canned diced fire-roasted tomatoes - Regular canned diced tomatoes can be substituted.
Canned chili beans - Chili beans come in different heat levels. Buy the spiciness that fits your taste preferences.
Tomato Sauce
Chipotle peppers in adobo sauce 
Worcestershire sauce
Beef stock - Beef broth can be substituted as well.
Homemade Chili seasoning - All-purpose flour (can substitute masa harina), brown sugar, kosher salt, ground cumin, oregano (feel free to substitute Mexican oregano), ancho chili powder (can substitute chili powder), onion powder, smoked paprika, cayenne pepper, and fresh ground black pepper.
Note: Black beans pair really well with chorizo and can be substituted rather than using chili beans. However, chili beans are seasoned so they will pack more flavor into the chili, which is why I use them.
How to make it
To begin making this easy beef and chorizo chili recipe we need to brown the meat, peppers, onion, and garlic in a large Dutch oven, or soup pot. I personally prefer to make chili in a Dutch oven because the wide mouth allows for better evaporation, which will thicken the chili quicker.
Saute the meat and vegetables over medium-high heat until the ground beef and chorizo are well browned and the peppers and onions are tender. Then add the tomato paste and chili seasonings and cook for two minutes longer to allow the flavors to bloom.
Next, all of the remaining ingredients can be added to the pot, stirred well with a wooden spoon, and brought to a boil. Reduce the heat to a gentle simmer and let cook uncovered for 90 minutes, or until thickened to your liking. Then serve with your favorite toppings.
Note: This can simmer for hours if desired.
Chorizo Chili Toppings
Most of your favorite chili toppings pair perfectly with this chorizo chili recipe as well. However, there are some in particular that I recommend.
Chopped avocado
Chopped onion
Sour cream - Or my Cilantro Lime Sour Cream, made with fresh lime juice and cilantro.
Shredded cheddar cheese
Hot sauce - I like to really turn up the heat with my Carolina Reaper hot sauce!
Chopped green onions or fresh cilantro
Reheating & Storing Leftovers
This Mexican chorizo chili is perfect to make in advance because the flavors will continue to meld as it sits in the refrigerator. Leftovers should be stored in a large airtight container in the refrigerator and enjoyed within one week.
The easiest way to reheat leftover chili the next day is to reheat it in individual servings in the microwave. However, if you need to reheat the entire pot it is best to gently heat it back to temperature on the stovetop.
More Delicious Chili Recipes
Can you do me a favor? If you enjoyed my post would you mind sharing it with your friends? You can see more of my recipes by liking me on Facebook and follow me on Pinterest too. Otherwise, stay up to date by getting each new post sent directly to your inbox by subscribing today.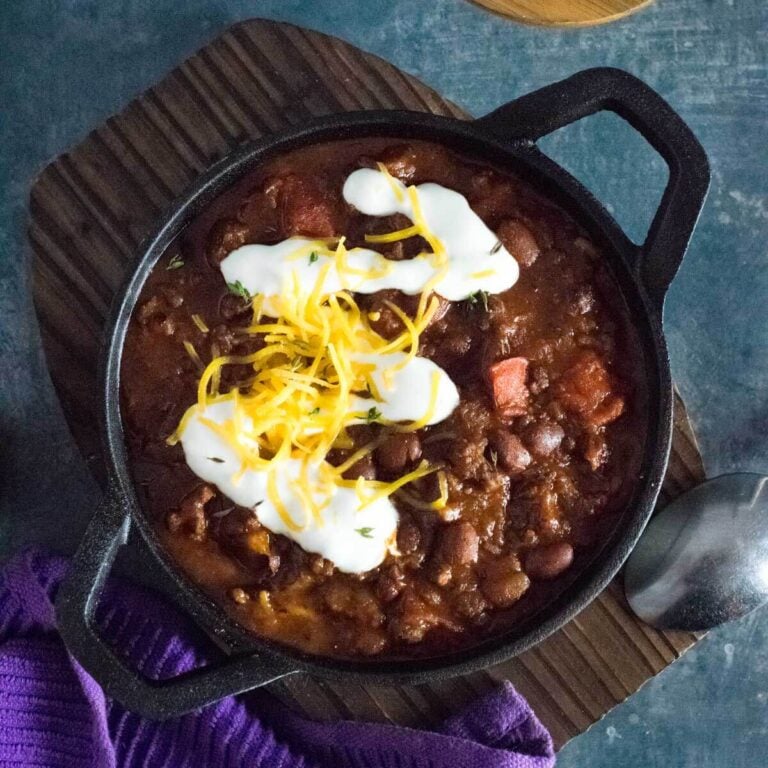 Beef and Chorizo Chili
This easy beef and chili recipe is deliciously thick and hearty and perfectly seasoned with a bold blend of homemade chili seasonings.
Print
Pin
Rate
Save
Saved
Ingredients
Beef and Chorizo Chili
1

pound

ground beef

1

pound

chorizo

2

medium

red onions

chopped

1

red bell pepper

chopped

1

yellow bell pepper

3

Garlic cloves

minced

6

ounces

canned Tomato Paste

28

ounces

canned Diced fire roasted tomatoes

30

ounces

canned chili beans

15

ounces

canned Tomato Sauce

2

tablespoons

chipotle peppers in adobo sauce

diced

1

tablespoon

Worcestershire sauce

3

cups

beef stock

unsalted
Instructions
Add ground chorizo, ground beef, chopped onions, peppers, and garlic to a large pot set over medium high heat and saute until the ground meat is well browned and the vegetables are tender.

Reduce to medium heat and sprinkle in all chili seasoning, along with tomato paste and cook for two minutes longer. Then add all remaining ingredients and bring to a boil.

Reduce the heat to medium low and simmer uncovered for 90 minutes, or until the chili has thickened to your liking.

Serve with your favorite chili toppings, such as sour cream, chopped onion, and shredded cheese.
Notes
You can add a swirl of olive oil to assist with browning the meat if desired.
This chorizo chili can be made in the slow cooker as well. However, for best results and flavor, I recommend continuing to make steps 1 and 2 on the stovetop, then transfer the chili to a slow cooker and simmer on high heat for four hours or longer.
Nutritional Information
Calories:
543
kcal
|
Carbohydrates:
47
g
|
Protein:
31
g
|
Fat:
27
g
|
Saturated Fat:
10
g
|
Polyunsaturated Fat:
1
g
|
Monounsaturated Fat:
5
g
|
Trans Fat:
1
g
|
Cholesterol:
76
mg
|
Sodium:
2888
mg
|
Potassium:
1648
mg
|
Fiber:
10
g
|
Sugar:
20
g
|
Vitamin A:
1889
IU
|
Vitamin C:
69
mg
|
Calcium:
140
mg
|
Iron:
9
mg