This post is sponsored by Pepperidge Farm, but the content and opinions expressed here are my own.
This Caramelized Onion Burger with Balsamic Mayo drips with flavor! A flavorful bun is loaded with a juicy patty, melted cheese, sticky caramelized onions, and a tangy savory sauce. It is absolute perfection!
I have a confession to make. I am reasonably certain I can make hamburgers in my sleep, almost. They are pretty much my spirit animal. However, I wasn't paying attention while making these Caramelized Onion Burgers and I completely burnt the first batch I made for this recipe. While the fire alarms were broadcasting my cooking ineptitude across my neighborhood, my hot skillet was starting a grease fire in the sink. So yeah, don't feel bad about your kitchen mishaps, I do it too.
I am excited about this recipe because it combines three of my favorite things I have previously written about. The first, of course, is my wildly popular tutorial for crafting obscenely tender hamburger patties. Seriously, it will turn you into an instant burger snob. Combine a perfect patty with sweet and sticky caramelized onions, and a tangy burger sauce, and you have perfection on a bun!
Pepperidge Farm® Hamburger Buns
As I have written about in pretty much every single gourmet burger recipe, the burger bun your choose is extremely important for crafting a great burger, even if you are simply trying to replicate a simple fast food burger. I'm using Pepperidge Farm® Onion Hamburger Buns for my Caramelized Onion Burger. The onion flavor of the bun is a perfect pairing, and Pepperidge Farm® Hamburger Buns are always made with premium ingredients, crafted for maximum flavor.
Right now Pepperidge Farm® is searching for the best looking burger and hot dog in the country, and are giving away $1000 weekly to the winners, with the grand prize winner getting $10,000! Check out RespectTheBun.com to find more grilling inspiration and get yourself entered to win some summer cash for showing how you Respect the Bun®!
How to Make Caramelized Onions
To make caramelized onions simply add sliced onions to a saute pan with a couple tablespoons of butter and slowly saute for about 30 minutes, or until the onions are brown and sticky. As they cook sugar will be coaxed out of the onion, making them intoxicatingly sweet and flavorful.
When the onions have finished cooking deglaze the pan with water, wine, or balsamic vinegar to remove all of the burnt on fond stuck to the bottom of the skillet. This stuff is PURE FLAVOR! When it loosens from the bottom of the pan, it will soak in with the onions. For more an even more detailed explanation of this process, please check out my How to Make Caramelized Onions tutorial!
How to Make Balsamic Mayo
I top my Caramelized Onion Burger with a tangy Balsamic Mayo. It is a perfect fit for this burger recipe because the acidity from balsamic vinegar and sweetness of caramelized onions are a classic combination. Balsamic Mayo can be made by adding ¾ teaspoon balsamic vinegar to ¼ cup of mayo. Adding fresh ground pepper to taste is a great way to deepen the flavor further.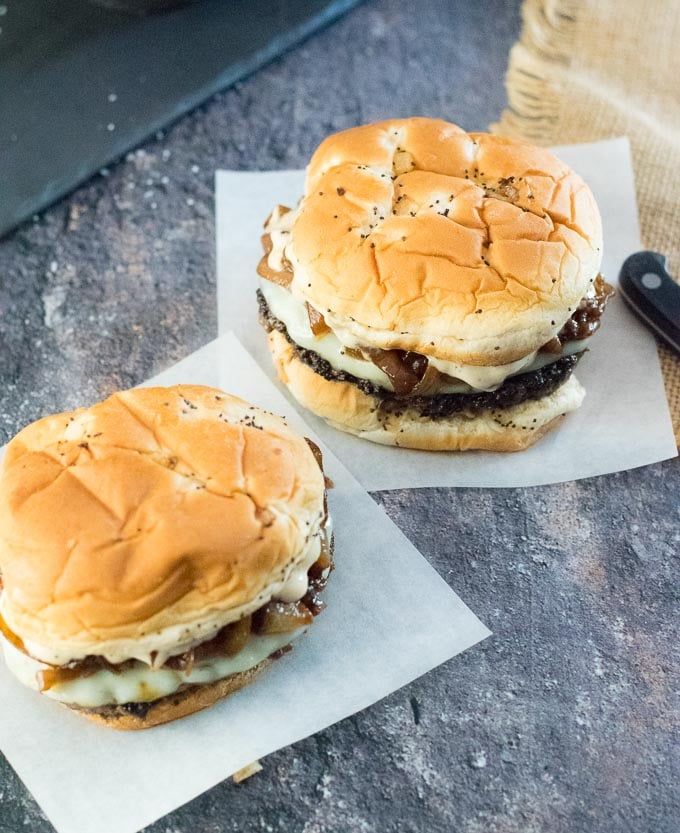 How to Make Caramelized Onion Burger
A good burger starts with a great patty. Don't overwork your meat when forming the burger patty. The more it is worked, the tougher it will be. I also highly recommend using 80/20 beef whenever you make burgers. It is the perfect blend of meat and fat.
Adding a little oil to a hot skillet helps your burger form a flavorful crust while cooking. You don't want it to burn, but you don't want placid gray meat either. When the burger is flipped it is a great time to add the Provolone cheese so it melts as the patty finishes cooking. Add the caramelized onions after the burger is on the bun. Tip: Substituting blue cheese would also make a fantastic burger!
Every time you make a burger, toast the inside of the buns. This improves the overall texture and will help it taste more like a restaurant caliber burger. Spreading some of the burger sauce on the bottom bun also prevents it from becoming soggy because the juice from the patty can't penetrate oil-based mayo.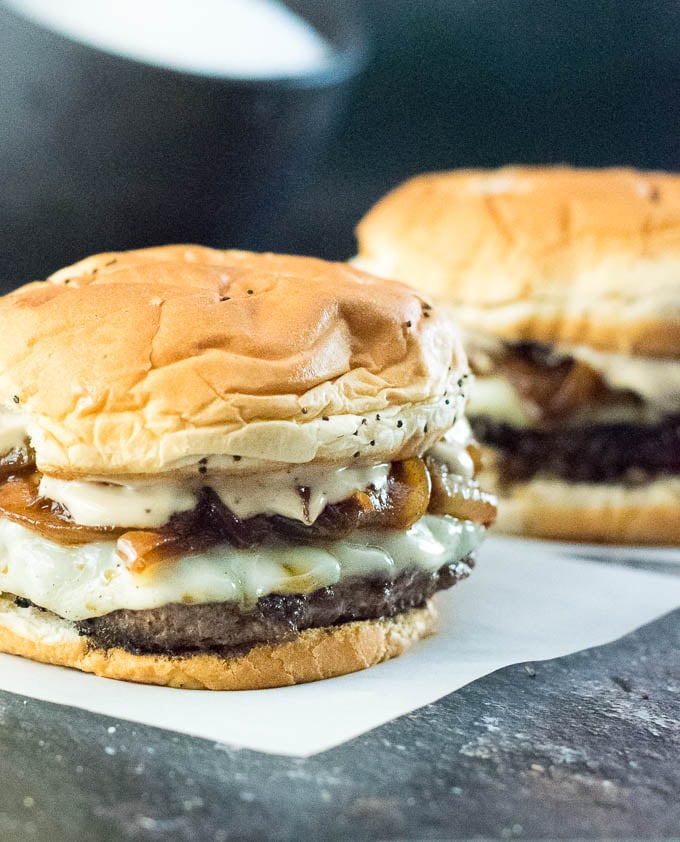 Caramelized Onion Burger
This Caramelized Onion Burger with Balsamic Mayo drips with flavor! A flavorful bun is loaded with a juicy patty, melted cheese, sticky caramelized onions, and a tangy savory sauce. It is absolute perfection!

Print
Pin
Rate
Save
Saved
Ingredients
1

pound

80/20 ground beef

(ground chuck is perfect)

2

tablespoon

Cooking oil

Salt and Pepper

3

slices

Provolone Cheese

6

tablespoons

Caramelized Onions

3

Hamburger Buns
Balsamic Mayo
¼

cup

Mayo

¾

teaspoon

Balsamic Vinegar

Fresh Ground Pepper to taste
Instructions
Balsamic Mayo
Combine all ingredients and set aside.
Caramelized Onion Burgers
Divide the ground beef into 3 equal sections and gently form into rounds, then press firmly on them with a flat object, like the bottom of a plate, to press into patties. Season generously with salt and pepper.

Heat skillet on medium-high and add cooking oil. Once oil is shimmering add burger patties, cooking in batches if needed. Cook until brown crust forms on the bottom and the top is beginning to turn a deep red. Flip patties, top with cheese, and cook for a few minutes longer, until the cheese melts.

Lightly toast the buns, then spread Balsamic Mayo on the inside of the hamburger buns. Add burger patty to the buns and top with ~2 tablespoons caramelized onions per burger, or to taste.

After burger patties have rested for 5 minutes to allow juices to redistribute, serve and enjoy!
Nutritional Information
Calories:
696
kcal
|
Carbohydrates:
24
g
|
Protein:
37
g
|
Fat:
48
g
|
Saturated Fat:
17
g
|
Cholesterol:
126
mg
|
Sodium:
562
mg
|
Potassium:
545
mg
|
Fiber:
1
g
|
Sugar:
4
g
|
Vitamin A:
245
IU
|
Vitamin C:
2.8
mg
|
Calcium:
320
mg
|
Iron:
4.6
mg
If you enjoyed reading my Caramelized Onion Burger with Balsamic Mayo recipe then you should probably like me on Facebook and follow me on Pinterest too. That's what I would do at least, because if you don't get to know me but you still use my recipe it is kind of like taking candy from a stranger, and your mom taught you not to do that. Don't disobey your mom, subscribe to Fox Valley Foodie today.