These boldly seasoned chicken burgers are loaded with your favorite barbecue flavors or can be customized with your favorite ingredients.
Why couldn't the chicken burger play with its friends? Give up? It was grounded! OK, that was a pretty bad dad joke, but the incredible flavor of these ground chicken burgers will surely put me back into your good graces again.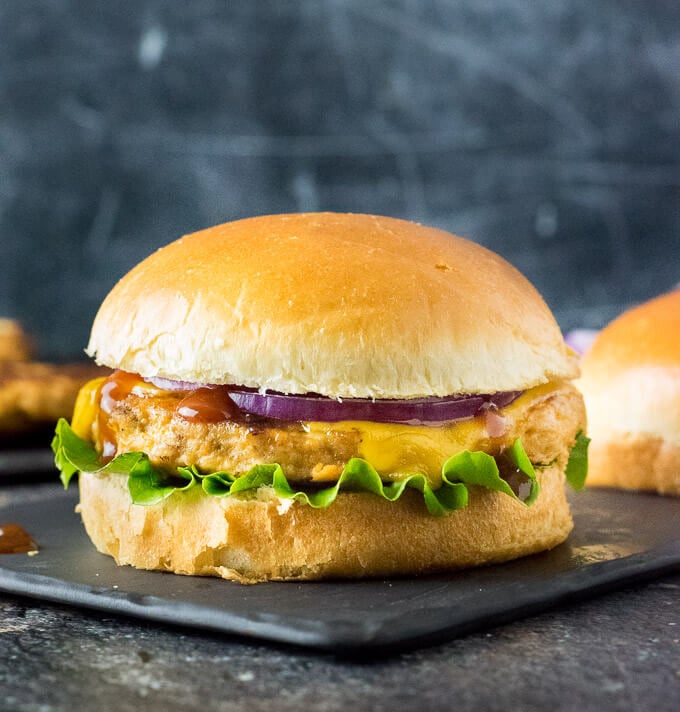 Chicken Burgers
Chicken burgers are a leaner alternative to classic burgers or chicken patties. Unlike chicken patties, chicken burgers don't have a breaded coating and are loaded with additional seasonings for added flavor.
Chicken burgers can be enjoyed with your favorite toppings, just like a regular hamburger. However, because of the tenderness of the ground chicken burger patty, it is important that you purchase light and airy hamburger buns to serve this on. An overly dense bun will overwhelm the texture and flavor of the burger. Personally, I recommend toasted brioche buns, however, potato buns are great too.
Are Chicken Burgers Healthy
Yes, chicken burgers can certainly be healthy. Ground chicken is typically considerably leaner than ground beef used for burgers. Breadcrumbs are added for moisture and texture, but those can be omitted as well to fit dietary needs.
You can even swap out the bun for a wrap instead if you wish. Keep in mind though, loading up a lean burger with fatty toppings such as cheese, mayo, and bacon will quickly increase the calorie count.
How to make Chicken Burgers
I break one of my cardinal rules when making ground chicken burgers: I add breadcrumbs. When making a traditional homemade burger I am strongly opposed to any additives being mixed in the beef, breadcrumbs + beef make a classic meatloaf, not a burger. However, leaner ground chicken can benefit from some breadcrumbs and seasonings added for flavor, moisture, and texture.
To be clear, even though we add breadcrumbs to the chicken burger patties, we are not making a chicken meatloaf. The more breadcrumbs you add, the more tender the meat mixture will become. My chicken meatloaf recipe uses ½ cup of breadcrumbs per pound of ground chicken. That is too much for a burger, the patty would be too tender, lacking the proper texture.
Instead, I tested these burgers with a variety of breadcrumb mixtures and found ¼ cup breadcrumbs per pound of meat to be the sweet spot. The chicken burgers were incredibly moist and flavorful and packed the perfect texture.
How to form burger patties
TIP: Ground chicken can be a bit sticky to work with, so there are better ways to form your burger patties than pressing when your hands. Instead, I recommend using lightly oiled wax parchment paper, the bottom of a plate, or both in tandem. This will keep your hands clean while making more even patties, and the oil will prevent the meat mixture from sticking!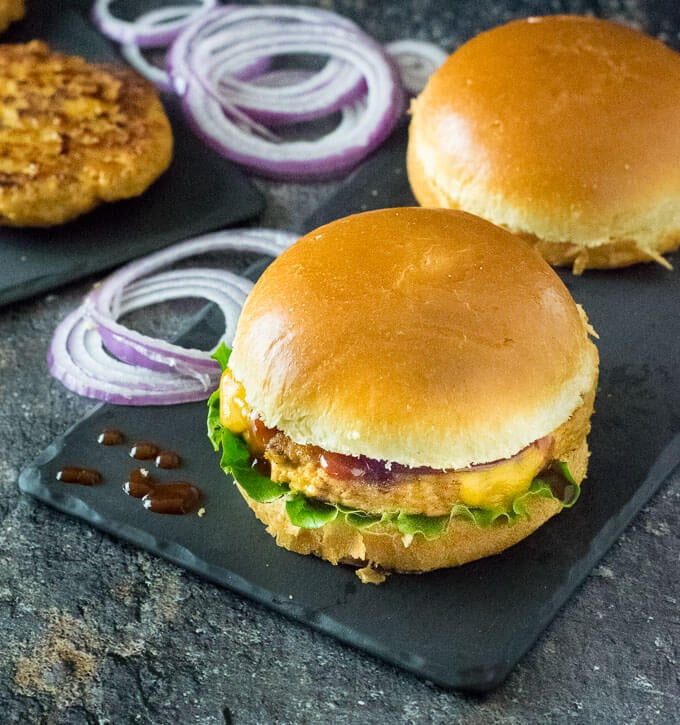 Chicken Burger Seasonings
I use my favorite barbecue seasonings as the primary flavoring for these burgers, similar to my popular BBQ dry rub. It adds a deep flavor balanced by a touch of sweetness. However, you can customize these chicken burgers with your favorite seasonings instead.
To customize this recipe I recommend keeping the same meat-to-breadcrumb ratio, as well as the same amount of salt. However, you can add your favorite minced fresh herbs, grated parmesan cheese, or seasoning blends of your choice. Chicken is a really flexible protein to work with.
How to Cook Chicken Burgers
Since chicken needs to cook to 165 degrees, you need to cook it slowly to ensure the interior comes to temperature before the exterior burns. The best way to do this is to cook the chicken burgers in a covered non-stick skillet (affiliate link) over low heat.
Covering the skillet traps the heat inside so the patties bake as the exterior sears. It will take approximately 10 minutes to cook the burger patties in the skillet, depending on thickness.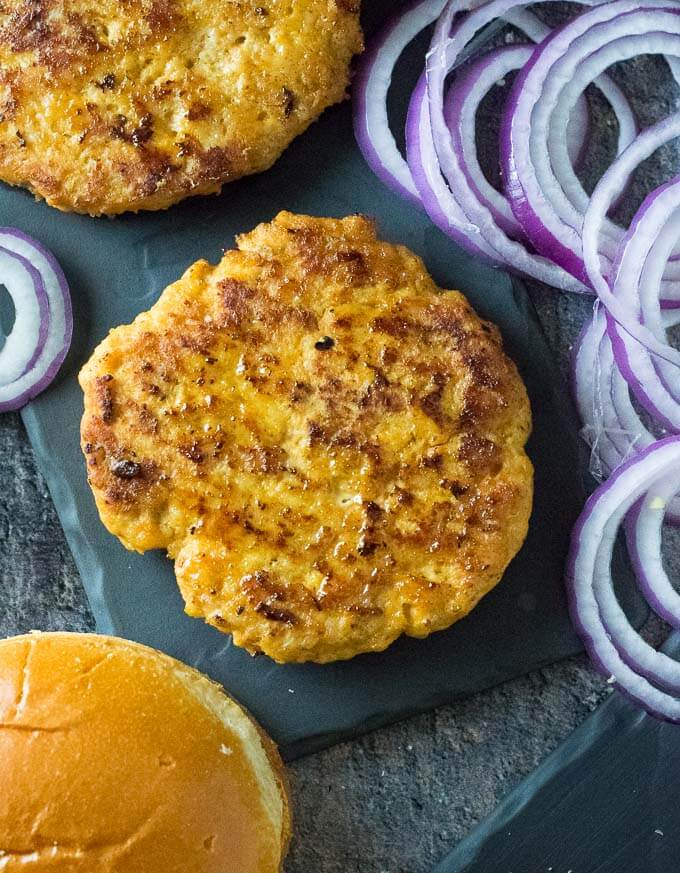 Can I bake Chicken Burgers?
I have been publishing recipes long enough to know some of you will want to bake these, rather than prepare them in a skillet. Yes, you can bake them, however, you won't get a crisp pan-seared crust on the burgers, as you would in the skillet.
I recommend baking them at 425 degrees for 20-25 minutes. You can quickly sear them in the skillet too after baking to improve the texture if desired.
Ground Chicken Burger Recipes
I enjoy eating my chicken burgers with barbecue sauce, red onions, and green lettuce. However, there is no need to limit yourself to these options. Try these chicken burger toppings as well:
Cheddar cheese, bacon, and ranch dressing
Sliced avocado, red onion, and cilantro
Blue cheese, Franks Red Hot Sauce, and balsamic vinegar
The possibilities for using ground chicken burgers are truly endless. Hopefully, this write-up armed you with the information and the confidence needed to craft these with your favorite flavor combinations as well!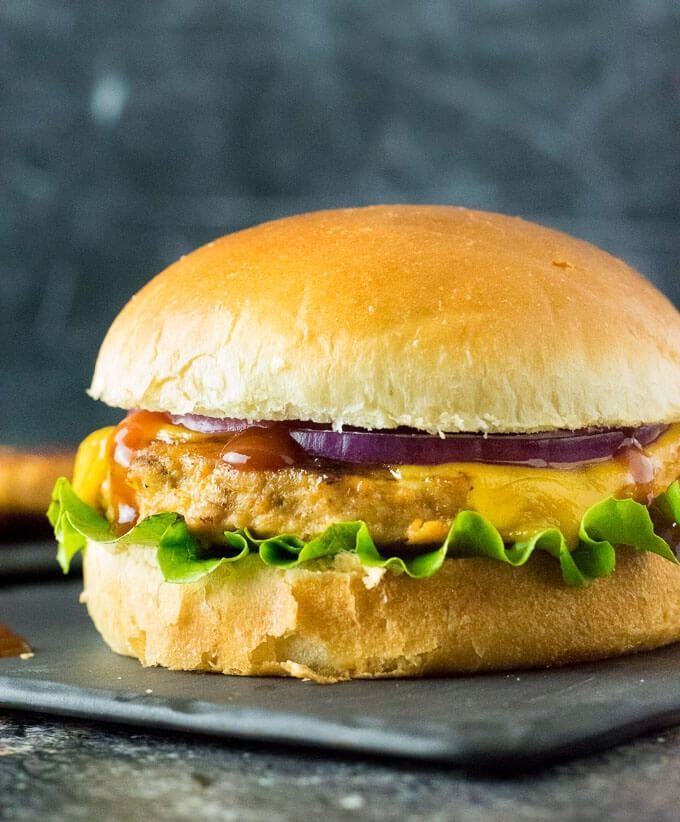 Chicken Burgers
These boldly seasoned chicken burgers are loaded with your favorite barbecue flavors or can be customized with your favorite ingredients.
Print
Pin
Rate
Save
Go to Collections
Ingredients
Ground Chicken Burger
1

pound

lean ground chicken

¼

cup

plain bread crumbs

1

egg

(beaten)

1

teaspoon

Worcestershire sauce

1

teaspoon

brown sugar

½

teaspoon

salt

½

teaspoon

smoked paprika

¼

teaspoon

onion powder

¼

teaspoon

garlic powder

⅛

teaspoon

mustard powder

⅛

teaspoon

ground black pepper to taste

1

dash

cayenne pepper

2

tablespoons

cooking oil

(or as needed)
Serving
3

brioche buns

(lightly toasted)

3

slices

smoked cheddar cheese

sliced

red onion

(as needed)

3

leaves

green leaf lettuce

¼

cup

BBQ sauce
Instructions
Add all ingredients for the ground chicken burgers in a bowl and mix to combine.

Divide the mixture into three equal balls and press firmly to flatten them into patties slightly wider than your buns. Tip: Using a flat bottomed plate works well, add oil to the bottom of the plate to prevent sticking.

Heat a large non-stick skillet over low heat and add cooking oil, then add the patties, (cooking in batches if needed) and cover. Flip the patties every few minutes to prevent burning. Patties are done cooking when the meat reaches 165 degrees. Add cheese when patties have almost finished cooking.

Place chicken burger patties on a toasted brioche bun with lettuce, red onion, and BBQ sauce.
Nutritional Information
Calories:
517
kcal
|
Carbohydrates:
51
g
|
Protein:
12
g
|
Fat:
30
g
|
Saturated Fat:
12
g
|
Cholesterol:
198
mg
|
Sodium:
1062
mg
|
Potassium:
120
mg
|
Fiber:
1
g
|
Sugar:
10
g
|
Vitamin A:
2090
IU
|
Vitamin C:
1.3
mg
|
Calcium:
69
mg
|
Iron:
1.5
mg