These hearty sweet potato black bean burgers are loaded with ingredients you can feel good about, but most importantly they taste great!
If you crave burgers and big flavors, give these vegetarian patties a try. Loaded with the bold flavors of the southwest, you can feel good about sinking your teeth into each savory bite.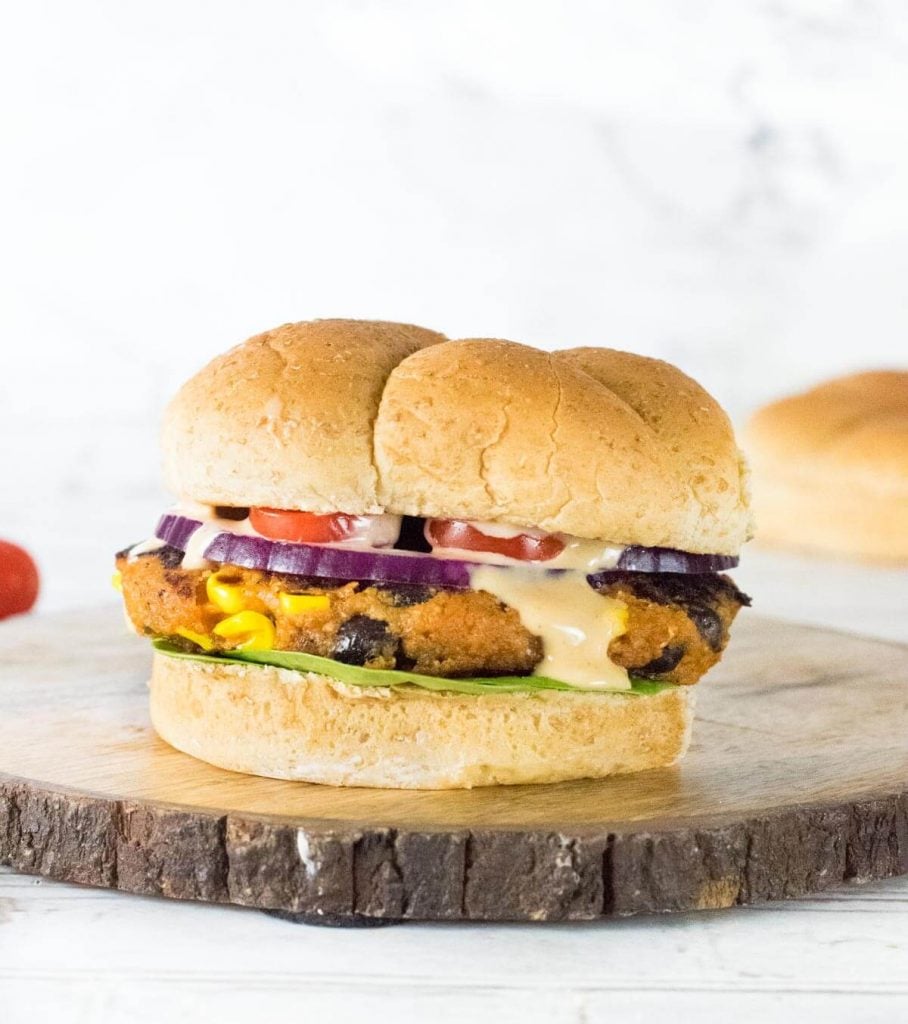 Sweet Potato Black Bean Burgers
The foundation of these sweet potato black bean burgers is obviously sweet potato and black beans. Southwestern-inspired vegetables such as corn, red onion, and poblano peppers are added with chili powder and paprika. A generous drizzle of BBQ sauce adds a touch of sweetness and hint of smoke.
Ingredients
Sweet potatoes - Use roasted sweet potatoes, however leftover grilled sweet potatoes would add a phenomenal smoky flavor.
Black Beans - Use one 15 ounce can of black beans, make sure they are drained and rinsed before mixing them into the recipe. Unlike my black bean burger recipe, the beans don't need to get mashed.
Quick oats - These are the binder that holds the patties together. I tested breadcrumbs as well but didn't like them as much.
Corn kernels - Use fresh, frozen, or canned corn. If using canned, make sure to drain the liquid.
Poblano peppers - These add a subtle heat to the patties, feel free to substitute jalapeno or even serrano if you want to ramp up the spiciness.
Red onions - Red onions have a stronger flavor that makes them the best choice of onions for this recipe.
Garlic - If you are out of fresh garlic you can add 1/2 teaspoon of garlic powder instead.
Seasonings - Flavor the patties with chili powder, paprika, oregano, salt, pepper, and BBQ sauce.
How to make them
Making your sweet potato black bean burger patties is very simple. Start with cooked sweet potatoes and remove any skin. These are placed in a large bowl and mashed until smooth. After this, all of the remaining ingredients can be added and mixed together.
Your sweet potato black bean burger patties can be made into whatever size you prefer. However, I typically use about 1/2 cup of the mixture to form patties. Patties should be as wide as the bun you are using and about an inch thick.
Tip: Using wax paper allows you to easily transfer the patties into your skillet without them sticking.
How to cook sweet potato black bean burger patties
It is important to use a lower heat for these vegetarian patties than you would for a traditional burger. The exterior of the patty will burn faster, while the inside takes a bit longer to come up to temperature. I find medium-low to be the sweet spot.
If using a non-stick skillet you shouldn't need any oil for cooking the patties. However, you can add it if you want a little additional crispness on the exterior.
Toppings and Condiments
As with any burger, you can customize the toppings to fit your tastes. However, if you want some suggestions I recommend the following.
Bun - If you are making a healthier patty, using a healthier bun makes sense. I typically serve these on a whole wheat bun. Toasted, of course.
Vegetables - I typically recommend green leaf lettuce for burgers, but tender baby spinach leaves work well with this recipe. A slice of red onion and tomato finishes this off nicely as well.
Cheese - Adding cheese will pack on a few more calories, but pepper jack, in particular, complements the flavors nicely.
Condiments - Chipotle mayo works really well on these patties. Alternatively, you can use a blend of mayo and BBQ sauce.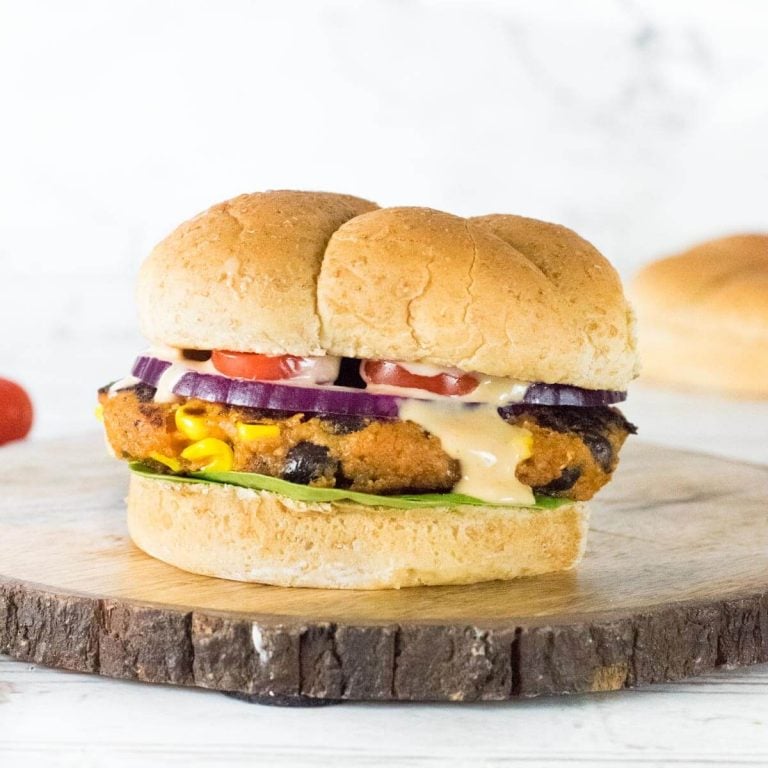 Print Recipe
Sweet Potato Black Bean Burgers
These hearty sweet potato black bean burgers are loaded with ingredients you can feel good about, but most importantly they taste great!
Ingredients
1

pound

sweet potatoes

(cooked)

15

oz

canned black beans

(rinsed and drained)

1

cup

quick oats

1/2

cup

corn kernels

1/2

poblano pepper

(seeded and chopped)

1/2

red onion

(diced)

3

cloves

garlic

(minced)

1

tablespoon

BBQ sauce

1

teaspoon

salt

1

teaspoon

fresh black pepper

1

teaspoon

chili powder

1/2

teaspoon

paprika

1/2

teaspoon

oregano
Serving Suggestions
whole wheat bun

baby spinach

red onion

(slices)
Instructions
If sweet potatoes are not cooked yet, bake them in 400 degree oven for 45-60 minutes, or until completely tender when pierced with a fork.

Remove skins from sweet potatoes and discard.

Place sweet potatoes in a large bowl and mash smooth with a fork, then add all remaining ingredients. Mix throughouly to combine.

Working with approximately 1/2 cup mixture at a time, form into patties. The size can be adjusted to fit your preferences.

Sweet potato black bean burgers can be cooked in a nonstick skillet on medium low heat for 4 minutes per side. Flip more frequently if threatening to burn.

Serve on whole wheat bun, with choice of toppings such as baby spinach, red onion and tomatoes.
Loved this recipe?

Be sure to rate it and share you thoughts below!
*Calories listed are a vague estimate and accuracy should not be assumed.
Can you do me a favor? If you enjoyed my post would you mind sharing it with your friends? You can see more of my recipes by liking me on Facebook and follow me on Pinterest too. Otherwise, stay up to date by getting each new post sent directly to your inbox by subscribing today.