If you are looking to learn how to make homemade mozzarella sticks, you've come to the right place. Though traditional mozzarella cheese can be used, it is easiest to make with perfectly portioned sticks of string cheese and is ready to be enjoyed in 10 minutes.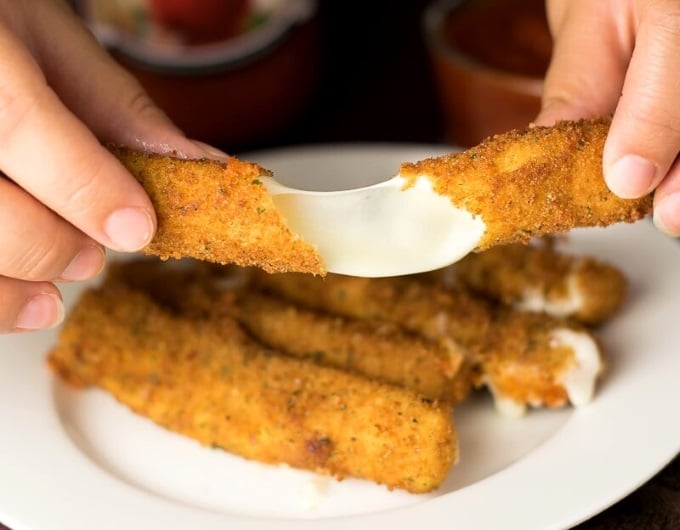 You know what I absolutely crave when it is hot and muggy outside, and my house feels like a sauna? Deep fried food! Well, not typically, but Tuesday I was absolutely ravenous for some good ol' deep fried Wisconsin cheese! Cheese is to Wisconsin what corruption is to Illinois... we couldn't function without it.  It's practically our state vitamin.
Heck, Wisconsin's deep fried cheese curds look like over-sized vitamins, and they sure make me feel a lot better! If you like Mozzarella sticks, you HAVE to check out my Beer Battered Deep Fried Cheese Curds recipe too!
What Are Mozzarella Sticks
Mozzarella sticks are a popular deep fried appetizer consisting of long slices of mozzarella cheese which are coated in seasoned breadcrumbs and fried until golden brown and melted inside. Mozzarella sticks are most commonly served with marinara sauce for dipping.
Mozzarella Sticks with String Cheese
Making homemade mozzarella sticks with string cheese is not a difficult proposition, particularly if you take advantage of the fact that string cheese is already in perfectly portioned sticks ready to fry! All you need to do is bread them and dunk them in oil! You can even make Doritos Mozzarella Sticks if you are feeling crazy!
Can I bake mozzarella sticks?
Yes, you can make homemade mozzarella sticks without frying, by baking them in the oven. However, I find baked mozzarella sticks have a higher risk of error since you can't monitor their cooking as closely. You are more likely to end up with melted white blobs than stretchy homemade cheese sticks!
Not to mention, baked mozzarella sticks aren't all that healthy either. You are still chowing down on big sticks of breaded cheese. Might as well fry them in oil, get better flavor, and have a better chance of them cooking to perfection.
If you still wish to attempt baked mozzarella sticks I recommend freezing the cheese prior to breading and baking them in a 450-degree oven until golden brown and the cheese threatens to ooze out. Freezing the cheese buys you a little more time before you have a melted disaster.
How to Make Homemade Mozzarella Sticks
If you don't have a deep fryer, and I don't, I recommend using a cast iron fryer. It has deep walls which is perfect for containing and oil threatening to splatter over, and the heavy nature of cast iron is perfect for maintaining a steady temperature. All of my deep frying is done exclusively in this.
The links on this page may be affiliate links. Any purchases made through these links help support FoxValleyFoodie.com without any additional costs to you.
Use your digital thermometer to monitor the frying oil temperature. The oil temperature will drop after adding the initial batch of mozzarella sticks, so I typically increase the heat of my burner after I start frying, or raise my initial frying temperature a little over 365 to compensate for the impending drop.
It is also a good idea to do a test batch with a single stick to get an idea of how quickly your mozzarella sticks will cook. If you see the cheese oozing out, they are overcooking and should be removed immediately.
More classic bar appetizers
Homemade Mozzarella Sticks with String Cheese
Making homemade mozzarella sticks with string cheese is easy because the cheese is already perfect portioned! Just bread and deep fry to perfection!
Print
Pin
Rate
Ingredients
16

oz

String Cheese

1 ½

cups

Italian breadcrumbs

2

eggs

2

tablespoon

Milk

Oil for frying

Marinara for dipping
Instructions
Fill skillet with a couple inches of oil and heat to 365 degrees.

Whisk together milk and egg in a bowl.

Add breadcrumbs to a separate bowl.

Dip string cheese in egg, then breadcrumbs, then egg again and breadcrumbs again.

Deep fry in batches until crust is golden brown, about 1 minute.

Remove from fryer and let drain on a paper towel, then serve with marinara sauce.
Notes
The cheese will melt fast so don't worry about the short fry time. If you over fry it the cheese will be too melted and unruly.
Tip: To prevent the breadcrumbs from getting clumpy in the bowl I don't add the full amount right away. I keep adding fresh crumbs as I'm breading the sticks.
IF YOU LIKED THIS RECIPE you will love my Easy Cheese-Stuffed Breadsticks too!
Nutrition
If you enjoyed reading my homemade mozzarella sticks recipe then you should probably like me on Facebook and follow me on Pinterest too. That's what I would do at least, because if you don't get to know me but you still use my recipe it is kind of like taking candy from a stranger, and your mom taught you not to do that. Don't disobey your mom, subscribe to Fox Valley Foodie today.