Get ready to make the best venison burger ever with this easy recipe. These flavorful burgers are dripping with flavor and perfect for celebrating a successful harvest!
Whether you are an avid hunter who already has a freezer full of venison meat, or you are anxiously awaiting the return of deer season so you can get that freezer restocked, you are going to want to set aside some ground venison to give this darn near perfect venison burger recipe a try.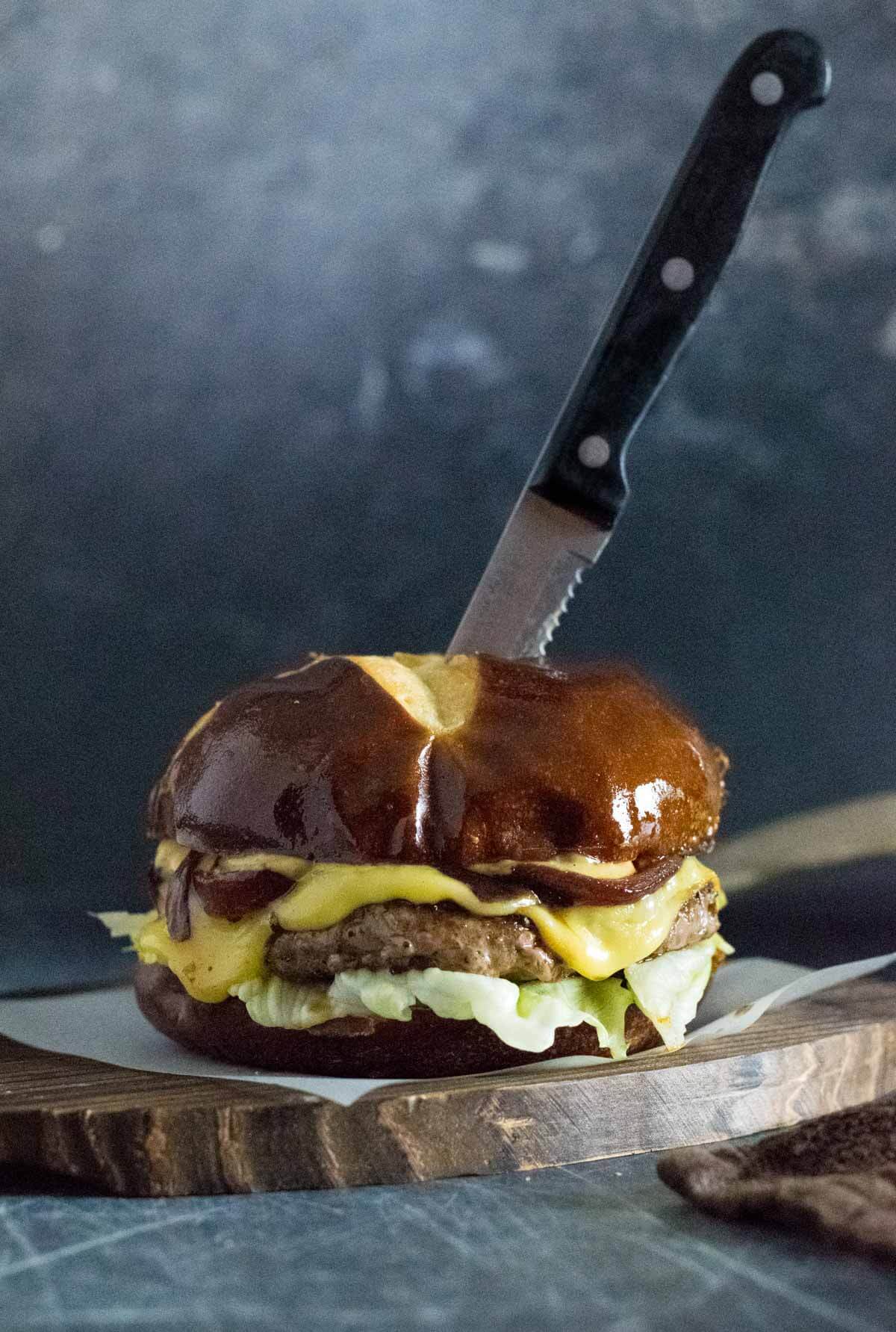 What are they?
These juicy venison burgers are made with ground deer meat patties and topped with smoked gouda cheese, sauteed onions, and a savory sauce made from a mixture of Dijon mustard, Steak sauce, and mayonnaise.
To make the best venison burgers, I recommend grinding your own deer meat at home to ensure you get the ideal 20% fat ratio. However, there will be no problems using this recipe with the ground meat your local butcher or deer processor provides you (you can even make this recipe with beef burgers). For the best tips and tricks for making venison burgers from scratch, I recommend reviewing how to make venison burgers.
Ingredients and Substitutions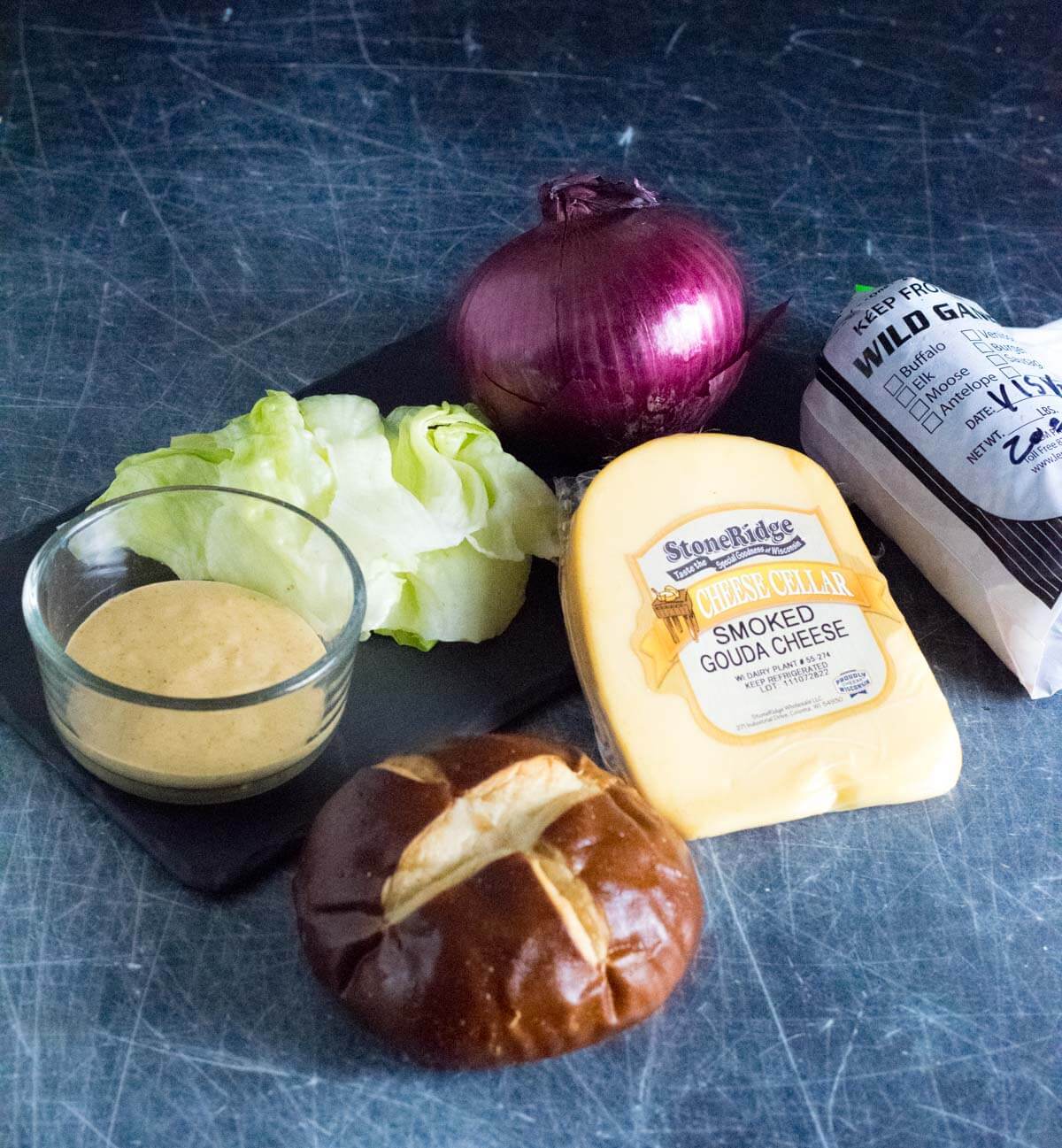 Ground venison - Ideally, since venison is very lean meat, you want 20% pork fat or beef fat blended in when the meat is ground. However, if you do not grind your own meat, then it is fine to use whatever your processor gives you. Just be aware that the burger will be drier if it is too lean. You can substitute most any other wild game meat in this recipe.
Red onion - A sweet onion or yellow onion can also be substituted.
Red wine vinegar - Balsamic vinegar is an equally good choice.
Smoked gouda cheese - You can substitute another smoked cheese or regular gouda.
Butter - Olive oil can be substituted, but butter is the best choice.
Lettuce - Iceberg lettuce, romaine, or green leaf lettuce are all great. I used iceberg lettuce in my photos because my grocery store was out of green leaf lettuce, which would have been the best choice.
Pretzel buns - These can typically be found in the bakery department at local grocery stores.
A.1. Steak Sauce
Dijon Mustard
Mayo
How to make it
The first step to making the best venison burger recipe is to properly form the burger patty. To do so, separate the ground venison into ⅓ pound chunks and then press them flat with a plate (or another large flat object). It is important to press them until they are slightly wider than the bun.
Next, we are going to carmelize the onions by slowly cooking them in a skillet with butter over medium heat until they are nicely brown and sticky. Stir them as needed to prevent burning, but take your time cooking them to extract maximum flavor. I aim for sauteing them for at least 30 minutes. When they have finished caramelizing, stir in the red wine vinegar.
Now we are ready to cook the burgers. Season the venison burger patties with salt and pepper and set your cast iron pan over medium-high heat on the stovetop. Add a tablespoon of butter (olive oil or bacon grease are also great options) to the skillet and place the raw venison burger patties in the hot skillet. Cook until they form a brown crust underneath, then flip, top with cheese, and continue cooking until the internal temperature reaches 160 degrees.
Tip: The best burgers will never be pressed while it is cooking! This will expel the juices and result in a very dry burger.
As the burger finishes cooking, mix together the mayo, steak sauce, and Dijon, and lightly toast the interior of your pretzel buns in a separate cast iron skillet. You can butter the cut side of the bun as well if you wish.
Assemble your gourmet venison burger by placing lettuce on the bottom bun, followed by the venison patty, cheese, sauteed onions, and your custom burger sauce. Serve immediately with steak fries.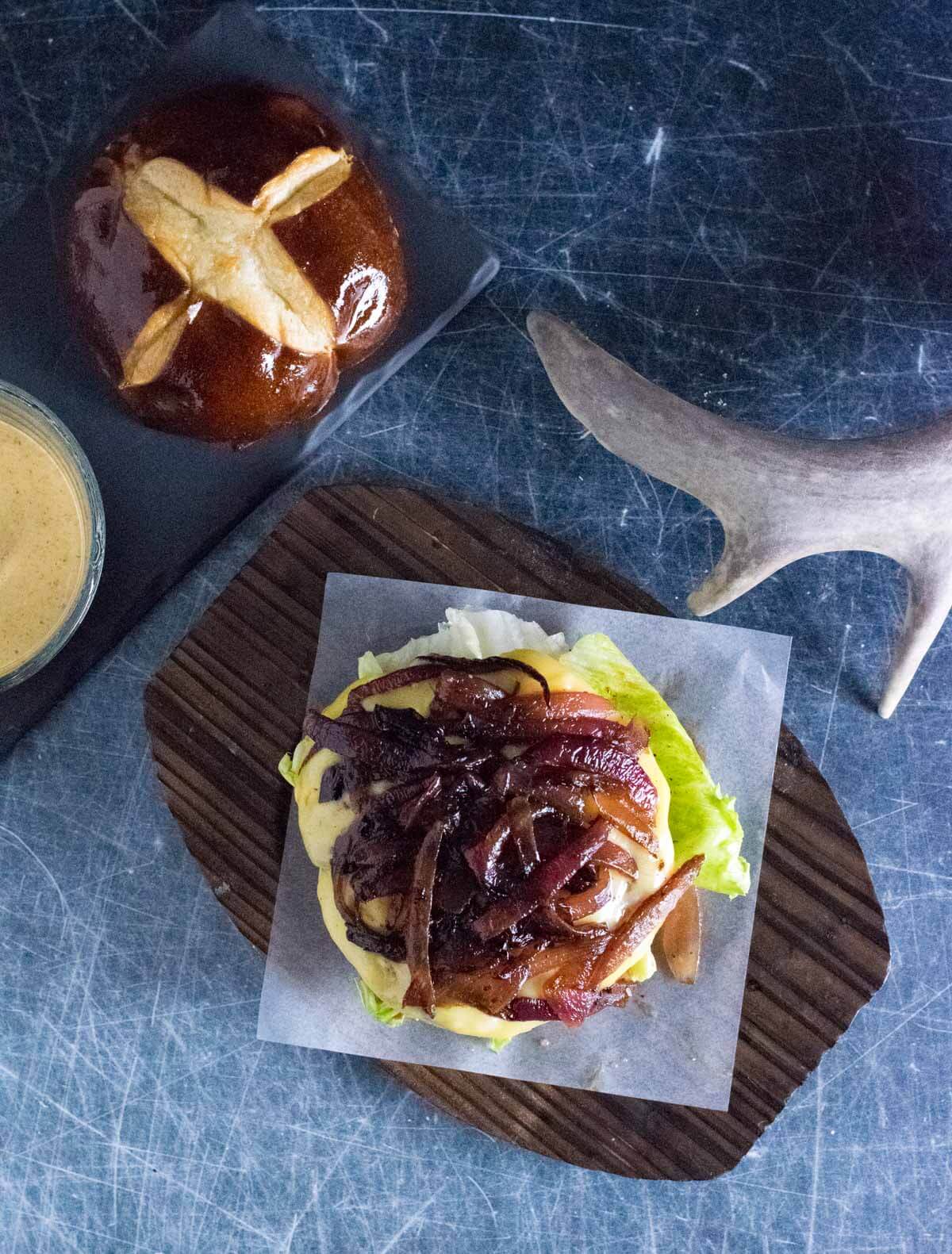 Venison Burger FAQs
What can I mix with venison to make burgers?
The only thing that should be mixed with venison to make delicious burgers is 20% pork fat, beef fat, or bacon. I personally do not recommend mixing in Worcestershire sauce, BBQ sauce, or any other similar ingredients because they mask the wonderful flavor naturally found in venison.
How do you make deer burgers not fall apart?
If your venison burgers are falling apart it is either because you did not form the patty tightly enough or you did not add fat to the ground deer meat when it was processed. Without added fat, your deer burger will be extremely lean which will make the patty dry and crumbly.
Can venison burgers be pink in the middle?
It is recommended to cook ground venison to 160 degrees. This is particularly important if you did not grind your own venison because some lazy butchers will grind your meat with everyone else's deer, and you can bet some of those deer lingered in the heat too long prior to being dropped off for processing.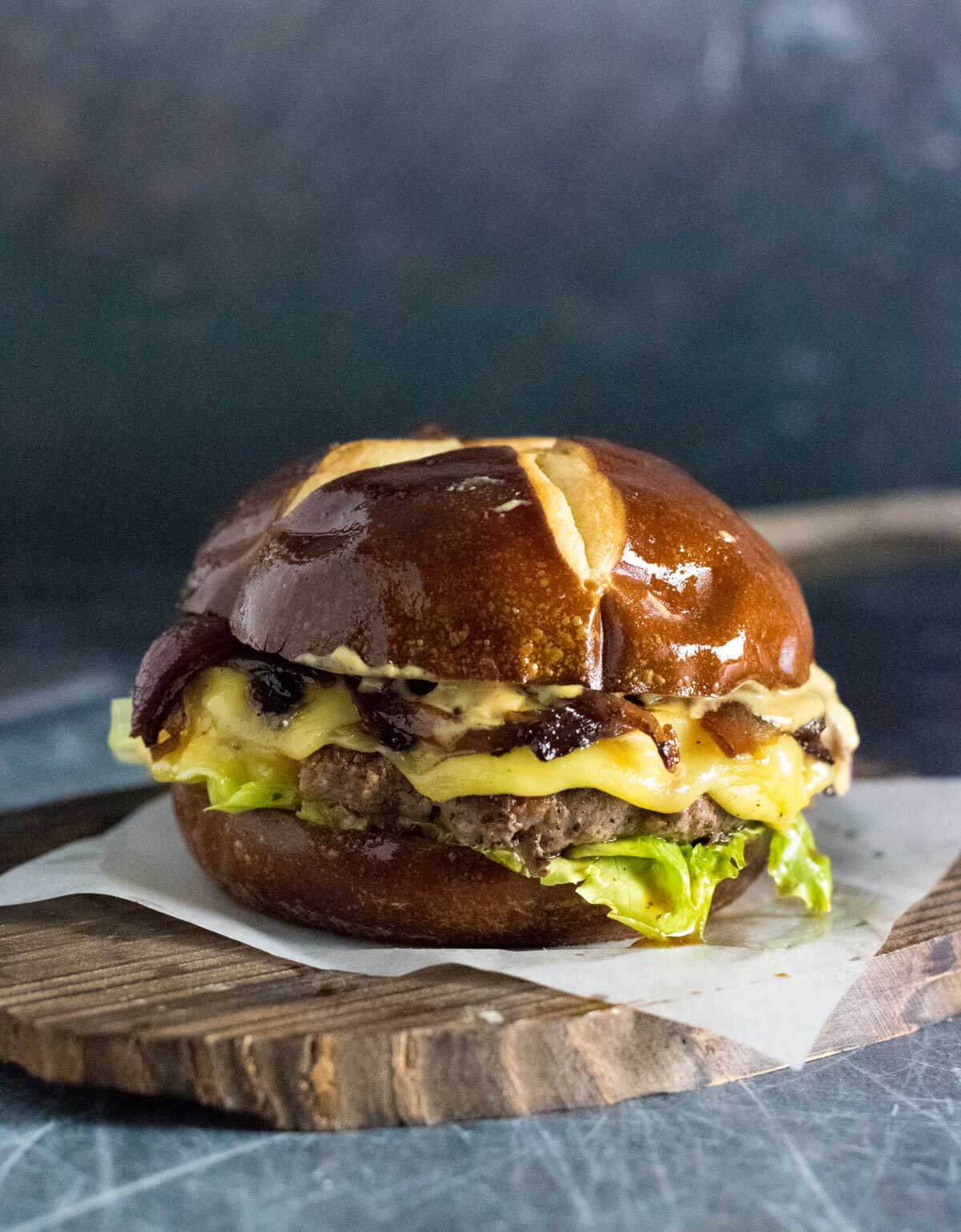 Can you do me a favor? If you enjoyed my post would you mind sharing it with your friends? You can see more of my recipes by liking me on Facebook and follow me on Pinterest too. Otherwise, stay up to date by getting each new post sent directly to your inbox by subscribing today.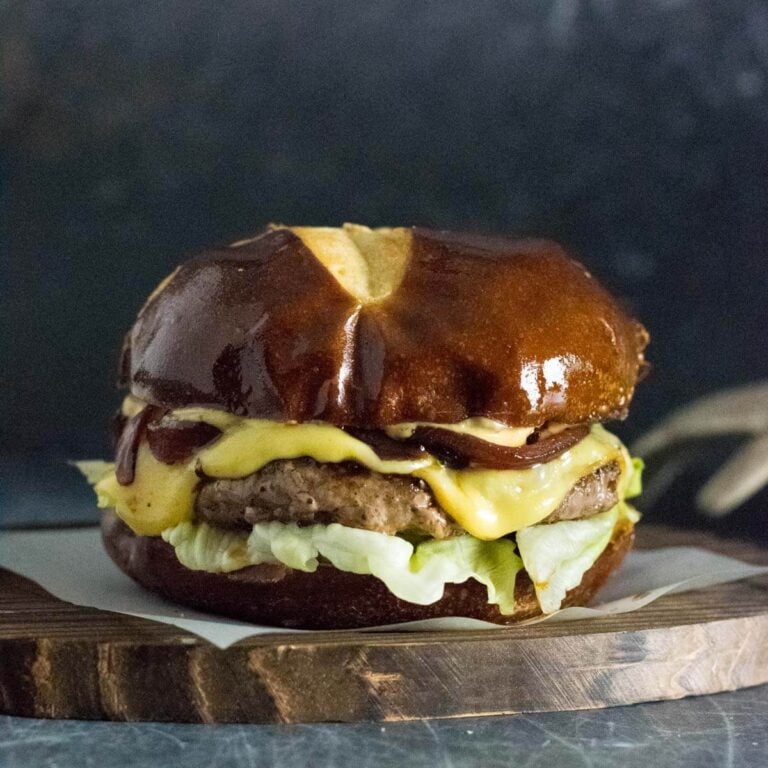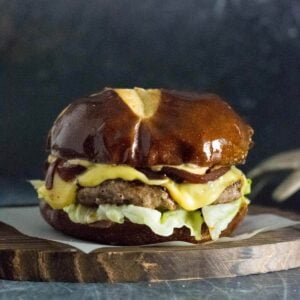 Best Venison Burger
Get ready to make the best venison burger ever with this easy recipe. These flavorful burgers are dripping with flavor!
Print
Pin
Rate
Save
Saved
Ingredients
Venison Burger
1

pound

ground venison

1

medium

red onion

sliced

1

tablespoon

red wine vinegar

3

tablespoons

butter

divided

3

slices

smoked Gouda cheese

3

slices

lettuce

3

Pretzel buns

salt and black pepper

to taste
Instructions
Add sliced onions to a saute pan set over medium heat along with one tablespoon of butter. Slowly caramelize the onions until they turn brown and sticky, stirring on occasion to prevent burning. *

When onions have finished caramelizing stir the red wine vinegar until it is absorbed by the onions. Then remove the caramelized onions from the skillet and set them aside.

Form your venison burger patties while the onions are caramelizing. Do this by separating your ground venison into ⅓ pound chunks. Then press the meat flat with the bottom of a plate until it forms a burger patty slightly larger than the width of your buns. Season each patty with salt and pepper to taste.

Add one tablespoon of butter into a large skillet set over medium-high heat and add the raw venison patties. Cook until the patty is well seared underneath, then flip once to cook the other side and place the cheese on top to melt as it finishes cooking. Do not press the patties as they cook! Cook to an internal temperature of 160 degrees.

While the burgers are cooking, slice your hamburger buns in half and brush the cut interior with butter then lightly toast the buns in a separate skillet until they begin to turn golden brown.

Prepare the burger sauce by mixing the mayo, steak sauce, and Dijon mustard together in a small bowl until well combined.

Assemble your juicy burgers by placing lettuce on the bottom bun, followed by the burger patty, cheese, caramelized onions, burger sauce, and the top bun. Serve immediately.
Notes
*Expect it to take at least 30 minutes to properly caramelize the onions. The more time you take to do this correctly, the sweeter your onions will be.
Hint: This would be an incredible burger to top with my venison bacon!
Nutritional Information
Calories:
502
kcal
|
Carbohydrates:
6
g
|
Protein:
41
g
|
Fat:
34
g
|
Saturated Fat:
18
g
|
Polyunsaturated Fat:
3
g
|
Monounsaturated Fat:
8
g
|
Trans Fat:
0.5
g
|
Cholesterol:
187
mg
|
Sodium:
638
mg
|
Potassium:
620
mg
|
Fiber:
1
g
|
Sugar:
3
g
|
Vitamin A:
546
IU
|
Vitamin C:
3
mg
|
Calcium:
243
mg
|
Iron:
5
mg