Brat burgers combine all the mouthwatering flavors of bratwurst, into a hamburger patty, for a taste that is truly the best of both worlds!
Wisconsin is famous for brats. Everyone knows that. Wisconsin is also the home of the hamburger. It was invented right up the road from me in Seymour. So it would only make sense to combine the two and craft an awe-inspiring brat burger!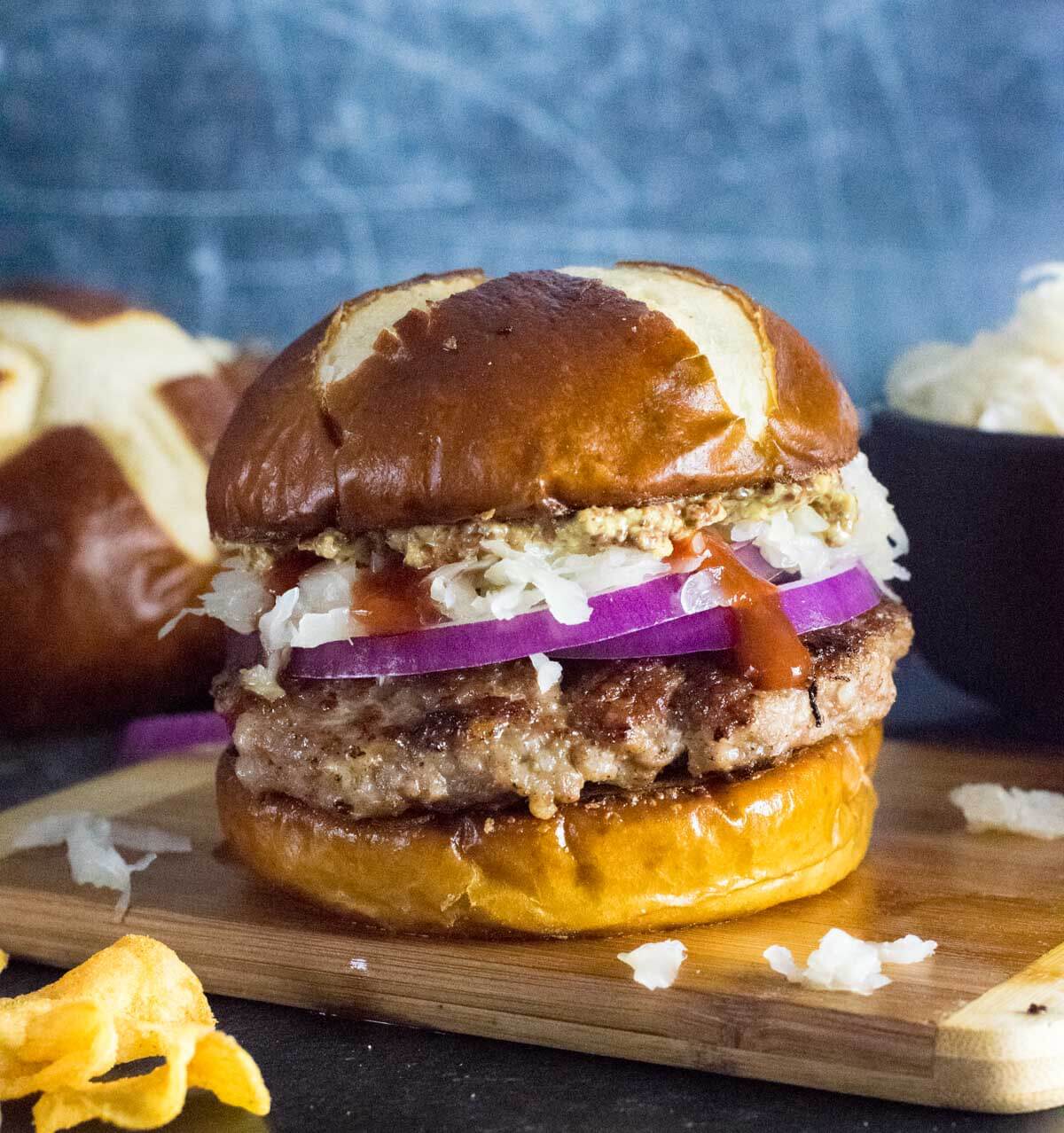 Brat Burgers
You don't need a meat grinder to make a good brat burger. Ask your butcher to grind you some pork shoulder or buy freshly ground pork from the meat case. Brat burgers are fantastic because you are literally making bratwurst, but skipping the tedious step of stuffing casings, which is obviously required to make homemade sausages. Your brat patties are perfect for throwing on the grill or can be easily cooked up in a skillet.
How to Make Brat Burger Patties
As opposed to my very popular homemade burger tutorial, the steps to make brat burger patties are a little less delicate since all of the seasonings need to be thoroughly mixed with the pork, but this also makes them easier to create. This is the same process used for my Jamaican Jerk Pork Burgers as well.
Crumble your ground pork into a large bowl and combine the brat seasonings in a separate dish, then sprinkle the seasonings over the pork and mix together. You will get maximum flavor from your patties if you let the flavors meld in your refrigerator overnight, but this is optional.
To form the patties I use a digital kitchen scale to measure out ⅓ pound balls, and then flatten them with hamburger press, or the bottom of a flat plate.
Tip: Use wax paper when flattening the patties to prevent sticking.
Brat Burger Toppings
The basic toppings for a brat burger are whatever you would put on a grilled bratwurst. However, I have some suggestions that will take these burgers to the next level!
Recipe Tips and Troubleshooting
I am missing one ingredient! - Although I recommend following this recipe as written, if you are only missing one of the seasonings, don't fret, the flavor will still turn out great if it is omitted.
I don't have time to let the meat sit in the fridge overnight! - The flavor is best when the pork and seasonings are allowed to meld in the refrigerator overnight, but they still taste great when cooked immediately. The burger in my photos was cooked and eaten less than an hour after making the patties, and it was fantastic!
My brat patty doesn't have a brown crust - If your patty is fully cooked and still looks gray, your heat was too low. Raise the heat a little to get a flavorful brown crust on the exterior.
My brat patty turns black before it was done cooking - Your heat is too high, lower it a little to allow the inside of the patty to cook before the exterior burns.
What to Serve with Brats
Whether you are making brat burgers, grilled brats, or smoked brats, the same classic cookout side dishes will work with each. Here are my most popular choices:
Brat Burgers
Brat burgers combine all the mouthwatering flavors of bratwurst, into a hamburger patty, for a taste that is truly the best of both worlds!
Print
Pin
Rate
Save
Saved
Ingredients
Brat Patties
2

pounds

ground pork

1

tablespoon

kosher salt

1

teaspoon

sugar

1

teaspoon

grated nutmeg

¾

teaspoons

ground black pepper

½

teaspoons

dried ground ginger

¼

teaspoon

coriander

¼

teaspoon

celery seed

¼

teaspoon

ground marjoram

¼

teaspoon

dried ground sage
Brat Burgers
6

pretzel buns

(can substitute other hamburger buns)

red onions

(sliced)

ketchup

(or Brat Sauce recommended below)

brown mustard
Instructions
Brat Patties
Combine ground pork with all brat patty seasonings.

Optional but recommended: Let rest overnight if possible to allow flavors to meld.

Form into ⅓ pound patties, or size of your choice.

Tip: Use a digital scale for consistency and press the patties flat with a plate bottom and wax paper to prevent sticking.

Cook burgers on medium heat to create an exterior crust on the burger while giving time for the interior to come to temperature.

Cook until the brat burger patty reaches 160 degrees, flipping once during cooking. Approximately 7 minutes, depending on patty thickness.
Brat Burger
Toast buns while patties are cooking.

Place brat burger on bun and top with onions, sauerkraut, and condiments.
Notes
To evelate this burger to truly gourmet status try the following substiutions:
Nutritional Information
Calories:
401
kcal
|
Carbohydrates:
1
g
|
Protein:
26
g
|
Fat:
32
g
|
Saturated Fat:
12
g
|
Cholesterol:
109
mg
|
Sodium:
1248
mg
|
Potassium:
434
mg
|
Fiber:
1
g
|
Sugar:
1
g
|
Vitamin A:
11
IU
|
Vitamin C:
1
mg
|
Calcium:
21
mg
|
Iron:
1
mg
This recipe was originally published on FoxValleyFoodie.com on February 9, 2015.