There are few things better than the nirvana of a juicy grilled burger. Let me show you the secrets on how to grill burgers perfectly each time!
When it comes to my burger recipes, I am kind of like that old guy no one ever wants to visit. I tell the same story over and over again... "I once owned a burger food truck and perfected my burgers by cooking them every different way I could think of, every day for over 6 months straight, cooking uphill both ways." Cliff notes version: I take my burgers seriously.
Crafting the best grilled burgers can be a challenge for the average grillmaster. The heat is more difficult to control, flare-ups threaten to carbon-date your food, and how do you even make a proper burger patty in the first place? Add on top of that, men seemed to have self-anointed ourselves as the kings of outdoor cooking, even though most men's knowledge of cooking ends at the final ding of a microwave. But hey, we are stubborn and determined, I can work with that.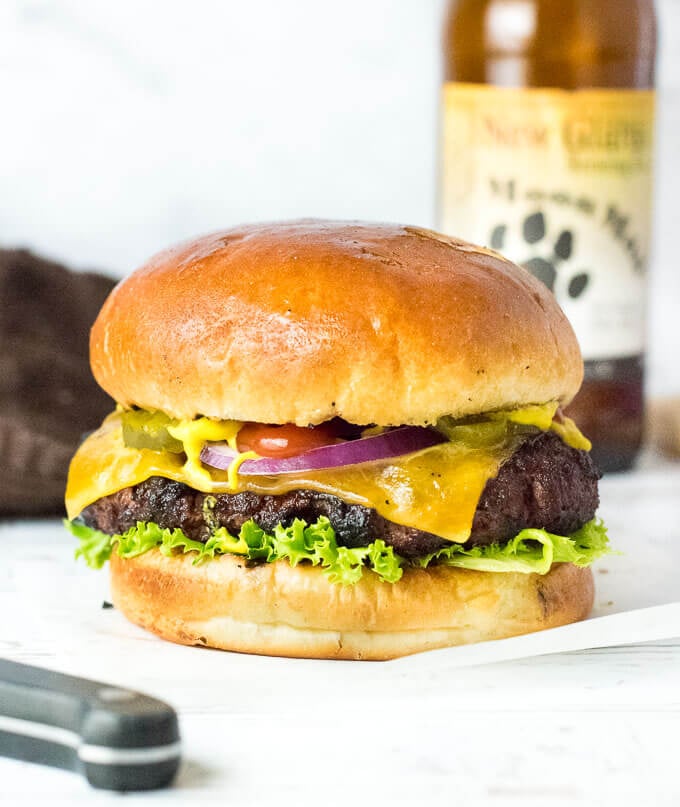 What Beef is Best for Burgers
Learning every grilling secret in the world won't help if you don't have the right ground beef for burgers. The best beef for burgers is ground chuck. Specifically 80/20 beef, which has a ratio of 80% meat and 20% fat, which is typical of chuck roast. A fattier ratio will cause the burger to shrink up excessively during cooking, while leaner beef will be excessively dry.
How to Make Burger Patties
The best grilled burger patties hold together on the grill without falling apart, yet are perfectly tender when bitten into. I have written extensively on how to craft the best homemade burger patties, and I recommend brushing up on it. I like my grilled burgers to be slightly more dense to help them hold together on grill grates, so you are able to work the meat a little more than if cooking in a smooth skillet.
For grilled burgers, I recommend forming patties ⅓ - ½ pound in size, depending on your appetite.  Work the meat gently to separate into the appropriate size, the more you work the meat the denser your burger patties will be. I find the best way to form the burgers into shape is using a burger press. I bought an inexpensive burger press, however homemade burger presses, such as the bottom of a flat plate also work well. Using [easyazon_link identifier="B00TDBVW7W" locale="US" tag="foxvalfoo-20"]wax paper[/easyazon_link] (affiliate link) is a great way to press your burgers without worrying about the meat sticking.
Don't be afraid to press very firmly when pressing the patty. You want to ensure it is compacted enough that it doesn't balloon into a meatball as it cooks.  Hamburger patties will swell excessively if not pressed firmly enough.
How to Grill Burgers
The secret to grilling burgers is zone heating. To achieve zone heating on a charcoal grill, light all of the charcoals until hot (I recommend a [easyazon_link identifier="B07B5BHKDZ" locale="US" tag="foxvalfoo-20"]chimney starter[/easyazon_link] - affiliate link) and pour them evenly on one side of the grill. This creates an area of high heat perfect for searing the burgers. If the heat is too intense the burgers can be moved further away from the coals to cook more slowly. I start my burgers over the coals, searing both sides, then move them to the other side of the grill to finish cooking.
If you are grilling burgers on a gas grill it is best to treat it like a stovetop and find the appropriate heat where the interior comes to temperature before the exterior burns. However, many propane grills I have used in the past had poor temperature control, with their lowest setting still being too hot. In this case, I recommend turning on one row of burners and creating zone heat just like a charcoal grill.
Grilling Tip: If you get flare-ups while grilling, simply close the lid on the grill to cut off oxygen to the flames.
When Are Burgers Done
You can tell when burgers are done by pressing on them, or using a [easyazon_link identifier="B00GRFHXVQ" locale="US" tag="foxvalfoo-20"]digital meat thermometer[/easyazon_link] (affiliate link). Less done burgers will feel spongy, resembling the soft feel of the raw meat. Well done burgers will be very firm.
For well-done burgers, you want an internal temperature of 160 degrees. Medium burgers will be around 150 degrees, and medium rare at 135 degrees. When cooking burgers below 158 degrees there is always a risk of germs contaminating the meat, so get your meat from a reliable butcher or grind your own.
Grilled Burger Recipes
You can certainly make a classic cheeseburger on the grill, but if you want to grill up some gourmet creations, try my Peppered Balsamic Burger Sauce, or you can even recreate childhood favorites with my Big Mac Sauce.
If you want to create burgers that will rival your favorite restaurant's offerings, try my Bacon Jalapeno Popper Restaurant Burger, my Bacon Jam Burger, or even the classic Bacon Blue Cheese Burger. All of these would be phenomenal on a grill!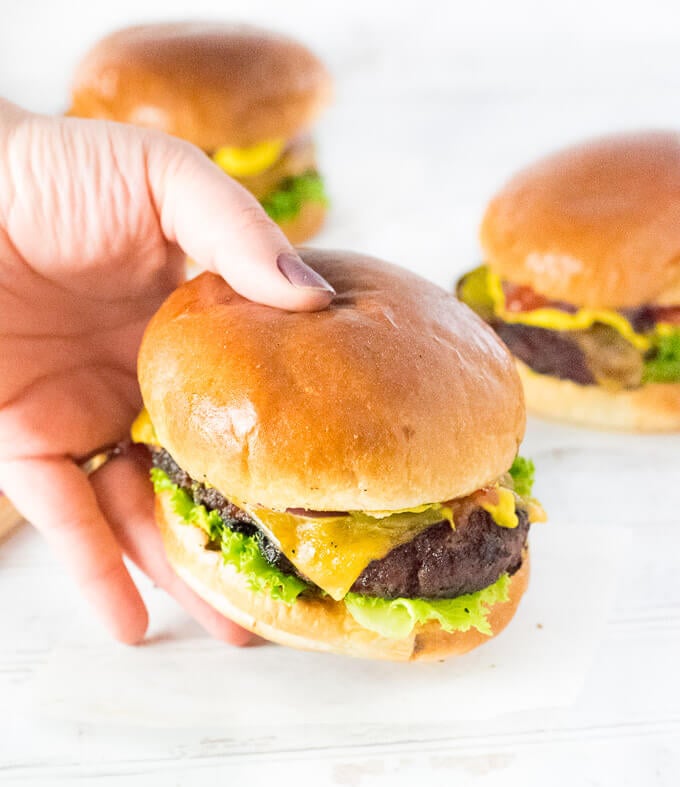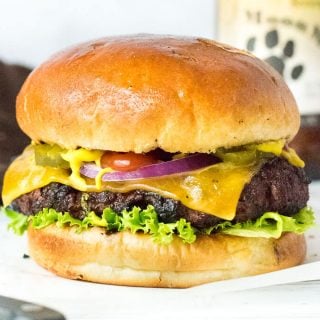 How to Grill Burgers
There are few things better than the nirvana of a juicy grilled burger. Let me show you the secrets on how to grill burgers perfectly each time!
Print
Pin
Rate
Save
Saved
Ingredients
1

pound

Ground Chuck

(or 80/20 beef)

salt

pepper

3

slices

Mild Cheddar Cheese

½

sliced

Onion

(Red or Yellow Onion)

12

Dill Pickles slices

3

slices

Beefsteak Tomato

3

leaves

Green Leaf Lettuce

Ketchup

Mustard

3

Hamburger Buns

2

tablespoons

Butter

(melted)
Instructions
Separate beef into 3 equal rounds and flatten into a burger patty using a burger press or flat-bottomed plate. Press firmly. Season patties liberally with salt and pepper. *

Light charcoal in a full chimney starter and pour over half of the grill. Plate grate on the grill and lightly oil to prevent sticking.

Place burgers on grate directly over coals and let cook until each side has formed a seared crust, approximately 3 minutes per side, flipping once.

Top with cheese and move the burgers to the far side of the grill to finish cooking to your desired level of doneness.

Lightly brush cut side of hamburger buns with butter and toast briefly on grate over the coals. Be sure to keep an eye on them or they will burn quickly.

Remove burgers and buns from the grill and assemble by topping bun with burger patty and desired toppings.
Notes
*It is best to use freshly ground beef, rather than prepacked ground beef in a tube. Fresh ground beef (where you can still see the meat strands from the grinder) will create a more tender burger.
Feel free to substitute your favorite condiments and toppings. The toppings I included in this recipe will create a classic grilled cheeseburger.
IF YOU LIKED THIS RECIPE check out how to make a great Fast Food Burger at home!
Nutritional Information
Calories:
693
kcal
|
Carbohydrates:
24
g
|
Protein:
37
g
|
Fat:
48
g
|
Saturated Fat:
22
g
|
Cholesterol:
156
mg
|
Sodium:
561
mg
|
Potassium:
546
mg
|
Fiber:
1
g
|
Sugar:
3
g
|
Vitamin A:
1585
IU
|
Vitamin C:
3.3
mg
|
Calcium:
313
mg
|
Iron:
4.7
mg
If you enjoyed How to Grill Burgers then you should probably like me on Facebook and follow me on Pinterest too. That's what I would do at least, because if you don't get to know me but you still use my recipe it is kind of like taking candy from a stranger, and your mom taught you not to do that. Don't disobey your mom, subscribe to Fox Valley Foodie today!