I am going to walk you through how to make a fast food burger that will rival your favorite chain's. Read this for a step by step walkthrough of everything involved with making a great fast food burger!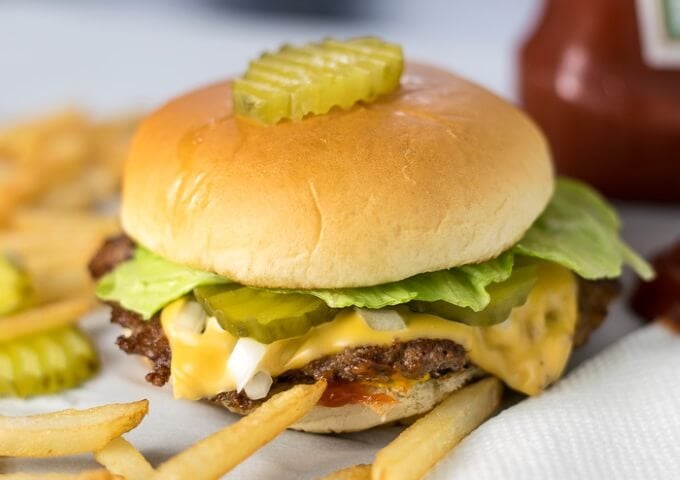 I'd like to think I know a thing or two about making burgers. I once owned a gourmet burger truck, but it turned out I was a better burger flipper than a mechanic. Though, in preparation for this colossal headache I made burgers everyday for over 6 months straight. True story.
When you make burgers everyday for 6 months, and you live in a small two bedroom apartment, burgers frying pretty much becomes your cologne. It's sexy.
But despite the obvious drawbacks, it did give me extensive insight into what makes a restaurant quality burger patty recipe. I used pre-ground meat, ground my own chuck, used lean meat, used fatty meat, grass fed beef, corn fed beef, hand-formed patties, used a press - I tried everything on my quest to learn how to make great burgers.
Here is what I learned:
There are essentially two types of burgers, and the preparation of each is very different. There is the larger style patty you typically see on gourmet burgers and in sit-down restaurants, and there is the fast food burger which is a thin patty generally under a ¼ lb.
I am going to walk you through how to make a fast food burger that will rival your favorite chain's. Living in Wisconsin, I've long held Culver's up as the crème de la crème of fast food chains, and though I did not design this recipe to perfectly replicate the Culver's Butter Burger recipe, after reading this post you will be able to do so with amazing accuracy if you wish.
Let's break the fast food burger down into its components because each part is important to replicate that taste you're looking for.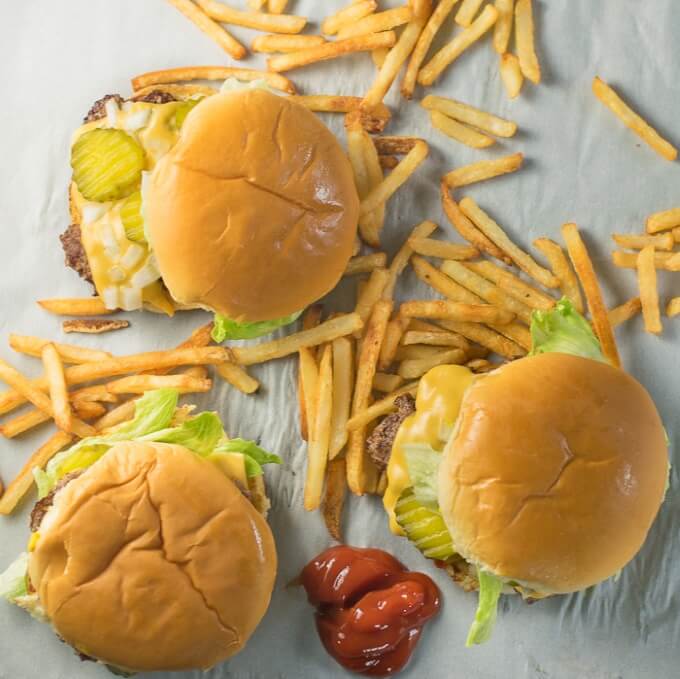 The Patty
You will want to use 80/20 ground beef. Any fattier and it will shrink down too much, any leaner and it will be too dry. Buying pre-ground beef is fine for a fast food style burger.
Start with 1 pound of ground beef and divide it into 6 equal chunks. This size is ideal to ensuring your cooked patty will properly fit a traditional-sized bun. You will want these chunks to be round-ish, similar to a golf ball or a small hockey puck, but they don't need to be perfect by any means.
You will be cooking these in a really hot skillet, I recommend cast iron. You want the skillet hot enough to create a sear on the bottom of the burger. This gives the Culver's Butter Burger its classic taste. You can assist the formation of this sear by lightly oiling the pan before you place your first patty in. I have my stove on medium high for this, and smoke alarms off.
When you place the rounded chunk of ground beef in the pan, only then do you flatten it into the shape of a burger patty. If you try to create thin, fast food style patties before you place it in the skillet they are likely to fall apart on you and be hard to work with. To flatten the patty, use a stiff spatula (metal works well) and press firmly all across the patty until it forms an even disc roughly ¼" thick. This Amazon affiliate link shows a great example of the spatula that I use.
It is important you only press the patty while it is still fresh in the skillet. If you press it after it starts cooking too much you will release all of the juice in the burger and have a very dry patty. The flattened patty should initially be slightly larger than the size of your bun, as it will shrink slightly while cooking.
Beef can take a lot of salt, so season liberally with salt and pepper.
Flip the burger once the top starts changing color from the cooking. This will ensure you have given the bottom sufficient time to form a sear. The second side won't take long to cook.
Remember to season both sides with salt and pepper.
Hint: These are great patties to use when making authentic butter burgers.
The Cheese
I hate to recommend it, but American cheese. Yes, if you are going for that classic fast food burger taste, you need to use American cheese slices. The other benefit of American cheese is how easily it melts. The residual heat in the burger patty will be enough to melt the cheese once it is done cooking. Only buy name brand American Cheese (Land O'Lakes is recommended). I have purchased generic American cheese singles in the past and have been mortified by its taste and texture.
If you want to upgrade the burger and use real cheese, mild cheddar is the way to go. I find sharp cheddar is way too strong and completely throws off the flavor of the burger. If you decide to go with real cheese, you will want to buy the pre-sliced cuts designed for sandwiches. Mild cheddar does not melt as easily as American cheese, so place it on the burger as soon as it is flipped so it can start melting. Don't cut the cheese yourself, or it will likely be too thick and not melt properly on the fast cooking burger.
The Bun
People don't realize how important choosing the bun is. The bun can make or break the burger. I'm serious.
For a fast food style burger you won't want to buy fancy buns from the bakery. You need the pre-packaged buns found in the bread aisle.
However, I still wouldn't buy the generic, or store brand hamburger buns. They often have a drier, stiffer, texture that detracts from the burger. Instead, purchase a premium brand of hamburger buns that feel soft and fresh in the package. A brand like Village Hearth Classic Hamburger Buns would serve you well.
You will want to butter the inside of the buns and lightly toast them. This is what makes Culver's ButterBurger, a "butter" burger. The butter gives a little boost in flavor and lightly toasting the bun improves the texture.
Toppings
It starts with iceberg lettuce. Not romaine, not green leaf, not spinach. Those are all great options for a gourmet burger, but for a fast food burger it has to be iceberg lettuce.
Onions – If you live in Wisconsin and you want to replicate a Culver's burger you will want thin slices of red onion. For the more typical fast food burger I dice yellow onion and sprinkle it on the cheese.
Pickles – Slices of hamburger dill pickles, about three to four per burger, depending on size.
Tomato – I omit tomato from my fast food burger recipe because I think the out of season tomatoes are incredibly flavorless with a mealy texture. However, if you wish to add it to your burger I recommend getting a larger beefsteak tomato and thinly slicing it.
Toppings can go above or below the patty. They taste great either way.
Condiments
Ketchup and mustard. That's it. If you are aiming for that classic fast food burger taste, these are the non-negotiable.
Side
If you are going to make homemade fast food burgers there can be no better side than my homemade French fries. Seriously, this is the best hand-cut fry recipe out there. They don't turn dark brown when you fry them like traditional hand-cut fries. Plus, is there any other side you can serve with the classic American cheeseburger?
So there you have it! How to make a fast food burger that is actually really good! I'm not joking about that part either, I made the burgers in these pictures 3 days ago and I've been craving more ever since. Give the recipe a try, it will sure beat the oversized meatballs you've been passing off as hamburgers!
How to Make a Fast Food Burger – That is REALLY Good!
This is a complete step by step guide on how to create great fast food burger!
Print
Pin
Rate
Save
Saved
Ingredients
6

Prepackaged hamburger buns from the bread aisle

1

lb

80/20 beef

6

slices

American Cheese

Iceberg lettuce,

bun sized leaves

Yellow Onion

chopped

Salt

Pepper

Ketchup

Mustard
Instructions
Divide the beef into 6 equal round chunks.

Place beef in a medium-high skillet and firmly flatten into a ¼" thick round patty with a metal spatula. (The patty should be larger than the bun since it will shrink while cooking)

Season liberally with salt and pepper.

Flip burger once the top begins to change color from the cooking underneath.

Season second side with salt and pepper.

While burgers are cooking butter the inside of the buns and toast lightly in separate skillet.

Placed cooked patty on a bun, top with American cheese, chopped onions,3-4 pickles, and lettuce leaf.

Place ketchup and mustard on other half of bun and top the burger.

Enjoy!
Nutritional Information

If you enjoyed reading how to make a fast food burger then you should probably like me on Facebook and follow me on Pinterest too. That's what I would do at least, because if you don't get to know me but you still use my recipe it is kind of like taking candy from a stranger, and your mom taught you not to do that. Don't disobey your mom, subscribe to Fox Valley Foodie today.