Rich and silky, and perfect for slathering over everything on your dinner plate. Brown gravy is a versatile classic for a reason!
Do you ever get a particular food stuck on your mind - like a craving in your brain, rather than in your stomach? Gravy has haunted me all week. I wanted to conjure up a boat of gravy to serve with every meal, and I couldn't wait to sit down and type out all of the tips and tricks I could think to share with you guys on how to make perfect brown gravy!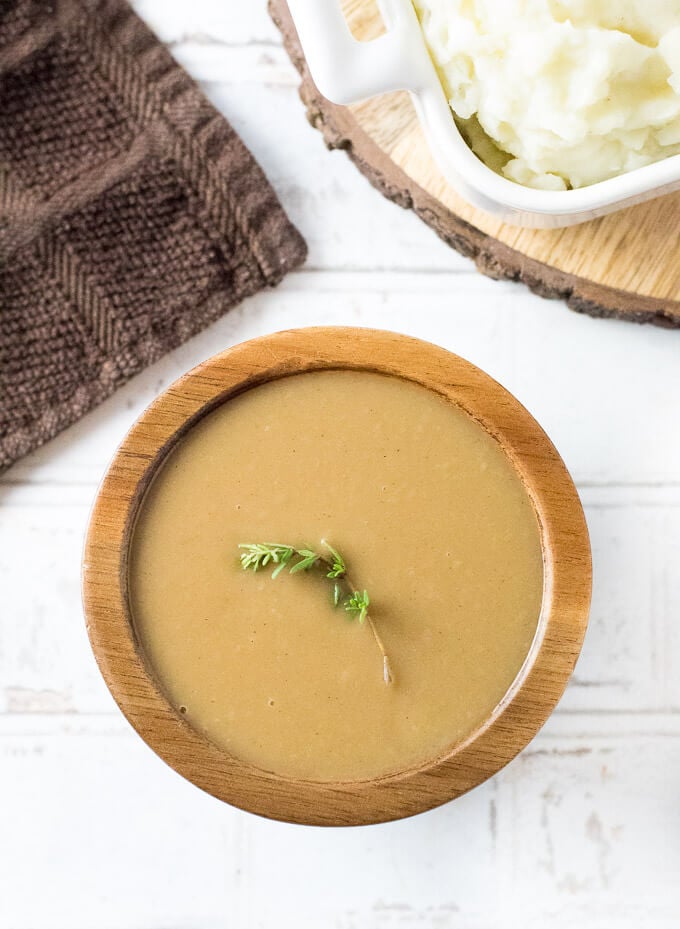 What is Brown Gravy
Brown gravy is a classic gravy traditionally made from roasted meat drippings and thickened with flour, additional seasonings are typically added for flavor. This gravy is often served with the meat that produced the drippings, such as in my Boneless Eye of Round Roast with Brown Gravy recipe. This is the quintessential way to make brown gravy, however, variations exist.
Brown Gravy without Drippings
Brown gravy can be made without drippings by using beef stock or beef broth instead to provide the hallmark meaty flavor of the gravy. Since fat from the drippings will be absent in this variation, butter or oil is substituted instead. Using drippings will always yield the richest flavor, but you can still craft a very luxurious brown gravy with beef broth if additional flavoring agents are added.
Making brown gravy with beef broth is my go-to method when beef drippings aren't available. In each of these similar recipes, I craft a mushroom gravy made with a beef broth base: Beef Tips and Gravy, Salisbury Steak with Mushroom Gravy, and Cube Steak with Mushroom Gravy. Mushrooms are included to be a primary flavoring agent and fortify the deep flavor of the brown gravy base. As you can tell, I am a big fan of my mushroom gravy, it works on quite a few dishes.
What to Add to Make Gravy Taste Better
Mushrooms are not the only addition that can make brown gravy even more flavorful. Chopped onions and fresh herbs can be used with mushrooms or instead of them. Alternatively, Worcestershire sauce, or soy sauce can be added to develop a more complex flavor. Finally, seasonings such as garlic and onion powder, as well as generous grinds of fresh ground black pepper can add additional layers of flavor. Brown gravy is a great base recipe to customize and add your own personal touch!
How to Make Gravy
The key to making the best gravy is a roux. A roux is a mixture of fat and flour that is slowly cooked to remove the raw flour taste, and deepen the flavor. Stir the roux continually while cooking to prevent scorching. If your roux burns there is no saving it. Remove it from the pan and start over.
Once the roux has been created, the foundation of your gravy is ready to go. Now a liquid needs to be introduced to thin it out. Pool juices from your roasted meat is the best choice, however, beef stock/broth can be used if pan juices aren't available. Water can be used as a last resort, but it will be the least flavorful method.
It is important to keep in mind that your gravy will thicken as it simmers, concentrating the flavors. This is why it is important to add salt last. Adding salt too early can result in an overly salty gravy once it reduces to the right consistency.
How to Fix Lumpy Gravy
If you add too much liquid to your roux too quickly, your gravy will get lumpy because the liquid won't all incorporate into the flour. Always add your liquid slowly at first, while stirring continually to ensure everything has incorporated before more liquid has been added.
If you screwed up and your gravy turned out lumpy, you can strain the finished gravy through a fine mesh strainer (affiliate link) to separate out the lumps and everything will still taste great.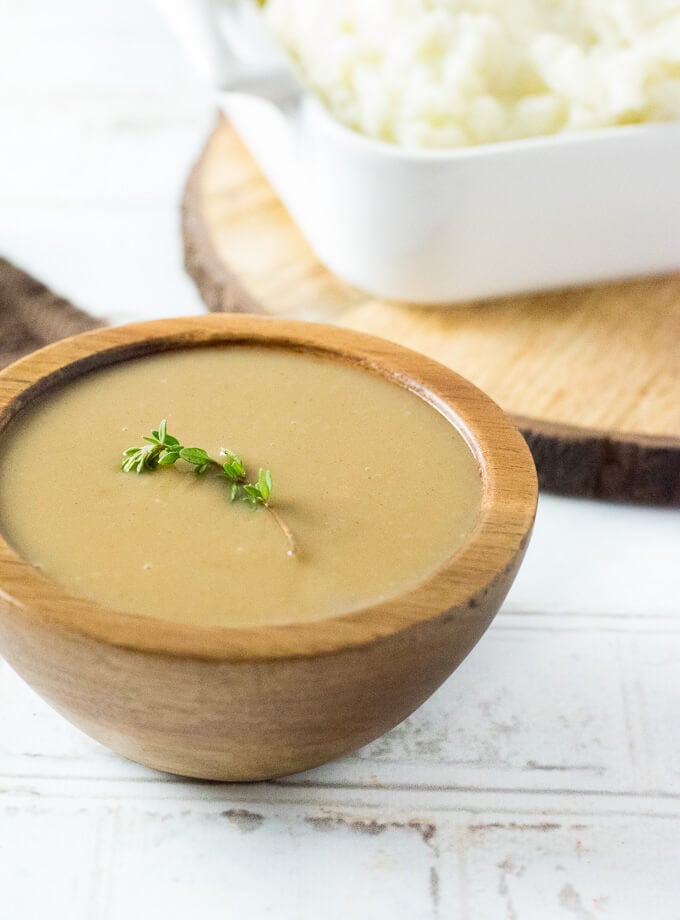 What to Serve with Brown Gravy
We have already discussed brown gravy is often served with the roasted meat it is created with. However, brown gravy is also a classic mashed potato topping. Additionally, you can reserve any leftover gravy to serve on top of a classic meatloaf or pot roast. Come to think of it, brown gravy would taste phenomenal on my French Onion Pot Roast!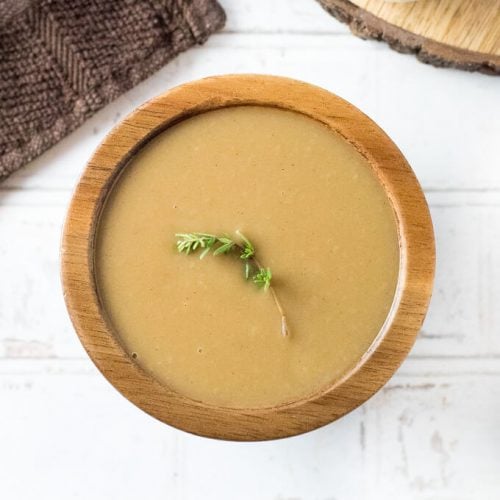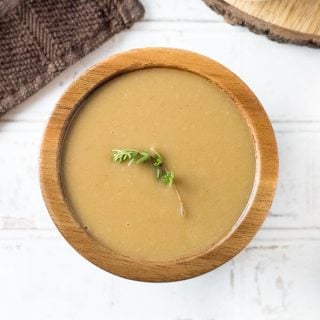 Brown Gravy
Rich and silky, and perfect for slathering over everything on your dinner plate. Brown gravy is a versatile classic for a reason!
Print
Pin
Rate
Save
Go to Collections
Ingredients
¼

cup

Roasted Beef Drippings

(other meats can be used as well, or butter)

¼

cup

Flour

2

cups

Reserved Beef Juices

(or substitute beef broth/stock)

Salt and Pepper to taste
Instructions
Heat fat in a pan over low heat and sprinkle in flour. Cook for approximately 4 minutes, or until flour begins to turn golden brown. Stir continually to prevent burning.

Starting with a few splashes at a time, slowly add beef juices to the pan, whisking to incorporate before more juice is added. Lumps will form in the gravy if too much liquid is added at once.

Simmer gravy for 2 minutes, or until it reaches your desired consistency. It will thicken as it simmers.

Add salt and pepper to taste,

If desired, additional flavorings can be added with the meat juices. 1 teaspoon of Worcestershire or soy sauce, a sprig of fresh rosemary, thyme, or sage, or a quarter teaspoon of garlic or onion powder are all great additions.
Nutritional Information
Calories:
138
kcal
|
Carbohydrates:
6
g
|
Protein:
2
g
|
Fat:
11
g
|
Saturated Fat:
7
g
|
Cholesterol:
30
mg
|
Sodium:
547
mg
|
Potassium:
64
mg
|
Vitamin A:
355
IU
|
Calcium:
11
mg
|
Iron:
0.6
mg