Serving beef tips and gravy for your family dinner is the ultimate comfort food. This hearty meal is loaded with tender chunks of beef bathed in a rich and creamy brown gravy, packing luxurious flavor in each bite!
My whole family gives rave reviews when we have this old-fashioned comfort food for a relaxing Sunday dinner. This inexpensive yet hearty meal is as good for your pocketbook as it is for your tastebuds. I swear, serving the tender beef tips and rich brown gravy over a pile of fluffy mashed potatoes is pure nirvana as each delicious drop soaks into every nook and cranny.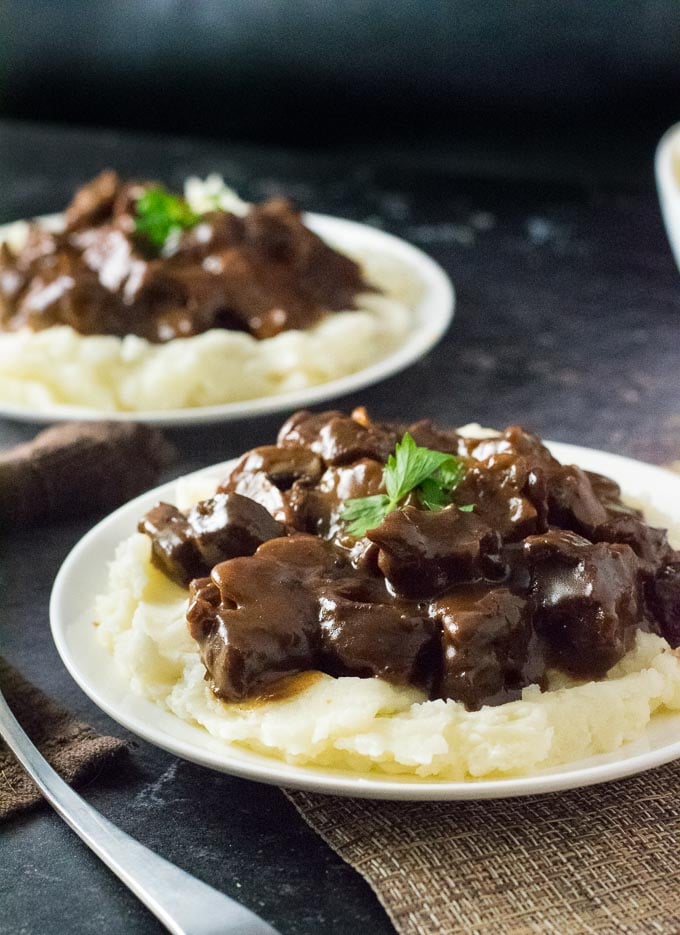 Ingredients and Substitions
Beef - You can use a variety of different cuts of beef from the grocery store to make beef tips and gravy. Sirloin tips are a great cut of beef for this delicious recipe, however, I personally prefer simple beef stew meat like chuck roast. Stew meat is typically less expensive, and might even be already cubed up by your butcher. These inexpensive cuts are typically tougher, and sometimes fattier, but that isn't a problem because the meat will be perfectly tender when it finishes cooking and any fat will melt out into the sauce, making it taste even more luxurious!
Cooking Oil - Any vegetable oil, such as olive oil, is fine.
Onion - I recommend a yellow onion.
Sliced fresh Mushrooms - If you love mushrooms you can double the amount called for in the recipe.
Garlic cloves - Fresh garlic is best, but ½ teaspoon garlic powder can be substituted.
Low sodium Beef Broth - Using low sodium beef stock or broth will give you more control over to salt content.
Worcestershire Sauce
Soy sauce
Bay Leaf
All-Purpose Flour
Butter
Beef Broth 
Browning sauce
Salt and Black pepper
What is Browning Sauce
The best beef tips and gravy features a mysteriously dark brown gravy. The secret to achieving this deep color is using a Browning Sauce. A Browning Sauce is a concentrated flavoring liquid that your grandmother used to add savory flavor and a deep rich color to her food. Just a few drops will transform your light brown gravy into a deep mahogany sauce with subtle caramel undertones. You don't have to use it in this recipe if you don't want to, but for the best flavor, you won't regret it if you do!
How Do You Cook Beef Tips So They Are Tender
Like any tough piece of meat, beef tips will benefit from a long and low cooking session. The most important thing you need to know is, the longer it cooks, the more tender it becomes. While the meat simmers in the beef broth it will transform into delectably tender morsels. However, you still need to be mindful of overcooking because you don't want the tender meat to completely fall apart either. The chew and texture of an exceptionally tender steak is what you are aiming for.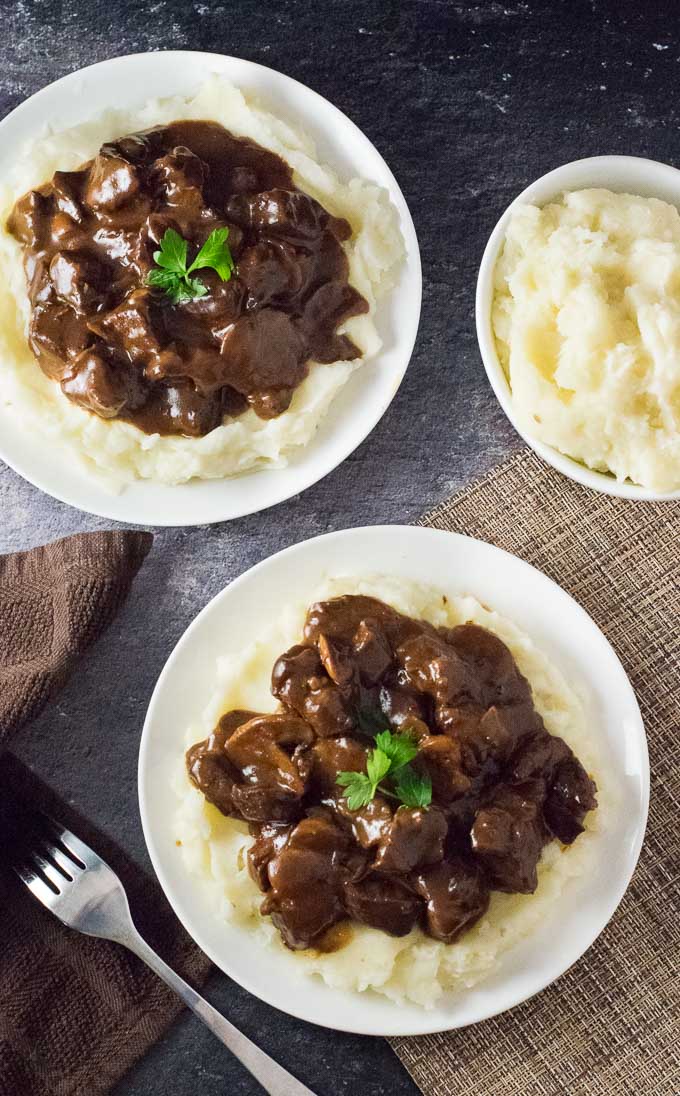 How to Make Beef Tips and Gravy
Making beef tips and gravy is a two-step process. First, you prepare the meat, then you create a ridiculously flavorful brown gravy. For maximum flavor, browning the meat and sauteing the vegetables is always a best practice. The brown crust on seared meat adds a ton of flavor.
Next, you simmer the beef, mushrooms, and onions in liquid. Using low sodium beef broth is best for this because the broth will reduce as it cooks, intensifying the flavor, and the low sodium will prevent the final dish from becoming too salty as it concentrates. I find 60 - 90 minutes to be the ideal simmering time, however, this will vary depending on how large your cubes of beef are. If they are still tough when you reach 90 minutes, simply keep cooking them until they are tender!
Using a Dutch Oven is ideal for this recipe, the wide opening is great for sauteing, and the heavy bottom and sides are ideal for holding steady temperatures during a long simmer. However, a sufficiently large skillet can also be used successfully.
How to Make Brown Gravy
Making the flavorful gravy is the exact same process as making the classic sawmill gravy. You start by making a roux, which is a mixture of flour and fat, and cook it for at least four minutes so all of the raw flour taste is cooked out. The longer you cook the roux, the nuttier the flavor becomes. Always be sure to continually stir the roux as it cooks so the flour doesn't scorch. Scorched flour ruins the roux, making it taste bitter. If that happens, turn down the heat and start the roux again.
The secret to making the best brown gravy is using the cooking liquid from the beef, as well as any browned bits in the pan. As the beef simmers the liquid will evaporate, really intensifying the flavor of the broth. This is reserved and added to the roux as the main flavor component. Don't be surprised if too much beef broth evaporates and you need to open a new can to have enough liquid to make the gravy a little thinner, it is a good problem to have because it just means you are adding more flavor! Otherwise, you can use less liquid for a thicker gravy.
Can this be made in the slow cooker?
Although some variations of beef tips and gravy can be made in the slow cooker, this made from scratch recipe cannot. You need the stovetop burners to saute the vegetables and beef. Even if you want to just transfer it into the crock pot after using the stove for that step, you still need the stovetop to create a roux as the base for the gravy.
What Side Dishes to Serve with Beef Tips and Gravy
Beef tips and gravy are most traditionally served with cooked egg noodles or mashed potatoes. Personally, I recommend mashed potatoes because fluffy mashed potatoes are always better dripping with gravy! However, Homemade Spaetzle would be another great idea to round out this delicious dinner.
Make sure to prepare a vegetable side dish with this meal as well, any of the following would be great:
Can you do me a favor? If you enjoyed my post would you mind sharing it with your friends? You can see more of my recipes by liking me on Facebook and follow me on Pinterest too. Otherwise, stay up to date by getting each new post sent directly to your inbox by subscribing today.
Beef Tips and Gravy
Beef Tips and Gravy is the ultimate family dinner comfort food. Tender cubes of beef are bathed in a rich and creamy brown gravy, packing luxurious flavor in each bite!
Print
Pin
Rate
Save
Saved
Ingredients
Beef Tips
2

pounds

cubed Beef

(Stew meat such as chuck roast)

3

tablespoons

Cooking Oil

(divided, or as needed)

½

Onion

(chopped)

8

ounces

sliced fresh Mushrooms

3

cloves

Garlic

(minced)

4

cups

low sodium Beef Broth

(divided)

2

tablespoons

Worcestershire Sauce

1

tablespoon

Soy sauce

1

Bay Leaf
Gravy
¼

cup

All-Purpose Flour

¼

cup

Butter

2

cups

Beef Broth

(as needed)

Browning sauce

(optional)

salt to taste

fresh ground pepper to taste
Serving
Mashed Potatoes or Egg Noodles
Instructions
Add 1 tablespoon of cooking oil to a Dutch Oven, or pot, and heat on medium heat until shimmering, then add chopped onions. Cook until onions begin to brown and add mushrooms. Continue to saute until mushrooms are tender and onions have browned. Add minced garlic and cook 1 minute longer, or until fragrant.

Remove onions, mushrooms, and garlic into a separate bowl and set aside. Deglaze the bottom of the pot with ~¼ cup of beef broth, scraping the bottom of the pot to remove the burnt on fond as the liquid boils. Pour off liquid into bowl with onions, mushrooms, and garlic.

Add 2 tablespoons of cooking oil to the pot set to high heat. Sprinkle salt over beef cubes and add them to the heated oil to brown on all sides. For best browning, refrain from stirring the meat, except when needed to turn the beef for even browning.

Once beef is browned on all sides add the remaining 3 ¾ cups of beef broth to the pot along with the onions, mushrooms, garlic and deglazing liquid that was set aside. Also add Worcestershire sauce, Soy sauce, and Bay leaf to the pot, cover the pot and bring to a simmer.

Simmer on low for 60 - 90 minutes, or until beef is tender (the longer it is cooked, the more tender it becomes)

Remove everything from the pot and pour through a strainer into a bowl to separate liquid.

Prepare the gravy in the Dutch Oven by melting ¼ cup of butter into the pot set on medium low heat. Sprinkle flour over the melted butter and whisk continually for 4 minutes to prevent scorching.

Slowly add 2 cups of liquid to the flour mixture (roux) using any leftover liquid strained off from simmering the beef. If most of it evaporated add additional beef broth to equal 2 cups of liquid. Continue to whisk as liquid is added.

Gently cook the gravy until it begins to thicken, then add salt and pepper to taste along with a few drops of browning sauce.

Return beef and mushroom mixture to the pot and combine with the gravy.
Serving
Serve beef tips and gravy over a side of mashed potatoes or egg noodles.
Notes
If you do not like mushrooms, they can be omitted. If you really love mushrooms you can add 16 oz without negatively impacting the recipe.
Store any leftovers in an airtight container and enjoy within five days for best flavor.
IF YOU LIKED THIS RECIPE check out my Beer Braised Short Ribs recipe too!
Nutritional Information
Calories:
440
kcal
|
Carbohydrates:
7
g
|
Protein:
46
g
|
Fat:
24
g
|
Saturated Fat:
9
g
|
Cholesterol:
138
mg
|
Sodium:
938
mg
|
Potassium:
876
mg
|
Sugar:
1
g
|
Vitamin A:
235
IU
|
Vitamin C:
2
mg
|
Calcium:
25
mg
|
Iron:
4.6
mg
This recipe was originally published on FoxValleyFoodie.com on July 5, 2018.