Learning how to make homemade stock is essential for anyone looking to create the best scratch-made soups you could ever hope to whip up in your kitchen.
Whether it is a holiday feast or roasted bones from a summer cookout, you're likely left with a burgeoning belt-line, more leftovers than you could hope to eat in a month, and a messy kitchen showcasing the skeletal remains of the day's main event. While most people would instinctively throw the remaining bones away without the slightest hesitation, you're vowing to be different. This year you are going to make the best homemade stock ever!
Learning how to make stock is essential for anyone looking to get the most mileage out of their meat. Homemade stocks are the foundation of the greatest scratch-made soups you could ever hope to whip up in your kitchen. Sure, you can purchase beef and chicken stock in a can, but it will never match the flavor of a stock slowly simmered with fresh herbs, roasted bones, and vegetables. It rings true your new calling: Waste not, want not.
Types of Homemade Stock
You can make homemade stock with any type of meat you wish, though beef stock and chicken stock are most popular. However, after Thanksgiving turkey stocks are cooked up by many savvy home cooks looking to make a tantalizing turkey soup with the holiday leftovers. In reality, you can make stock with any meat you eat, including seafood.
The two basic types of stocks are brown stocks and white stocks.
Brown stocks are the most common stocks. Its flavor profile is largely derived from roasting bones prior to simmering. Tomato paste is often used since it helps break down cartilage as well as imparting additional flavor and color.
Chicken Stock - When roasting bones for a brown stock take extra care to ensure the bones don't burn. Even a little burning has the potential to turn the stock bitter. Rotate the bones frequently to ensure even browning. Chicken bones can be browned in a skillet if desired, as they brown easier.
Beef Stock - If making a beef stock, veal bones are ideal since they contain the most cartilage. However, any type of beef bones will suffice.
White stocks are simmered the same way brown stocks are, but rather than roasting the bones, the bones are blanched. Blanching helps rid the bones of impurities that can cloud the stock.
To make an easy white stock you can add the bones and the vegetables to the water at the same time and just start making the stock. This will yield a fine stock, however, a true white stock will have the bones blanched in water that is then drained. The bones are then rinsed off, added to a new pot of water with the remaining vegetables and herbs and the stock is then made.
Homemade Stock Ingredients
The ingredients used in stocks can vary depending on personal taste.  However, there are some basic ingredients found in most stocks:
Bones - If possible, break the bones in two when making stock. This helps create a more gelatinous stock.

Meat - Though not typically an ingredient on its own, meat is often still partially attached to some of the bones used in stock and can impart additional flavor.

Tomato Paste - Only used in a brown stock.  It adds flavor, color, and helps break down the cartilage.

Water - It is the foundation of the stock's liquid.  Add enough water to cover the ingredients by one - two inches.

Carrots, Onions, and Celery - This is referred to as a mirepoix in French cooking or "The Holy Trinity" in Creole cuisine. These are the three most common vegetables found in stocks.


Garlic - Garlic is typically added for its robust earthy flavor.

Leeks - I don't view these as a necessity, but if I have them on hand they are a good addition to most stocks.

Herbs - Bay leaves, thyme, and parsley are commonly used in stocks.  However, additional herbs can be added per the cooks taste. For example, I add a little rosemary and sage when making a turkey stock.

Seasoning - Peppercorns are a recommended addition, but I typically don't add other seasonings, including salt.  I like making my stocks salt free so I have greater flexibility to salt my final dish as I intend.
How to Make Stock
After deciding what type of meat you will be using for your stock, and choosing between the white and brown stock, it is time to grab your stock pot and get your ingredients simmering.
You will want to start with cold water, as it helps the stock stay clear. Add enough water to cover all of the ingredients by one - two inches. Once it has been heated, don't allow it to boil as that will cause the fat to emulsify into the water. Instead, try to maintain a simmer between 185-205 degrees.
As the water evaporates, add more water as needed.
There is no reason to stir the stock, but you will want to skim off scum from the surface as it gathers.
Stocks are simmered for four to six hours on average. The long cooking time allows the stock to absorb all of the flavor from the ingredients. The stock is done when there is essentially no flavor left to absorb.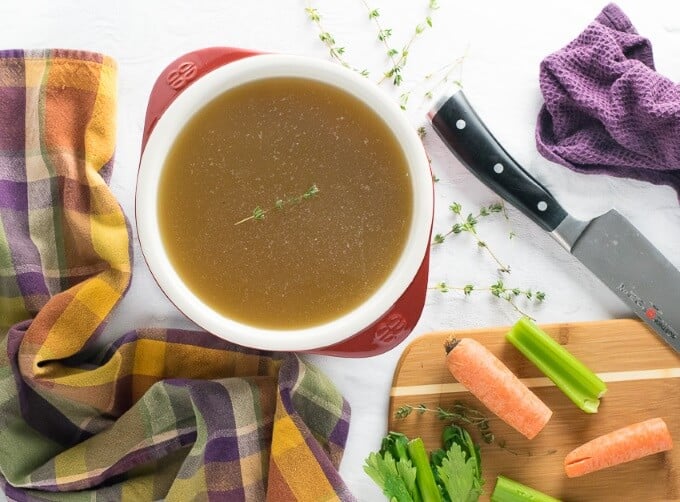 How to Safely Cool Homemade Stock
If you simply place your stock in a large covered container and set it in the refrigerator, you are asking for bacteria to sour the stock and make you sick. Large batches of soups and stocks need to be cooled from 140 degrees to 40 degrees in four hours or less. Evaporating a little extra water from the stock and then adding ice cubes is a good way to cool the stock. Otherwise, divide the stock into smaller batches while cooling. Utilizing your freezer or, if you live up north, do what I do: Place the pot in a snow bank outside your door. True story.
Regardless of which method you choose, I do recommend having a reliable kitchen thermometer on hand so you are not leaving your food safety up to chance. I use this Digital Thermometer (affiliate link) and love it. It is fast, accurate, and reliable.
How to Make Homemade Stock
Learning how to make homemade stock is essential for anyone looking to get the most mileage out of their meat. Homemade stocks are the foundation of the greatest scratch-made soups you could ever hope to whip up in your kitchen.
Print
Pin
Rate
Ingredients
4

pounds

bones & meat

broke into 2-inch pieces

4

ounces

tomato paste

2

quartered onions

(50% onion 25% celery and carrots each)

2

stalks chopped celery

3

chopped carrots

scraped

2

leeks

white parts only, trimmed and chopped

4

cloves

garlic

peeled

2

leaves

large bay

5

sprigs of fresh thyme

12

peppercorns

~1

gallon

cold water,

ensure additions stay covered by 1"
Instructions
Preheat the oven to 400 degrees F.

Place the bones on a roasting pan and roast for 1 hour, stirring to brown evenly. Remove from the oven and brush with the tomato paste. Lay the vegetables over the bones. Return to the oven and roast for 30 minutes.

Place the pan on the stove top and deglaze with water, scraping the bottom of the pan for browned particles. Put this mixture in a large stock pot. Add the peppercorns, garlic, water and herbs. Bring the liquid up to a boil and reduce to a simmer.

Do not cover the pot.

Cook for 4-6 hours, removing any foam/scum/fat that rises to the surface.

Remove from the heat and skim off any fat that has risen to the surface.

Ladle the stock in batches into a fine sieve over a bowl. Gently press the solids with the ladle to extract all the liquid and place in the refrigerator to cool.

Lift off any fat once cooled.
Notes
White Stock Variation
: Blanche bones rather than roasting, and omit tomato paste.
This recipe can be scaled up or down depending on the amount
 of bones you have available.
Homemade Stock would be great to use with my Beef Noodle Soup recipe!
Nutrition
This recipe was originally published on FoxValleyFoodie.com November 26, 2015.
If you enjoyed learning How to Make Homemade Stock then you should probably like me on Facebook and follow me on Pinterest too. That's what I would do at least, because if you don't get to know me but you still use my recipe it is kind of like taking candy from a stranger, and your mom taught you not to do that. Don't disobey your mom, subscribe to Fox Valley Foodie today.