There is a secret to making perfectly light and fluffy mashed potatoes that you have likely been overlooking. It is so simple, it's genius! Get ready to make the best mashed potatoes ever!
There isn't a more basic side dish than mashed potatoes. At the same time, there isn't a side dish that can elevate any meal quite like properly prepared mashed potatoes. The best mashed potatoes will be as light and fluffy as the clouds in heaven and have your taste buds singing hallelujah in a resounding heavenly chorus, while dense and lumpy mashed potatoes are often best reserved for spackling drywall.
This recipe yields mashed potatoes so light and fluffy they could practically float away. Luckily they are blended with enough butter and cream to ensure you never do! In my humble opinion, if the amount of butter used doesn't leave you with the unsettling feeling that Jesus may have been watching, then you didn't add enough.
So are loads of butter the secret to light and fluffy mashed potatoes? No. Butter just tastes good in my opinion, you don't have to use as much as I do. But you should.
Tip: If you need to make dairy-free mashed potatoes, check out my mashed potatoes recipe without milk instead.
How to Make Mashed Potatoes
So let's start with the basics of making mashed potatoes:
When making mashed potatoes, you need russet potatoes. Russets are more mealy potatoes, making them ideal for mashing. Waxy potatoes, like Yukon Gold, will create a far denser mash

.

Start with cold water. Many people throw their potatoes into a pot of boiling water. You will actually get better results by starting with cold water because the potatoes will cook more evenly as the water heats up. By starting with boiling water, the exterior will begin falling apart before the interior is cooked.

Use lukewarm butter and cream. You don't want the butter and cream to be overly cold when added to the potatoes. This will require you to mix it more to incorporate. The more you mix, the denser your mashed potatoes will be.
Mixing mashed potatoes release starch. Starch is what makes mashed potatoe gluey. If you want to keep your mashed potatoes from getting gummy I recommend using a Potato Ricer. Otherwise you can still make fluffy mashed potatoes without a ricer by using a Food Mill instead. Both will work best since it breaks down the potato without excessive mashing. Avoid using a blender or food processor for this reason. (affiliate links)
How to Make Fluffy Mashed Potatoes
This brings us to the secret to perfectly light and fluffy mashed potatoes: Removing excess starch.
The more starch you remove, the lighter and fluffier your mashed potatoes will be. To remove excess starch you will want to rinse the potatoes after peeling and chopping them, and then rinse them again after boiling the potatoes. When combined with the previously mentioned tips, this is the secret to making the best mashed potatoes!
Rinsing away excess starch is the same secret I used to perfect my homemade shredded hash browns. This has been one of my blog's most popular recipes for years!
If you found this recipe helpful, I also recommend reading my Secret to Perfectly Crispy Roasted Potatoes! You never make potatoes the same way again!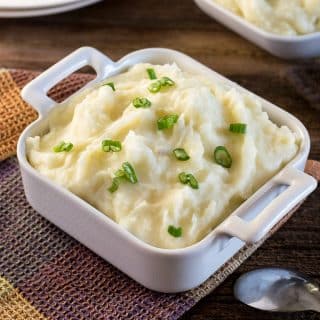 The Secret to Light and Fluffy Mashed Potatoes
There is a secret to making perfectly light and fluffy mashed potatoes that you have likely been overlooking. It is so simple, it's genius! Get ready to make the best mashed potatoes ever!
Print
Pin
Rate
Ingredients
4

lbs

russet potatoes,

peeled and cut into 1" chunks

2

cups

heavy cream

12

tablespoon

butter,

room temperature, cut into ½-inch chunks

kosher salt

freshly ground black pepper
Instructions
Rinse cut and peeled potatoes under cold water until water runs clear.

Add potatoes to large pot of cold salted water, water should cover potatoes by 1", and bring to a boil. Boil for 15 minutes or until potatoes are cooked and tender.

Drain potatoes from water and rinse in colander under warm water.

Run potatoes through a ricer or food mill and add butter, cream, salt and pepper. Gently fold with a spatula until fully incorporated and taste for salt.
Nutrition
Calories:
358
kcal
|
Carbohydrates:
28
g
|
Protein:
4
g
|
Fat:
26
g
|
Saturated Fat:
16
g
|
Cholesterol:
84
mg
|
Sodium:
124
mg
|
Potassium:
663
mg
|
Fiber:
1
g
|
Vitamin A:
940
IU
|
Vitamin C:
8.8
mg
|
Calcium:
49
mg
|
Iron:
1.3
mg
This recipe was originally published on FoxValleyFoodie.com February 11, 2017.
If you enjoyed reading The Secret to Light and Fluffy Mashed Potatoes then you should probably like me on Facebook and follow me on Pinterest too. That's what I would do at least, because if you don't get to know me but you still use my recipe it is kind of like taking candy from a stranger, and your mom taught you not to do that. Don't disobey your mom, subscribe to Fox Valley Foodie today.