Learning how to make garlic powder from fresh garlic is simple and straightforward. Best of all, you can easily preserve garlic using a dehydrator, oven, or even just letting it air-dry.
What is it?
Dried garlic powder is a seasoning made from fresh garlic cloves that are dehydrated to remove all moisture prior to being ground into a fine powder. Garlic seasoning is a pantry staple commonly used in popular dishes such as chili, salad dressings, pasta sauce, dry rubs, and more.
Preserving garlic by making your own fresh garlic powder is a great way for home gardeners to extend the shelf life of their harvest. However, heads of garlic purchased from your local grocery store are equally fine to use.
Ingredients and Equipment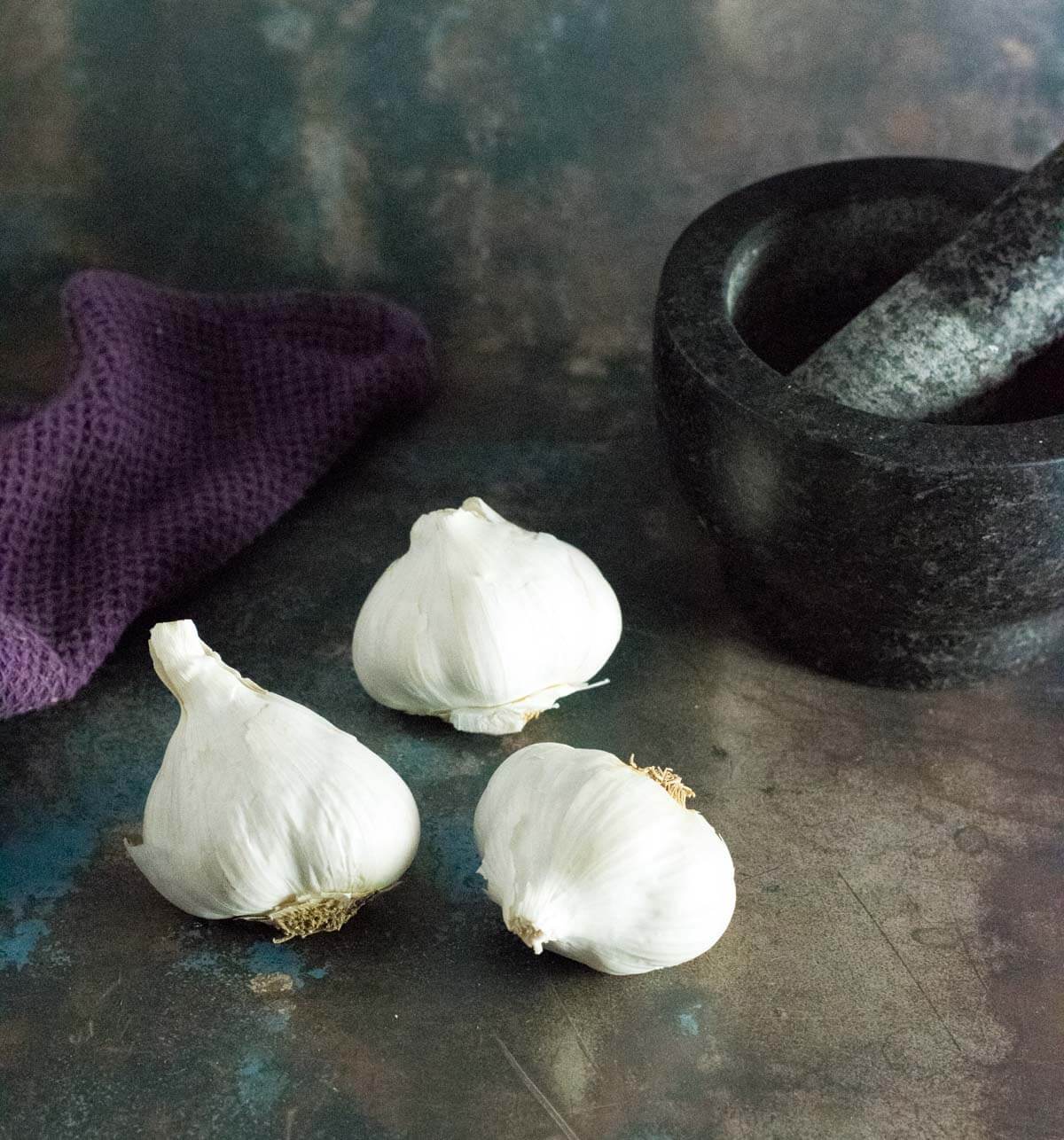 Heads of garlic - You can make garlic powder using as many heads of garlic as you wish. However, for planning purposes, I try to use one head of garlic per dehydrator tray so things don't get too crowded.
Drying - You will want to use a home dehydrator or your kitchen oven. You can also make garlic powder without a food dehydrator or oven if you let it air dry, but that will be a considerably longer process.
Grinding - You will need either a coffee grinder or mortar and pestle to break down the dried pieces. I do not recommend using the same grinder used for making coffee in the morning or your coffee will taste like garlic. Instead, keep a second grinder specifically for spices.
Storing - Spice jars or another airtight container.
How to make it
Preparing the garlic - Begin making your homemade garlic powder by first removing the peels from each clove of garlic. This can be done by shaking the cloves around in a sealed container to loosen the papery skins, or lightly crush the individual cloves just enough for the peel to lift off for easy removal. The peels can be discarded and the garlic cloves should be cut into thin slices ⅛" thick.
Dehydrator - Place the sliced garlic cloves on dehydrator trays in a single layer and set the dehydrator to 125 degrees. Rotate the racks occasionally during the drying process and let dehydrate for 8-12 hours, or until there is no excess moisture left in the dried cloves.
Oven - This can also be done in an oven if your oven's lowest temperature can be set to 150 degrees or less. I would not attempt to dehydrate these at a higher temperature or the garlic will turn brown and bitter. If your oven has a convection option, turn it on to create more airflow. If your oven doesn't have a low enough temperature, prop the door open with a towel to allow heat to escape.
Air Dry - Air drying your garlic will be the slowest option and is best for warm and dry climates. Spread the garlic evenly on a baking sheet and place it in a well-ventilated area for 2-3 days, or until completely dried. You will also want to flip the garlic slices over each day to ensure they dry evenly.
How to store dried garlic powder
Your dried garlic powder should be placed in an airtight container, such as a mason jar or a sealed spice jar, to preserve its freshness. The spice jar can be kept at room temperature in a dry place with your other spices until you are ready to use it.
If your granulated garlic is not sufficiently dry it may clump while it sits. To avoid this, a few grains of rice can be added to absorb any moisture inside the jar.
How to use garlic powder
Garlic powder is used as a popular seasoning in many dishes. If you are looking for ways to enjoy your new creation, give any of these ideas a try!
Garlic FAQs
Is garlic powder the same as garlic?
Yes! Garlic powder is garlic that has been dried for long-term storage and ground into a powder to be used as a seasoning.
How much garlic powder equals one clove?
Substitute ⅛ teaspoon of dry garlic powder for one fresh garlic clove. Since garlic powder is dehydrated, the flavor concentrates as it dries, so you will use less powder by volume than the equivalent fresh clove.
How to make garlic salt with garlic powder?
Garlic salt is garlic powder with salt added. You can make your own garlic salt by adding three parts table salt to one part garlic powder.
How to make garlic butter with garlic powder?
You can use dried garlic powder to make homemade garlic butter by combining ¼ cup of salted butter with ½ teaspoon of garlic powder. Additional dried herbs and seasonings can be added to enhance the flavor as desired.
How long does garlic powder last?
When dried and stored properly you can expect garlic powder to last three years or longer.
Can you do me a favor? If you enjoyed my post would you mind sharing it with your friends? You can see more of my recipes by liking me on Facebook and follow me on Pinterest too. Otherwise, stay up to date by getting each new post sent directly to your inbox by subscribing today.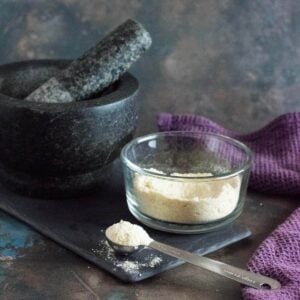 How to make garlic powder
Learning how to make garlic powder from fresh garlic is simple. You can preserve garlic using a dehydrator, oven, or even letting it air-dry.
Print
Pin
Rate
Save
Saved
Instructions
Separate each garlic clove and remove the peels. The cloves of garlic can be lightly crushed to make this easier.

Thinly slice each garlic clove with a sharp knife to be ⅛" thick or less and place evenly on dehydrator sheets.

Set the food dehydrator to 125 degrees and dehydrate the garlic for 8-12 hours, or until the cloves have dried completely.

Place the dehydrated garlic cloves into a coffee grinder and pulse until the garlic has broken down into a fine powder. Place the garlic powder in an airtight spice jar and store in your spice cabinet until needed.
Notes
This recipe can be scaled up to use as many heads of garlic as you have on hand. For best results, I plan on using one head per dehydrator rack so everything doesn't get too crowded. 
Rotate the racks as they dehydrate to ensure the garlic dries evenly.
The garlic is sufficiently dried when it no longer bends and begins to feel stiff and brittle.
Nutritional Information
Calories:
0.4
kcal
|
Carbohydrates:
0.1
g
|
Protein:
0.02
g
|
Fat:
0.001
g
|
Polyunsaturated Fat:
0.001
g
|
Sodium:
0.04
mg
|
Potassium:
1
mg
|
Fiber:
0.01
g
|
Sugar:
0.003
g
|
Vitamin A:
0.02
IU
|
Vitamin C:
0.1
mg
|
Calcium:
0.5
mg
|
Iron:
0.004
mg