Salisbury Steak with Mushroom Gravy is a hearty classic featuring seasoned beef patties smothered in a luxurious mushroom gravy.
I feel bad whenever I notice a mistake on an old recipe, so if you ever spot something, don't feel afraid to let me know. I may, or may not, have recently discovered that I accidentally told you all it takes 2 ½ hours to cook biscuit dough... Eek! I think I may owe anyone who believed that a biscuit, and perhaps a new smoke detector!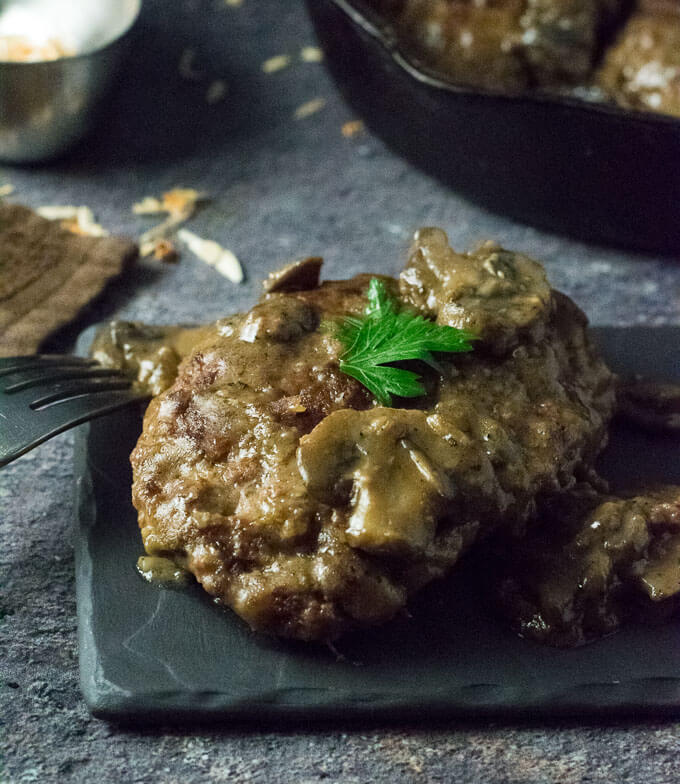 After making a mistake, my favorite way to cheer up is to belly up to a plate of some good ol' comfort food. And you can't find much that is more comforting than classic Salisbury Steak with Mushroom Gravy! But really, you shouldn't need an excuse to enjoy a great dinner like this, just do it because it tastes good!
What is Salisbury Steak
Salisbury Steak is a hearty dinner featuring hamburger-like patties that are flavored with seasonings and often contain additions like breadcrumbs and egg for tenderness. The patties are typically smothered in a brown gravy, with mushrooms being a common addition.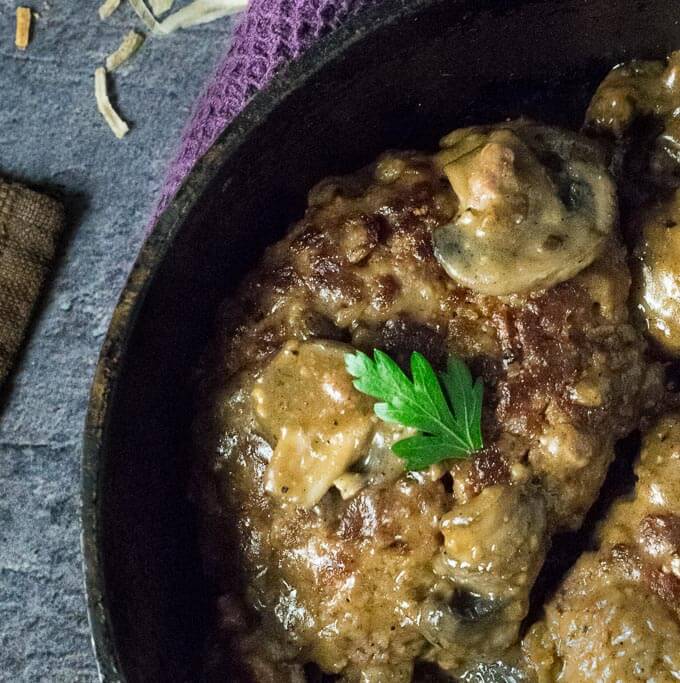 Salisbury Steak with Mushrooms
The secret ingredient to my Salisbury Steak is onion soup mix. These are typically sold in 1 oz packets, however, only one tablespoon is needed for this recipe. The flavorings are very similar to what I use in my meatloaf recipe.
Mushrooms are a perfect pairing for this dish. I use white mushrooms, but sliced baby portobellos work well too. The mushrooms simply need to be sauteed, then they can be added to the brown gravy at the end. However, you can certainly omit the mushrooms if you wish.
How Do You Make Salisbury Steak Gravy?
Salisbury steak gravy is simply 'brown gravy'. It is the same gravy I use for my Beef Tips and Gravy recipe. Making gravy is dead simple, so there is no need to be intimidated. The biggest thing to keep in mind is that you do not want the flour to burn. Melt butter over low heat in a saute pan, sprinkle in the flour to form a roux, then continue to mix for 5 minutes as the flour darkens. At this point, you can add liquid and seasonings and let the gravy thicken.
Tip: If your gravy is too thin, it just needs to cook longer. The longer it cooks the more liquid that evaporates. If the gravy is too thick just add a couple splashes of water to thin it out.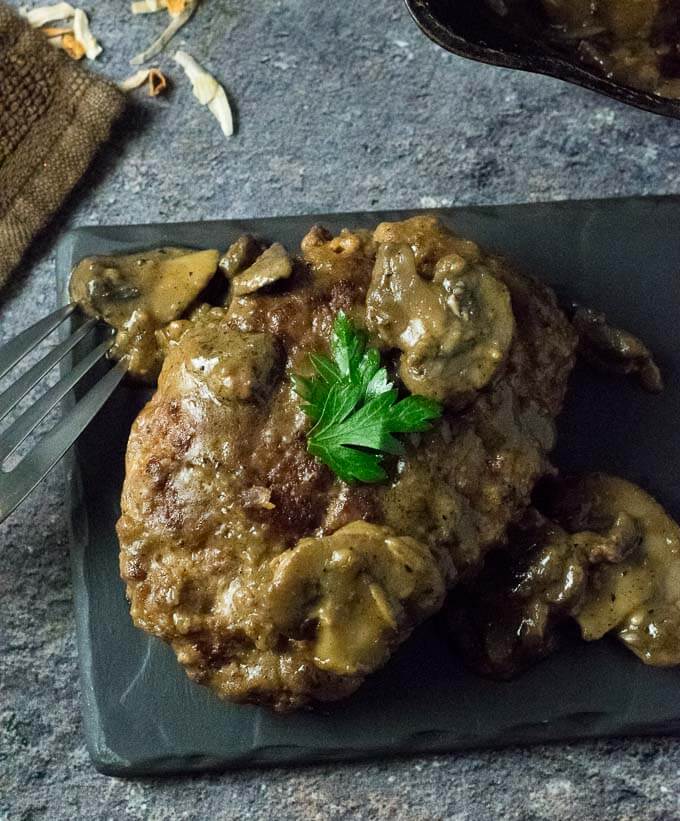 What to Serve with Salisbury Steak
Hands down, the best side dish to serve with Salisbury Steak with Mushroom Gravy is fluffy mashed potatoes. Who doesn't like mashed potatoes and gravy? You could do roasted potatoes instead, but really mashed potatoes are your best option.
Salisbury Steak with Mushroom Gravy
Salisbury Steak with Mushroom Gravy is a hearty classic featuring seasoned beef patties smothered in a luxurious mushroom gravy.
Print
Pin
Rate
Save
Saved
Ingredients
Salisbury Steak
1

lbs

Ground Beef

⅓

cup

Breadcrumbs

1

Egg

(beaten)

2

teaspoons

Worcestershire sauce

1

tablespoon

Onion Soup Mix

(typically sold in 1 oz packets)

¼

teaspoon

Ground Black Pepper

¼

teaspoon

Salt

6

oz

sliced Mushrooms
Gravy
¼

cup

All-Purpose Flour

¼

cup

Butter

2

cups

Beef Broth

1

dash

Browning sauce

(optional)

salt to taste

fresh ground pepper to taste
Instructions
Gently crumble beef into a large bowl and sprinkle with breadcrumbs. In a separate dish combine egg, Onion Soup Mix, Worcestershire, salt, and pepper and mix to combine.

Combine egg and seasoning mixture with beef and gently mix together with your fingers until well incorporated, then form beef into 4 oval patties.

Place patties in a hot saute pan set over medium heat and cook until a brown crust forms on each side of the patties, and they are almost cooked through, then remove from the pan and set aside.

Place mushrooms in the skillet and saute until they are tender and brown, stirring occasionally. Once tender, remove mushrooms from the pan and set aside.

Turn skillet on low and melt ¼ cup butter in the skillet and sprinkle in flour. Whisk continually to prevent burning while the flour gradually turns a deeper brown. Continue cooking for 5 minutes.

Slowly start adding beef broth a little at a time, while stirring flour to incorporate the liquid. Continue to do this until all broth has been added. Add a few drops of browning sauce at this time to deepen the flavor and color.

Let gravy thicken, while stirring occasionally, then taste for salt and add pepper.

Add beef patties and mushrooms to the gravy and continue cooking until the patties are heated through, then serve.
Nutritional Information
Calories:
486
kcal
|
Carbohydrates:
14
g
|
Protein:
24
g
|
Fat:
36
g
|
Saturated Fat:
16
g
|
Cholesterol:
151
mg
|
Sodium:
1031
mg
|
Potassium:
441
mg
|
Sugar:
1
g
|
Vitamin A:
415
IU
|
Vitamin C:
0.4
mg
|
Calcium:
60
mg
|
Iron:
3.5
mg
If you enjoyed reading my Salisbury Steak with Mushroom Gravy recipe then you should probably like me on Facebook and follow me on Pinterest too. That's what I would do at least, because if you don't get to know me but you still use my recipe it is kind of like taking candy from a stranger, and your mom taught you not to do that. Don't disobey your mom, subscribe to Fox Valley Foodie today.