Hamburger steaks with gravy is a flavorful family dinner featuring seasoned hamburger patties smothered in a silky and savory onion gravy.
Gather the whole family around the dinner table tonight with these tender steaks smothered in rich gravy. Using only simple ingredients, this meal is an easy, affordable, family favorite comfort food that is best served over a bed of fluffy mashed potatoes or egg noodles. You can round this hearty meal out further with some herb stuffing to sop up any leftover gravy, along with a side of roasted green beans.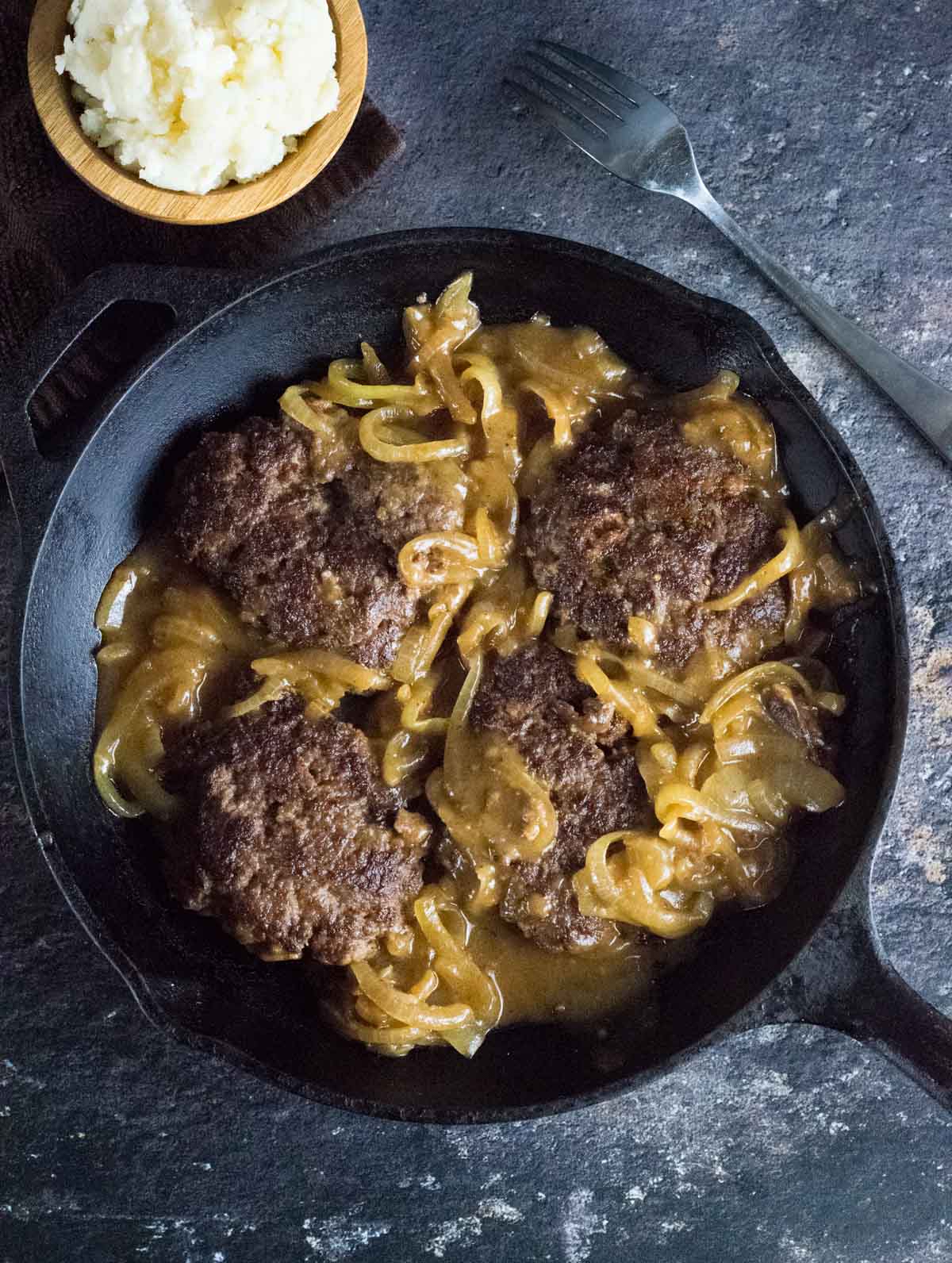 What is Hamburger Steak with Gravy
Hamburger steak with gravy is exactly what it sounds like, ground beef is formed into individual steaks and smothered with onions and brown gravy. These are not hamburger patties, such as you would use for making burgers, they are actually more similar to meatloaf since the ground beef is mixed with egg, breadcrumbs, and seasonings.
Best ground beef to use
I recommend using 80/20 ground beef or ground chuck for this recipe, which has a similar fat content. 80/20 beef has enough fat to ensure the patties aren't dry, yet not too much that the meal becomes greasy. Most importantly the fat is needed to make the gravy. You want to avoid overly lean ground beef because if you don't have enough fat, the flour will have nothing to combine with, and you will have no base for your gravy... requiring you to add more fat, which defeats the whole purpose of using leaner meat, right?
Ingredients Needed
Ground beef - 80/20 hamburger or ground chuck is recommended, depending on what your grocery store has. You could also make this with ground venison, or ground turkey for a different twist.
Butter
Breadcrumbs
Egg
A.1. Sauce - Optionally, a little Worcestershire sauce can be added as well, but I feel the steak sauce plays the same part, but brings more flavor.
Garlic - Fresh garlic cloves are best, but garlic powder can be substituted.
Ground mustard - Regular yellow mustard can be substituted.
Onion - A yellow onion or sweet onion would be recommended. Mushrooms could be added as well to make an onion mushroom gravy.
All purpose flour
Beef broth
Instructions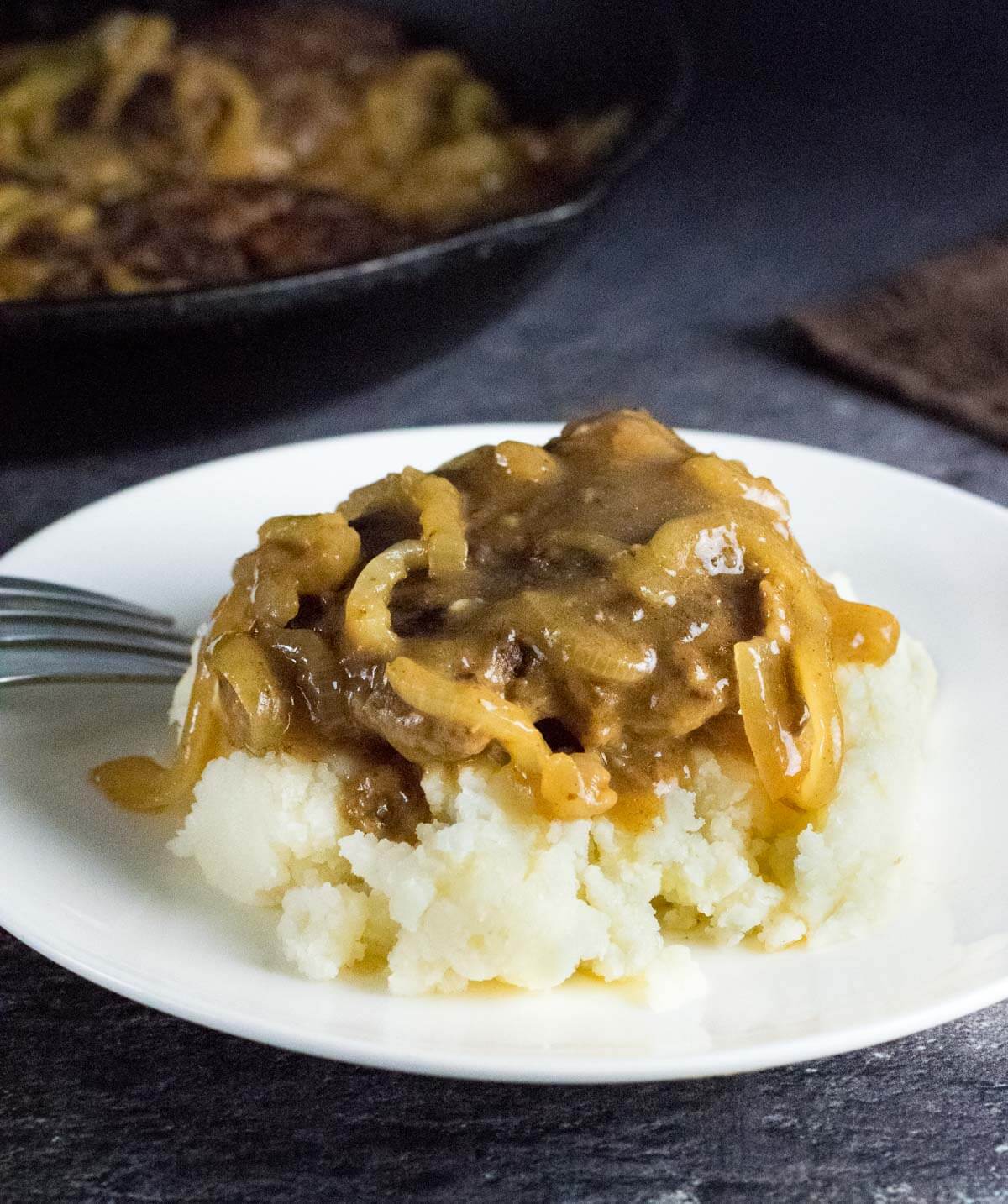 How to make it
My hamburger steaks are made by combining one pound of ground meat with ⅓ cup of breadcrumbs, a beaten egg, seasoning, and the secret ingredient: A.1. Sauce in a big bowl. A generous dollop of steak sauce adds a hint of classic steak flavor without taking over the flavor of the dish.
One pound of beef is enough to make six hamburger steaks and are the perfect size to fit in a single layer using a large skillet such as this 12" skillet. After mixing all the ingredients with the meat, separate them into six equal-sized balls and then press them flat into one-inch-thick oval patties. Cook patties with butter and sear on both sides in the skillet until a brown crust forms. They don't need to be completely cooked through yet. They will be cooked through completely when adding them to the gravy.
How to make the onion gravy
The onion gravy recipe is made in three steps. Once the hamburger steaks are seared and removed from the skillet add thinly sliced onions to the fat still in the pan and gently sauteed over medium heat until the onions are tender, approximately 10 minutes.
Next, sprinkle in two tablespoons of flour and mix with the sauteed onions. Turn heat down to medium-low heat to prevent the flour from burning and keep mixing everything around for a minute or two so the raw taste of the flour cooks out.
Finally, the beef broth can slowly be added in. Add it a few splashes at a time to ensure everything fully incorporates, and keep mixing. Lumps will form in your gravy if you go too fast and don't mix it in. Once the liquid has been added return patties to the skillet and cooked with the gravy until the gravy thickens and the steaks are cooked through. Spoon gravy over the patties and serve.
Storing Leftovers
Store leftovers in an airtight container in your refrigerator and enjoy them within three to five days. These can easily be reheated in the microwave, however, for best results I recommend microwaving leftovers in individual portions.
More beef and gravy recipes to enjoy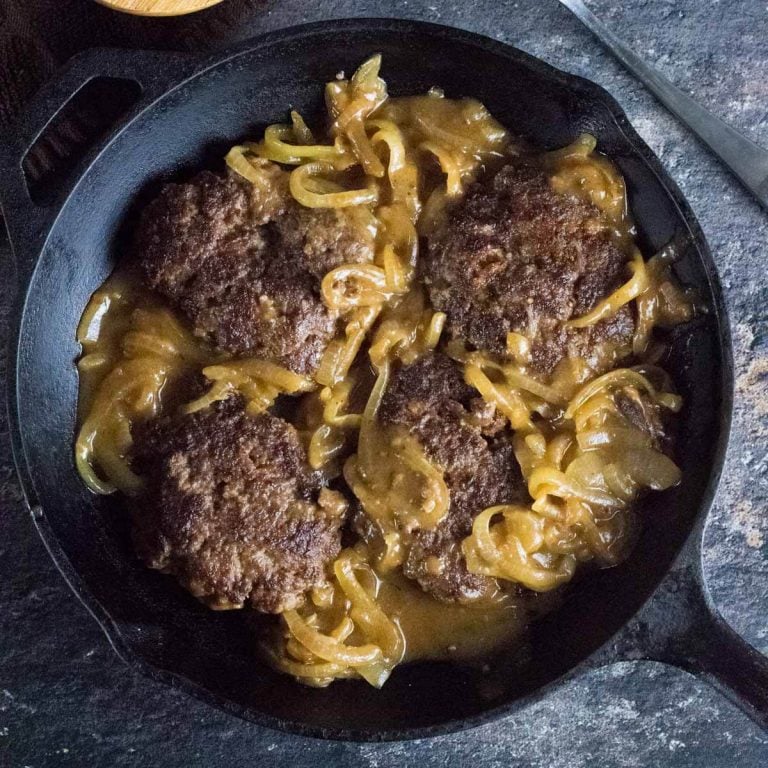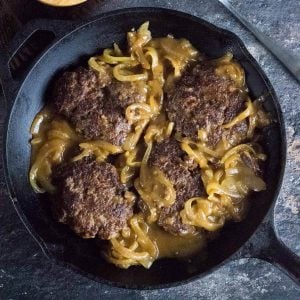 Hamburger Steak with gravy
Hamburger steak with gravy is a flavorful family dinner featuring seasoned hamburger patties smothered in a silky onion gravy.
Print
Pin
Rate
Save
Saved
Ingredients
Hamburger Steak
1

pound

ground beef

(80/20 beef or ground chuck)

1

tablespoon

butter

⅓

cup

breadcrumbs

1

egg

(beaten)

2

tablespoons

A.1. Sauce

2

cloves

garlic

(minced)

½

teaspoon

ground mustard

½

teaspoon

salt

¼

teaspoon

ground black pepper
Gravy
1

medium

onion

(thinly sliced)

2

tablespoons

flour

1

cup

beef broth
Instructions
Crumble hamburger into a large bowl and add breadcrumbs, beaten egg, A.1. Sauce, minced garlic, ground mustard, salt, and black pepper. In a large bowl mix everything together with your hands until thoroughly combine.

Separate meat mixture into six equal balls and flatten into 1" thick patties.

Set 12" skillet over medium-high heat and add butter. Once butter has melted add hamburger steaks and sear on both sides until a brown crust forms. Remove hamburger steaks from the skillet, leaving at least 2 tablespoons of fat in the pan. Don't worry if the meat is not completely cooked through yet.

Reduce heat to medium heat and add sliced onions. Saute until tender, approximately 10 minutes.

Turn heat to medium-low and sprinkle flour over onions. Stir for 1-2 minutes to prevent the flour from burning while the raw flour taste cooks out.

Slowly add beef broth a couple of splashes at a time while continuing to stir to prevent lumps.

Once all liquid has been added, the ground beef patties can be returned to the skillet. Cook with gravy until the hamburger is cooked through and gravy has thickened.

Spoon onion gravy over the hamburger steaks and serve immediately.
Notes
Feel free to add a sprig of thyme to the gravy for added flavor!
IF YOU LIKED THIS RECIPE you will also love my classic meatloaf recipe.
Nutritional Information
Calories:
265
kcal
|
Carbohydrates:
8
g
|
Protein:
16
g
|
Fat:
18
g
|
Saturated Fat:
7
g
|
Cholesterol:
86
mg
|
Sodium:
465
mg
|
Potassium:
274
mg
|
Fiber:
1
g
|
Sugar:
1
g
|
Vitamin A:
98
IU
|
Vitamin C:
2
mg
|
Calcium:
37
mg
|
Iron:
2
mg