Take pride in making your own flavorful homemade Dijon mustard, this popular condiment is easier to make than you think!
Homemade mustard is perfect for adding to gift baskets or party packs. Otherwise, it is always a great addition to grilled brats, hamburgers, or my Djion potatoes. However you decide to use it, this easy homemade Dijon mustard recipe won't let you down!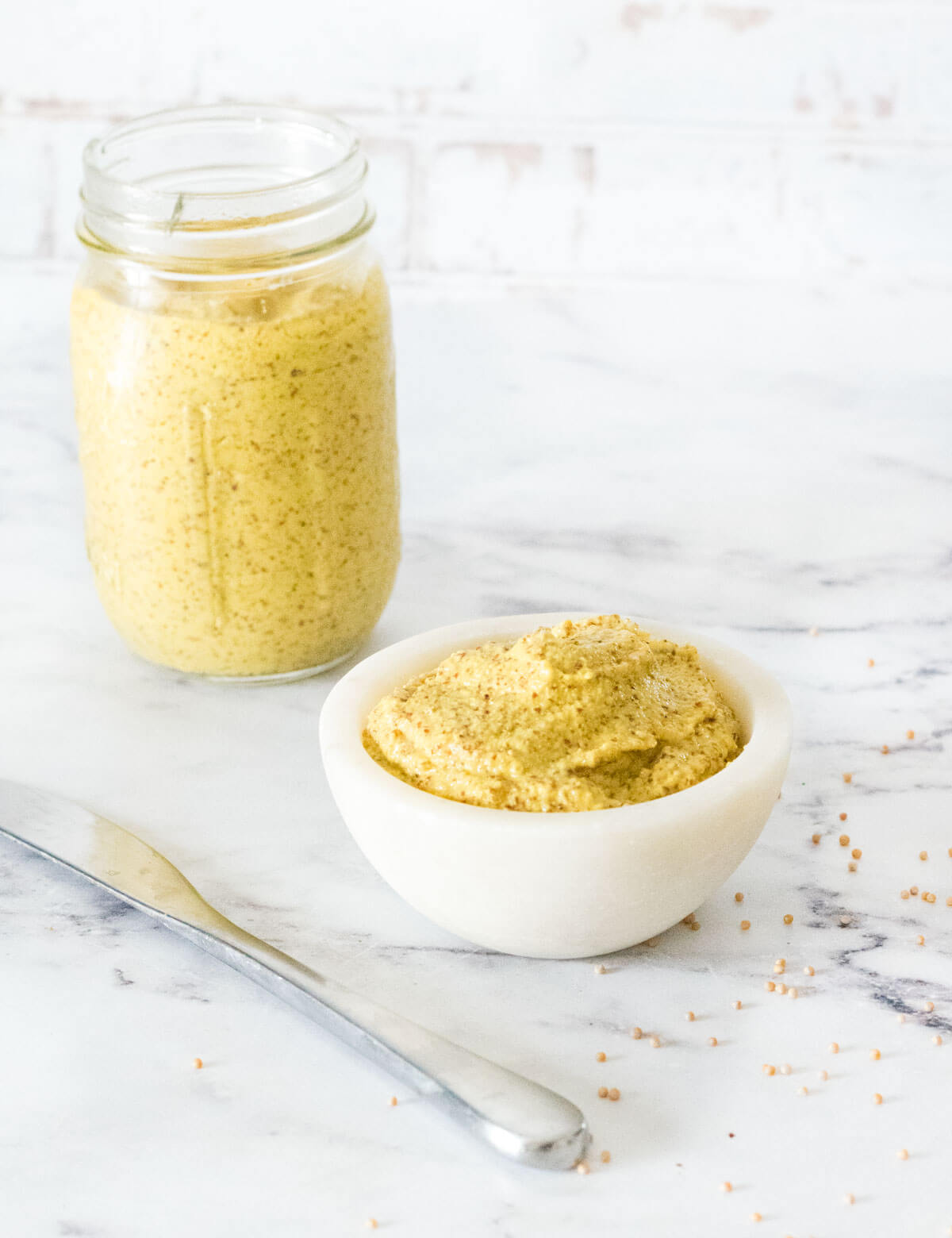 What is it?
Dijon mustard is a traditional French mustard that originated in Dijon, a town in France. The tangy taste can be described as more complex and refined mustard than traditional yellow mustard. This is due to the addition of multiple types of mustard seeds, and white wine. Visually, it features a more pale yellow color than the classic American mustard along with noticeable mustard seeds, similar to a stone ground mustard.
Ingredients and Substitutions
Chardonnay (or other dry white wine)
White wine vinegar - Other vinegars, such as white vinegar or apple cider vinegar, can be substituted, but the flavor will change considerably.
Shallot 
Garlic clove 
Sugar
Salt - I recommend table salt rather than Kosher salt.
Yellow mustard seeds
Brown mustard seeds - Feel free to experiment with the flavor by using other seeds such as black mustard seeds or white mustard seeds.
Brown and yellow mustard seeds comprise the backbone of Dijon. Yellow mustard seeds are the most common to find, but any well-stocked grocery store should have at least one brand of brown mustard seeds available.
Note: They may not be labeled specifically as "brown" mustard seeds, so take a close look at the seeds inside the jar, or just order brown mustard seeds online.
Traditionally the mustard is blended with white wine, I recommend Chardonnay but you can substitute your favorite dry white wine instead. Additionally, shallots and garlic are simmered with the wine, and I include a tablespoon of sugar to round out the flavor.
How to make dijon mustard
The steps to make your own homemade mustard recipe are quite simple. First, combine wine with the vinegar, shallots, garlic, and seasonings and simmer for 15 minutes in a small saucepan, then strain out the vegetables using a fine-mesh sieve and let cool.
Once cooled, the whole mustard seeds are going to soak in the liquid for 24-48 hours. This allows them to soften and plump up. Once the seeds are softened they are ready to be blended into mustard.
Add everything into a blender and puree into your desired consistency. You will have to add water to get it to an appropriate thickness and the more it is blended the more water you will need.
Finally, everything should be gently simmered on the stovetop to allow the flavors to combine. Simmer for 10 minutes, then store in a glass jar in your refrigerator. The flavors will continue to meld over the next few days.
Troubleshooting this recipe
The mustard is too thick: You need to add cold water to the mustard when it is blended or it will be too thick to blend well. The amount of water needed will vary, so just keep adding extra liquid to the mustard mixture until it has the right consistency.
The mustard is too runny: If you add too much water the Dijon will get runny. Don't worry, you can cook out the excess liquid when the mustard is simmered in the final step. The longer you simmer the more liquid evaporates and the thicker the mustard will get.
How to use it
Sandwiches - Your homemade Dijon mustard is the perfect condiment to spread on your favorite sandwiches.
Salad dressings - It is a great flavor enhancer in homemade salad dressings or vinegrettes.
Potato Salad - Use Dijon as a great alternative in place of yellow mustard in your favorite potato salad recipe.
Dipping sauce - Use it as a dipping sauce for chips, french fries, pretzels, and chicken either by itself or by using it to make your own honey mustard.
Substitute - Use it as a great substitute for spicy brown mustard or most any other type of mustard.
More condiment recipes
Can you do me a favor? If you enjoyed my post would you mind sharing it with your friends? You can see more of my recipes by liking me on Facebook and follow me on Pinterest too. Otherwise, stay up to date by getting each new post sent directly to your inbox by subscribing today.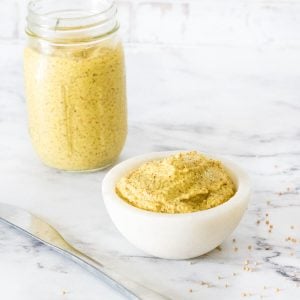 Homemade Dijon Mustard
Take pride in making your own flavorful homemade Dijon mustard, this popular condiment is easier to make than you think!
Print
Pin
Rate
Save
Saved
Ingredients
¾

cups

chardonnay

(or other dry white wine)

¼

cup

white wine vinegar

1

shallot

(peeled and roughly chopped)

1

garlic clove

(smashed)

1

tablespoon

sugar

1

teaspoon

salt

¼

cup

yellow mustard seeds

¼

cup

brown mustard seeds

water as needed
Instructions
Add chardonnay, white wine vinegar, shallot, garlic, sugar, and salt to a saucepan and bring to a simmer. Simmer for 15 minutes, allowing shallots to soften and seasonings to dissolve. Remove from heat, strain out shallots and garlic, and let cool.

Once cooled, add mustard seeds to the liquid and place in the refrigerator for 24-48 hours to let the seeds soften.

Add seeds and liquid into a blender (or food processor) and puree into your desired consistency. Add water as needed to make the mixture thin enough to blend.*

Add blended mustard to a saucepan and gently simmer on the stovetop for 10 minutes. Add additional water if needed to correct the consistency.

Remove from the stovetop and store in pint jars in the refrigerator. Let flavors meld for a few days prior to enjoying.
Notes
*Leave many seeds whole if you like a coarse ground mustard, or blend the seeds completely for a smoother Dijon.
IF YOU LIKED THIS RECIPE check out my Homemade BBQ Sauce as well!
Nutritional Information
Calories:
16
kcal
|
Carbohydrates:
1
g
|
Protein:
1
g
|
Fat:
1
g
|
Saturated Fat:
1
g
|
Sodium:
78
mg
|
Potassium:
19
mg
|
Fiber:
1
g
|
Sugar:
1
g
|
Vitamin C:
1
mg
|
Calcium:
5
mg
|
Iron:
1
mg