Learning how to make homemade butter is a lot quicker and easier than most people realize. With one simple ingredient, you can have wonderfully fresh butter with minimal effort in less than fifteen minutes.
Most people think you need a butter churn to make your own homemade butter, but that simply isn't true. You do not need any special equipment. Home butter making is practically effortless when using a hand mixer, food processor, blender, or stand mixer. Heck, you can even shake it up in a mason jar if you want some exercise!
What is it?
This homemade butter recipe is made with heavy cream, which creates what is called sweet butter. The leftover liquid yielded from this process is equally useful, it is your own homemade buttermilk!
You can also make cultured butter by using a cultured cream that has been briefly fermented and is alive with beneficial bacteria. Cultured cream can simply be heavy cream fermented with a dollop of plain yogurt, sour cream, or creme fraiche and left sitting at room temperature overnight.
Ingredients Needed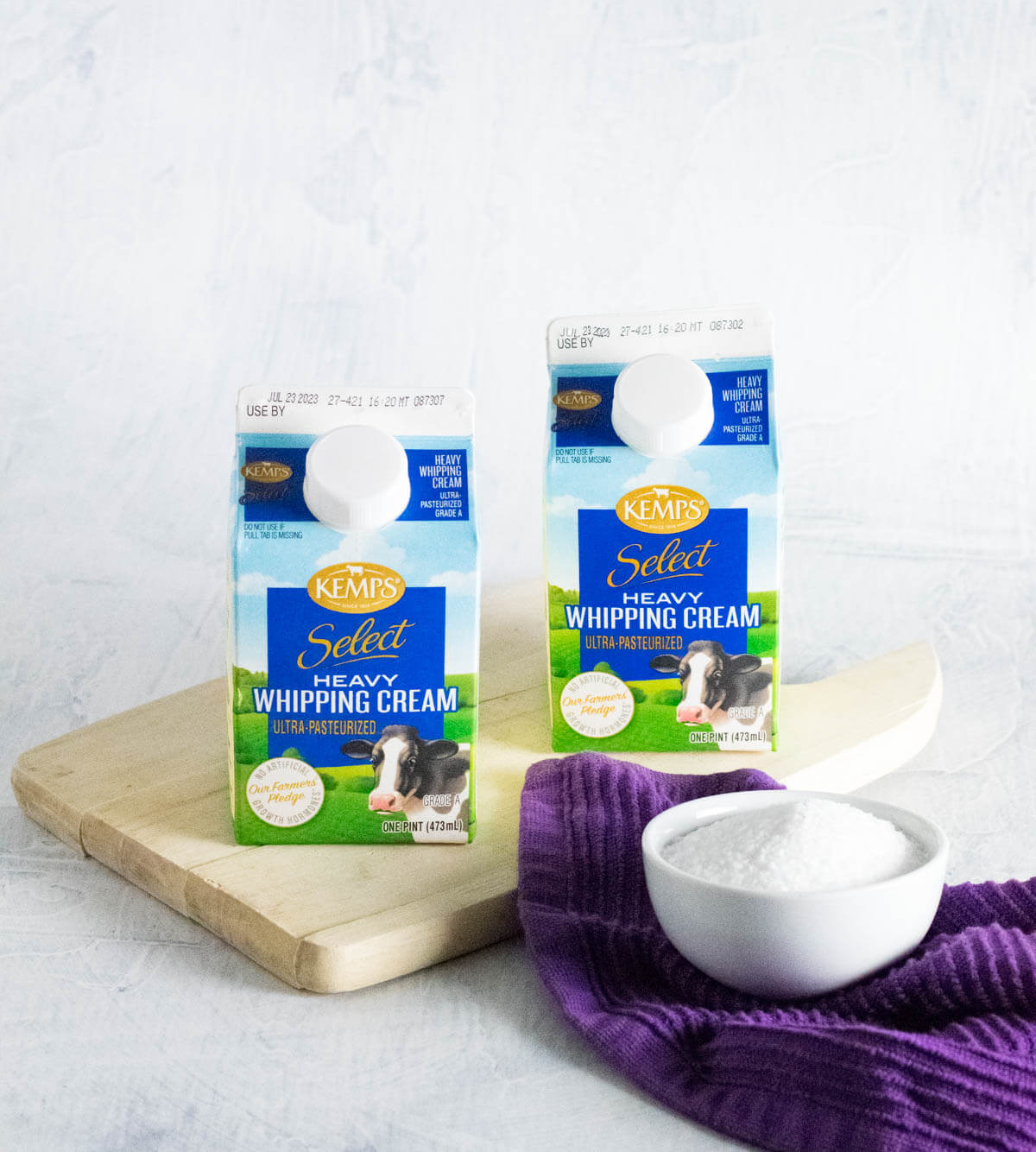 Heavy whipping cream - You can also make butter from raw milk (but not from store-bought milk because you need the fresh cream that rises to the top of the milk).
Salt - You can make unsalted butter, which is great for baking. But if you want salted butter, mix in ¼ teaspoon per 6 ounces of butter.
Optional - You can make your own compound butter, like my steak butter, by adding herbs, honey, or your favorite flavors.
How to make it
Stand mixer - Using a stand mixer is the best way to make your own butter. It mixes better than a blender, and you can make larger batches.
Hand mixer - If you don't have a stand mixer, using a hand mixer is the next best option. The only drawback to this method is you have to manually hold the mixer, which isn't a big deal, and you will want to drape a kitchen towel over your bowl to contain any splashing while mixing.
Food processor or blender - Using a food processor or a blender is a great way to reduce splashing and contain the mess, but since this small appliance isn't designed to mix, it is more difficult to remove the butter after it separates from the liquid because it will get stuck in tight spots around the blade.
Mason jar - This is my least favorite method by far. It requires a LOT of shaking. I don't particularly recommend it.
Pour heavy cream into the bowl of your stand mixer, blender, or large mixing bowl and whisk for ten minutes on medium-high speed, or until the excess liquid separates from the butter. Adjust the speed as needed to minimize excessive splashing.
For the first few minutes, stiff peaks will form, then the cream breaks and the butter separates out, as shown below.
Pour off the separated liquid. This is liquid buttermilk and can be saved and reused in cooking. The remaining fat solids are butter.
Set the solid butter in a fine mesh sieve over a large bowl, and press with a rubber spatula or wooden spoon to expel additional liquid.
Fill a bowl with ice-cold water and place the butter in the bowl and press further to expel even more liquid. Drain the water, then fill, and repeat this process until the water remains clear. Your fresh butter is now ready to use and can be mixed with salt if desired.
How to store butter
Homemade butter does not store as well as butter purchased at the grocery store, so it should remain refrigerated. When left at room temperature homemade butter will only keep for a couple of days. When stored in an airtight container, or covered in plastic wrap, in your refrigerator this delicious butter will remain fresh for about three weeks. For longer storage, the butter can be frozen.
Can you do me a favor? If you enjoyed my post would you mind sharing it with your friends? You can see more of my recipes by liking me on Facebook and follow me on Pinterest too. Otherwise, stay up to date by getting each new post sent directly to your inbox by subscribing today.
How to Make Homemade Butter
Learning how to make homemade butter is a lot quicker and easier than most people realize. You only need one ingredient and fifteen minutes!
Print
Pin
Rate
Save
Saved
Ingredients
2

cups

heavy whipping cream

¼

teaspoon

table salt

optional
Instructions
You can use a stand mixer, hand mixer, blender, or food processor. The process will be the same.

Add the heavy cream and mix on medium-high for ten minutes, or until the butter solids and buttermilk have separated. The speed can be adjusted as needed to reduce splashing.

Pour off the excess buttermilk and place the solids in a fine mesh strainer over a bowl. Press the butter with a rubber spatula to force out additional liquid.

Fill a large bowl with ice water and add the butter. Press again with a spatula to expel more liquid, then drain the water and refill the bowl with clean water. Repeat as needed until the water remains clear.

Mix your butter with salt, if desired, then store in the refrigerator.
Notes
Stand mixer -
Use the splash guard and the whisk attachment.
Hand mixer - Pour the heavy cream into a large bowl and cover with a kitchen towel. Insert the hand mixer through a gap in the towel to contain any splashes.
Food Processor / Blender - Cover with the lid to contain any mess.
Nutritional Information
Calories:
135
kcal
|
Carbohydrates:
1
g
|
Protein:
1
g
|
Fat:
14
g
|
Saturated Fat:
9
g
|
Polyunsaturated Fat:
1
g
|
Monounsaturated Fat:
4
g
|
Cholesterol:
45
mg
|
Sodium:
59
mg
|
Potassium:
38
mg
|
Sugar:
1
g
|
Vitamin A:
583
IU
|
Vitamin C:
0.2
mg
|
Calcium:
26
mg
|
Iron:
0.04
mg