Red eye gravy is the perfect easy southern breakfast to wake you up in the morning. This poor man's gravy can be made with as little as two simple ingredients, country ham drippings and a strong cup of coffee, but I like adding a couple of flavorful twists to it as well. For some the distinct flavor of this gravy is an acquired taste, but most coffee lovers will catch on quickly.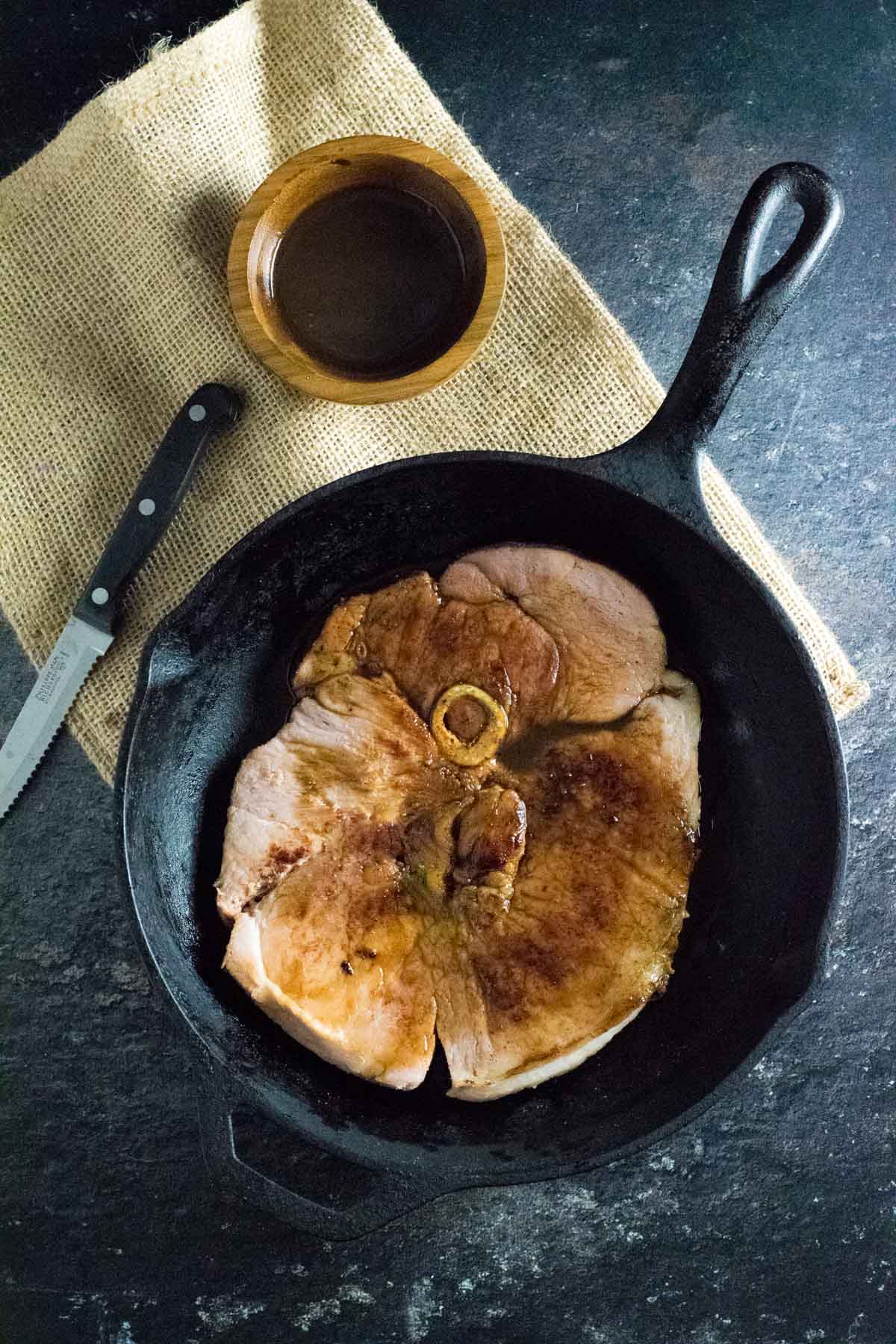 However you choose to make it, you will be rewarded with an easy, hearty, and delicious ham breakfast. This flavorful thin sauce is not only incredible to serve over a fried country ham, but also goes great with most any hearty breakfast side dish too!
What is authentic red eye gravy?
Authentic red eye gravy is a southern favorite often made exclusively with the drippings from a country ham seared in grandma's cast iron skillet, which is then deglazed with black coffee. The fat gives the coffee a more luxurious mouthfeel, while also adding flavor, making red eye gravy perfect for painting over ham, biscuits, or grits.
While you can keep this recipe simple, I think the best red-eye gravy includes a couple additions like adding brown sugar and butter for more flavor and a wonderfully silky texture. Alternatively, some diners in the south will add equal amounts of Coca-Cola with the coffee for sweetness.
Where did Red Eye Gravy Come from?
According to lore, this gravy was inspired by then General Andrew Jackson who asked his very hungover cook to prepare him ham with gravy as red as his eyes. The men hearing this began to refer to it as red eye gravy from that point forward.
Others however claim red eye gravy got its name simply from the appearance of the gravy resembling an eye once the gravy settles.
Ingredients Needed for My Recipe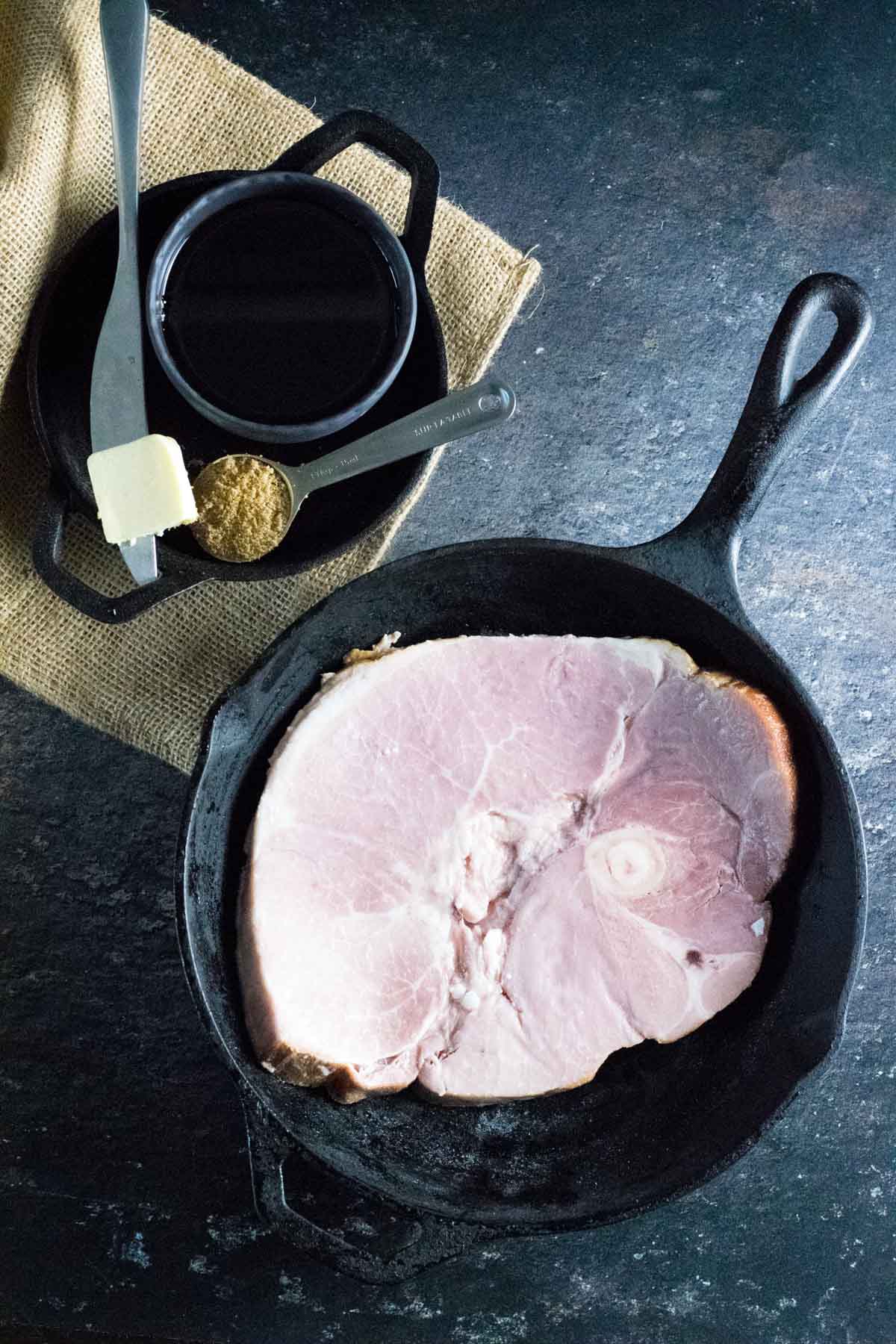 Ham steak - Country ham slices are ideal if you can find them, otherwise any ham steaks will do. I recommend finding a fatty one because it will render best.
Strong Black coffee - Save yourself a half cup of brewed coffee before you drink the pot in the morning.
Brown sugar - Sugar is the most common added ingredient to this recipe. It takes the edge off the bitterness of the coffee. Personally, I think brown sugar works better than white sugar because the flavor of molasses works really well with ham.
Butter - Although not a choice for purists, butter adds incredible flavor to the sauce while giving it more body as well. This is my secret ingredient.
Optional - Although I do not find it nessesary, you can add seasonings such as black pepper or cayenne pepper to further customize the flavor.
How to make it
Begin this country ham with red eye gravy recipe by setting a large skillet, such as your large cast iron skillet, over medium-high heat and add a thick country ham steak to the hot pan. Cook in the skillet until heated through and seared golden brown on both sides. The ham will render fat as it cooks.
Note: Reduce the burner to medium heat if the ham is cooking too fast.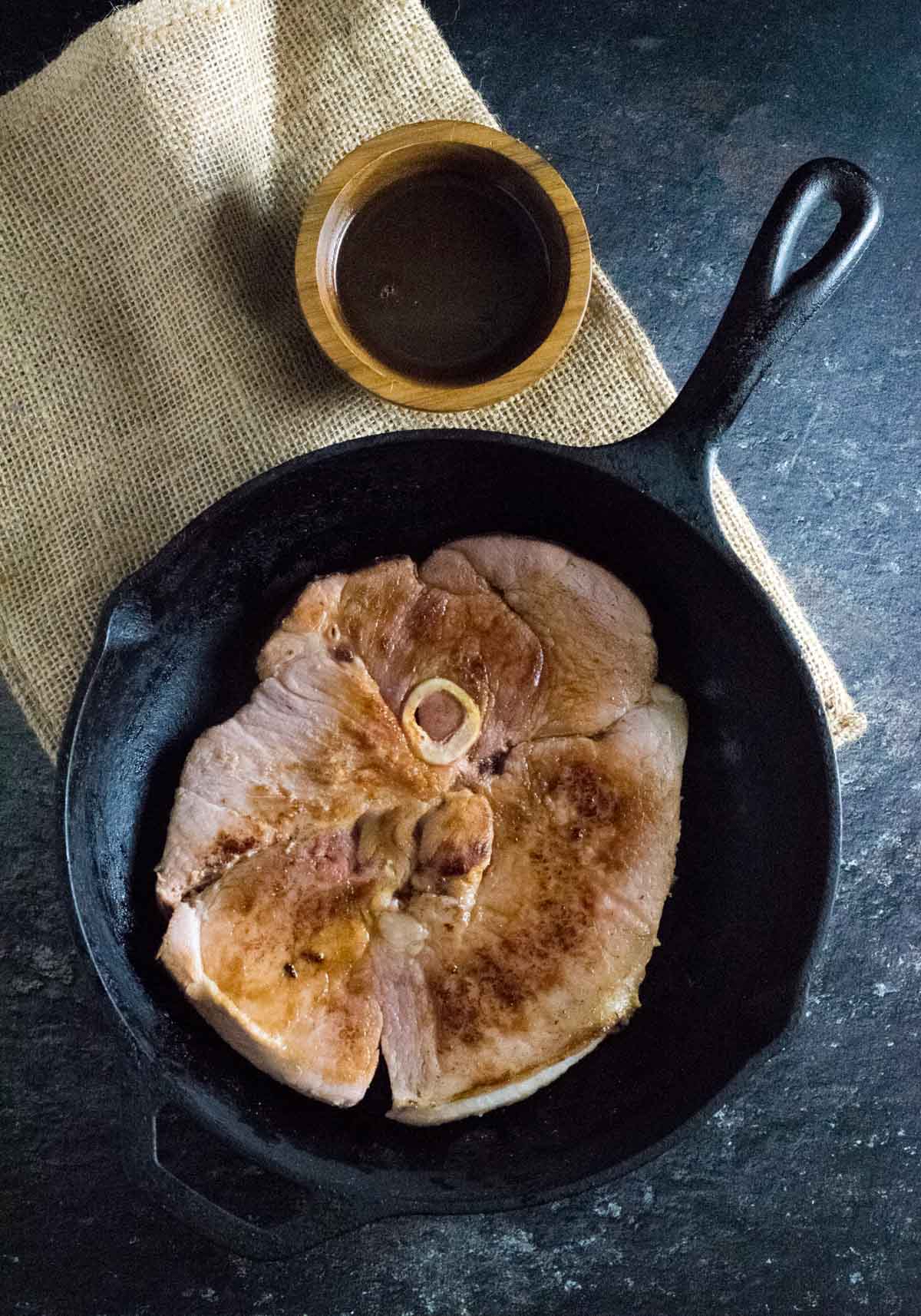 Remove the cooked ham from your skillet and add coffee to the pan drippings. Deglaze the pan by scraping the bottom of the skillet with a wooden spoon or a whisk to loosen any browned bits of ham. Add a tablespoon of butter and brown sugar, and stir everything to combine.
Let gravy simmer briefly until the butter and sugar have dissolved, remove from heat and pour the gravy into a serving bowl or gravy boat and bring to the breakfast table to serve over ham.
What to serve with Red Eye Gravy
Can you do me a favor? If you enjoyed my post would you mind sharing it with your friends? You can see more of my recipes by liking me on Facebook and follow me on Pinterest too. Otherwise, stay up to date by getting each new post sent directly to your inbox by subscribing today.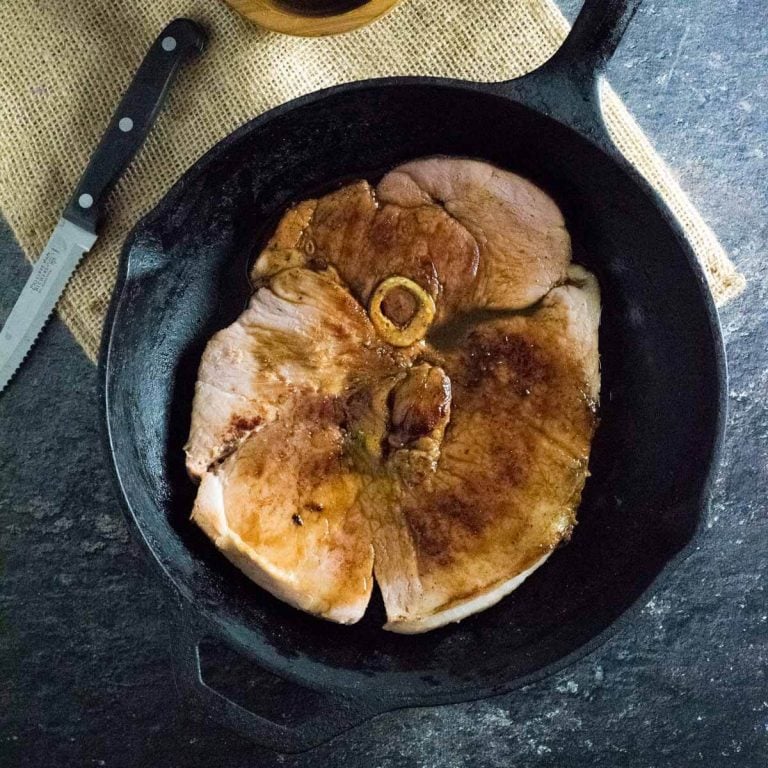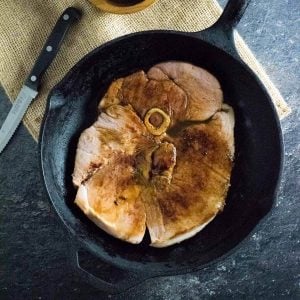 Red Eye Gravy
Red eye gravy is the perfect easy southern breakfast to wake you up in the morning.
Print
Pin
Rate
Save
Saved
Instructions
Set your cast iron skillet on the stovetop over medium high heat and add your country ham. Cook until warmed through and seared on both sides.

Remove the ham from the hot skillet, leaving behind the rendered fat.

Add coffee to the rendered fat in the pan and deglaze any cooked on bits by scraping the bottom of the pan as you whisk. Then add brown sugar and butter, continuing to whisk until the gravy is simmering and the butter and sugar has fully incorporated into the sauce.

Remove skillet from heat and pour the red eye gravy in a small bowl and serve over ham.
Notes
For a different twist, this recipe can also be made with bacon grease.
Nutritional Information
Calories:
54
kcal
|
Carbohydrates:
3
g
|
Protein:
2
g
|
Fat:
4
g
|
Saturated Fat:
2
g
|
Polyunsaturated Fat:
1
g
|
Monounsaturated Fat:
1
g
|
Trans Fat:
1
g
|
Cholesterol:
12
mg
|
Sodium:
110
mg
|
Potassium:
39
mg
|
Sugar:
3
g
|
Vitamin A:
87
IU
|
Calcium:
4
mg
|
Iron:
1
mg