Let's look at how to make onion powder at home with a food dehydrator or using your oven. This process is exceptionally easy and requires minimal ingredients and equipment. Anyone can easily make homemade onion powder in their own kitchen!
Best of all, making your own homemade version is even more flavorful than store-bought onion powder because it is fresher! This is a great way to use up a bounty of leftover onions from the garden, or to take advantage of great produce sales at your local grocery store!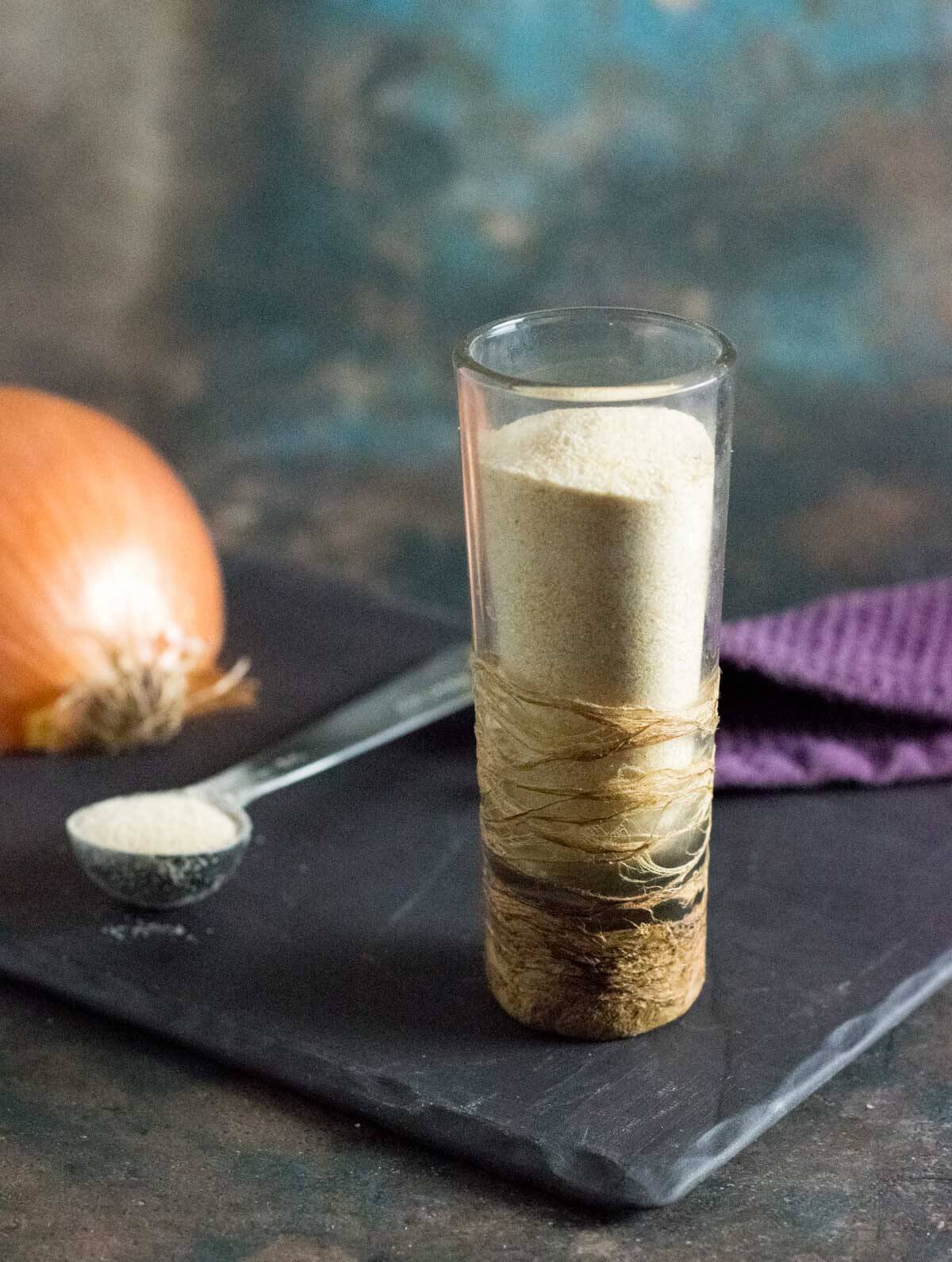 What is onion powder?
Onion powder is a popular seasoning used to flavor a variety of recipes in a wide range of cultures. It is made by simply dehydrating the onion until it is dry, then breaking it down into a fine powder. The dehydrated onion is shelf stable at room temperature and can be stored in a dry place such as your pantry for a long time.
Ingredients and Equipment
Fresh Onions - Yellow onion would be the traditional choice, but you can substitute red onions for a stronger flavor.
Dehydrating - You will need a home food dehydrator to dry the onion. Alternatively, this can also be done in your oven if you can set the temperature to 175 degrees or lower.
Grinding - You will need a spice grinder to grind the dried onions into a powder. An extra coffee grinder is the best option for this. Don't use the same grinder you actively use to make coffee or your next pot of coffee will taste like onion powder! If you are making a lot of onion powder, a food processor can be used.
Storage - You will need a sealable container for storage, I recommend using spice jars.
How to Make It
To make this onion powder recipe you first need to peel the onion and chop it into small pieces. It is important to note, the smaller you dice the onion, the quicker it will dehydrate. However, if you dice it too small it may fall through the gaps in your dehydrator trays.
Spread your chopped onion evenly across each dehydrator tray in a single layer and set the dehydrator to 150 degrees. Let everything cook for 8 hours, rotating racks every hour or so to ensure the onion cooks evenly.
Once the onion pieces are completely dry they will be firm to the touch. Remove them from the dehydrator and place them in a spice grinder. Pulse the grinder until the dehydrated onions are broken down into a fine powder. The powdered onion is now ready for cooking or storage.
How to Store It
Storing your homemade onion powder is easy because it is shelf stable! I recommend storing it in airtight spice jars, or any other airtight container such as mason jars, and keeping it in a cool dark place like with your spice rack in your pantry. Expect your own onion powder to last three years or longer when stored properly.
If the powered onion is sufficiently dry there should be no clumping. However, if you are concerned there may still be some leftover moisture in the onion, add a few grains of uncooked rice to the container with your onion powder. The rice will absorb any excess moisture.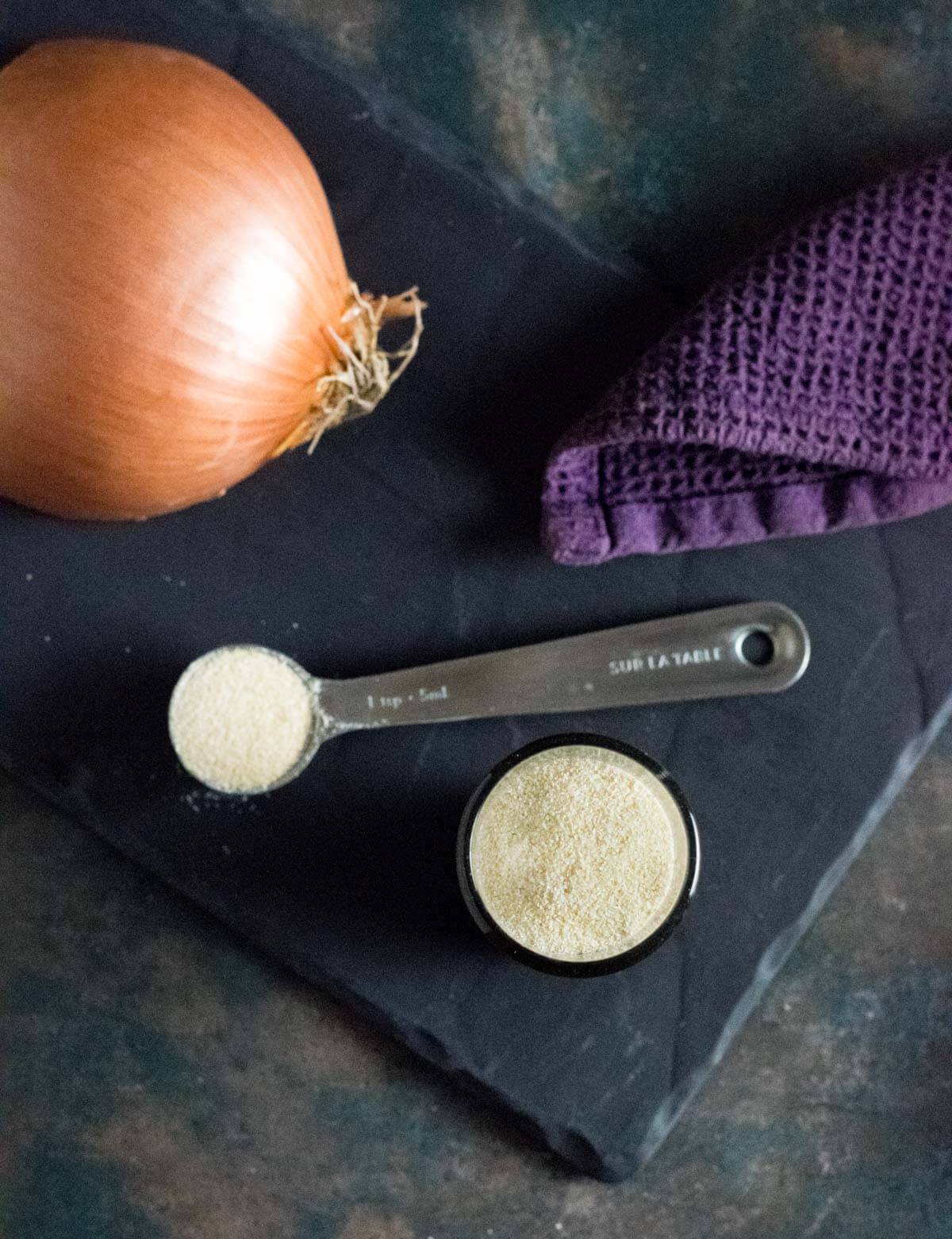 Homemade Onion Powder FAQs
How much onion powder equals one onion?
You can substitute onion powder for fresh onion by using one tablespoon of onion powder instead of one medium onion. Substituting with this onion powder to onion ratio will only be appropriate for certain cooked dishes like soups, stews, and most sauces.
What is the difference between granulated onion and onion powder?
Granulated onions are larger pieces of dried onion that haven't been ground into a fine powder. Whereas onion powder has been ground into fine grains of sand. The granulated onion flakes may rehydrate during cooking and be noticeable in the final dish, whereas onion powder will disappear into the dish while cooking.
Can you make onion powder from onion skins?
Onion powder is best made from the interior flesh. The dry paper skins on the exterior are very nutritious and can be used to flavor dishes, but they won't make as good onion powder and are best used separately when cooking.
How to make onion salt?
You can easily make onion salt with your onion powder simply by mixing 3 parts salt with 1 part onion powder. This can be prepared in advance and stored in a sealable container.
More Dehydrator Recipes
Can you do me a favor? If you enjoyed my post would you mind sharing it with your friends? You can see more of my recipes by liking me on Facebook and follow me on Pinterest too. Otherwise, stay up to date by getting each new post sent directly to your inbox by subscribing today.
How to make Onion Powder
Let's take a look at the easy process for how to make onion powder at home with a food dehydrator or using your oven.
Print
Pin
Rate
Save
Saved
Instructions
Peel your onions and discard the flaky skin. Then chop the onion into small squares, or into long thin slices.

Place the chopped onion on your dehydrator trays in a single layer, being careful not to overcrowd everything.

Set the dehydrator to 150 degrees and dehydrate for 8 hours or until completely dried.

Place the dried onion into a spice grinder and pulse until the onion is a fine powder. Then store in an airtight spice jar until ready to use.
Notes
Oven method: This can be done in an oven as well, but most ovens don't go down to 150 degrees. Instead, set your oven to 175 degrees and cook for 5 hours. If your oven doesn't go that low, simply set it at its lowest temperature and prop open the oven door with a towel to let some excess heat out as the onions dry. I also recommend setting the onion pieces on parchment paper so they don't stick to your baking sheet at the end of the cooking process.
Each large onion will yield approximately ¼ cup of dried onion powder.
The exact drying time will vary depending on the size of your onion pieces and the moisture content of the onion.
Nutritional Information
Calories:
120
kcal
|
Carbohydrates:
28
g
|
Protein:
3
g
|
Fat:
0.3
g
|
Saturated Fat:
0.1
g
|
Polyunsaturated Fat:
0.1
g
|
Monounsaturated Fat:
0.04
g
|
Sodium:
12
mg
|
Potassium:
438
mg
|
Fiber:
5
g
|
Sugar:
13
g
|
Vitamin A:
6
IU
|
Vitamin C:
22
mg
|
Calcium:
69
mg
|
Iron:
1
mg