Smoked chili is loaded with shreds of smoked beef swimming in a boldly seasoned sauce loaded with roasted peppers, onions, and beans.
I hope you didn't pack your smoker away for the winter. Admittedly, this recipe is a bit of a paradox as chili is a staple on a cold day when old man winter comes knocking, whereas smoking food is typically done in warmer weather. However, if you are willing to blend the two you will be rewarded with the most uniquely flavorful chili your tastebuds have ever had the chance to kiss.
Smoked Beef Chili
This smoked beef chili is distinctly different than a classic homemade chili in that rather than using lean ground beef, you are using a beef roast that is smoked and slowly cooked until it is tender and easily shreds with a fork.
I also double down on the smokiness in this recipe by roasting the peppers as well. If you would rather not deal with the fuss, you can skip this step and saute them with the onion instead.
Ingredients and Substitutions
Chuck steak - This is the same the larger chuck roast, which can also be substituted. This cut is ideal because it has enough fat to improve the flavor of the chili. You can substitute leaner beef cuts, but the chuck or brisket would be my top two choices. You could make this recipe with ground meat instead, but I really think using whole cuts is better.
Yellow onions - Sweet onions are also great, or you can substitute red onions for a stronger onion flavor.
Cooking oil - I typically use canola oil, but olive oil works well too.
Jalapeno Peppers - These can be removed if you want less heat.
Poblano pepper - Substitute green bell peppers if you don't want any heat.
Garlic cloves - Substitute a teaspoon of garlic powder if needed.
Beef Stock - Beef broth can also be used.I recommend unsalted stock or broth so you have more control over the salt level of your chili.
Canned chili beans - The liquid in a can of chili beans is my secret ingredient to make the chili wonderfully thick and silky.
Diced Tomatoes
Tomato Sauce
Tomato Paste
Worcestershire
BBQ sauce - You can use your own homemade barbeque sauce, or buy your favorite brand at the grocery store.
Flour - This is used to thicken the chili. Masa harina is a great substitute as well.
Spices for Chili Seasoning
You can use a store-bought chili seasoning, but I recommend following the instructions to use my own homemade chili seasoning blend that is perfect as a chili base in this recipe. You will need the following spices:
Kosher salt
Ground cumin
Dried Oregano
Ancho powder (you can substitute chili powder)
Onion powder
Garlic powder
Cayenne Pepper
Fresh ground black pepper
Best Cut of Meat for Smoked Chili
I think a chuck roast is the best cut of meat to use for smoked chili, such as is used in my smoked beef roast recipe. Chuck roast is inexpensive and when cooked low and slow it transforms into a wonderfully tender roast that is perfect for shredding.
However, this recipe will also work exceptionally well with any popular smoked BBQ. You could use leftover smoked brisket, pulled pork, or even the meat from BBQ ribs. I do recommend having your vents wide open on your smoker so you don't build up too much creosote on the meat, which could make the chili bitter.
How to Smoke Chili
Prior to making your bubbling cauldron of smoked chili, you must first get out your smoker and get some meat smoking! This part of the recipe is fairly flexible. You can either smoke the meat until it is completely tender and ready to eat (which will require less simmering later), or you can simply smoke it for 3-4 hours at 250 degrees to get it saturated with the smoke flavor and finish cooking it in the chili until it is tender. I personally recommend the shorter method.
It is important to note, tougher cuts of meat need to simmer for hours to become tender. You will want to have extra liquid on hand to add to the chili to keep it at your desired consistency because the longer you simmer it, the thicker your chili will become. I add extra beef stock, as needed, but you can also just use water.
Once your smoked chuck roast is done in the smoker, cut it into six large chunks, which will help it break down in the chili easier.
While your meat is smoking you can prepare the peppers by roasting them under the broiler until the skin is blackened and blistered. Rotate them to ensure they are cooked evenly then remove the blackened skin once they are cool enough to handle.
Begin building your chili in a Dutch oven or large pot by sauteing the onions and garlic in cooking oil over medium heat on your stovetop. Once tender, the rest of the ingredients and seasoning can be added to the pot as well and stirred together with a wooden spoon. Let simmer uncovered for three hours, or until the meat is tender and can easily be shredded with a fork.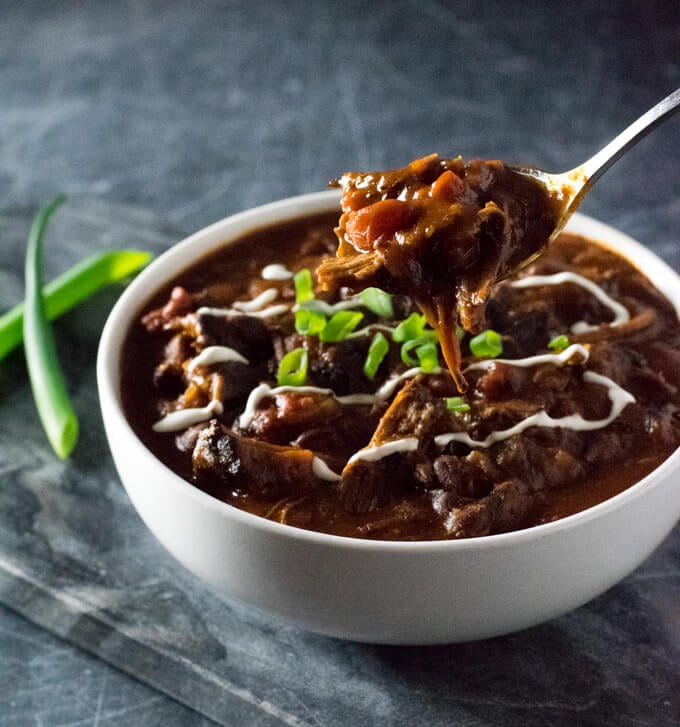 Can Chili be Made in Advance?
Not only can chili be made in advance, it tastes best when the flavors have time to meld. This smoked chili recipe is particularly well suited to prepare in advance because its long cook time can be divided up between two days if desired. You can smoke the meat one day, and prepare the chili the next.
Other Ways to Enjoy Chili
There is no shame in eating leftover chili for a few days, however, if you are looking for additional ways to enjoy this dish here are a couple of suggestions. Leftover smoked chili would make one heck of a Frito pie for a new dinner idea. Otherwise, whip up a wonderfully smoky chili cheese dip for game day or your next party.
If you are looking to expand your chili recipe repertoire, try a batch of my Steak Chili, slow cooker Turkey Chili, or Wisconsin-inspired Chili with Noodles recipe. For something a little different, I recommend my Chicken Queso Chili recipe.
Can you do me a favor? If you enjoyed my post would you mind sharing it with your friends? You can see more of my recipes by liking me on Facebook and follow me on Pinterest too. Otherwise, stay up to date by getting each new post sent directly to your inbox by subscribing today.
Smoked Chili
Smoked chili is not your mother's chili. Tender shreds of smoked beef swim in a boldly seasoned sauce loaded with roasted peppers, onions, and beans.

Print
Pin
Rate
Save
Saved
Ingredients
2

lbs

chuck steak

(or substitute another smoked meat)

wood chips for smoking

2

medium yellow onions

(chopped)

1

tablespoon

cooking oil

2

jalapeno Peppers

1

poblano pepper

4

Garlic cloves

(minced)

3

cups

Beef Stock

unsalted

30

oz

canned chili beans

28

oz.

can Diced Tomatoes

15

oz.

can Tomato Sauce

6

oz.

can Tomato Paste

1

tablespoon

Worcestershire

¾

cup

BBQ sauce

¼

cup

flour

Shredded cheddar cheese and sour cream for serving
Instructions
Place chuck steak in the smoker for 3-4 hours at 250 degrees with your desired flavor of wood for smoking. Keep the vents wide open to avoid a buildup of creosote on the meat, which can make the chili bitter.

Remove meat from smoker and cut into 4-6 large chunks.

Turn your broiler on high and roast the peppers on a baking sheet placed on the upper rack until the skin blisters, rotate and continue to broil until all sides of the pepper has blistered.

Place peppers in a bowl covered with a kitchen towel to allow the skin to loosen and be easily removed. Let sit until the peppers are cool enough to handle then remove and discard the skin and seeds then chop the roasted peppers.

Add cooking oil to a Dutch Oven or soup pot set over medium heat then add chopped onions. Saute until tender and beginning to brown. Add minced garlic and saute for an additional minute.

Add chili seasonings to the pot along with all remaining chili ingredients and the smoked meat. Stir to combine and bring to a gentle simmer over low heat.

Let the chili simmer uncovered for 3+ hours, or until the meat is tender and easily shredded with a fork. Add additional liquid while simmering if needed to maintain your desired sauce consistency.

Ladle chili into bowls and top chili with a dollop of sour cream and shredded cheese.
Notes
The total time needed to cook the chili will vary depending on the size of the chunks of meat simmering and how much they cooked while smoking. Larger chunks of meat will require more time to become tender. This is a good recipe to prepare in advance since the total cook time can vary wildly.
I recommend serving this chili with my Homemade Buttermilk Cornbread recipe!
Nutritional Information
Calories:
344
kcal
|
Carbohydrates:
34
g
|
Protein:
22
g
|
Fat:
14
g
|
Saturated Fat:
5
g
|
Cholesterol:
51
mg
|
Sodium:
2215
mg
|
Potassium:
1199
mg
|
Fiber:
6
g
|
Sugar:
17
g
|
Vitamin A:
845
IU
|
Vitamin C:
24
mg
|
Calcium:
92
mg
|
Iron:
6
mg
This recipe was originally published on FoxValleyFoodie.com on October 23, 2019.