Serving chili with noodles is common comfort food in Midwestern states like Wisconsin, let me show you how to make this rich and hearty dish your whole family will love!
Please forgive me, I am going to be snobbish for a second. Wisconsin, my dear beloved home state, does not make very good chili. It's sad but true. Visiting diners across the state I've most commonly been served what would best be described as a "chili soup" - a watery concoction, light on seasonings, fortified with beans, beef, noodles, and celery. Why celery? Dear Lord, I have no idea.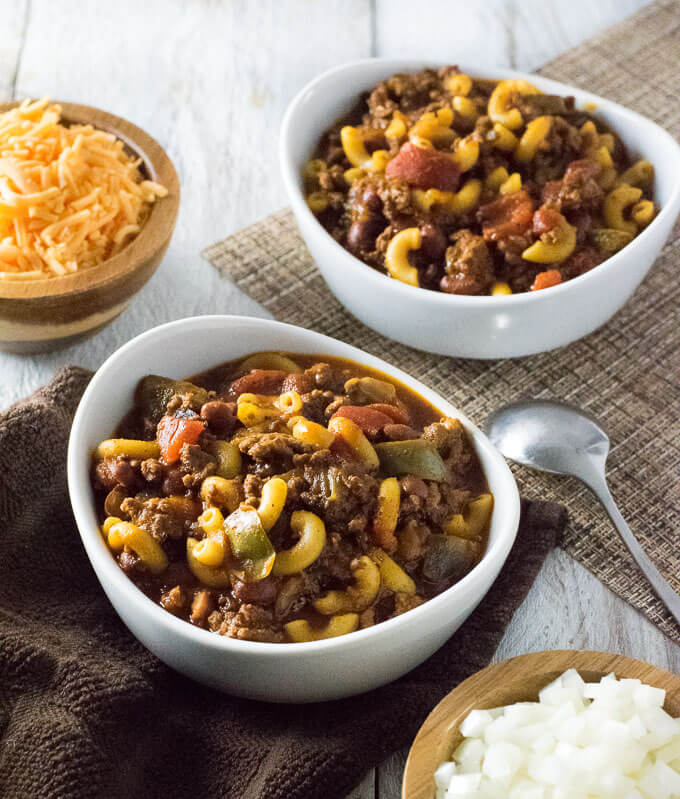 I love you Wisconsin, but celery has no place in chili. Well, I guess many would argue noodles don't have any place in chili either - and I would tend to agree. However, I can at least understand why some would want noodles in chili. So for you, and everyone in the great state of Wisconsin, I devised a chili recipe with noodles - that honestly tastes good.
Just a couple of quick disclaimers before we begin: Obviously I have not visited every diner and greasy spoon eatery in the state. I am sure some of them probably make fine chili. Also, if chili with noodles isn't your thing, I recommend checking out my classic chili recipe, it is one of the best chili recipes online.
What Noodles for Chili
Most commonly macaroni noodles are used in chili unless you are making Cincinnati-style chili, which features spaghetti noodles instead. The noodles can be prepared separately from the chili and mixed in when serving, or they can be cooked as the chili simmers.
Chili Mac
Is this dish chili macaroni? Though similar, this is a traditional chili recipe that contains noodles. Chili mac is typically a simplified version of chili that has been adjusted for quick preparation with macaroni and cheese. Think of this recipe more as a flavorful chili and noodles recipe, rather than a homemade chili mac.
What Meat for Chili
Chili is a versatile dish that is most commonly served with ground beef as the main protein. However, turkey chili, chicken chili, or even venison chili are common variations. This chili with noodles recipe was designed for beef, however, you can substitute another ground meat if you choose and the recipe will still turn out great.
Ingredients and Substitutions
Ground Beef - Most any ground meat can be substituted.
Yellow onions
Green Bell Pepper - Substitute a poblano pepper or jalapeno pepper for extra heat, depending on your preferred spice level. Red chili flakes and hot sauce can also be added to increase the heat, for those of you who crave spicy foods.
Garlic cloves 
Canned Diced Tomatoes - Substitute 1 ½ pounds of fresh tomatoes.
Canned chili beans - I specifically recommend chili beans because they are packed with seasoning. However, you can just use kidney beans or pinto beans in a pinch.
Tomato Sauce
Tomato Paste
Worcestershire sauce
Tomato Juice - V8 juice is a great substitute.
Elbow macaroni noodles - Making chili with macaroni noodles is most common, but you can use any other kind of pasta, although ideally a small noodle should be substituted. However, you can use spaghetti noodles for making Cincinnati-style chili.
Chili seasoning - I recommend using my chili seasoning recipe, which I have listed in the recipe card, but you can use your favorite from your local grocery store too.
How to make it
I prefer to make chili in the Dutch Oven. It is great for browning the meat and sauteing the vegetables and its wide opening is ideal for the long simmer required to thicken the chili. Wider pot openings allow more liquid to evaporate.
Begin by browning the ground beef in the Dutch oven (or large pot) set over medium heat. Once it has been sufficient browned, remove the browned beef and set it aside in a bowl. Then place the peppers and onions in the pot, along with some cooking oil, and saute until tender. Then add the garlic and cook for an additional two minutes.
Now the meat can be returned to the pot, along with all remaining chili ingredients, except the chili noodles. My recipe calls for cooking the chili for two hours to give the chili seasonings time to meld, however, you can simmer it longer if desired. Add the noodles 15 minutes before serving. Serve with your favorite chili toppings, like chopped green onions, shredded cheese, and sour cream.
Storing & Reheating Leftovers
Leftover chili with noodles should be stored in airtight containers in your refrigerator and eaten within five days. The leftovers can be reheated in individual servings in your microwave, or everything can be gently reheated in a pot on your stovetop.
Chili is one of those meals that gets better the next day, so if you are planning on making this in advance, the best way is to not add the noodles prior to storing everything in the refrigerator because the cooked noodles will absorb liquid in the chili and get soft. This recipe even freezes (up to three months) well without noodles.
Can you do me a favor? If you enjoyed my post would you mind sharing it with your friends? You can see more of my recipes by liking me on Facebook and follow me on Pinterest too. Otherwise, stay up to date by getting each new post sent directly to your inbox by subscribing today.
Chili with Noodles
Serving chili with noodles is common in Midwestern states like Wisconsin, let me show you how to make this rich and hearty dish your whole family will love!
Print
Pin
Rate
Save
Saved
Ingredients
Chili with Noodles
2

pounds

Ground Beef

2

medium

Yellow onions

(chopped)

1

large

Green Pepper

(chopped)

3

Garlic cloves

(minced)

28

ounces

canned Diced Tomatoes

(with liquid)

30

ounces

canned chili beans

(with liquid)

15

ounces

canned Tomato Sauce

2

tablespoons

Tomato Paste

1

tablespoons

Worcestershire sauce

4

cups

Tomato Juice

8

ounces

Macaroni noodles

Shredded cheddar cheese and sour cream for serving
Instructions
Brown ground beef in Dutch oven or large pot over medium heat, while crumbling into small pieces, then remove and set aside.

Add chopped onions and peppers to the pot and saute until tender (add olive oil if there isn't enough excess grease in the pot). Add garlic and cook for an additional 2 minutes.

Return ground beef to the pot with sauteed vegetables and add chili seasonings and all remaining ingredients except macaroni noodles. Mix to combine.

Simmer uncovered for 2 hours. Add macaroni noodles in the final 15 minutes of cooking.

Serve with shredded cheddar cheese and sour cream for topping.
Nutritional Information
Calories:
579
kcal
|
Carbohydrates:
55
g
|
Protein:
33
g
|
Fat:
25
g
|
Saturated Fat:
9
g
|
Cholesterol:
80
mg
|
Sodium:
2880
mg
|
Potassium:
1614
mg
|
Fiber:
8
g
|
Sugar:
15
g
|
Vitamin A:
935
IU
|
Vitamin C:
30.4
mg
|
Calcium:
142
mg
|
Iron:
7.8
mg
This recipe was originally published on January 19, 2019 on FoxValleyFoodie.com.