This robust Homemade BBQ Sauce is easy to make and dripping with bold flavors. Slather it on ribs, chicken, and all of your barbeque favorites!
Excercise is like the fitness version of hell where you pay for all of your caloric sins and not having a close personal relationship with lean meats and vegetables. However I have never seen a skinny barbeque pitmaster, have you? They are pretty much fitness heathens who only worship flavor.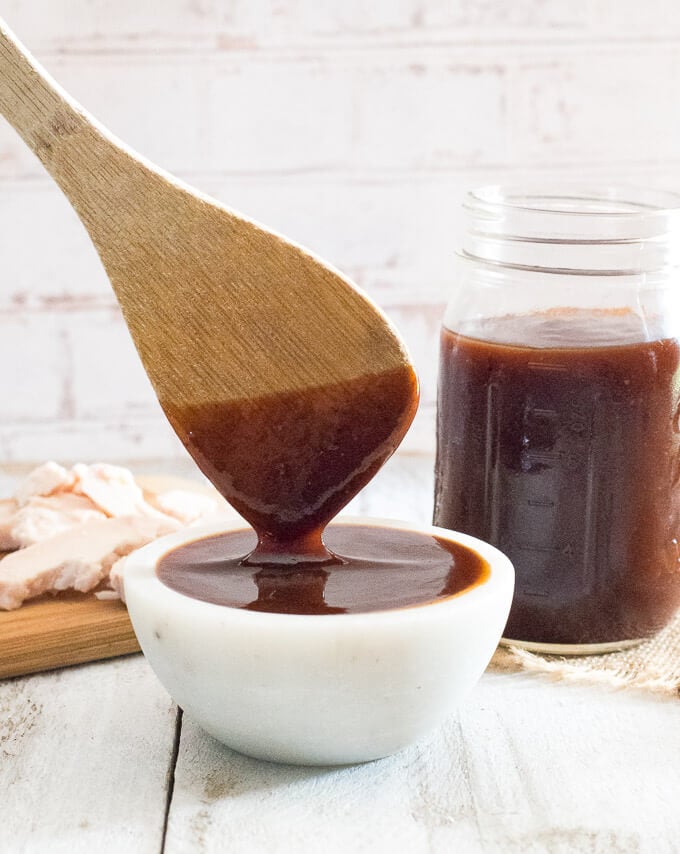 Well if you are going to pack on the pounds, or sweat them off, make sure the calories were worth it. You can't go wrong with this intoxicatingly robust Homemade BBQ Sauce that is perfect for slathering all over your favorite barbequed meats and vegetables.
Homemade BBQ Sauce
My Homemade BBQ Sauce recipe is fairly assertive with aggressive doses of apple cider vinegar, mounds of black pepper, brown sugar, and enough molasses to deepen the flavor without being overpowering. I would describe the heat level as medium, which can easily be adjusted by adding more or less cayenne pepper. The heat really plays nicely with the sweetness of the brown sugar and molasses.
Though I really enjoy the BBQ sauce recipe exactly as written, it is a great recipe to customize to fit your own tastes. Let me explain how.
How to Make BBQ Sauce
Any good BBQ sauce needs a tomato base, acidity, sweetness, a little spice, and salt. Ketchup makes a great tomato base, it is silky smooth, adds a great flavor, and already has sweetness built into it. Brown sugar and molasses also add sweetness to the sauce. If you like a less sweet sauce, feel free to subtract some brown sugar from the recipe. Likewise, if you like really deep flavors, such as those found in Sweet Baby Ray's BBQ sauce, add more molasses. Molasses can even be eliminated if you like a lighter tasting sauce.
Acidity is typically added not only by the tomato base but also with vinegar. Apple Cider Vinegar is my favorite to use in BBQ sauces, but feel free to experiment with others such as red wine vinegar. You can further steer the flavor with seasonings and spice. I like smoked paprika for the smokiness it brings to the sauce, though some recipes will use liquid smoke instead. I do, however, think some level of spice is imperative to counteract the sweetness. Cayenne pepper is my choice, but jalapenos, serranos, and habaneros can all be used to tweak the total level of heat.
Finally, you need salt to bring out the flavors. This can be done by simply salting the sauce, but adding a salty flavoring like Worchestershire or even Soy Sauce can bring an additional level of flavor while adding saltiness as well. In the end, all you have to do is keep these ideas in mind while you mix and match your favorite ingredients to draw out the flavors you love most!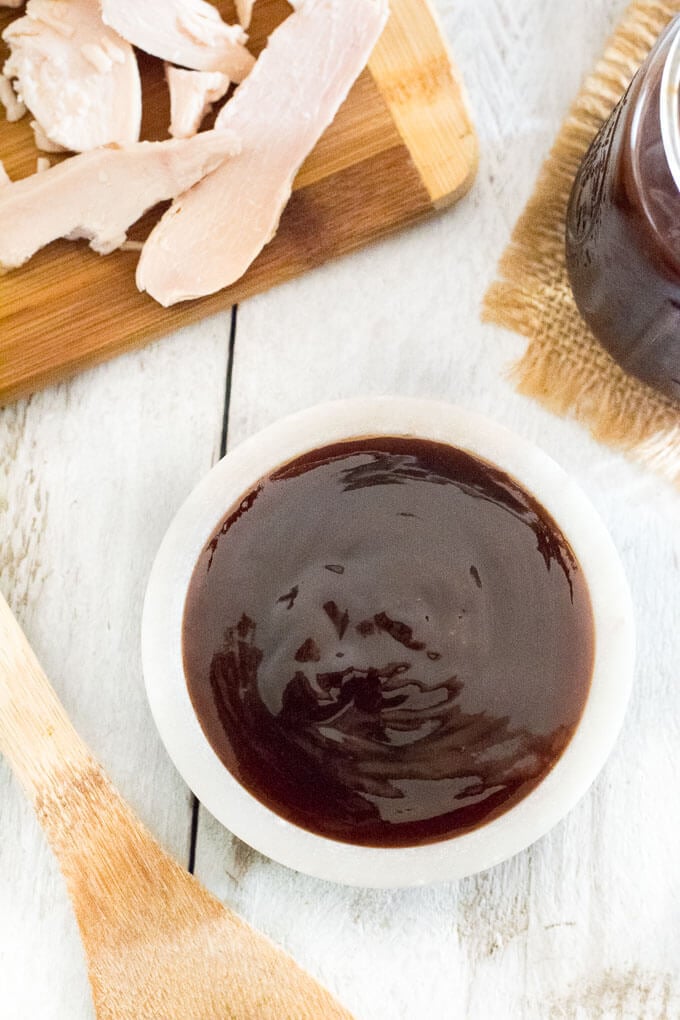 Do You Need to Cook BBQ Sauce
Yes, any homemade BBQ sauce will be better if it is cooked. Simply gently simmering on the cooktop for a few minutes is all that is needed. If you do not cook it the sauce will be gritty and the flavors won't meld as all. Simmeringe will melt the brown sugar into the BBQ sauce and bring all of the flavors together.
How to Store BBQ Sauce
Homemade BBQ Sauce should be sealed and stored in the refrigerator until it is used. I recommend using mason jars, but you can buy sauce bottles as well if you prefer. It is also best to store the sauce in the fridge overnight prior to using it. Though it will taste great right out of the pot, storing it in the fridge overnight will allow the flavors to meld and the taste will evolve significantly.
How Long Does BBQ Sauce Last
BBQ sauce can typically last in the refrigerator for months. The sugar and acidity of the sauce act as preservatives, helping maintain the sauce integrity. Always make sure you are using fresh ingredients and clean storage vessels. The exact shelf life will vary depending on exactly what ingredients are used, particularly if fresh produce is incorporated.
What to Use BBQ Sauce On
This Homemade BBQ Sauce is perfect for slathering on grilled ribs, country style ribs, ribs in the oven, and of course my traditional 3-2-1 Ribs as well. However, don't just limit your BBQ to just ribs. Paint some on grilled chicken or add a dollop to pulled pork.
Finally, it isn't just traditional cookout food this sauce would be great on. Use it to dress up my BBQ Chicken Salad, Loaded Sweet Potatoes, or even a Healthy BBQ Pizza. The possibilities are only limited by your imagination!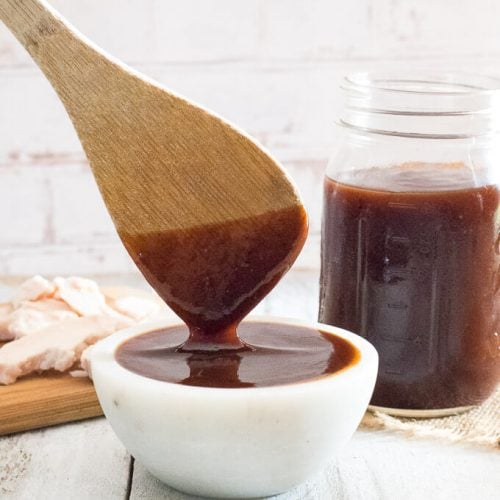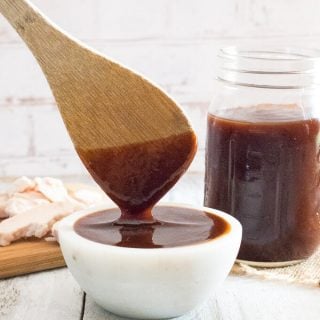 Homemade BBQ Sauce
This robust Homemade BBQ Sauce is easy to make and dripping with bold flavors. Slather it on ribs, chicken, and all of your barbeque favorites!
Print
Pin
Rate
Save
Saved
Ingredients
1 ½

cups

Ketchup

1

cup

Brown Sugar

¾

cup

Apple Cider Vinegar

¼

cup

Molasses

2

tablespoons

Worcestershire sauce

2

tablespoons

Dry Mustard

2

teaspoons

Smoked Paprika

(regular can be substituted if needed)

2

teaspoons

Black Pepper

1

teaspoon

Salt

1

teaspoon

Cayenne Pepper
Instructions
Combine all ingredients into a saucepan, stir to combine, and gently simmer for 10 minutes.

Allow to cool slightly, pour BBQ sauce into mason jar, cover with lid, and store in the refrigerator overnight to allow flavors to meld.
Notes
If you are in a hurry, you can enjoy this BBQ sauce right away rather than letting it rest in the fridge overnight, however the flavor will be better in ANY BBQ sauce recipe that sits overnight.
THIS BBQ SAUCE would taste great on my BBQ Meatloaf recipe!
Nutritional Information
Calories:
71
kcal
|
Carbohydrates:
17
g
|
Sodium:
274
mg
|
Potassium:
147
mg
|
Sugar:
16
g
|
Vitamin A:
210
IU
|
Vitamin C:
0.9
mg
|
Calcium:
22
mg
|
Iron:
0.5
mg
If you enjoyed reading my Homemade BBQ Sauce recipe then you should probably like me on Facebook and follow me on Pinterest too. That's what I would do at least, because if you don't get to know me but you still use my recipe it is kind of like taking candy from a stranger, and your mom taught you not to do that. Don't disobey your mom, subscribe to Fox Valley Foodie today.