Learning how to dry oregano is a great way to get the most out of any leftover fresh herbs in your kitchen. Whether you are looking to maximize your garden harvest, or simply want to ensure any fresh oregano purchased from the grocery store isn't going to waste, let's take look at the best ways to dry fresh oregano at home.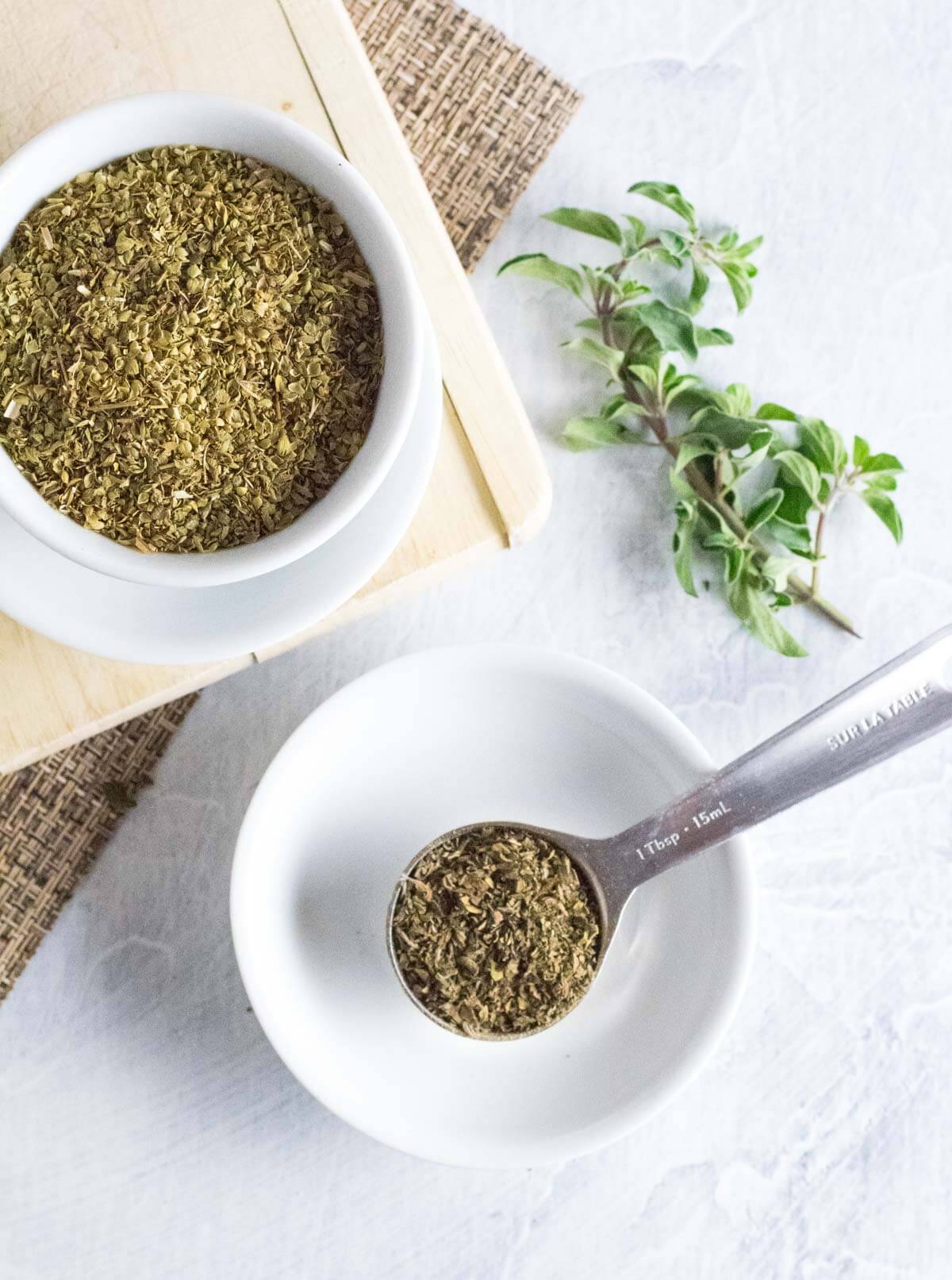 What is dried oregano?
Dried oregano is a popular herb made from drying fresh oregano plants. The dried herb is commonly used to add flavor to a variety of dishes in Italian, Mexican, and Greek cuisines. You can commonly find dried oregano in your local grocery store's spice section, or you can easily make your own from fresh oregano plants.
How to hang dry oregano
Hang-drying fresh oregano sprigs may be the best way to dry it, but it is also the slowest drying process by far. The biggest benefit of the air-drying method is that you are gently drying out the leaves over time, which will preserve the oils for maximum flavor. However, the amount of time this takes will be prohibitive to many.
To hang dry oregano you will want to tie the stems with butcher twine and hang the oregano inside in a warm spot that gets direct sunlight and good air circulation for best results. Near a southern-facing window is ideal. The time it takes to complete the natural drying process will vary depending on sunlight, temperature, and humidity. However, you can expect air drying to take anywhere from a week to up to two months.
How to dry oregano in the oven
Drying oregano in the oven is the fastest method, but my testing found it to be the worst method by far. I absolutely do not recommend it. There are multiple issues with this drying method.
The biggest problem with oven-drying oregano is the temperature. Most ovens do not have a low enough temperature setting to gently dry oregano. Some people attempt to get around this by propping the oven door open, but that wastes energy and leads to inconsistent temperatures and results.
The other problem with this high-temperature method is the leaves dry out too quickly, leaving very little margin for error before they turn brown and bitter. Since the leaves are drying so rapidly, many of them turn brown before the rest have even dried out yet. This leads to unsatisfactory and inconsistent results.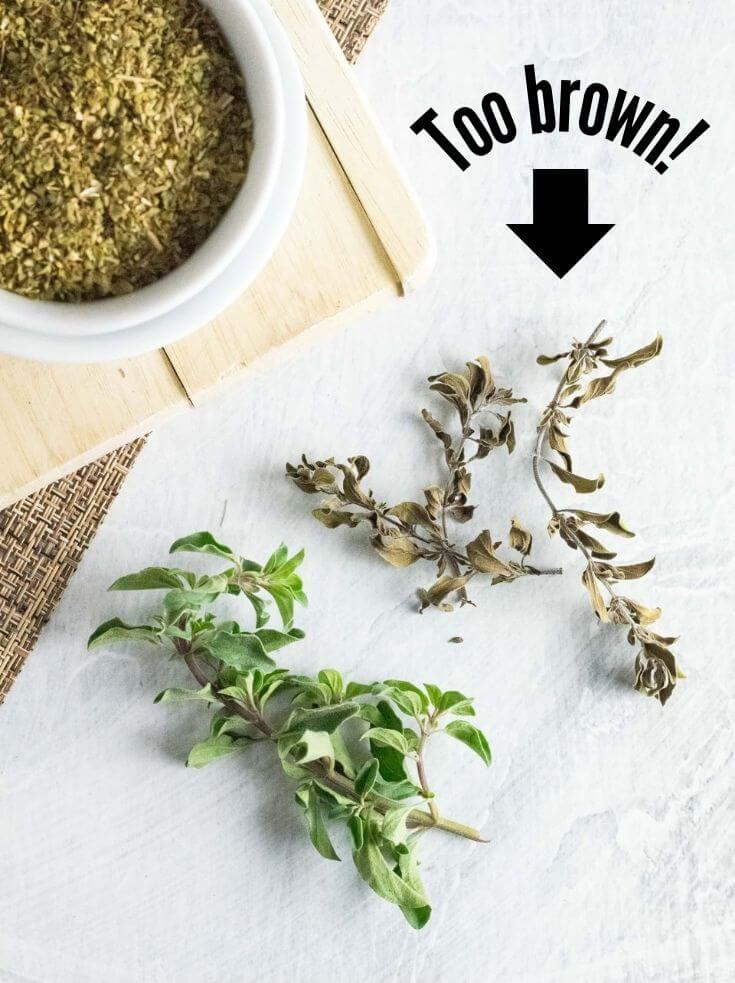 The lowest temperature setting on most ovens is around 175 degrees, which is the temperature I used for testing. Similarly to using a dehydrator, the oregano was dry in 30-45 minutes. However, the taste was terribly bitter and the leaves were noticeably brown and burnt-looking. This appeared to be almost unavoidable because they seemed to turn brown as soon as they were sufficiently dry. Results may be improved slightly by using convection ovens.
How to dry oregano in a dehydrator
I expected drying oregano in the dehydrator to be my preferred method, as that is what I use for drying onions and garlic powder. However, I found the delicate leaves are too easily over-dried and take on a burnt flavor before all of the leaves have sufficiently dried.
While testing, I dehydrated oregano at 170 degrees to see if it could be done quickly, and I did another attempt using the lowest temperature setting to see if the results were any better.
Dehydrating oregano at 170 degrees worked terribly. It finished in 45 minutes, but many of the leaves were dried and brown before the remaining leaves were sufficiently dry. This resulted in a very muted flavor with a noticeably burnt aftertaste.
Alternatively, I also tried dehydrating at 120 degrees for two to three hours. There was a noticeable improvement in the flavor. Still, the leaves browned more than I wished and the flavor was still not great. However, this was a noticeable improvement from the oven-method. If using a dehydrator, I strongly recommend using the lowest temperature setting. 95 degrees for approximately four hours does improve the results some.
How to dry oregano in the microwave
Of all the methods I've tested, drying oregano in the microwave surprised me the most with how well it worked! Not only is using a microwave oven the fastest way to dry oregano, but it also preserved the flavor MUCH better than using a food dehydrator or oven.
This is my favorite method because it is also the easiest way to dry oregano since it is almost impossible to screw up. While testing this method I purposefully attempted to microwave the oregano much longer than needed and even when "overcooking" it, the results were still better than using a dehydrator or oven. The leaves stayed vibrantly green and retained a lot of flavor, even when microwaving three or four times longer than needed. Obviously, the results were best when not microwaved longer than necessary though.
To dry fresh oregano in the microwave, place the oregano on a microwave-safe plate and set it in the microwave on high for one minute. After one minute check the oregano leaves, if they are still soft and pliable, cook them for an additional thirty seconds. Repeat as needed until the leaves have dried and crumble when squeezed.
What is the best way to dry oregano?
In my experience, there are only two good ways to dry oregano. If you have the time, hang drying is the best way to dry oregano because you don't have to worry about cooking out the flavor. However, if you are looking for good results fast, then microwaving oregano is the best way to dry it. Not only is this the quickest way, but the flavor also was excellent, the results were consistent, and the process was very easy.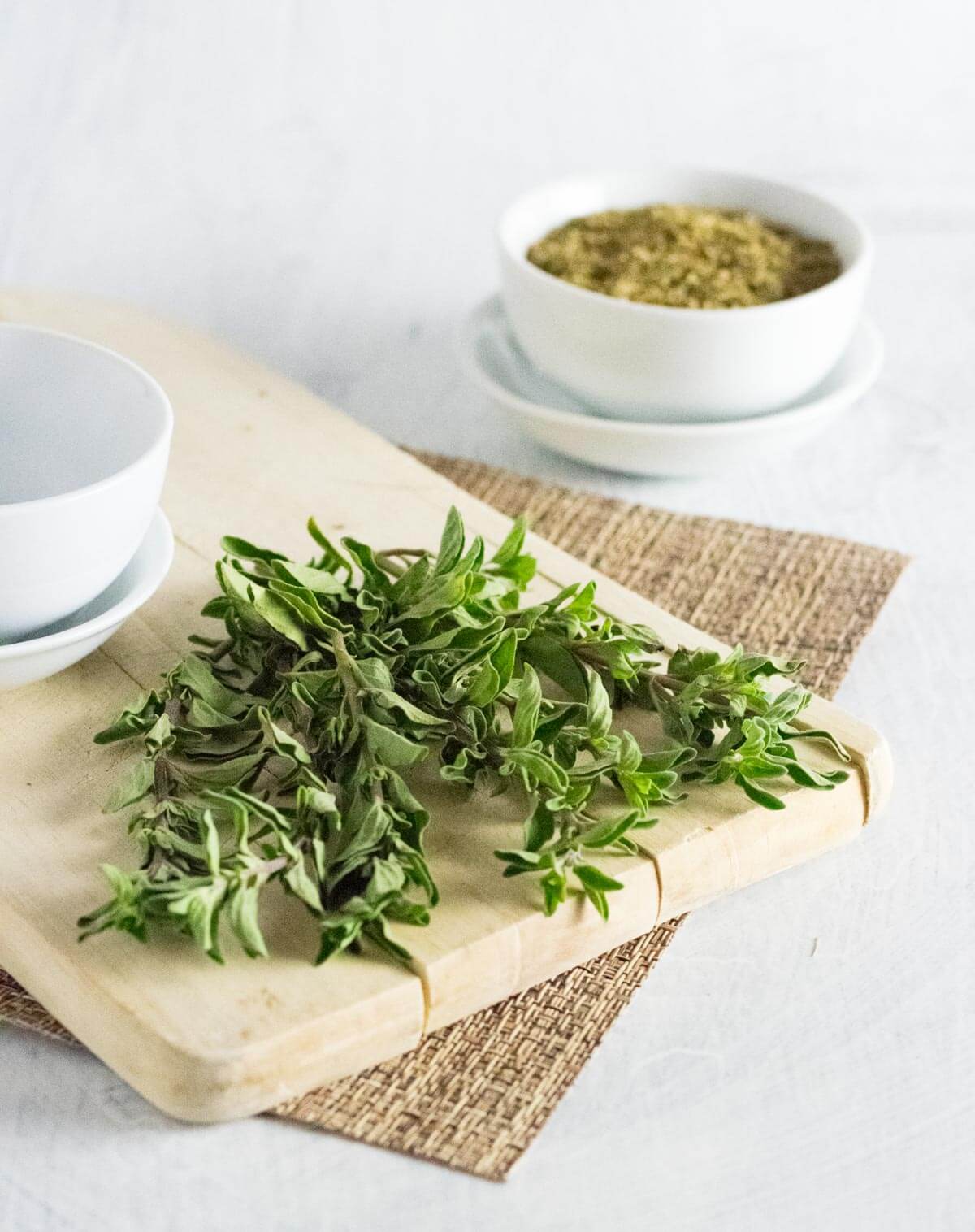 How to store dried oregano
Your dried oregano should be stored in an airtight container, such as a spice jar, and kept in a dry dark place, like your kitchen pantry or spice cupboard with your other dried herbs and spices. When properly stored you can expect your dry oregano leaves to last for two or three years.
Ways to use dried oregano
Use your homemade dried oregano to add flavor to your favorite soups, stews, pasta dishes, sauces, and more. If you are looking for inspiration, try any of these great recipes:
Can you do me a favor? If you enjoyed my post would you mind sharing it with your friends? You can see more of my recipes by liking me on Facebook and follow me on Pinterest too. Otherwise, stay up to date by getting each new post sent directly to your inbox by subscribing today.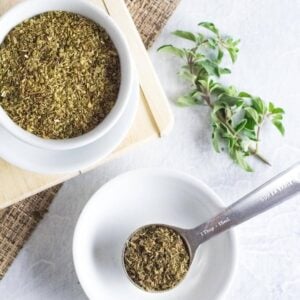 How to Dry Oregano
Learning how to dry oregano is a great way to get the most out of any leftover fresh herbs in your kitchen.
Print
Pin
Rate
Save
Saved
Instructions
Hang Dry
Tie the fresh oregano stems with twine or a rubber band and hang them in a warm, dry place with plenty of sunlight.

After one week, check the leaves daily to monitor their dryness. This method can take up to two months, depending on temperature and humidity.
Microwave
Place fresh oregano on a microwave-safe plate in an even layer and microwave on high for sixty seconds.

Check the leaves for dryness and continue microwaving for thirty seconds at a time until all of the leaves gently crumble when pressed.

This method is best done in small batches, and you can expect each batch to take less than two minutes to finish.
Dehydrator
Set your dehydrator to 95 degrees and spread the oregano evenly across your dehydrator trays in a single layer.

Dehydrate the oregano for two to six hours, or until the leaves are dry and can easily be crumbled. You want to remove them from the dehydrator before they turn brown.
Oven
Set your oven to 175 degrees and place the oregano on a wire rack over a baking sheet in the center of the oven.

Bake the oregano for thirty minutes, periodically checking for dryness. Remove the leaves from the oven before they turn brown.
Notes
I personally, do not recommend using the oven method. It leads to the worst results by far. Drying oregano in the microwave is the best method I tested and the one I recommend.
Whichever method you use, you will want to first rinse your fresh oregano with cold water to wash it, then dry it by gently patting it with paper towels or using a salad spinner to remove excess water.
After drying, the dried stems can be discarded and the dried leaves can be stored in a spice jar and placed in a dark cabinet for two or three years.
Nutritional Information
Calories:
1
kcal
|
Carbohydrates:
0.2
g
|
Protein:
0.02
g
|
Fat:
0.01
g
|
Saturated Fat:
0.01
g
|
Polyunsaturated Fat:
0.003
g
|
Monounsaturated Fat:
0.003
g
|
Sodium:
0.1
mg
|
Potassium:
3
mg
|
Fiber:
0.1
g
|
Sugar:
0.01
g
|
Vitamin A:
4
IU
|
Vitamin C:
0.01
mg
|
Calcium:
4
mg
|
Iron:
0.1
mg