These deliciously crispy panko breaded meatballs are coated in a flavorful panko breadcrumb Parmesan crust then baked until golden brown. The crisp coating around each tender meatball adds wonderful texture and flavor, making them an ideal appetizer meatball to dunk in marinara sauce.
I would serve these panko meatballs with toothpicks, as easy finger food at a party. However, they also are great meatballs to use in a hoagie roll as a crispy meatball sub.
Panko Meatballs
Panko breadcrumbs are ideal for making homemade meatballs. They are larger in size than traditional plain breadcrumbs, which gives them an added crunch when used as a coating. However, they also work equally well when used as a binder inside of the meatball. Panko can be substituted in any meatball recipe that calls for traditional breadcrumbs.
To make panko breaded meatballs, you can use panko breadcrumbs alone, but combining them with grated Parmesan cheese adds a lot of great flavor. This is a very similar panko-parmesan coating as used in my Baked Chicken Cordon Bleu recipe too.
Ingredients and Substitutions
Ground beef - I recommend using 80/20 beef, such as ground chuck. You want some fat for added flavor and moisture, so avoid overly lean ground beef.
Ground pork - You can substitute other type of meat too such as ground veal or ground lamb.
Panko breadcrumbs - You can substitute traditional breadcrumbs if you want a finer crumb.
Milk - Other liquids such as beef broth can be substituted.
Large Eggs
Grated Parmesan cheese - Grated Parmesan is best because it is a finer crumble than the longer shreds you get with shredded Parmesan.
Fresh parsley - I do not recommend using dried parsley. It has almost no flavor.
Sweet onion - Sweet onion or yellow onions are recommended.
Fresh oregano - Any other Italian herb can be substituted, such as basil, thyme, or sage. For best flavor, I always recommend using fresh ingredients over dried seasonings whenever possible.
Garlic cloves - You can substitute 1 teaspoon of garlic powder if needed.
Worcestershire sauce
Seasonings - Kosher salt, black pepper, and crushed red pepper flakes.
How to make them
It is pretty easy to make this panko breaded meatball recipe. It is the exact same process as making traditional Italian meatballs, except we bread them in panko prior to baking.
Begin by crumbling the meat into a large mixing bowl. The dry ingredients can be added as well. This includes the panko breadcrumbs, Parmesan cheese, parsley, onion, oregano, garlic, and seasonings. It is best to mix the wet ingredients separately in a small dish first, and then they can be added with the meat mixture.
Once all of the meatball ingredients are in the bowl work everything together with clean hands to ensure it is well combined.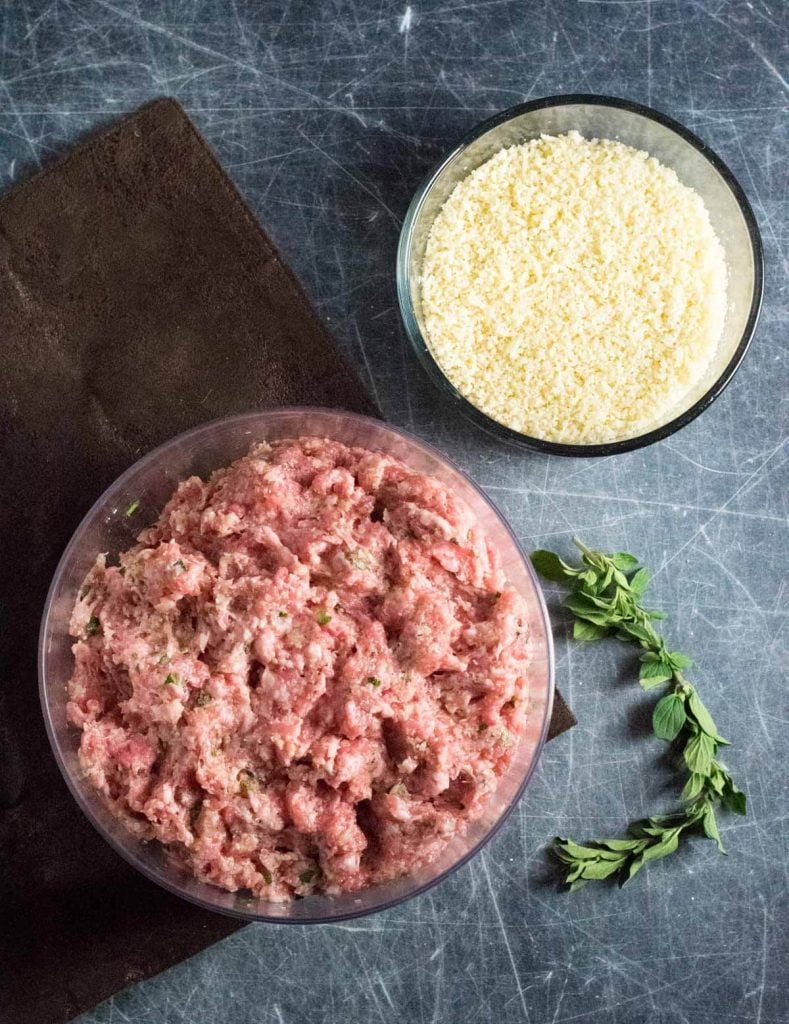 Next, prepare the panko coating by mixing one cup panko crumbs with ½ cup grated Parmesan, and 4 teaspoons of olive oil. The breading needs to be mixed together well enough to ensure the olive oil soaks into the panko. This is what ensures it bakes up golden brown.
Form the meatballs in golf ball size balls by using 1 ½ tablespoons of the raw meatball mixture and rolling it between the palms of your hands. You can help ensure they are a uniform size by using a medium cookie scoop. Once the meatballs have been formed, roll them in the breadcrumb mixture until coated on all sides.
Place the panko breaded meatballs on a large rimmed baking sheet and place in a 450 degree oven for 15 minutes, or until cooked through and you have deliciously crispy meatballs with a golden brown.
Serve the baked meatballs with marinara, tomato sauce, or your favorite sauce.
Note: These are best served immediately. If kept warm in a slow cooker for long periods of time the breading with turn soft and mushy.
Can these meatballs be made in advance?
You can make the raw meatballs in advance by forming them and storing them in your refrigerator. However, I recommend not breading them until you are ready to bake them, so the breading doesn't soak in moisture and get soggy.
This also holds true if you want to freeze a big batch. Store the raw meatballs in a freezer bag for up to a couple of months, then thaw completely, and then roll them in the breading and proceed with baking.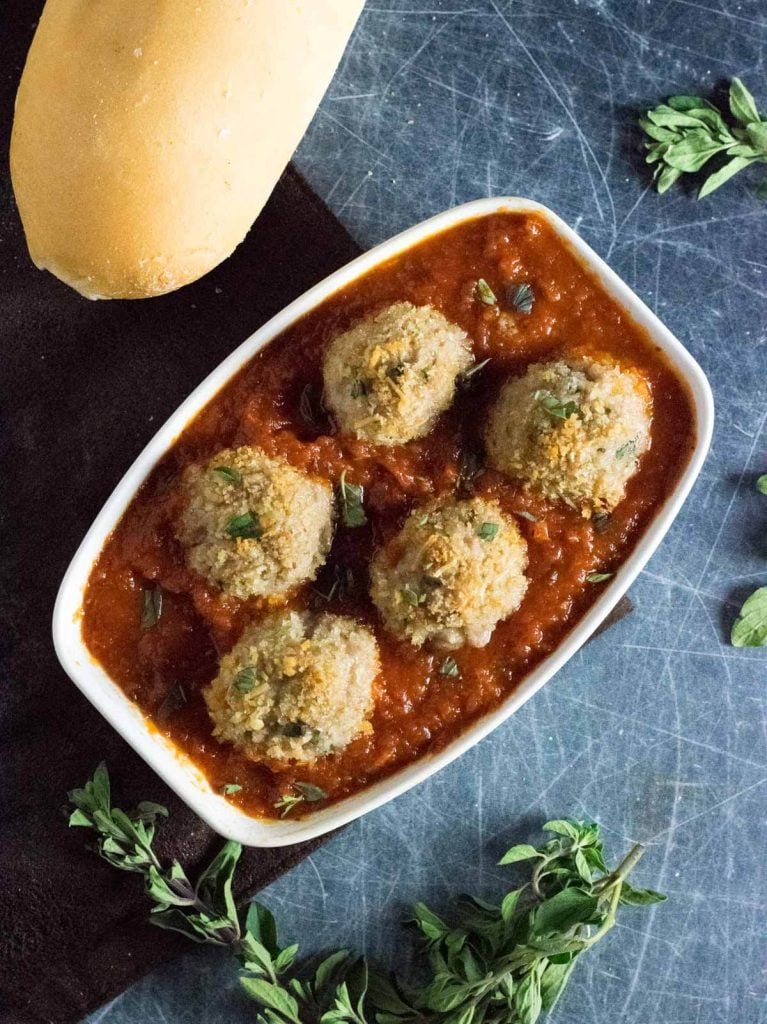 Leftover Panko Breaded Meatballs
Leftovers should be stored in an air-tight container in your refrigerator and eaten within five days. The breading will won't be as crisp when reheated, particularly if using a microwave. For best results, I recommend reheating leftover meatballs in a 350 degree oven for 20 minutes or until warmed through.
More Delicious Meatball Recipes
Can you do me a favor? If you enjoyed my post would you mind sharing it with your friends? You can see more of my recipes by liking me on Facebook and follow me on Pinterest too. Otherwise, stay up to date by getting each new post sent directly to your inbox by subscribing today.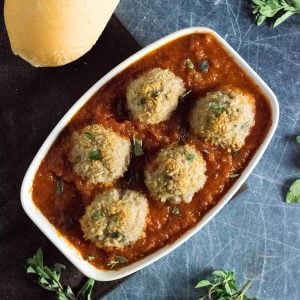 Panko Breaded Meatballs
These deliciously crispy panko breaded meatballs are coated in a flavorful panko breadcrumb Parmesan crust then baked until golden brown.
Print
Pin
Rate
Save
Saved
Ingredients
Meatball Mixture
1

pound

ground beef

1

pound

ground pork

1

cup

panko breadcrumbs

⅓

cup

milk

2

eggs

beaten

½

cup

grated Parmesan cheese

¼

cup

fresh parsley

finely chopped

¼

cup

grated onion

1

tablespoon

fresh oregano

finely chopped

3

cloves

garlic

minced

1

teaspoon

Worcestershire sauce

1 ½

teaspoon

kosher salt

½

teaspoon

black pepper

½

teaspoon

crushed red pepper flakes
Panko Breading
1

cup

panko breadcrumbs

½

cup

grated Parmesan cheese

4

teaspoons

olive oil
Instructions
Preheat oven to 450 degrees.

Crumbled ground beef and ground pork in a large bowl and pour in one cup of panko breadcrumbs.

In a separate small bowl, mix together the wet ingredients - milk, eggs, and Worcestershire sauce. Once combined, pour them into the bowl with the meat mixture.

Add ½ cup grated Parmesan cheese, parsley, onion, oregano, garlic, salt, pepper, and red pepper flakes to the meatball mixture and combine thoroughly with clean hands.

Wet your hands with a small amount of water to prevent the meat from sticking to your skin and form golf ball size meatballs by rolling the meat mixture between the palms of your hands.

Prepare the meatball breading by mixing together 1 cup of panko breadcrumbs with ½ cup grated Parmesan cheese, and 4 teaspoons of olive oil in a dish. Combine the breading well to ensure the breadcrumbs soak up the oil.

Coat the meatballs with the panko breading by rolling each meatball in the panko mixture until coated on each side.

Place breaded meatballs on a rimmed baking sheet and bake meatballs in the oven for 15 minutes or until the internal temperature has reached 165 degrees and the exterior is golden brown.
Notes
You can combine other Italian herbs with the fresh oregano as well. Other good options include thyme, sage, and basil.
You can make your panko breaded meatballs any size you want. Smaller meatballs cook faster whereas large meatballs have a longer bake time. Generally, I recommend using 1 ½ tablespoons of mixture per meatball.
I like to line my baking sheet with parchment paper for easy cleanup and to help prevent the meatballs from sticking. Aluminum foil can be used as well.
Nutritional Information
Calories:
602
kcal
|
Carbohydrates:
17
g
|
Protein:
37
g
|
Fat:
42
g
|
Saturated Fat:
16
g
|
Polyunsaturated Fat:
3
g
|
Monounsaturated Fat:
18
g
|
Trans Fat:
1
g
|
Cholesterol:
179
mg
|
Sodium:
1117
mg
|
Potassium:
562
mg
|
Fiber:
1
g
|
Sugar:
3
g
|
Vitamin A:
513
IU
|
Vitamin C:
5
mg
|
Calcium:
280
mg
|
Iron:
4
mg