The Texas Frito Pie is a popular classic at state fairs and dinner tables across the country. Crunchy, cheesy, and packed with flavorful chili, this simple dish may be loaded with humble ingredients but it is always a family favorite!
I am not much of a sweets guy. My idea of the perfect pie has the word "Sheperd's", "Pot", or "Frito" preceding it. A savory supper is all the decadence I need. For me, this crunchy Frito chili pie is about as good as it gets!
What is a Texas Frito Pie
The Frito pie is a popular dish throughout the Midwest and Southern United States consisting of chili topped with Fritos Corn Chips and shredded Cheddar Cheese. This can be served with a variety of toppings, which frequently vary by region. However, the Southwest may have the strongest claim on Frito pie, with the oldest known recipe containing Fritos chips and chili originating from Texas in 1949. Although some also contend the original Frito pie recipe came out of a Dime store in Santa Fe, New Mexico, but this wasn't until the 1960s.
In Texas, it is popularly enjoyed at county fairs, where a generous scoop of chili is poured right into a small bag of corn chips, and then loaded with toppings. This is commonly referred to as a walking taco. You can certainly enjoy it this way at home too, but I am a big fan of taking advantage of proper plates and utensils when possible!
Which Fritos should I use?
Traditionally, Orginal Flavor Fritos Corn Chips are used for this dish, however, Chili Cheese Fritos and Jalapeno flavored Fritos are more flavorful substitutions. Personally, the Jalapeno flavor is my recommendation if you don't mind a little heat. Stay away from the Frito Scoops for this recipe, as they are a little too large and too thick.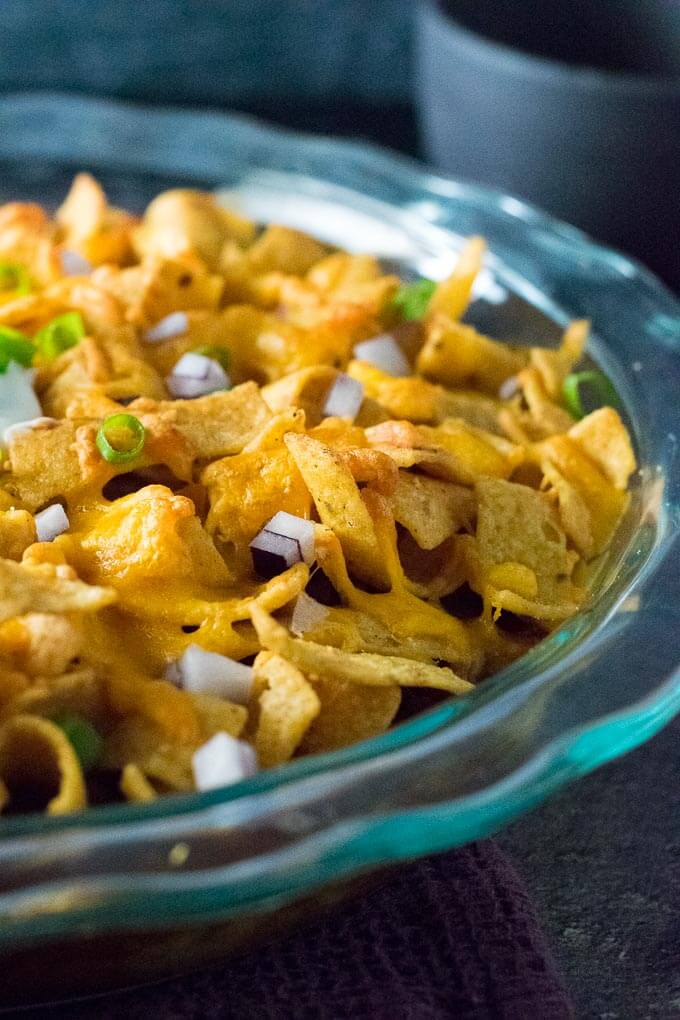 Best Chili for Frito Pie
One of the reasons Frito pie is so popular is because it is a great way to repurpose leftover chili. The best chili to use for Frito pie is your favorite chili. You can even use canned chili from the grocery store if you wish. Personally, I think my chili recipe is the best for Frito Pie, but there is no rule that says you must use a ground beef chili. Switch things up with a turkey chili or even a venison chili if that is what you have on hand.
It is worth noting, if you wish to make a true Texas-style Frito pie, you will want to avoid using chili beans, as a true Texas chili will never have beans.
How to Make It
This recipe fits perfectly into a standard pie pan, but you can use a baking dish instead if you wish. Start with a layer of crunchy corn chips on the bottom of the pan, top with grated cheese, add the chili and then top again with Fritos and cheese. This gets put in a 400-degree oven for five minutes, or until the cheese melts and the Fritos heat up.
If you prefer, you can even skip the bottom layer of Fritos and just top the chili with them for added crunch. This recipe has a lot of room for your personal preferences, including toppings.
Topping Suggestions
I keep the toppings simple with a dollop of sour cream and green onions, but you can get as creative as you wish with your own favorite toppings! Here are some recommendations:
Chopping white onions - They have the best raw crunch of any onion.
Pickled or fresh jalapenos.
Hot sauce
Black olives
Green chilies
How to store leftovers
It is best to store the leftover chili and Frito chips separately. Otherwise, you can expect the Fritos to get soggy and mushy as they sit in the refrigerator. Instead, I recommend keeping the chili in an airtight container and reheating leftovers as needed, then combining with fresh Fritos out of a bag.
Can you do me a favor? If you enjoyed my post would you mind sharing it with your friends? You can see more of my recipes by liking me on Facebook and follow me on Pinterest too. Otherwise, stay up to date by getting each new post sent directly to your inbox by subscribing today.
Texas Frito Pie
Frito Pie is a popular classic. Crunchy, cheesy, and packed with flavorful chili, this simple dish is always a family favorite!
Print
Pin
Rate
Save
Saved
Ingredients
4

cups

Fritos

(divided)

5

cups

Chili

1 ¼

cups

Shredded Cheddar Cheese

(divided)
Instructions
Preheat oven to 400 degrees.

Heat chili on stovetop over medium heat or microwave until heated through.

Spread 2 cups of Fritos on the bottom of a pie pan and spread evenly.

Top Fritos with ¾ cup shredded cheese.

Pour warm chili over the Fritos and cheese and top with additional 2 cups of Fritos and ½ cup of shredded cheese.

Place Frito Pie in the oven for 5-8 minutes, or until cheese has melted and Fritos are hot.

Remove from the oven and serve with sour cream and chopped onions.
Notes
Use your favorite chili for this recipe, or even a canned chili if you want to keep it simple. I have my best chili recipe linked in the recipe card, but this smoked chili would be incredible too!
Nutritional Information
Calories:
673
kcal
|
Carbohydrates:
72
g
|
Protein:
17
g
|
Fat:
37
g
|
Saturated Fat:
10
g
|
Cholesterol:
37
mg
|
Sodium:
715
mg
|
Potassium:
757
mg
|
Fiber:
7
g
|
Sugar:
11
g
|
Vitamin A:
2140
IU
|
Vitamin C:
269.4
mg
|
Calcium:
425
mg
|
Iron:
3.3
mg
This recipe was originally published August 17, 2018, on FoxValleyFoodie.com.