Frito Pie is a popular classic. Crunchy, cheesy, and packed with flavorful chili, this simple dish is always a family favorite!
I am not much of a sweets guy, as you may notice by the stunningly sparse amount of dessert recipes on this website. Heck, I don't even celebrate Sweetest Day. My idea of the perfect pie has the word "Sheperd's", "Pot", or "Frito" preceding it. A savory supper is all the decadence I need.
What is Frito Pie
Frito pie is a popular dish throughout the Midwest and Southern United States consisting of chili topped with Fritos Corn Chips and Cheddar Cheese. This can be served with a variety of toppings, which frequently vary by region. The Southwest even has a claim on Frito pie, with the oldest known recipe containing Fritos and Chili originating from Texas in 1949.
Which Fritos for Frito Pie
Traditionally, Orginal Flavor Fritos Corn Chips are used for this dish, however, Chili Cheese Fritos and Jalapeno flavored Fritos are more flavorful substitutions. Personally, the Jalapeno flavor is my recommendation if you don't mind a little heat. Stay away from the Frito Scoops for this recipe, as they are a little too large and too thick.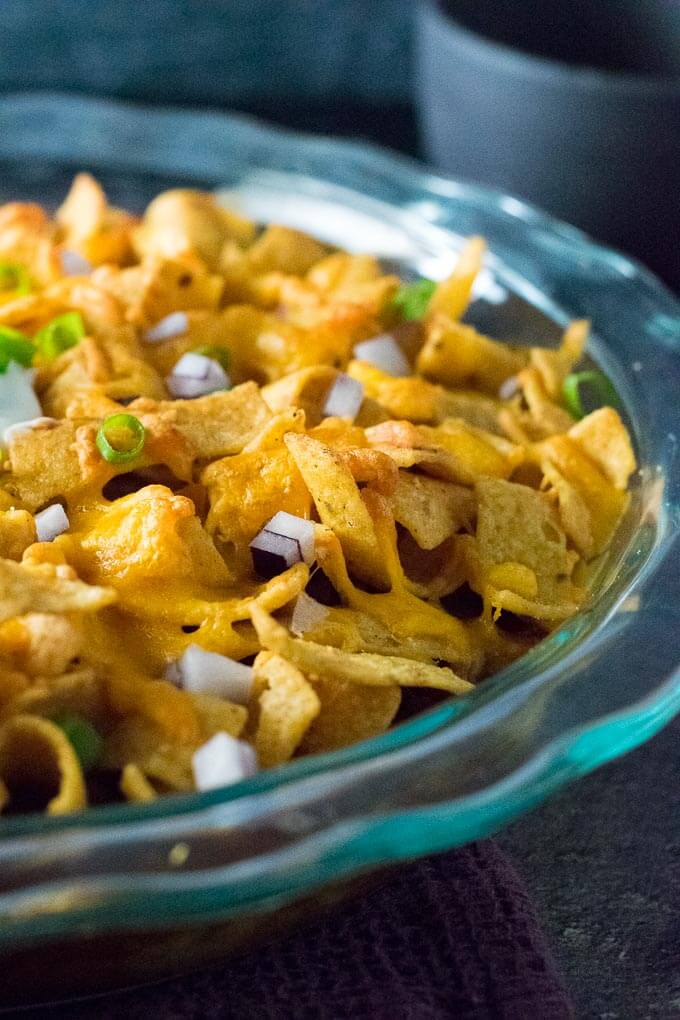 Best Chili for Frito Pie
One of the reasons Frito pie is so popular is because it is a great way to repurpose leftover chili. The best chili to use for Frito pie is your favorite chili. You can even use canned chili from the grocery store if you wish. Personally, I think my chili recipe is the best chili for Frito Pie, but there is no rule that says you must use a beef chili. Switch things up with a turkey chili or even a venison chili if that is what you have on hand.
How to Make Frito Pie
This recipe fits perfectly into a standard pie pan, but you can use a baking dish instead if you wish. Start with a layer of corn chips on the bottom of the pan, top with some cheese, add the chili and then top again with Fritos and cheese. This gets put in the oven until the cheese melts and the Fritos heat up.
If you prefer, you can even skip the bottom layer of Fritos and just top the chili with them for added crunch. This recipe has a lot of room for your personal preferences, including toppings. I keep the toppings simple with sour cream and onion, but feel free to get as creative as you wish!
Frito Pie
Frito Pie is a popular classic. Crunchy, cheesy, and packed with flavorful chili, this simple dish is always a family favorite!
Print
Pin
Rate
Ingredients
4

cups

Fritos

(divided)

5

cups

Chili

1 ¼

cups

Shredded Cheddar Cheese

(divided)
Instructions
Preheat oven to 400 degrees.

Heat chili on stovetop or microwave until heated through.

Spread 2 cups of Fritos on the bottom of a pie pan and spread evenly.

Top Fritos with ¾ cup shredded cheese.

Pour warm chili over the Fritos and cheese and top with additional 2 cups of Fritos and ½ cup of shredded cheese.

Place Frito Pie in the oven for 5-8 minutes, or until cheese has melted and Fritos are hot.

Remove from the oven and serve with sour cream and chopped onions.
Nutrition
Calories:
673
kcal
|
Carbohydrates:
72
g
|
Protein:
17
g
|
Fat:
37
g
|
Saturated Fat:
10
g
|
Cholesterol:
37
mg
|
Sodium:
715
mg
|
Potassium:
757
mg
|
Fiber:
7
g
|
Sugar:
11
g
|
Vitamin A:
2140
IU
|
Vitamin C:
269.4
mg
|
Calcium:
425
mg
|
Iron:
3.3
mg
If you enjoyed reading my Frito Pie recipe then you should probably like me on Facebook and follow me on Pinterest too. That's what I would do at least, because if you don't get to know me but you still use my recipe it is kind of like taking candy from a stranger, and your mom taught you not to do that. Don't disobey your mom, subscribe to Fox Valley Foodie today.