This is real deal Carolina style BBQ! No shortcuts, just the best smoked pork shoulder and pulled pork sandwiches you've ever doused in a tangy vinegar based BBQ sauce!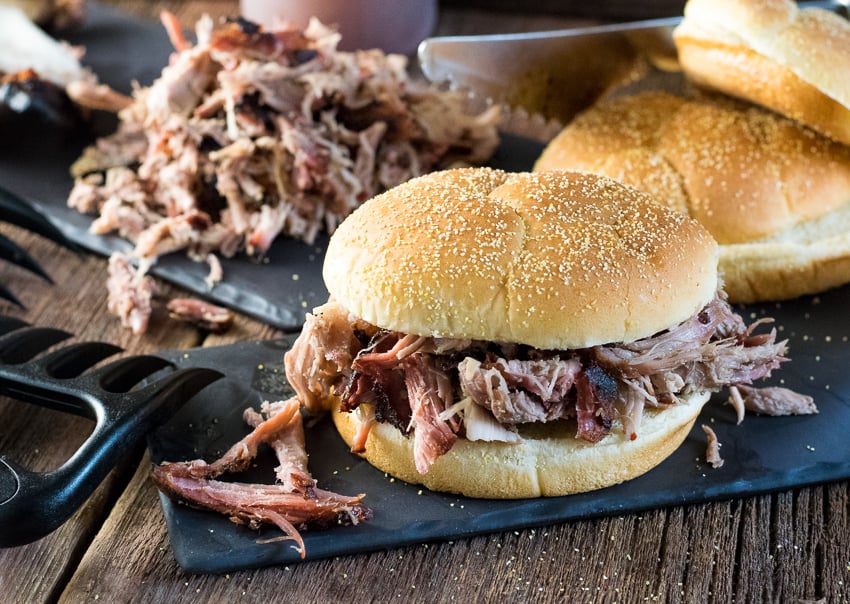 A few months back I made the mistake of watching a PBS documentary on Carolina pit masters. A weathered country gentleman lounged in a shaded chair, fanning away the sweltering heat of the deep south while tending to a whole pig slowly smoking over hardwood. Intermittently enjoying sips of a questionably legal spirit in between tales of his journey perfecting his craft, it was a quintessential culinarily romantic scene.
I was immediately inspired to rush out and purchase a whole hog, a trailer sized smoker, as well as enough friends to help me consume the scores of pulled pork sandwiches this pig would produce! It will be grand!
Then reality hit me.
I don't want to spend thousands of dollars on a giant smoker I'll never use. I have nowhere to store a whole hog. And I don't really know where you go to purchase more friends. Maybe I should just downsize my dream. Instead, I settled for a far more reasonable smoked pork shoulder that I shredded into the best damn pulled pork sandwiches I've ever had the opportunity to enjoy.
There are lots of easy recipes online to make pulled pork sandwiches.  I even previously published my own recipe for making Easy Slow Cooker Pulled Pork. Although it is still a great recipe, particularly if you are looking for something hassle free, it is not true blue BBQ. This Smoked Pork Shoulder Pulled Pork is authentic BBQ, every bit as good as you could hope to enjoy at your favorite BBQ restaurant. Keeping to Carolina tradition, it even includes a vinegar based BBQ sauce perfect for pouring over your pork.
It is possible to smoke pork shoulder in a charcoal grill, but the temperature control will likely suffer. I own a Weber Smoky Mountain Smoker, and I recommend it to anyone looking to smoke meats at home. The temperature control is fantastic, and the build quality is exceptional. There is a reason it maintains a five star rating on Amazon.
When making pulled pork sandwiches, pork shoulder is the ideal cut of meat.  It's fattiness is actually an asset, as it will render down during smoking to create exceptionally moist and tender meat. When the cooking is done, it can easily be shredded with a set of Bear Claw meat shredders. If you don't own any, you can use forks, but it will take a bit more work.
As your meat cooks, beware of the "stall".  This is the point where your pork shoulder reaches 160 degrees and then the temperature doesn't seem to move anymore. Don't worry, this is normal. It can sit in the 160 degree range for a few hours, however in time the temperature will begin rising again. This is a great reason why you always want to plan for your smoked pork shoulder to be finished cooking well before it is time to eat, since smoking times can vary considerably. Additionally, this is also why it is important to use a meat thermometer rather than relying on cooking time alone.
If your pork shoulder gets done earlier than anticipated, you can keep it warm in a towel packed cooler for hours.
The above links are affiliate links. Any Amazon purchases made through these links help support FoxValleyFoodie.com at no additional cost to you.
There isn't a more classic accompaniment to your pulled pork sandwich than a creamy homemade coleslaw to enjoy on the side, or on top of the meat. I highly recommend using my homemade coleslaw recipe in conjunction with this Smoked Pork Shoulder Pulled Pork recipe.
Smoked Pork Shoulder Pulled Pork with Carolina Style BBQ Sauce
This is real deal Carolina style BBQ! No shortcuts, just the best smoked pork shoulder and pulled pork sandwiches you've ever doused in a tangy vinegar based BBQ sauce!
Ingredients
1

Pork Shoulder

Mustard

1

recipe BBQ Dry Rub (link below)

Hickory chunks for smoking

Hamburger Buns
Carolina Style BBQ Sauce
2

cups

apple cider vinegar

2

tbsp

dark brown sugar

1

tbsp

ketchup

1

tbsp

vinegar based hot sauce

such as Texas Pete's

1

tsp

red pepper flakes

1

tsp

ground black pepper

1

tsp

kosher salt
Instructions
Pork Shoulder
Score the fat cap on the pork shoulder with a grid pattern to allow for expansion during cooking.

Apply a layer of mustard to the exterior of the pork shoulder and liberally dust with BBQ dry rub.

Optional: Wrap in plastic and let rest in the refrigerator overnight.

Heat smoker to 250 degrees and add hickory chunks for smoke.

Place in smoker, fat cap up, and cook until the meat reaches 195 degrees and threatens to fall apart when jostling the bone. Approximately 1-2 hours per pound.

Pork is easily shredded when done. If it is still tough, cook longer.
Carolina Style BBQ Sauce
Place all ingredients into a sauce pan and heat until sugar has dissolved.

Cool and pour the thin sauce into bottles, or a mason jar for serving.

Store in the refrigerator until serving.
Serving
Place shredded pork shoulder on hamburger bun and drizzle BBQ sauce over the meat and enjoy.
Recipe Notes
My pork shoulder weighed about 4 lbs, however you can smoke larger ones using the same recipe.

Applying mustard to the pork should helps the dry rub stick.

Don't worry is the smoker temperature fluctuates, any temperature between 225 - 275 is sufficient.

Tip: If you need it to cook faster, wrap the pork in foil. However, this will soften the bark.

Ketchup is not used in Eastern North Carolina BBQ Sauce, however I side with the westerners in the state, because I find ketchup to be a welcomed addition. I found the recipe for the Carolina style BBQ sauce here: http://www.meatwave.com/blog/barbecue-sauce-recipe-north-carolina-vinegar-sauce

The BBQ sauce can be made well in advance to allow flavors to meld.
BBQ Dry Rub Recipe: http://www.foxvalleyfoodie.com/dry-rub-ribs/
If you enjoyed reading my Smoked Pork Shoulder Pulled Pork with Carolina Style BBQ Sauce recipe then you should probably like me on Facebook and follow me on Pinterest too. That's what I would do at least, because if you don't get to know me but you still use my recipe it is kind of like taking candy from a stranger, and your mom taught you not to do that. Don't disobey your mom, subscribe to Fox Valley Foodie today.