This hearty steak chili is loaded with meaty bites of beef swimming in a boldly seasoned sauce, and simmered to luxurious perfection!
Whether you are looking for a new comforting family dinner idea for the winter months, or simply a chunky chili to round out your game day spread, this steak chili recipe is a real crowd-pleaser! The secret ingredient is using thick chunks of tender steak to create a rich and satisfying texture that will have your taste buds screaming for more!
What is it?
So what is the difference between a classic chili and a steak chili? Traditional chili is made with coarsely ground beef, whereas steak chili uses meaty hunks of bite-sized tender steak. I use the word "tender" fairly loosely because you can use a tougher cut of steak for this chili and let it simmer to tender perfection during the long cooking time.
This steak chili recipe is loaded with peppers, onions, tomatoes, and beans in an aggressively seasoned sauce using my homemade chili seasoning recipe, then slowly simmered until thick and saucy.
Ingredients and Substitutions
Beef steak - I think round steak is the best steak to use for chili. It is lean like a sirloin steak, but costs a few dollars per pound less! Round steak is tougher than sirloin. However, that is a needless concern because the chili simmers long enough to transform any stew meat into the most tender bite of steak you have ever put in your mouth! As an honorable mention, a chuck steak (or chuck roast) is great too for making chili with steak (particularly shredded beef chili), but it can have some uneven fattiness.
Cooking oil - Olive oil and canola oil are my preferred cooking oils.
Yellow onions - A sweet onion is a great substitute. You can use a red onion if you desire a stronger onion flavor.
Jalapeno peppers - You can use serrano peppers for more heat, or poblano peppers for less heat.
Green bell pepper - Red or yellow bell peppers can be substituted for added sweetness.
Garlic cloves
Low-sodium beef broth - You can use regular beef stock or broth, but I prefer low sodium because it gives you more control over the salt content.
Dark beer - I recommend a stout or another malty beer. If you wish to avoid using alcohol, use beef stock instead.
Canned diced tomatoes
Canned chili beans - You can make chili with or without chili beans. The thick liquid in the can of beans fortifies the chili sauce, transforming it from a seasoned broth to a silky gravy. So personally, I am a huge fan of chili with beans.
Tomato Sauce - Ketchup can be substituted.
Tomato Paste
Worcestershire sauce - Soy sauce can be substituted.
All-purpose flour - Masa harina is a great thickener for chili and makes an ideal substitute. You can find it in the Mexican aisle of your grocery store.
Maple syrup - Brown sugar is also a great option that can be substituted.
Homemade Chili seasoning - kosher salt, ground cumin, dried oregano, ancho powder (can substitute chili powder), onion powder, smoked paprika, cayenne pepper, garlic powder, black pepper.
How to make it
In my opinion, the best steak chili is made in a Dutch oven. Any large soup pot will work, but Dutch ovens are best for long and slow simmers because it has a wider opening which allows for better evaporation and thickening.
Set your pot over medium-high heat and add a swirl of cooking oil. Once the oil is shimmering add the chunks of steak and give them a good sear on all sides. Then remove the steak with a slotted spoon.
Reduce the heat to medium and place your peppers and onions in the pot, adding additional cooking oil if needed. Saute the peppers and onions until they are tender, then add garlic and cook a few more minutes, until fragrant.
Next, add in all of your chili seasonings and spices, along with the flour and maple syrup. Stir everything well to fully combine. Once combined, pour in the beef broth and use the liquid to deglaze the bottom of the pot by scraping any burnt on bits with a wooden spoon. Then add all remaining ingredients and bring the chili to a gentle simmer.
Once simmering, reduce the heat to low and let simmer uncovered for 2 ½ hours, or until thickened to your liking. The longer you simmer the thicker it will get. So if you feel it is soupy, just simmer it longer!
Serve each bowl of chili with your favorite chili toppings such as sour cream, shredded Cheddar cheese, and choped green onions.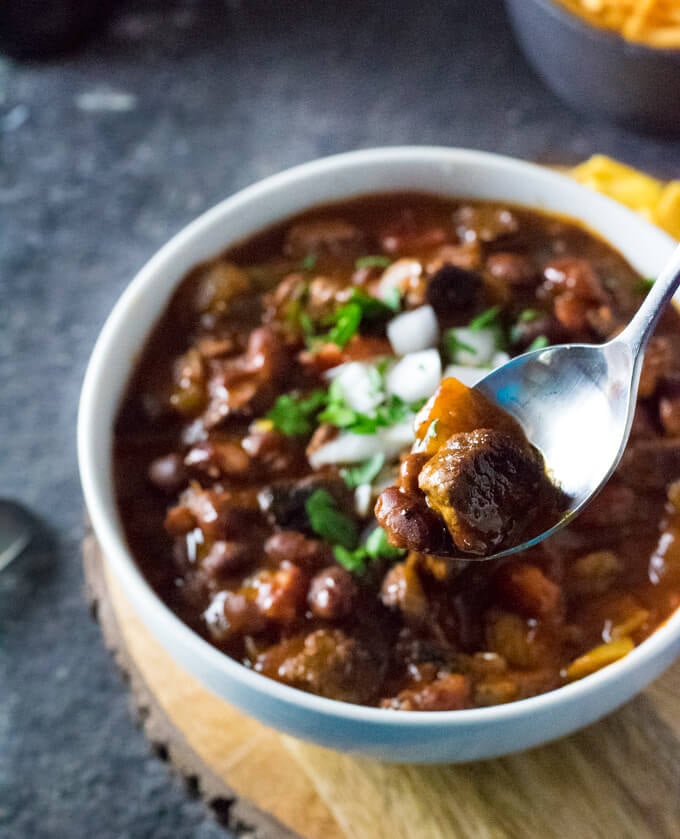 Storing and Reheating Leftover Chili
This delicious chili recipe with steak is perfect for making in advance because the flavor is even better the next day as all of the ingredients meld together. Leftover steak chili should be placed in an airtight container and stored in your refrigerator. Any leftovers should be enjoyed within a week.
There are multiple ways to reheat this chili. Microwaving individual servings for approximately two minutes is probably the easiest. However, if you are serving it at a party I like to place it in a slow cooker a couple of hours in advance to reheat and keep warm. Alternatively, you can reheat the entire pot on the stovetop.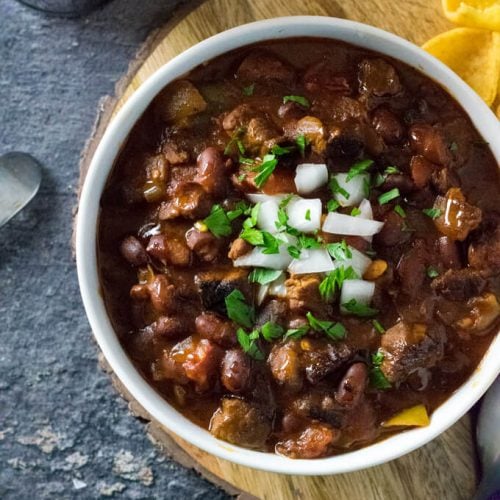 Steak Chili
This hearty steak chili is loaded with meaty bites of beef swimming in a boldly seasoned sauce, and simmered to luxurious perfection!

Print
Pin
Rate
Save
Saved
Ingredients
2

pounds

round steak

(chopped into ¾" cubes)

1

tablespoon

cooking oil

2

medium

yellow onions

(chopped)

2

jalapeno peppers

(chopped)

1

green pepper

(chopped)

3

garlic cloves

(minced)

1 ¼

cups

low sodium beef broth

12

ounces

dark beer

(such as a porter or stout)

28

ounces

canned diced tomatoes

30

ounces

canned chili beans

(do not drain liquid)

15

ounces

Tomato Sauce

6

ounces

Tomato Paste

1

tablespoon

Worcestershire

¼

cup

flour

2

tablespoons

maple syrup

Shredded cheddar cheese and sour cream for serving
Instructions
In a large pot, or your Dutch Oven, add cooking oil and place over medium high heat. Add steak chunks and sear until exterior forms a brown crust.

Remove steak and add peppers and onions, along with additional cooking oil if needed. Reduce heat to medium and saute until tender. Add garlic and cook for an additional 2 minutes.

Sprinkle in chili seasonings, flour, and maple syrup, then stir to evenly coat.

Add beef broth to deglaze the bottom of the Dutch oven, scraping up any stuck on bits of cook and letting them incorporate into the liquid. Then add all remaining ingredients.

Reduce heat to low and simmer uncovered for 2 ½ hours, or longer.

Serve with shredded cheese, sour cream, and chopped onions.
Notes
Tip: This recipe can be made in advance. The flavors actually continue to improve as it melds in the refrigerator overnight.
Nutritional Information
Calories:
401
kcal
|
Carbohydrates:
42
g
|
Protein:
36
g
|
Fat:
9
g
|
Saturated Fat:
2
g
|
Cholesterol:
71
mg
|
Sodium:
2936
mg
|
Potassium:
1640
mg
|
Fiber:
9
g
|
Sugar:
18
g
|
Vitamin A:
1215
IU
|
Vitamin C:
38.4
mg
|
Calcium:
138
mg
|
Iron:
8
mg
Can you do me a favor? If you enjoyed my post would you mind sharing it with your friends? You can see more of my recipes by liking me on Facebook and follow me on Pinterest too. Otherwise, stay up to date by getting each new post sent directly to your inbox by subscribing today.
This recipe was originally published on FoxValleyFoodie.com on September 11, 2019.
More Delcious Chili Recipes