This hearty steak chili is loaded with meaty bites of beef swimming in a boldly seasoned sauce, and simmered to luxurious perfection!
I don't waste time, ladies and gentlemen. The calendar flipped off of August and I grabbed my Dutch oven before the AC has even been retired for the year. As far as I am concerned, it is fall, which means chili season! So grab your favorite sweatshirt, yard rake, and pumpkin flavored everything - we are making steak chili! Oh, but don't use the yard rake or pumpkin flavored anything in your chili...
Steak Chili
So what is the difference between a classic chili and a steak chili? Traditional chili is made with coarsely ground beef, whereas steak chili uses meaty hunks of bite-sized tender steak. I use the word "tender" fairly loosely, because you can use a tougher cut of steak for this chili and let it simmer into tender perfection during the long cooking time.
The chili is loaded with peppers, onions, tomatoes, and beans in a aggressively seasoned sauce using my homemade chili seasoning recipe, and slowly simmered until thick and saucy.
Best Cut of Steak for Chili
You have a number of options when choosing the best cut of steak for your chili. Sirloin is a popular choice because it is relatively tender and doesn't contain large chunks of fat. However, sirloin is more expensive than the other options I am going to list, and you aren't gaining anything for the extra money.
Round steak is my favorite steak to use for chili. It is lean like a sirloin, but costs a few dollars per pound less! What is the trade-off? Round steak is tougher than sirloin. However, that is a needless concern because the chili simmers long enough to transform the round steak into the most tender bite of steak you have ever put in your mouth!
Honorable mention: I will give the chuck steak an honorable mention. It is one of the toughest cuts of beef, but it will also transform into luxuriously tender bites by the time you are done simmering the chili. The fat will also give additional flavor to the sauce, but you will need to be more careful about remove any larger hunks of fat prior to serving.
Leftovers: As good as the round steak is any leftovers you have in your refrigerator. Don't spend $12/lb on a t-bone steak for chili, but if you have some sitting in the fridge from last night's cookout, chop it up and throw it in the pot! Bonus points if your leftovers were grilled over charcoal!
How to Make Chili
I have published a lot of chili recipes on this website, from venison chili to slow cooker turkey chili, and there are a few keys I try to stick to in order to get my chili just how I like it.
I keep the 'bones' of my chili relatively the same in each recipe, meaning I use a similar ratio of meat, tomato products, liquid and chili beans. This ensure the final consistency is just right. I also prefer to use a Dutch oven, over a soup pot. The reason for this is the Dutch oven has a wider opening, allowing for better evaporation. You can still use a soup pot, but every kitchen should have a Dutch oven (affiliate link).
However, the fun comes in changing up the flavor by swapping out different liquids, such as using beer, or even sweeteners like maple syrup if you prefer. You can transform the flavor further by roasting or grilling your vegetables, or even swap out smoked meats like brisket for the steak. Finally, it is important to let your chili simmer long enough. Simmering allows liquid to evaporate, thickening the chili as it cooks. It also gives the flavors more time to meld together.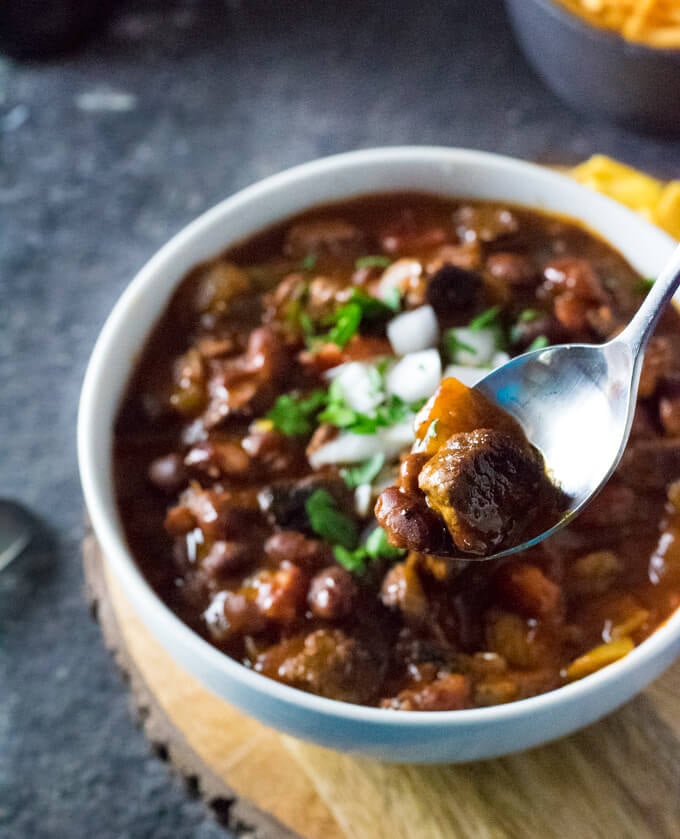 Chili with Beans or No Beans
There is a big debate whether beans belong in chili. You will find me firmly in the pro-beans camp, and it isn't even because I care about the taste of beans. It is the precious liquid in the can of beans that I swoon over!
For years I made chili without beans and I could never achieve the perfectly saucy consistency I was after. However, as soon as I tried using a can of chili beans, I realized what I was missing. The thick liquid in the can of beans fortifies the chili sauce, transforming it from a seasoned broth to a silky gravy. Heck, even if you don't want beans in your chili, I still recommend pouring in the liquid.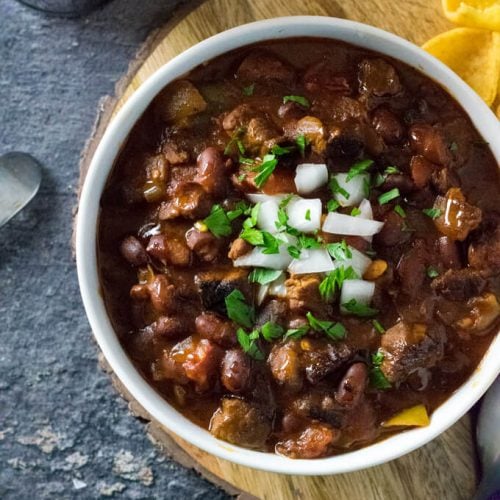 Steak Chili
This hearty steak chili is loaded with meaty bites of beef swimming in a boldly seasoned sauce, and simmered to luxurious perfection!

Print
Pin
Rate
Save
Saved
Ingredients
2

lbs

round steak

(chopped into ¾" cubes)

1

tablespoon

cooking oil

2

medium

yellow onions

(chopped)

2

jalapeno Peppers

(chopped)

1

green pepper

(chopped)

3

garlic cloves

(minced)

1 ½

cup

beef broth

(low sodium)

12

ounces

dark beer

(such as a porter or stout)

28

ounces

canned diced tomatoes

30

ounces

canned chili beans

(do not drain liquid)

15

ounces

can Tomato Sauce

6

ounces

can Tomato Paste

1

tablespoon

Worcestershire

¼

cup

flour

2

tablespoon

maple syrup

Shredded cheddar cheese and sour cream for serving
Chili Seasoning
1 ½

tablespoons

kosher salt

1 ½

tablespoons

Cumin

2

teaspoons

Oregano

2

teaspoons

Ancho powder

(can substitute chili powder)

1 ½

teaspoons

onion powder

1 ½

teaspoons

smoked Paprika

1

teaspoon

Cayenne Pepper

1

teaspoon

Garlic powder

½

teaspoon

fresh ground black pepper
Instructions
In a large pot, or your Dutch Oven, add cooking oil and place over medium high heat. Add steak chunks and sear until exterior forms a brown crust.

Remove steak and add peppers and onions, along with additional cooking oil if needed. Reduce heat to medium and saute until tender. Add garlic and cook for an additional 2 minutes.

Sprinkle in chili seasonings, flour, and maple syrup, then stir to evenly coat.

Add beef broth to deglaze the bottom of the Dutch oven, scraping up any stuck on bits of cook and letting them incorporate into the liquid. Then add all remaining ingredients.

Reduce heat to low and simmer uncovered for 2 ½ hours, or longer.

Serve with shredded cheese, sour cream, and chopped onions.
Notes
Tip: This recipe can be made in advance. The flavors actually continue to improve as it melds in the refrigerator overnight.
If you liked this recipe try my Slow Cooker Chicken Queso Chili recipe too!
Nutritional Information
Calories:
401
kcal
|
Carbohydrates:
42
g
|
Protein:
36
g
|
Fat:
9
g
|
Saturated Fat:
2
g
|
Cholesterol:
71
mg
|
Sodium:
2936
mg
|
Potassium:
1640
mg
|
Fiber:
9
g
|
Sugar:
18
g
|
Vitamin A:
1215
IU
|
Vitamin C:
38.4
mg
|
Calcium:
138
mg
|
Iron:
8
mg