Occasionally hard to find at the store, making your own homemade ancho chili powder is a flavorful way to spice up your favorite dishes. Best of all, it is really easy to make!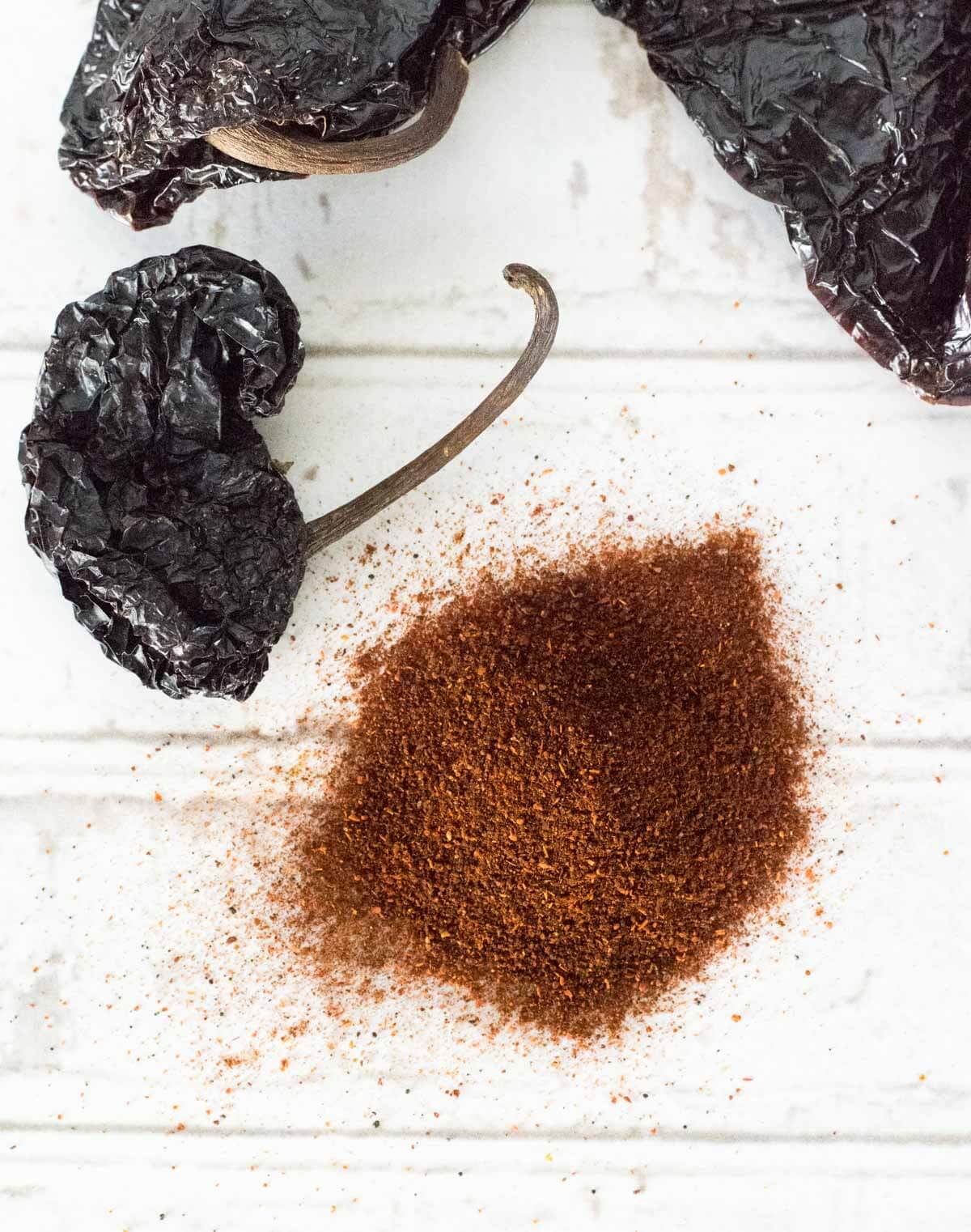 What are ancho chilis
Ancho chilis are the dried version of poblano peppers. Poblanos are known for being a mild-flavored pepper with mild to medium heat, rating only 1000-2000 Scoville heat unit. Using ancho chili powder in recipes will warm up a dish without making it aggressively spicy.
How to dry them
The easiest way to dry your peppers is to use a dehydrator. Set the dehydrator to 130 degrees and let the anchos sit in a single layer for approximately 12 hours, or until completely dried. The total time needed will vary from pepper to pepper. Your oven can be used as well if you can get it to maintain such a low temperature, however, most ovens heat at higher minimum temps.
Traditionally peppers were dried by threading them with a string and hanging them in a warm, dry place for a month or longer. This method still works, but a dehydrator certainly makes the job a lot more hassle-free!
Can I buy them instead?
If you want to skip the drying process all together many grocery stores carry dried peppers in the Latino food section. Alternatively, you can order them online as well.
How to make chili powder
To turn your dried ancho peppers into homemade ancho chili power you will want to remove the seeds and pulse the dried flesh in a spice grinder. You can use a mortar and pestle instead, but the process will be slow and laborious.
Tip: Do not use your coffee grinder, or your coffee will taste like chili powder for a long time!
How to store it
Seasonings are best when fresh, as the flavor will fade over time. For best flavor, only grind as much ancho chili powder as you will use at one time. If, for simplicity, you wish to grind a larger batch, it needs to be stored in an airtight container to mimize flavor loss.
Substitute for ancho chili powder
The easiest substitute for ancho chili powder is to use straight chili powder. I often add a dash of smoked paprika and a small pinch of cayenne as well.
Ways to use ancho chili powder
Ancho chili powder is the secret ingredient in my Homemade Chili Seasoning. It would also be a flavorful addition to this Chorizo and Sweet Potato Hash, and is used to liven up Drunken Beans. Although it isn't an ingredient I specifically call for, it would be a wonderful way to add a twist to Taco Seasoning as well.
Homemade Ancho Chili Powder
Occasionally hard to find at the store, making your own homemade ancho chili powder is a flavorful way to spice up your favorite dishes.
Print
Pin
Rate
Save
Saved
Ingredients
1

poblano pepper

(or as many as you wish to use)
Instructions
Place pepper in a dehydrator, set to 130 degrees and let dry for 12 hours, or until fully dried.

Remove seeds from the pepper and discard stem.

Place dried pepper flesh in spice grinder and pulse until it becomes a powder.

Use immediately or store in an airtight container.
Nutritional Information
Calories:
3
kcal
|
Carbohydrates:
1
g
|
Protein:
1
g
|
Fat:
1
g
|
Saturated Fat:
1
g
|
Sodium:
1
mg
|
Potassium:
26
mg
|
Fiber:
1
g
|
Sugar:
1
g
|
Vitamin A:
55
IU
|
Vitamin C:
12
mg
|
Calcium:
1
mg
|
Iron:
1
mg