These exceptionally tender and juicy smoked chicken quarters are dusted with a BBQ dry rub and smoked to delicious perfection. If you crave dark meat chicken, this recipe is for you. Every bite is literally dripping with smoky flavor!
This is a great recipe, not only because the preparation is simple, but it is also cheap! Chicken quarters are some of the least expensive cuts of meat you can buy. You can even break them down further into thighs and drumsticks if you prefer.
Ingredients and Substitutions
Chicken quarters - Although this recipe is written specifically for chicken quarters, there is no reason you can't substitute bone-in chicken breasts if you prefer white meat.
BBQ Dry Rub - You can use your favorite store-bought dry rub, or use my homemade dry rub recipe.
Cooking oil - Rubbing the chicken skin with a cooking oil, such as olive oil, will help the seasonings stick. Whatever cooking oil you have on hand will work fine. You could even swap out the oil for yellow mustard instead.
Wood chips - You will need wood chips for smoking. Cherry wood and pecan are great choices, but you can use your favorite.
How to prepare the chicken quarters
Set the chicken quarters in a large rimmed pan to help contain the mess, then rub them with oil and liberally dust them with seasoning. Be sure to flip them over and get your chicken rub added to both sides.
I recommend using a barbecue dry rub, but you can use my chicken seasoning recipe, or just salt and pepper. Alternatively, slather them in your favorite barbecue sauce if you crave something a little saucier. When grilling I often stay away from seasoning with much brown sugar, or maple syrup, because the sugar burns easily. This is less of an issue with the lower temperature of a smoker.
Tip: Although not required, it is best to let your chicken get near room temperature prior to cooking. Don't feel bad though if you skip this step due to time contraints.
How to smoke them
Get your smoker heated to 275 degrees. This is a little hotter than I typically smoke meat, but chicken doesn't have tough connective tissue that needs breaking down, like pork shoulders or ribs. 275 degrees will get the chicken on your table faster, while still ensuring every bite is moist and juicy.
The quarters can be set directly on the rack of your smoker, then add your favorite type of wood chips and let the chicken smoke for an hour and a half, or until it reaches 165 degrees. Let rest for 5 minutes then you can serve these perfectly smoked chicken leg quarters to your adoring family.
Tip: I leave a meat probe in the chicken as it smokes so I can monitor the temperature of the meat, as the length of time needed to cook the chicken will vary. Alternatively, an instant-read thermometer can be used instead, but then you have to keep opening the door, letting heat out, to check it.
Can this be done on the grill?
You can smoke chicken quarters on a charcoal grill over indirect heat. To do so, I recommend using less charcoal than normal, to keep the heat on the low side. A half chimney of charcoal should be sufficient.
Pour the charcoal to one side of your grill. The wood chips can be added directly on top of the smoldering charcoal, while the chicken should be placed on the opposite side. Rotate the chicken every 30 minutes to ensure each side cooks evenly.
Tip: I like to dangle a thermometer probe through the vent to hang near the chicken. This will help get a more exact read on the cooking temperature so I can move the chicken closer or further from the hot coals, as needed.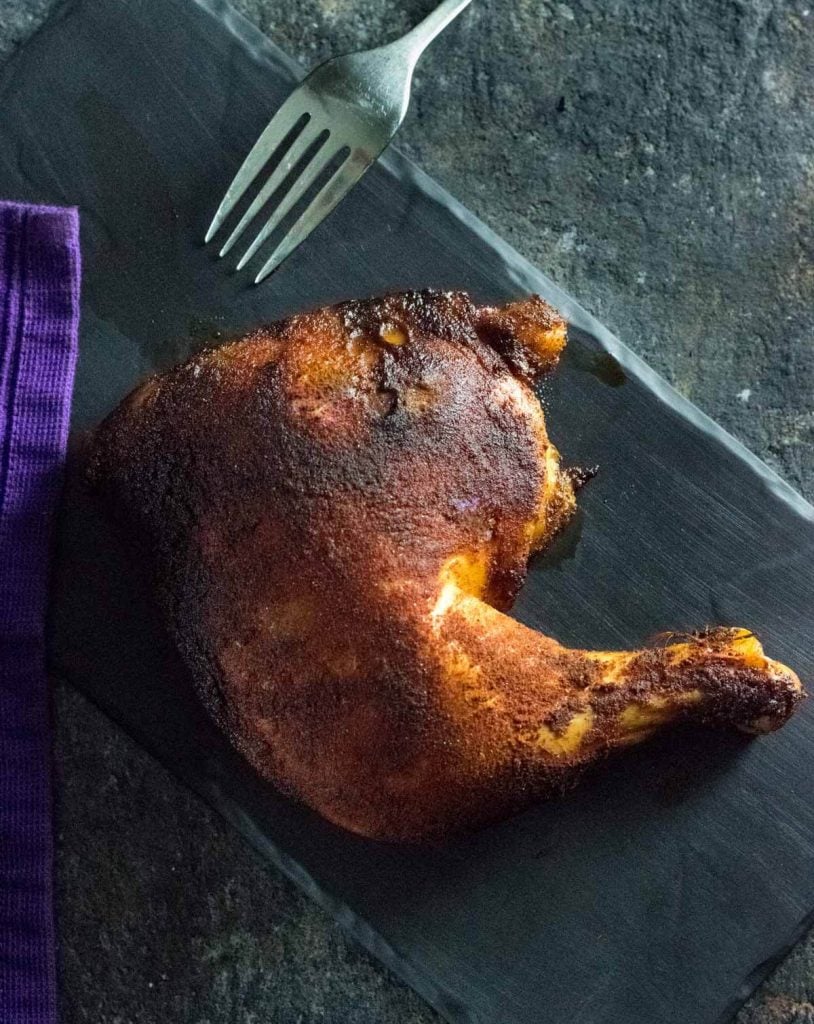 What to serve with smoked chicken?
Pasta salads, beans, corn on the cobs, and all of the other classic picnic side dishes are perfect for pairing with this main course. Here are a few of my personal favorites:
FAQs
What are chicken quarters?
A chicken quarter contains approximately ¼ of the meat on the bird. Specifically, this consists of the drumstick, thigh, and part of the back meat. If the back meat is not attached it is considered a whole chicken leg.
How long should I smoke chicken quarters?
Smoked chicken quarters for 1 ½ hours at 275 degrees.
At what temperature is chicken done?
Chicken is done cooking when your thermometer reads 165 degrees when measuring the thickest part of the meat.
How do I get crispy skin on my smoked chicken quarters?
If you want outrageously crispy skin finish cooking them under the broiler, such as I do in my smoked chicken legs recipe. The smoker cooks with low heat which is great for saturating the meat with flavor but leaves the skin soft. The high heat from your broiler will crisp it up nicely.
How to separate chicken quarters?
If you wish to separate your chicken quarters into the thigh and drumstick it can be done by bending the joint until it breaks, then slip a knife into the broken joint to cut through the connecting tendons.
More Smoked Chicken Recipes
This recipe is great to use with any of your favorite chicken pieces, however, if you are looking for instructions tailored to a specific cut of meat, try these incredible creations:
Can you do me a favor? If you enjoyed my post would you mind sharing it with your friends? You can see more of my recipes by liking me on Facebook and follow me on Pinterest too. Otherwise, stay up to date by getting each new post sent directly to your inbox by subscribing today.
Smoked Chicken Quarters
These exceptionally tender and juicy smoked chicken quarters are dusted with a BBQ dry rub and smoked to delicious perfection.
Print
Pin
Rate
Save
Saved
Ingredients
4

chicken quarters

2

tablespoons

olive oil

(or as needed)

¼

cup

BBQ dry rub

Wood chips for smoking
Instructions
Set the chicken quarters on a rimmed baking pan and rub with olive oil, or another cooking oil. Then generously dust each side of the chicken with seasoning until fully coated.

Preheat your smoker to 275 degrees and add wood chips.

Place your seasoned chicken quarters directly on the rack, skin side up, and let smoke for 1 ½ hours, or until the final temperature check reads 165 degrees.

Let the chicken rest five minutes, then serve.
Notes
For a saucier chicken quarters recipes you can slather the meat in your favorite BBQ sauce before, during, or after smoking the meat.
You can use your favorite wood chips for this recipe, but Cherry fruit wood is my favorite. Pecan and apple wood are two other great options.
Nutritional Information
Calories:
392
kcal
|
Carbohydrates:
3
g
|
Protein:
24
g
|
Fat:
31
g
|
Saturated Fat:
8
g
|
Trans Fat:
1
g
|
Cholesterol:
142
mg
|
Sodium:
113
mg
|
Potassium:
326
mg
|
Fiber:
1
g
|
Sugar:
1
g
|
Vitamin A:
228
IU
|
Vitamin C:
1
mg
|
Calcium:
55
mg
|
Iron:
3
mg