This dry rub for ribs recipe is ideal for dusting over your next rack of ribs whether they are being smoked or cooked in the oven!
Do you ever remember exactly where you were when you developed a recipe? I can't seem to remember where I put my car keys on a daily basis, but I have a precision-like recollection of exactly where I was when I created this dry rub for ribs.
A number of years back my father purchased a smoker, which quickly turned into my gateway drug for grilling. Though I had no idea how to use it at the time, or really any comprehension of how to conjure up a respectable barbecue dinner, I got my first taste of smoking meats and I was hooked.
Scrambling at the last-minute to decipher what the heck I was supposed to be doing, I threw the base of this dry rub for ribs together for the first time. Like any rough draft, this rib rub has gone over a number of evolutions while I perfected my concoction, however, the base of the recipe is still there. A decade later, I am happy to say my BBQ rub is as good as anything you will purchase in a store.
Dry Rub for Ribs
My dry rub for ribs works great when using a smoker to make classic 3-2-1- ribs, grilled ribs, or even with my recipe for making BBQ Ribs in the Oven!
This dry rub for ribs is well suited for storage if you make a large batch. I recommend keeping extra seasoning containers (affiliate link) on hand for storing custom blends of seasoning. Since it is just as quick to make a large batch as a small batch, it won't take much time and you will find yourself reaching for it frequently!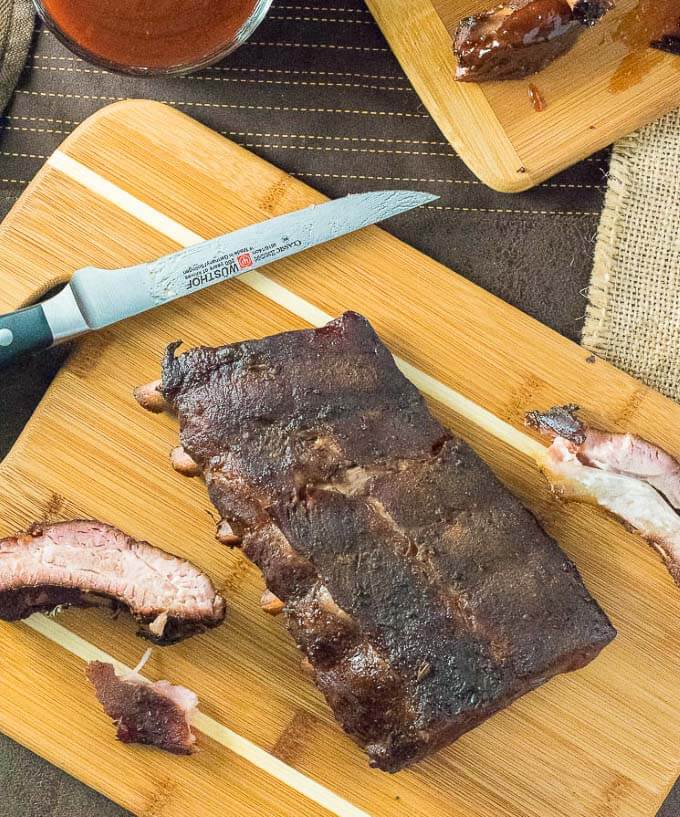 Rib Rub
In my opinion, the key to any good rib rub is a balance of sweet and heat. The primary ingredient in this rub is brown sugar, which provides the sweetness, while cayenne balances it out with a subtle burn. Paprika, garlic, and onion powder round out the flavor, while fresh ground pepper adds some depth.
Feel free to tweak the amounts to fit your tastes, this recipe is highly customizable. However, I will warn you to stay away from cumin (or use it sparingly) unless you want it to taste like homemade taco seasoning.
How Long Do You Leave a Dry Rub on Ribs
If you aren't very good at planning in advance, like me, you can apply the rib rub right before you throw the ribs in the smoker, and they will turn out great. However, the best way to use a dry rub for ribs is to coat the ribs with the seasoning the day prior and let the flavor sink into the meat overnight.
How to Apply a Rib Rub
Whether you are using this as a dry rub for St. Louis style pork ribs, or a more meaty baby back rib rub, the method is the same with any cut of ribs. Coat the meat with a thin layer of yellow mustard and then very liberally dust the meat with the rib rub.
The mustard not only adds flavor, but it also helps the rub stick to the meat. You don't need a thick layer or mustard, just enough for the seasoning to stick to.
Once the seasoning has been applied, rub it into the meat to ensure it completely coats your ribs. That is why it is called a 'rub' after all!
BBQ Rub
Though I initially developed this recipe to be the best dry rub for ribs, I have since decided it is also my favorite all-purpose BBQ rub. Feel free to use it on smoked pork shoulder, grilled pork loin, or even with a smoked beef roast. It also pairs nicely with my homemade BBQ sauce.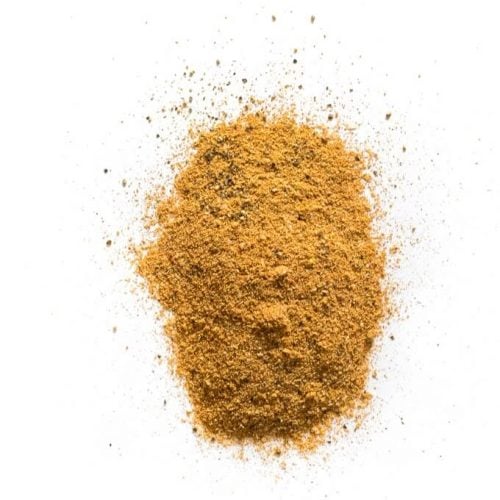 Dry Rub for Ribs
This Dry Rub for Ribs recipe is ideal for dusting over your next rack of ribs whether they are being smoked or cooked in the oven!
Print
Pin
Rate
Save
Saved
Instructions
Mix all seasonings together and apply liberally to the top and bottom of pork ribs.
Notes
This will be plenty for one rack of ribs. You should have some left over to apply additional seasoning during the cooking process if desired.
Try this recipe on my Grilled Country Style Ribs!
Nutritional Information
Calories:
21
kcal
|
Carbohydrates:
5
g
|
Sodium:
971
mg
|
Potassium:
33
mg
|
Sugar:
3
g
|
Vitamin A:
430
IU
|
Vitamin C:
0.3
mg
|
Calcium:
5
mg
|
Iron:
0.2
mg
This recipe was originally published on FoxValleyFoodie.com May 4, 2016.
If you enjoyed my Dry Rub for Ribs recipe then you should probably like me on Facebook and follow me on Pinterest too. That's what I would do at least, because if you don't get to know me but you still use my recipe it is kind of like taking candy from a stranger, and your mom taught you not to do that. Don't disobey your mom, subscribe to Fox Valley Foodie today.