If you love your taste buds, you will make this Smoked Whole Chicken with Blackened Seasoning recipe. It is that simple. I don't want to hear any excuses like, "I don't have a smoker!", "I don't know how to cook", or "I'm allergic to chicken!" Improvise, adapt, and overcome people!
First things first, if you don't have a smoker, buy one! There is no better way to savor life than with a cold beer, a lawn chair, and the lingering fragrance of smoldering cherry wood wafting through the neighborhood announcing to all of your neighbors that your dinner is going to be better than theirs! 
After doing more research than I care to admit, I couldn't recommend a smoker any more enthusiastically than the Weber Smokey Mountain Cooker Smoker.  There is a reason you will find this smoker used at professional BBQ competitions, as well as maintaining a 5 star Amazon rating. Can you find less expensive smokers? Yes, but be prepared to endlessly wrestle with the temperature to maintain the proper smoking range. After all, it is the ability to maintain the ideal temperature, steadily, that produces consistently exceptional BBQ!
Are the folks at Weber paying me to say this? No, but they should.
If I can't convince you to buy a smoker, you can still make this Smoked Whole Chicken with Blackened Seasoning recipe on your grill rather than smoking it. Just use the seasonings in this recipe in conjunction my tutorial for grilling a whole chicken over charcoal.  Regardless of how you cook it, it is sure to be a hit with your family!
Whether you smoke it, grill it, or bake it, I never recommend cooking chicken without a digital meat thermometer.  It is the only way to ensure your meat is safe to eat while still at its juiciest! The $16 investment is well worth never having to eat dry chicken again!
The Amazon links in the article are affiliate links. Any purchases made through these links help support FoxValleyFoodie.com at no additional cost to you!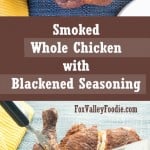 Smoked Whole Chicken with Blackened Seasoning
Grab a beer, your favorite lawn chair, and fire up your smoker for this Smoked Whole Chicken with Blackened Seasoning recipe. Flavor permeates every bite!
Ingredients
1

whole chicken

1

tbsp

oil
Seasoning
1 1/2

tbsp

paprika

1

tsp

salt

1 1/2

tsp

garlic powder

1 1/2

tsp

onion powder

1

tsp

fresh ground black pepper

1

tsp

fresh thyme

1/2

tsp

cayenne pepper

1/2

tsp

oregano
Instructions
Combine seasoning in a small bowl.

Rub chicken with oil to help seasoning stick.

Rotating the bird as needed, sprinkle the seasoning evenly on all sides in a generous layer.

Place chicken, breast side up, in smoker and maintain a temperature of 250 degrees for 3-4 hours. A digital thermometer should read 165 degrees when the chicken is done.
Recipe Notes
I used cherry wood for this recipe, however most woods designed for smoking work well with chicken.

If you do not own a smoker you can grill the chicken instead using this method.
If you enjoyed my Smoked Whole Chicken with Blackened Seasoning recipe then you should probably like me on Facebook and follow me on Pinterest too. That's what I would do at least, because if you don't get to know me but you still use my recipe it is kind of like taking candy from a stranger, and your mom taught you not to do that. Don't disobey your mom, subscribe to Fox Valley Foodie today.