Bacon Wrapped Smoked Chicken Breasts are brined, dusted with a dry rub, and wrapped in bacon to ensure each bite is packed with smoky flavor!
This past month everything broke. A tree stump jumped out in front of my lawn mower, my water heater became a liar, my coffee roaster almost burnt down my house, heck, even my puppy broke. That's why I decided to start smoking again. No, not cigarettes; meats.  Not only is smoking meats one of my favorite summer activities, my charcoal smoker has no moving parts; it isn't going to break on me! So slap on the Bacon Wrapped Smoked Chicken Breasts and forget about your troubles for a few hours!
Bacon Wrapped Smoked Chicken Breasts looks visually impressive, and they are fairly easy to make. Two thin strips of bacon are simply wrapped around the breast and secured with toothpicks prior to cooking. This not only adds an impressive visual component as the bacon browns and tightens up during cooking, the fat in the bacon strips helps keep the chicken's exterior from drying out during the longer smoke time. Brining the meat helps keep the interior juicier.
Leaner cuts of meat, like chicken breasts, are more tolerant of higher smoking temperatures because there isn't fat and collagen to break down. This makes Bacon Wrapped Smoked Chicken Breasts ideal for cooking in a smoker, or over indirect heat on a charcoal grill!
If using a grill for this recipe, I recommend a kettle charcoal grill like this Weber. Add only enough charcoal to maintain a medium low heat, place 3-4 lumps of hardwood on the charcoal to smoke, and keep the grill covered with the lid as the chicken cooks. You will get excellent results.
Your other option is to do what I did, and buy a smoker! You won't regret it.
Either method that you choose, just make sure you use a digital thermometer so you know when your chicken reaches 165 degrees. You don't want to overcook it with second guessing.
The preceding links are affiliate links. Any Amazon purchases made through these links helps pay to fix all of the broken stuff at Fox Valley Foodie's house, at no additional cost to you.
Bacon Wrapped Smoked Chicken Breasts
Bacon Wrapped Smoked Chicken Breasts are brined, dusted with a dry rub, and wrapped in bacon to ensure each bite is packed with smoky flavor!
Print
Pin
Rate
Ingredients
6

chicken breasts

12

thin strips of low sodium bacon

3

chunks cherry wood

most other smoking hardwoods can be substituted if desired
Brine
4

cups

water

¼

cup

kosher salt

¼

cup

brown sugar

½

teaspoon

peppercorns

4

cloves

garlic

crushed
Instructions
Boil all of the brining ingredients in a saucepan until the sugar and salt have fully dissolved. Let cool completely. (This step can be done up to a day ahead)

Pour brine into a gallon bag, add chicken breasts and seal after removing most of the air. Place in the refrigerator for two hours, flipping once to ensure consistent brining.

Remove chicken from brine and rinse off under running water to ensure the breast isn't overly salty on the exterior.

Liberally apply your favorite BBQ Dry Rub to the chicken breast, or use

my dry rub recipe

.

Lay two strips of bacon on a cutting board and place your chicken breast on top (larger breasts may need three). Starting at one end, wrap bacon tightly around the breast, securing each end with a toothpick.

Repeat with remaining chicken breasts.

Preheat your smoker to 275 degrees and add 3 chunks of cherry wood on top of the charcoal. (or per your manufacturer's instructions)

Smoke until the chicken breast reach 165 degrees on a digital thermometer, ~60-90 minutes. Flip once during cooking halfway though.

Remove from the smoker and let rest for 5 minutes prior to serving.
Notes
Using thin strips of bacon helps ensure the bacon will crisp during cooking. This will be more difficult to achieve with thick cut bacon. This is the same reason we are cooking at 275 degrees rather than a lower temperature.
Aim for 275 degrees, however anything between 250 - 300 degrees will get great results.
Your cooking time can vary greatly depending on the thickness of the chicken breast.
If YOU LIKED THIS RECIPE check out how to make Smoked Whole Chicken with Blackened Seasoning!
Nutrition
Calories:
479
kcal
|
Carbohydrates:
10
g
|
Protein:
53
g
|
Fat:
23
g
|
Saturated Fat:
7
g
|
Cholesterol:
173
mg
|
Sodium:
5280
mg
|
Potassium:
943
mg
|
Sugar:
8
g
|
Vitamin A:
85
IU
|
Vitamin C:
3.3
mg
|
Calcium:
33
mg
|
Iron:
1.2
mg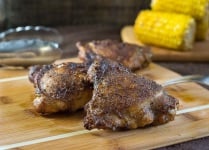 When I smoke meats I like to maximize my use of the fuel and grate space.  This is why I typically cook multiple meals at once.  I highly recommend smoking my Crispy Smoked Chicken Legs with this meal. The recipe calls for a two step cooking process, first in the smoker, then finished under a broiler, so it is an ideal dish to smoke today, then finish broiling tomorrow for dinner!
If you enjoyed reading my Honey Sriracha Buttered Corn on the Cob recipe then you should probably like me on Facebook and follow me on Pinterest too. That's what I would do at least, because if you don't get to know me but you still use my recipe it is kind of like taking candy from a stranger, and your mom taught you not to do that. Don't disobey your mom, subscribe to Fox Valley Foodie today.