Smoked corn on the cob comes out perfectly tender and infused with a deep smoky flavor.
If you are smoking food for a picnic, you better save some room for corn on the cob. This popular summer side dish takes on a whole new level of flavor when it is allowed to bathe in smoke until it reaches perfectly cooked nirvana. Best of all, not only is this the best way to make delicious sweet corn, but if you are already using your smoker to cook an entree anyhow, this recipe is also the easiest possible way to make corn on the cob! Yes, even easier hassle than boiling the corn!
What is Smoked Corn on the Cob
Smoked corn on the cob is as easy as cooking it in your smoker. This can be made in any type of smoker, such as an electric smoker, pellet, or even an outdoor grill with the right temperature control.
Boiling corn on the cob in a large pot of water is the most popular way to prepare this dish, but you are missing out on a lot of delicious smoke flavor by simply cooking it in water. Grilled corn on the cob and smoked corn on the cob are the most flavorful options as the corn drinks in the flavor of the smoke as it cooks, which perfectly complements the sweetness of the corn. Grilling corn is a tad more work, but smoking corn is fairly effortless.
My smoked corn on the cob recipe is particularly effortless because it is a perfect side dish to go with classic smoked barbecue dishes. You will be running the smoke anyhow to cook the meat, so it really isn't any extra work to throw some corn cobs on one of the racks.
Ingredients and Substitutions
Corn on the cob - You want fresh ears of sweet corn with the husk still on.
Salted Butter
Salt - Fine grain salt, like table salt, is best for corn. Kosher salt works, but has a larger grain that doesn't cover the nooks and crannies of the corn kernels as well.
Wood chips for smoking - I use whatever wood chips I am using to smoke my meat, but I particularly fruit wood like cherry wood.
How to Smoke Corn on the Cob
When testing this recipe I was a bit concerned the ears of corn may dry out during cooking and may need to be soaked in water first. However, I found this additional step unnecessary, which is good news because it saves you time and requires less preparation.
The only prep work required to smoke corn is to pull husks back and remove the silk. The corn husk then lays back over the corn to trap in heat and prevent it from drying out as it smokes. There will be plenty of gaps in the husk for smoke to seep in and flavor the kernels.
Smoke your fresh corn on the cob for about an hour at 250 degrees. 250 degrees is the most common temperature for smoked foods, however, if you are smoking meat at different temperatures, you can still get good results smoking your corn at other temperatures too, just expect the cooking time to vary accordingly.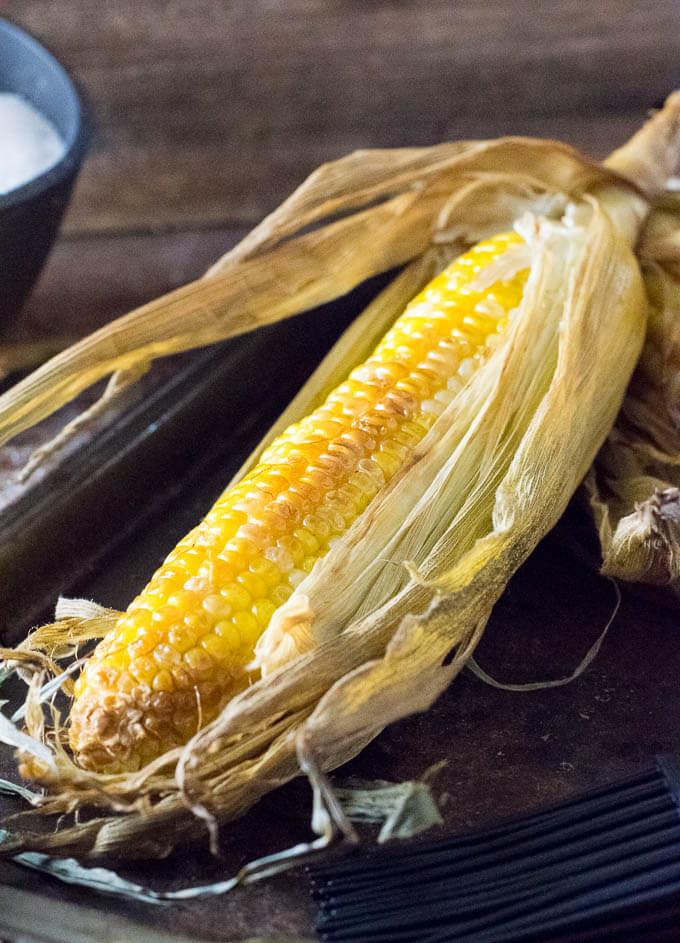 Corn on the Cob Seasonings
Everyone's favorite way to enjoy tender corn on the cob is slathered in melted butter and generously dusted in salt, and maybe a sprinkling of black pepper. That works well for smoked corn on the cob too, if you wish. However, I want to encourage you to get creative with your seasonings. Sprinkle on a BBQ Dry Rub, mix lime juice with butter, or make something reminiscent of Mexican Street Corn.
Other options for flavoring your corn include a Browned Butter Maple Bourbon Glaze, Honey Sriracha, or Parmesan Garlic Butter. Each of these recipes will pair great with smoked corn.
Can you do me a favor? If you enjoyed my post would you mind sharing it with your friends? You can see more of my recipes by liking me on Facebook and follow me on Pinterest too. Otherwise, stay up to date by getting each new post sent directly to your inbox by subscribing today.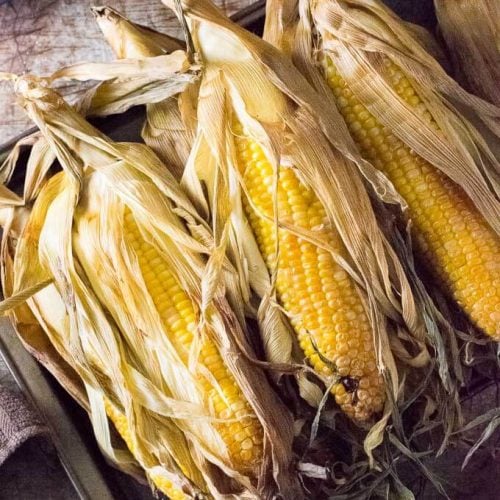 Smoked Corn on the Cob
Smoked corn on the cob comes out perfectly tender and infused with a deep smoky flavor, but best of all, it is incredibly easy to make!
Print
Pin
Rate
Save
Saved
Ingredients
4

ears

sweet corn

(with husks)

1

stick

butter

salt to taste

wood chips for smoking
Instructions
Preheat smoker to 250 degrees.

Peel back the husk and remove the silk from the earns of corn and place the husk back over the cob.

Place corn in the smoker for 1 hour, or until the kernels are tender. Add wood chips to smoker to maintain steady smoke throughout cooking.

Remove corn from smoker, let cool slightly, and peel back husks. Slather generously in butter and salt for serving.
Notes
I like cherry wood for smoking corn on the cob, however, I would recommend using whatever wood you have on hand, or if cooking the corn with meats, just use the best wood chips for the meat you are smoking.
IF YOU LIKED THIS RECIPE check out my Charred Corn Salad too!
Nutritional Information
Calories:
204
kcal
|
Carbohydrates:
1
g
|
Protein:
1
g
|
Fat:
23
g
|
Saturated Fat:
15
g
|
Cholesterol:
61
mg
|
Sodium:
202
mg
|
Sugar:
1
g
|
Vitamin A:
705
IU
|
Calcium:
7
mg
This recipe was originally published on FoxValleyFoodie.com May 28, 2019.