This creamy red potato salad recipe is the perfect side dish to serve at your next picnic or potluck. Tender red potatoes are bathed in a tangy dressing and mixed with the satisfying crunch of freshly diced celery and onions. This is summer in a bowl!
This delicious red potato salad recipe took me a number of tries to get right, but I'm very happy with it now. However, it is still a great recipe to customize to fit your tastes. Add or subtract ingredients as desired, including additions such as fresh dill, hard-boiled eggs, or even pickles. After all, the best potato salad ever is the one you create!
Ingredients and Substitutions
Red potatoes - You can substitute Yukon gold or even russet potatoes. Using russets would make this more of a classic potato salad.
Mayo - Mayonnaise is the base of the potato salad dressing and should not be substituted. If you want to make it healthier you could use plain Greek Yogurt instead, but it will change the flavor some.
Sour cream
White vinegar - Red wine vinegar or apple cider vinegar would each be a good substitute.
Dijon mustard - Yellow mustard can be substituted, but it will add a slightly sharper flavor. Otherwise, use a spicy mustard.
Sugar - It is acceptable to remove this if you don't like using sugar, but it does add a nice touch of sweetness to the dressing.
Lemon juice - If using fresh lemon juice, you can also add a little lemon zest for a brighter flavor.
Red onion - A yellow onion can be substituted for a more mild onion flavor.
Green onions - Fresh herbs, such as fresh parsley and fresh chives, can also be used for extra flavor.
Celery 
Red Potato Salad with Sour Cream
The secret to making creamy potato salad is using mayo to form the creamy base, however, sour cream is a great addition as well. Making this homemade red potato salad with sour cream adds a subtle tanginess to the dressing, and a little will go a long way. However, sour cream can be completely omitted as well if you prefer. If you omit the sour cream from the recipe, feel free to add a little more mayo to compensate if needed.
How to Make Red Potato Salad
I've always loved potato salad, but I wanted something a little different than the traditional potato salad. I like red potatoes because I enjoy their firmer, less starchy taste. It makes the potato salad taste clean and fresh. Adding a bit of vinegar, mustard, and lemon juice lends a great tang that jumps right out of the creamy sauce. Finally, chopped celery and onions give the dish a lively crunch.
This easy recipe begins by chopping your red potatoes into half-inch chunks and then boiling them for ten minutes in a large pot of boiling water. (You should cover potatoes with one inch of water at least.) While the potatoes are cooking you can prepare the remaining ingredients.
In a large mixing bowl combine the mayo, sour cream, vinegar, Dijon, sugar, lemon juice, chopped onions, and celery. When the potatoes are done boiling they can be drained from the water and added to the potato salad mixture, however, I recommend letting the warm potatoes cool to room temperature first. Place your potato salad in the refrigerator to cool, then serve.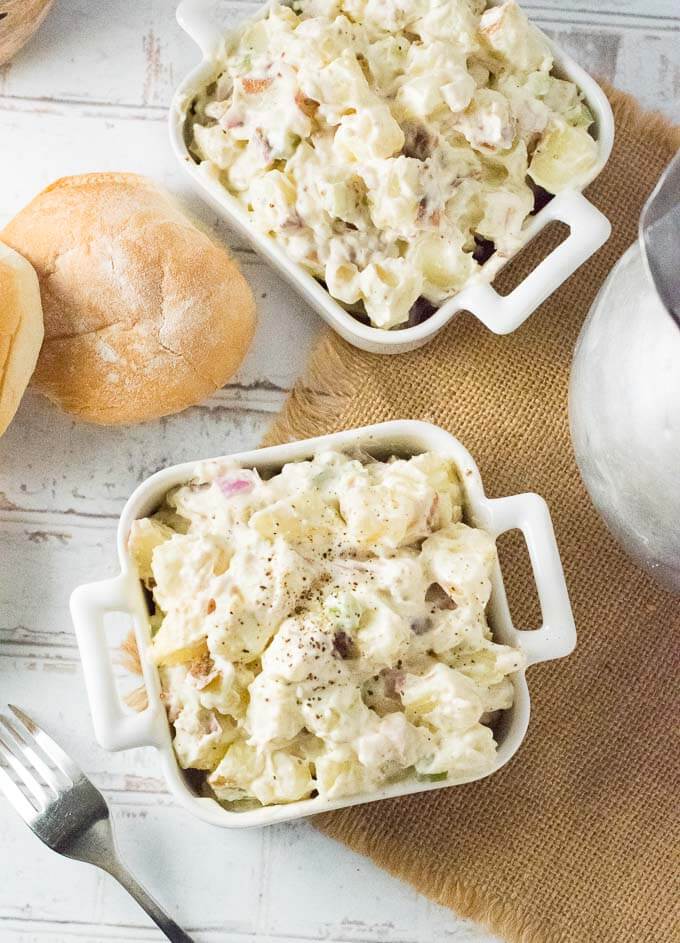 Red Potato Salad FAQs
Do You Cut Potatoes Before Boiling Them For Potato Salad?
Yes, cutting the potatoes prior to boiling helps them cook more evenly and faster. It is also easier on your hands to cut potatoes prior to cooking, rather than trying to handle a hot potato while chopping. You can cut them into whatever size you prefer for your potato salad, however, I like ½" cubes best.
How Long Should I Cook Red Potatoes for Potato Salad?
Boiling red potatoes for 10 minutes is typically sufficient, although the time will vary depending on how thick your potatoes are cut. You will know they are done if you can easily pierce them with a fork. At this point drain them from the water and allow them to cool (rinsing under cold water works well).
Are red or yellow potatoes better for potato salad?
Red and yellow potatoes, also known as Yukon Gold potatoes, both have less starch than Russet potatoes and share a similar waxy texture and flavor making them equally great to use in potato salad. The primary difference is their visual appeal.
Why do you put vinegar in potato salad?
Vinegar adds acidity and tanginess to the potato salad dressing. It adds excitement to the flavor so it tastes less one-dimensional. Any type of vinegar, or even lemon juice, can be used.
How to Serve Potato Salad
This Creamy Red Potato Salad can be served right away, but it is best if the flavors are allowed to meld in the refrigerator overnight. You will be amazed by how much the flavor evolves.
Potato salad is the perfect accompaniment to serve at picnics, summer cookouts, and potlucks, but the problem with these events is that food is often left outside in the hot weather for hours on end. Since potato salads are dairy based, that is just asking for food poisoning. However, I found the coolest outdoor serving bowl that can be filled with ice to keep your cold food chilled while you focus on enjoying your time with friends and family. 
Storing & Leftovers
Leftover red potato salad should be stored in an airtight container and placed in the refrigerator. The sealed container prevents odors from within the fridge soaking into the flavor of your potato salad.
You should enjoy the leftovers within five days. Already the next day you will notice it is less creamy the longer it sits in your refrigerator. This is because the potatoes will soak up moisture. You can add additional mayo prior to serving leftovers to make it wonderfully creamy again.
Can you do me a favor? If you enjoyed my post would you mind sharing it with your friends? You can see more of my recipes by liking me on Facebook and follow me on Pinterest too. Otherwise, stay up to date by getting each new post sent directly to your inbox by subscribing today.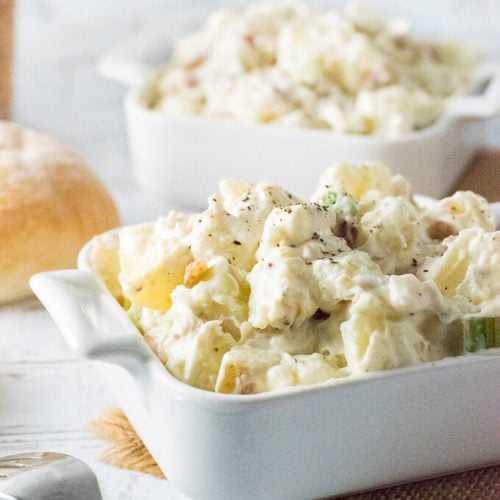 Creamy Red Potato Salad Recipe
This Creamy Red Potato Salad recipe is sure to be a hit at your next picnic or potluck. Tender red potatoes are bathed in a tangy dressing and mixed with the satisfying crunch of freshly diced celery and onions. This is summer in a bowl!
Print
Pin
Rate
Save
Saved
Ingredients
3

pounds

red potatoes

1 ¼

cup

mayo

½

cup

sour cream

2

tablespoons

white vinegar

2

tablespoons

Dijon mustard

1

tablespoons

sugar

1

tablespoons

lemon juice

½

red onion

(chopped)

⅓

cup

green onion

(chopped)

½

cup

celery

(~1 stalk, cut stalk into three vertical strips prior to chopping)

salt to taste

ground black pepper
Instructions
Chop the red potatoes into bite-sized ½" cubes and place potatoes in a pot of salted boiling water.

Boil until tender and easily pierced with a fork, approximately 10 minutes.

While potatoes are boiling chop all remaining vegetables and combine in a large bowl with remaining ingredients.

When done boiling, drain potatoes and let cool slightly. Then combine the potatoes with the dressing mixture.

Enjoy right away, but the flavors are best when set in the fridge overnight.
Notes
Don't mash the potatoes or the salad won't be creamy. The mashed potatoes will soak up the sauce.
IF YOU LIKED THIS RECIPE you should check out my Classic Seafood Pasta Salad recipe.
Nutritional Information
Calories:
319
kcal
|
Carbohydrates:
24
g
|
Protein:
3
g
|
Fat:
23
g
|
Saturated Fat:
4
g
|
Cholesterol:
17
mg
|
Sodium:
250
mg
|
Potassium:
675
mg
|
Fiber:
2
g
|
Sugar:
4
g
|
Vitamin A:
155
IU
|
Vitamin C:
13.6
mg
|
Calcium:
36
mg
|
Iron:
1.2
mg
This recipe was originally published on FoxValleyFoodie.com May 12, 2015.