These Crispy Smoked Chicken Legs have a deep smokey flavor penetrating the meat, all wrapped up in a shatteringly crisp chicken skin!
Smoke 'em if you got 'em folks!  Chicken legs that is.  My local grocery has 3 lb packs of chicken legs on sale for only $3.19! The only thing crazier than that price is why I didn't buy myself more than 2 packs. Oh well, many years from now when I am lying on my death bed I'll at least have a riveting tale of regret to regale my loved ones with before I pass on.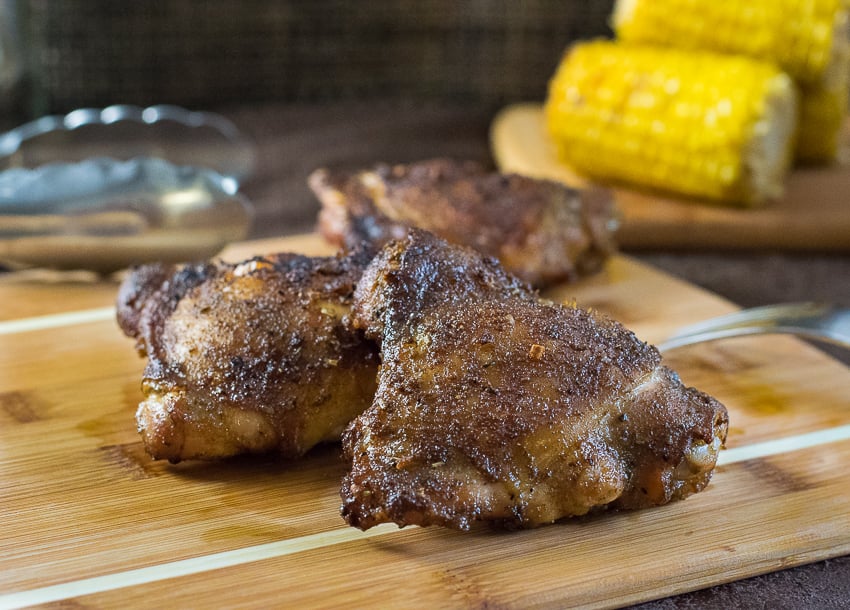 When I bought the chicken legs I didn't really have a plan for them.  I am just cheap and can't turn down fresh meat for a buck a pound. They probably could have sold me squirrel for that price and I would have jumped on it. Heck, our little three year old hardly likes my cooking as it is. What difference does it make if he doesn't eat the bacon wrapped smoked chicken breast I painstakingly smoked to perfection, or just a hunk of pan-fried squirrel I schlepped on the plate?
I ended up improvising a recipe that turned out fantastic.  I love the deep flavor of smoked meats, particularly the juicy delectableness of a chicken thigh, but I don't particularly care for the rubbery sogginess of the low temp baked chicken skin that ends up sliding off the leg after the first bite like a tarp coated in Crisco. So I came up with a plan.  This was going to be a two part cooking operation. I would smoke the chicken legs to temperature and then finish them under the broiler.
If that chicken could only still be alive to see how magnificently she turned out, I'm sure she would have shed a tear. It was magical. If only everyone's death could have such meaning. Deep smokey flavor penetrated the meat; all wrapped up in a tight crispy crust that hung fast and flaked away with each bite.  I can't wait to make these again!



How to Smoke Chicken Legs
Needless to say, you will need a smoker for smoking chicken legs. I own, and enthusiastically recommend Weber's Smokey Mountain Cooker Smoker (affiliate link). It has a fantastic capacity, and it is dead simple to maintain a consistent temperature, which is the key to great BBQ! 
Set the smoker temperature at 250 degrees, but anywhere between 225 - 275 degrees is ok, if it varies a little bit. The key is smoking the chicken legs low and slow. Approximately 1 ½ - 2 hours is all that is needed to smoke chicken legs before they are finished cooking.
How Do You Get Crispy Chicken Skin
You don't get crispy chicken skin in the smoker. It is impossible to crisp skin at low temperatures without drying out the meat into jerky. To get crispy chicken skin you need to hit the skin with intense heat. The high heat will essentially expel the moisture from the skin and fry it into a crisp. Perfect. Since we cannot do this in a smoker I recommend finishing smoked chicken legs under your oven's broiler. You can either do this immediately, or stop cooking and store the chicken legs in the refrigerator until you are ready to eat and then fire up the broiler.
Crispy Smoked Chicken Legs Recipe
These Crispy Smoked Chicken Legs have a deep smokey flavor penetrating the meat, all wrapped up in a shatteringly crisp chicken skin!
Print
Pin
Rate
Ingredients
3

lbs

Chicken Legs (I separated the drumsticks from the thighs

but this is optional)

~3

tbsp

Olive Oil

3-6

tbsp

Favorite Poultry Seasoning (Yes

I know I am passing the buck by not telling you exactly what to use… get over it. Any of the chicken spice rubs found in the supermarket will turn out great.)
Instructions
Prepare the chicken by separating the drumsticks if desired and place all pieces in a clean plastic storage bag.

Pour olive oil into the bag along with a liberal amount of seasoning and use your hands to evenly coat all the pieces of chicken. Ensure there is adequate seasoning to thoroughly coat each chicken piece and add more oil and seasoning as needed. Let sit for at least an hour.

Preheat your smoker to 250 degrees. (Any temperature between 225 - 300 degrees will yield great results)

Smoke chicken for 1 ½ - 2 hours hours, or until internal temperature reaches 165 degrees. (If broiling right away you can take them out slightly earlier and let them finish coming to temp under the broiler)

*At this point the recipe can be paused if you wish to prep these to eat another day. Just store in the fridge until you wish to continue with the next step.*

Preheat your broiler to high and place chicken in the center of the oven, skin side up (placing the chicken too close to the broiler will prevent some skin from getting crispy before the top blackens). In a few minutes you will hear the crackling of the fat on the skin and baking sheet, at this point the chicken is just about done. Take it out just before it starts to burn.
Notes
If you paused the recipe by storing the chicken in the refrigerator prior to broiling you may want to bring the chicken back up to temperature in the oven before you broil or the meat may still be cold after the broiling has finished. Baking it at 400 degrees for 7-10 minutes should be sufficient.
IF YOU LIKED THIS RECIPE check out my smoked whole chicken recipe with blackened seasoning!
If you enjoyed my Crispy Smoked Chicken Legs Recipe then you should probably like me on Facebook and follow me on Pinterest too. That's what I would do at least, because if you don't get to know me but you still use my recipe it is kind of like taking candy from a stranger, and your mom taught you not to do that. Don't disobey your mom, subscribe to Fox Valley Foodie today.