These crispy smoked chicken legs have a deep smoky flavor penetrating the meat, all wrapped up in a shatteringly crisp chicken skin!
Wait! Did I really just claim that smoked chicken legs will have crispy skin? Doesn't smoking meat low and slow always result in rubbery half-soggy skin? Well, yes BUT... I have a secret! The secret is in the two-step cooking process that results in deliciously smoky meat and then a separate step to crisp the skin to perfection. It is truly the best of both worlds!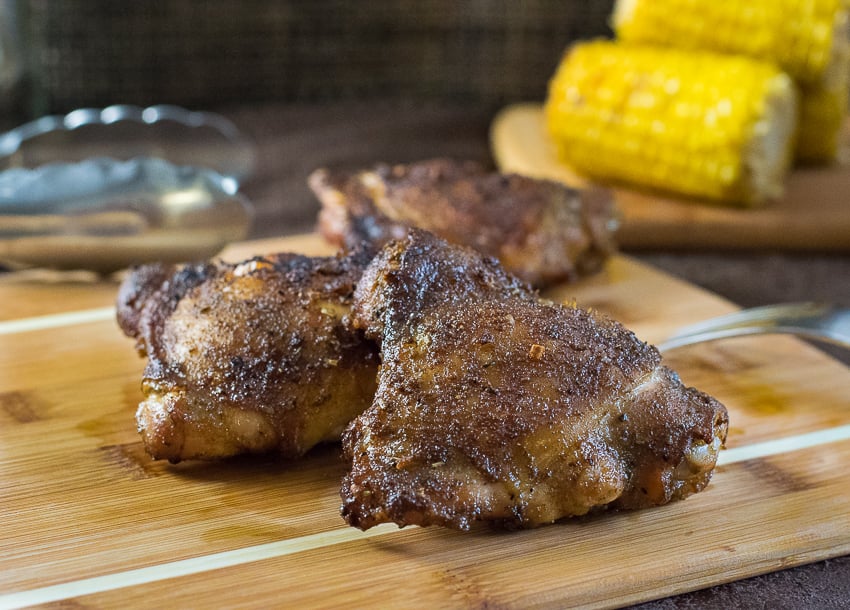 What is it?
I love the deep flavor of smoked chicken, particularly the juicy delectableness of dark meat, but I don't particularly care for the rubbery sogginess of the low temp baked chicken skin that ends up sliding off the leg after the first bite like a tarp coated in Crisco. So I came up with a plan.  The best way is going to be a two-part cooking operation. I would smoke the chicken legs to temperature and then finish them under the broiler to get that crunchy skin I crave.
The end result is deep smokey flavor penetrating the juicy meat; all wrapped up in a tight crispy crust that hung fast and flaked away with each bite. One bite and you will quickly discover why this is my favorite way to make chicken. A little extra effort results in the best smoked chicken legs recipe you'll find!
If you don't care for crispy skin, you may want to use my smoked chicken quarters recipe instead.
Ingredients and Substitutions
Chicken legs - This recipe works with other cuts of chicken, even white meat chicken breast. Also, if you just have drumsticks or chicken thighs you would rather use than whole legs, that is fine too!
Olive Oil - Any other vegetable oil is fine too.
BBQ Dry Rub - You can use the easy dry rub recipe I linked, or buy your favorite spice rub from the grocery store. I may be biased, but the brown sugar blended with cayenne pepper and seasonings in my simple dry rub makes it perfect for smoking juicy chicken.
How to Smoke Chicken Legs
Prepare your smoked chicken legs by placing the legs in a large plastic bag with olive oil and the BBQ dry rub. Add a generous amount of rub so it fully coats the chicken, then work it all together with your hands to evenly coat.
Needless to say, you will need a smoker for smoking chicken legs, along with your favorite wood chips for smoking. I own, and enthusiastically recommend Weber's Smokey Mountain Cooker Smoker. It has a fantastic capacity, and it is dead simple to maintain a consistent temperature, which is the key to great BBQ! I also have an electric smoker that I love to use when I don't want to fuss with anything. Charcoal smokers have the best flavor, but electric smokers are the most hassle-free. Choose what fits you best.
Set the smoker temperature at 250 degrees, but if you have a hard time getting the temperature to stay consistent anywhere between 225 - 275 degrees is OK. Once your wood is smoking nicely, set the chicken on the smoker rack and smoke the meat for approximately 1 ½ - 2 hours. At this point, the chicken is full of smoke flavor, but the skin is still soft.
How Do You Get Crispy Chicken Skin
You don't get crispy chicken skin by cooking it in a smoker for a couple of hours. It is impossible to crisp skin at lower temperatures without drying out the meat into jerky. To get crispy chicken skin you need to hit the skin with high heat. The higher temperatures will essentially expel the moisture from the skin and fry it into a crisp. Perfect.
Since we cannot do this in a smoker I recommend finishing smoked chicken legs under your oven's broiler for a couple of minutes. The nice thing about this simple recipe is you can either do this immediately after smoking or stop cooking and store the chicken legs in the refrigerator until you are ready to eat and then fire up the broiler.
Recipe FAQs
How to store leftover smoked chicken legs?
It is important to store leftover chicken legs in an airtight container in your refrigerator. The strong smoke smell will quickly penetrate everything in the fridge if left open. Leftover chicken should be enjoyed within five days.
How to reheat smoked chicken legs?
Baking your chicken legs at 400 degrees for 7-10 minutes will bring it back to temperature while keeping the skin crispy.
How long should chicken legs be smoked?
I recommend smoking chicken legs for 1 ½ hours to 2 hours at 250 degrees. You need to ensure the internal temperature of the chicken meat reaches 165 degrees when tested with an instant read thermometer.
What to serve with smoked chicken?
If you are having a BBQ, any of these classic side dishes would pair perfectly with smoked chicken legs.
Can you do me a favor? If you enjoyed my post would you mind sharing it with your friends? You can see more of my recipes by liking me on Facebook and follow me on Pinterest too. Otherwise, stay up to date by getting each new post sent directly to your inbox by subscribing today.
Smoked Chicken Legs Recipe
These crispy smoked chicken legs have a deep smoky flavor penetrating the meat, all wrapped up in a shatteringly crisp chicken skin!
Print
Pin
Rate
Save
Saved
Ingredients
3

pounds

chicken legs

3

tablespoons

Olive Oil

3-6

tablespoons

BBQ Dry Rub
Instructions
Prepare the chicken by separating the drumsticks if desired and place all pieces in a clean plastic storage bag.

Pour olive oil into the bag along with a generous amount of dry rub seasoning and use your hands to evenly coat all the pieces of chicken. Ensure there is adequate seasoning to thoroughly coat each chicken piece and add more oil and seasoning as needed. Then let it sit for at least an hour.

Preheat your smoker to 250 degrees.

Smoke chicken for 1 ½ - 2 hours, or until the internal temperature reaches 165 degrees when testing the thickest part of the drumstick with a meat thermometer. (If broiling right away you can take them out slightly earlier and let them finish coming to temp under the broiler)

*At this point the recipe can be paused if you wish to prep these to eat another day. Just store in the fridge until you wish to continue with the next step.*

Preheat your broiler to high and place chicken in the center of the oven, skin side up (placing the chicken too close to the broiler will prevent some skin from getting crispy before the top blackens). In a few minutes you will hear the crackling of the fat on the skin and baking sheet, at this point the chicken is just about done. Take it out just before the skin starts to burn.
Notes
If you paused the recipe by storing the chicken in the refrigerator prior to broiling you may want to bring the chicken back up to temperature in the oven before you broil or the meat may still be cold after the broiling has finished. Baking it at 400 degrees for 7-10 minutes should be sufficient.
The chicken legs can be separated into thighs and drumsticks or left whole.
Nutritional Information
Calories:
339
kcal
|
Carbohydrates:
1
g
|
Protein:
21
g
|
Fat:
28
g
|
Saturated Fat:
7
g
|
Polyunsaturated Fat:
5
g
|
Monounsaturated Fat:
14
g
|
Trans Fat:
1
g
|
Cholesterol:
120
mg
|
Sodium:
109
mg
|
Potassium:
262
mg
|
Vitamin A:
119
IU
|
Vitamin C:
1
mg
|
Calcium:
12
mg
|
Iron:
1
mg
This recipe was originally published June 18, 2013 on FoxValleyFoodie.com.