Smoked chicken wings are simple to prepare and perfect for slathering with your favorite sauce or seasoning.
Every time I fire up my smoker I load it up with as many meals as will fit. This not only provides me with a great cookout that afternoon, but plenty of flavorful leftovers to enjoy throughout the week as well. Chicken wings are great to enjoy as the star of your cookout and reheat well if you wish to enjoy them later in the week instead.
Smoked Chicken Wings
Chicken is a very mild flavored meat which makes it ideal for soaking up the flavors of your smoker. Smoking chicken wings infuses the meat with a deep smoky flavor that pairs nicely with a variety of seasoning and sauces.
Compared to deep fried chicken wings, and grilled chicken wings, I think smoked wings have the most flavor. However, don't expect to get as crispy as deep fried wings, since you are cooking them at a much lower temperature. There are hacks you can use to get crisper skin, which we will discuss later.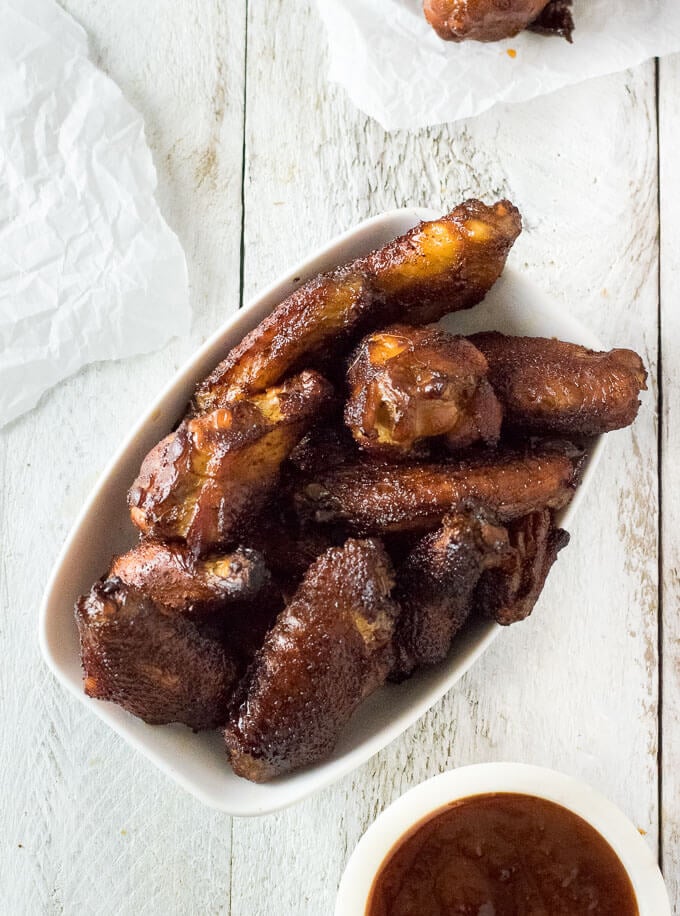 How to Cut Chicken Wings
Chicken wings are typically found in your grocer's meat department as whole wings. You will need to separate them into the drumette and wingette. The tips can be discarded.
Slipping a knife in-between the joints of the wing will easily separate them, however, if you prefer the brute force method, chicken wing bones are weak enough to cut through with a kitchen shears. (affiliate link)
How to Smoke Chicken Wings
Since chicken is a mild flavored meat, I find using strong flavored smoke such as mesquite and hickory to be unnecessary. Instead, for chicken wings I like using cherry wood, pecan, or apple wood. These are just a few suggestions, feel free to use whatever you have on hand.
I recommend seasoning your chicken wings generously with the seasoning rub of your choice prior to smoking. If using a wing sauce, wait to apply it until after the wings have been smoked. BBQ sauces pair well with smoke and can be applied before, during, or after smoking.
How Long to Smoke Chicken Wings
Since chicken wings are a fairly small cut of meat, they smoke quicker than most foods. Smoke chicken wings at 250 degrees for 1 ½ - 2 hours, or until the internal temperature reaches 165 degrees with a meat thermometer. You can also tell the chicken wings are done cooking when the meat is firm to the touch.
How to Flavor Smoked Chicken Wings
My favorite way to season chicken wings is to liberally dust them with my BBQ dry rub, although your favorite store-bought rub works great too. Additionally, you can use any wing sauce, as you would for traditional chicken wings.
Finally, barbeque sauce is also a great pairing for smoked foods. If you are so inclined, give my homemade BBQ sauce a try. The glossy looking wings in my photos are tossed in BBQ sauce.
Crispy Smoked Chicken Wings
Smoking wings firms up the skin, as it dehydrates during cooking, but it does not make the skin crispy. As a general rule, you won't get crispy skin when you smoke meat. To achieve perfectly crisp skin you need high heat.
If you want the smoke flavor, but also crave crisp skin, I recommend doing a hybrid cooking method. Smoke the wings for 1 hour to let the smoke flavor penetrate, then remove the wings from the smoker and finish cooking them under the broiler in the oven or over high heat on the grill.
Smoked Chicken Wings
Smoked chicken wings are simple to prepare and perfect for slathering with your favorite sauce or seasoning.


Print
Pin
Rate
Save
Saved
Ingredients
4

pounds

chicken wings

½

teaspoon

salt

BBQ Dry Rub

(or seasoning of your choice)

cherry wood chips

(or smoking wood of your choice)
Instructions
Preheat smoker to 250 degrees.

Cut chicken wings into drumettes and wingettes, if needed.

Pat chicken dry with a paper towel and then sprinkle with salt.

Generously apply desired seasonings or BBQ dry rubs at this time.

Place wings in the smoker and add wood chips. Add additional wood chips as needed throughout cooking.

Smoke wings for 1 ½ hours - 2 hours, or as needed to reach 165 degrees. Cooking time will vary depending on the size of your chicken wings, and how often you open the door/lid of your smoker.

Remove from smoker, toss in sauce, as desired, and serve.
Notes
If you liked this recipe, give my Smoked Brats a try as well!
Nutritional Information
Calories:
544
kcal
|
Protein:
45
g
|
Fat:
39
g
|
Saturated Fat:
11
g
|
Cholesterol:
189
mg
|
Sodium:
469
mg
|
Potassium:
382
mg
|
Vitamin A:
360
IU
|
Vitamin C:
1.7
mg
|
Calcium:
29
mg
|
Iron:
2.3
mg