Broasted chicken is a popular Midwestern take on the classic southern fried chicken, popularized in Wisconsin Supper Clubs. Each bite into its wonderfully crisp seasoned coating yields some of the juiciest fried chicken meat you have ever sunk your teeth in. What's the secret? Well, the marinade, and the way it is cooked.
What is the difference between Broasted Chicken and Fried Chicken?
The main difference is what they are cooked in. A traditional fried chicken recipe can be made in a deep fryer, or cast iron skillet filled with oil. The oil is heated and the chicken is gently placed in and allowed to cook until golden brown. However, authentic broasted chicken is deep-fried in a special pressure cooker, called a pressure fryer, that seals in the juices better and cooks faster.
Who invented Broasted Chicken?
L.A.M. Phelan, the creator of what is now the Broaster company of Beliot, Wisconsin, was an inventor who combined the pressure fryer with a deep fryer, to make the ultimate chicken frying appliance in 1953. His new invention quickly gained popularity at Supper Clubs across Wisconsin, and continued to spread worldwide in the decades that followed.
Can broasted chicken be made at home?
No. Unfortunately for home cooks, genuine broasted chicken can only be made in a Broaster pressure fryer along with their proprietary blend of marinade and coatings. Broasted is actually a trademarked term owned by the Broaster company.
I know what you are thinking, "Can't I just replicate it at home?" Well, I guess that is a little more complicated. Most likely you don't have a pressure fryer at home, so what you will really be creating is plain ol' fried chicken.
And before you even think of trying, please don't try to deep fry in a standard pressure cooker or Instant pot. Not only will you likely get poor results, without the necessary safety features it has the potential to be dangerous since some of the components may not stand up to hot frying oil.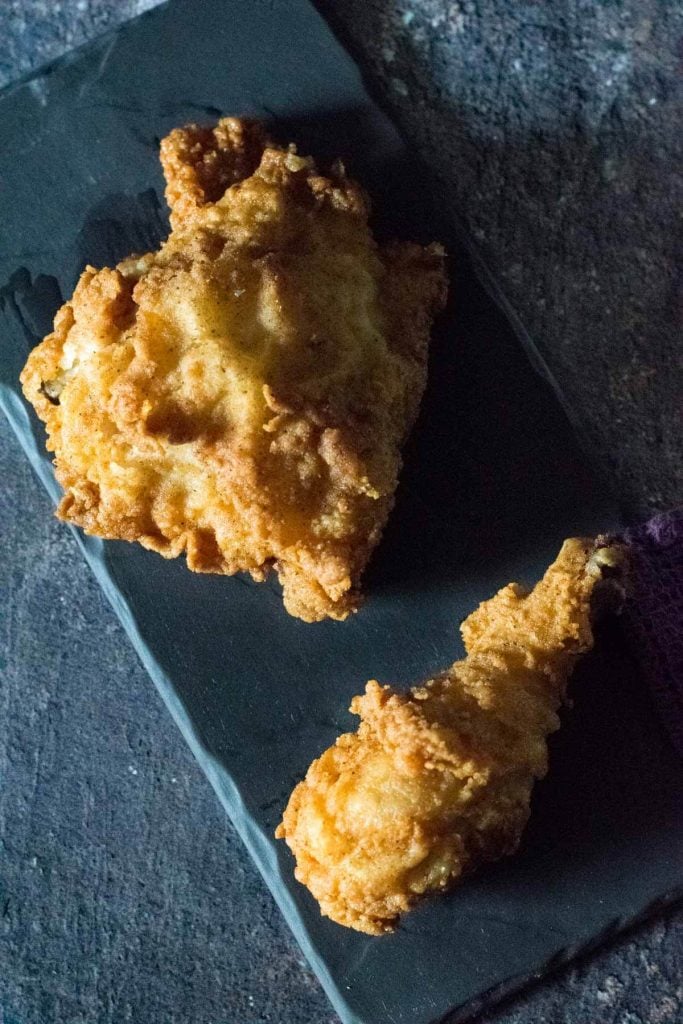 How is it made?
There are three steps to making incredibly delicious broasted chicken. The chicken pieces need to be marinated, coated, and then deep-fried in hot oil.
The chicken soaks in the marinade for 8-12 hours. Although I don't have access to the ingredients used in their propriety marinade, I suspect this is a brine solution. Brines are a salty liquid that helps make meats juicier and more flavorful when meats are soaked in them for extended periods of time.
The coating step is a bit different than how most fried chicken is made. Traditionally, a dredging station will be set up that includes an egg wash, and a separate dish containing your flour and seasoning. The chicken would typically be dipped in both to create a thick crust. Broasted chicken have a special coating that is thinner than southern fried chicken, as there doesn't appear to be any egg wash involved. The chicken pieces are simply coated in the flour mixture prior to frying.
Finally, the coated chicken is added to the pressure fryer and cooked until golden brown.
Well, now I am hungry and want some fried chicken!
To cure your chicken craving head to one of the many local restaurants that feature authentic Broasted chicken on the menu. Their website even has a handy store locator to help you find it.
As we have already established, Broasted chicken cannot be made at home, but there is no reason why you can't make delicious pan-fried chicken to hold you over. Although not broasted, my fried chicken is marinated and coated in the same manner to replicate the preparation process and create a similar texture. Although it won't be true Broasted chicken, it should hold you over until you can get to your favorite restaurant!
Fried Chicken
Broasted chicken is a trademarked term and unable to be made at home without proprietory ingredients. However, this fried chicken recipe follows a similar preparation process featuring a marinade and single dredge coating.
Print
Pin
Rate
Save
Saved
Ingredients
8

pieces

chicken

Frying oil
Marinade
2

cups

buttermilk

2

teaspoons

salt

2

teaspoons

hot sauce
Coating
2

cups

all-purpose flour

2

teaspoons

baking powder

1

teaspoon

baking soda

2

teaspoons

salt

1

teaspoon

ground black pepper

½

teaspoon

garlic powder

½

teaspoon

onion powder

¼

teaspoon

ground sage

¼

teaspoon

cayenne pepper
Instructions
Mix together the marinade and add the chicken pieces. Place in the refrigerator for 8 hours.

After 8 hours remove the chicken from the marinade and mix together the coating ingredients in a large dish or bowl.

Dredge the chicken in the flour mixture to fully coat both sides.

Heat frying oil in a large, thick-walled skillet, to 325 degrees.

Add the pieces of chicken and fry for 15 minutes, turning as needed to cook evenly. You will likely have to work in batches to fry all of the chicken.

Let the chicken drain on a wire rack, or on paper towels, so that excess oil can drip off. After resting for five minutes serve the chicken.
Nutritional Information
Calories:
780
kcal
|
Carbohydrates:
55
g
|
Protein:
11
g
|
Fat:
59
g
|
Saturated Fat:
47
g
|
Cholesterol:
14
mg
|
Sodium:
2782
mg
|
Potassium:
452
mg
|
Fiber:
2
g
|
Sugar:
6
g
|
Vitamin A:
258
IU
|
Vitamin C:
2
mg
|
Calcium:
239
mg
|
Iron:
3
mg