These easy meatballs without breadcrumbs can be baked, broiled, or seared in a pan on the stove top to be used in a variety of dishes your whole family will love.
Best of all, they are not only gluten-free, but no one will taste the difference! This meatball recipe is equally as good as the best Italian meatballs made with traditional breadcrumbs. I promise!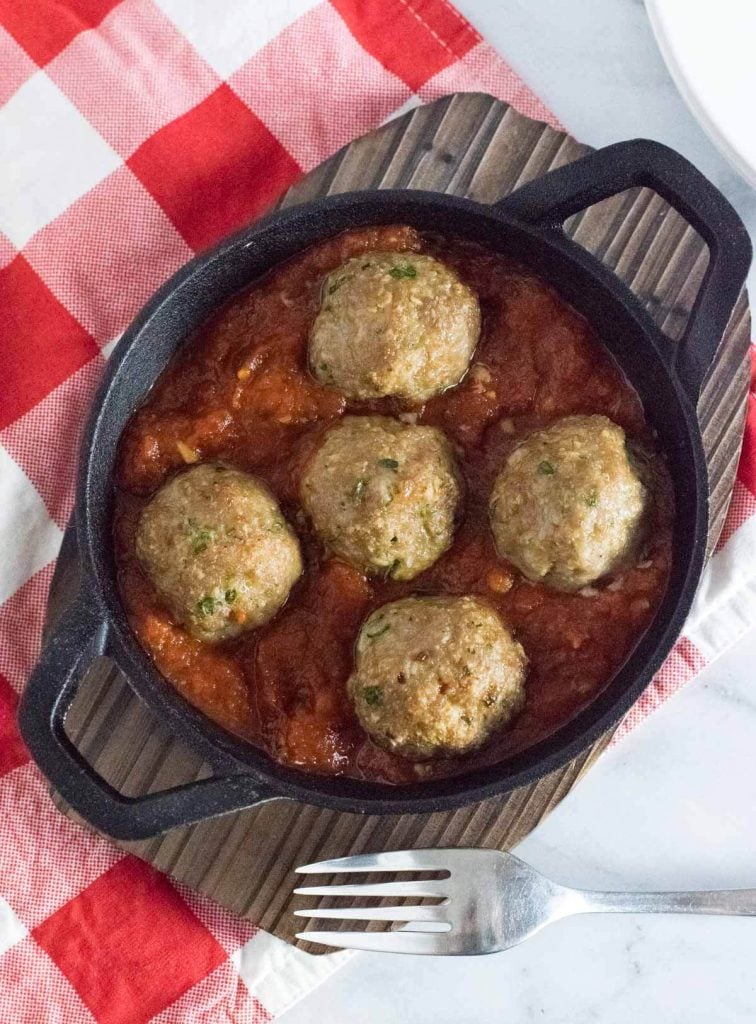 Why are breadcrumbs used in meatballs?
Breadcrumbs serve an important role in making a great meatball. They act as a binding agent to make the meat less dense, resulting in more tender meatballs, while also soaking in moisture to ensure each bite is moist and juicy. Sometimes instead of breadcrumbs, a panade is used to make traditional meatballs instead, using fresh bread soaked in milk.
What can I substitute for breadcrumbs in meatballs?
Breadcrumbs are the most common binder used in meatball recipes, but thankfully they are not your only option. Using oats works just as well! The secret is to pulse the oatmeal in your food processor or blender to make them fine like breadcrumbs. The broken-up oats will work just as well to make tender juicy meatballs.
Using oatmeal as a substitute in meatball recipes is the best option, but you can also use any of these ideas too:
Almond flour - This is a common substitute in keto friendly recipes.
Shredded Parmesan cheese - This will not soak up moisture like bread or oats, but it does render small amounts of fat which will add moisture.
Grated onion - Onion adds flavor and it will help make the meatball less dense, but it is a mediocre substitute.
Pork rinds - Grinding pork rinds into small bits is a decent low carb alternative for those on a keto diet.
Ingredients & Substitutions
Ground beef - I use 80/20 ground beef for the best moisture and flavor. Overly lean ground beef can be too dry.
Ground pork - You can substitute ground lamb, veal, ground venison, or more ground beef. Ground turkey can also be used, but it would be my last choice.
Oatmeal - Old fashioned oats, or quick cooking oats both work well. Oats are naturally gluten free, but it is best to specifically look for packaging labeled as gluten free to ensure they did not come in contact with gluten during processing.
Grated Parmesan cheese - Shredded Parmesan can also be substituted.
Milk - You can use beef broth instead.
Onion - Use a yellow onion or sweet onion.
Fresh parsley - I don't recommend substituting dry parsely, it doesn't have much flavor.
Egg - You can also make meatballs without eggs.
Worcestershire sauce
Fresh thyme leaves - Other fresh herbs like oregano would be a great choice too.
Table salt
Garlic powder - One or two fresh garlic cloves can be substituted.
Ground black pepper
How to make them
Begin making this easy meatball recipe by pulsing the oats in a food processor until broken into small pieces, similar in size to bread crumbs. This hack can be used when making meatloaf without breadcrumbs too, by the way.
Crumble the ground beef and ground pork into smaller pieces and add them to a large mixing bowl along with the oats, Parmesan, milk, onion, parsley, egg, Worcestershire sauce, thyme leaves, salt, garlic powder, and black pepper. This is easiest to do by working the meat mixture together with clean hands.
Get your hands wet to prevent the meatball mixture from sticking to your skin and roll the mixture between the palms of your hands to form balls. I recommend using two tablespoons of the mixture per ball. An ice cream scoop is a good tool to use for consistent sizing.
Place the meatballs on a baking sheet. I recommend greasing the baking sheet to prevent sticking or lining it with parchment paper or aluminum foil. The meatballs are now ready to be cooked.
Baking is the easiest way to make them. Simply bake on a sheet pan for 20 minutes in a 350 degree oven, or until the internal temperature reaches 160 degrees.
Broiling the meatballs adds more texture by browning the exterior. This can be done 15 minutes into the baking process to finish cooking them, or you can start by broiling the raw meatballs and finish cooking them by simmering them in marinara sauce or pasta sauce.
Finally, you can also cook your meatballs in a frying pan on the stovetop instead. Place the raw meatballs in a single layer in a large skillet set over medium heat and sear the exterior of the meatballs, then add pasta sauce or tomato sauce and simmer until cooked through. The biggest problem with using the stovetop is you made need multiple skillets or have to work in batches.
Tip: Brushing the meatballs with a little olive oil will result in better browning in the oven or skillet.
How to serve them
These tasty meatballs are versatile as the star of a dinner entree or a delicious appetizer. Try using your meatballs without breadcrumbs in any of these tasty recipes:
How to store leftover meatballs
Your homemade meatballs should be enjoyed within five days after cooking and stored in an airtight container. For longer storage, they can be frozen for later use in a freezer bag. You can freeze cooked or raw meatballs and store for up to three months.
Cooked meatballs can be reheated in the microwave but they will taste better gently reheated in simmering pasta sauce. Raw frozen meatballs should be completely thawed and then cooked according to the recipe instructions.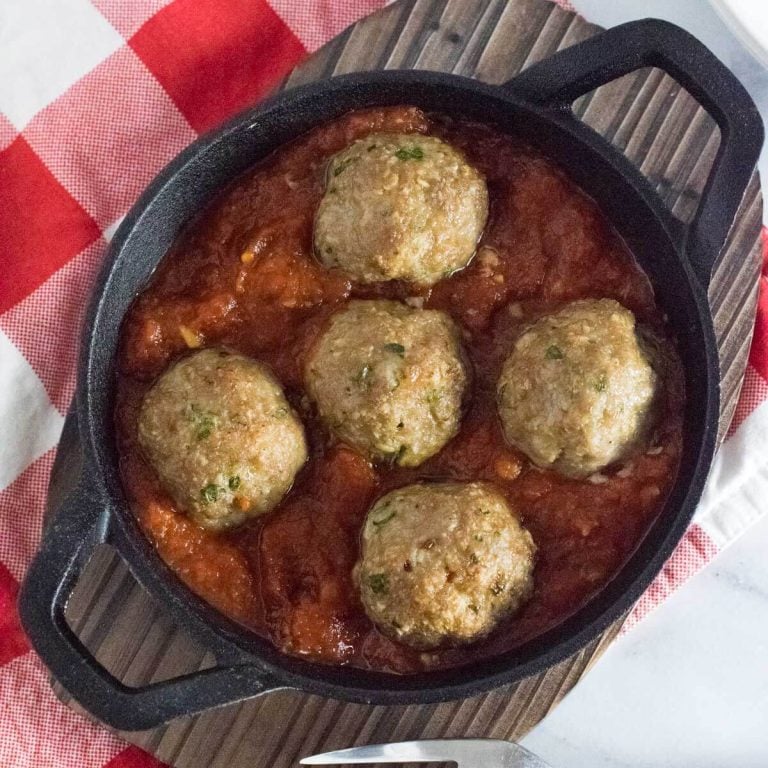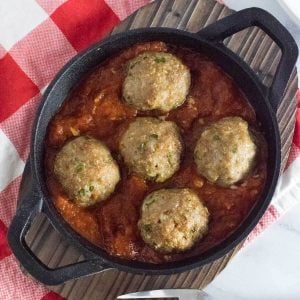 Meatballs without Breadcrumbs
These easy meatballs without breadcrumbs can be baked, broiled, or seared in a pan as part of a delicious family dinner.
Print
Pin
Rate
Save
Saved
Ingredients
¾

pounds

ground beef

¾

pounds

ground pork

¾

cup

oatmeal

⅓

cup

grated Parmesan cheese

⅓

cup

milk

¼

cup

grated yellow onion

¼

cup

chopped parsley

1

large

egg

beaten

2

teaspoons

Worcestershire sauce

1

teaspoon

fresh thyme leaves

chopped

1

teaspoon

table salt

½

teaspoon

garlic powder

¼

teaspoon

black pepper
Instructions
Add oatmeal to a food processor or a blender and pulse until the oats are finely crumbled like breadcrumbs.

Break apart ground beef and ground pork into small pieces and add them to a large bowl. Sprinkle in the breadcrumbs along with all remaining meatball ingredients.

Mix together the meatball mixture with cleans hands until everything is well combined.

Using an ice cream scoop, or spoon, scoop out approximately 2 tablespoons of the meatball mixture and roll into balls and set on a rimmed baking sheet lined with parchment paper.
Baking
Place the baking sheet in a preheated 350 degree oven for 20 minutes, or until the internal temperature reaches 160 degrees.
Broiling
Set your broiler to high and place your meatballs on the highest rack, directly under the broiler.

Broil until the exterior is well browned, watching to ensure they do not burn. Then finish cooking by simmering in pasta sauce on the stovetop.

Alternatively, you can bake the meatballs at 350 degrees for 15 minutes, and then finish cooking under the broiler.
Stovetop
Set meatballs in a large skillet over medium heat and sear the exterior on all sides.

Once the meatballs are well-browned, add pasta sauce and simmer until the meatballs are cooked through.
Notes
Wetting your hands with water will make rolling the meatballs easier by prevent the meat from sticking to your hands.
If using these for a party appetizer, the meatballs can be kept warm in a slow cooker after cooking.
Crushed red pepper flakes can be added for a little kick.
Nutritional Information
Calories:
545
kcal
|
Carbohydrates:
9
g
|
Protein:
36
g
|
Fat:
40
g
|
Saturated Fat:
16
g
|
Polyunsaturated Fat:
3
g
|
Monounsaturated Fat:
17
g
|
Trans Fat:
1
g
|
Cholesterol:
172
mg
|
Sodium:
872
mg
|
Potassium:
626
mg
|
Fiber:
1
g
|
Sugar:
2
g
|
Vitamin A:
513
IU
|
Vitamin C:
8
mg
|
Calcium:
167
mg
|
Iron:
4
mg
This recipe was originally posted on November 11, 2021.
Can you do me a favor? If you enjoyed my post would you mind sharing it with your friends? You can see more of my recipes by liking me on Facebook and follow me on Pinterest too. Otherwise, stay up to date by getting each new post sent directly to your inbox by subscribing today.
More meatball recipes