These mouthwateringly tender BBQ meatballs are boldly seasoned and painted with a sticky barbeque sauce. Easily throw these together for a delicious evening meal or a perfect party appetizer!
I think BBQ meatballs are the hipsters of the meatball world. They aren't as well known as the classic Italian meatballs, but they are way cooler! However, you don't need a man bun, or a typewriter running the Safari web browser to appreciate BBQ meatballs, you just need good taste.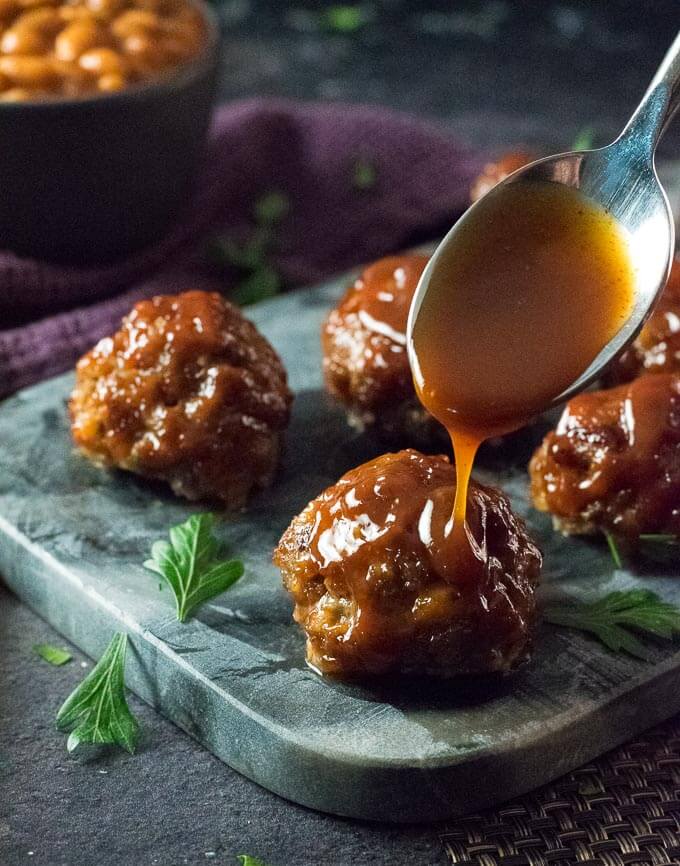 What are BBQ Meatballs
My BBQ meatballs are seasoned with a BBQ dry rub seasoning similar to what I use as a dry rub for ribs. Rather than simply dusting the meatballs with seasoning, this approach infuses each bite with flavor. Additional barbeque flavor is added by coating the meatballs with BBQ sauce, for which I recommend using my homemade BBQ sauce recipe.
How to Make Meatballs
There are a few tips I have picked up over the years regarding how to make great meatballs. First, I recommend combining all of the meatball ingredients separately from the meat. This helps everything incorporate more evenly without overworking the meat when everything is combined. Overworked meat equals tough/dense meatballs.
Using breadcrumbs makes meatball tender, but lately, I have fallen in love with using white bread soaked in milk to form a panade, which is basically a paste of moist dough. The panade blends in nicely with the seasonings and mixes well into the ground beef. I just call for beef in this recipe, however, you can use a blend of beef and ground pork if you choose. One pound of each would be great.
For a more detailed meatball making tutorial I recommend checking out How to Make Meatballs.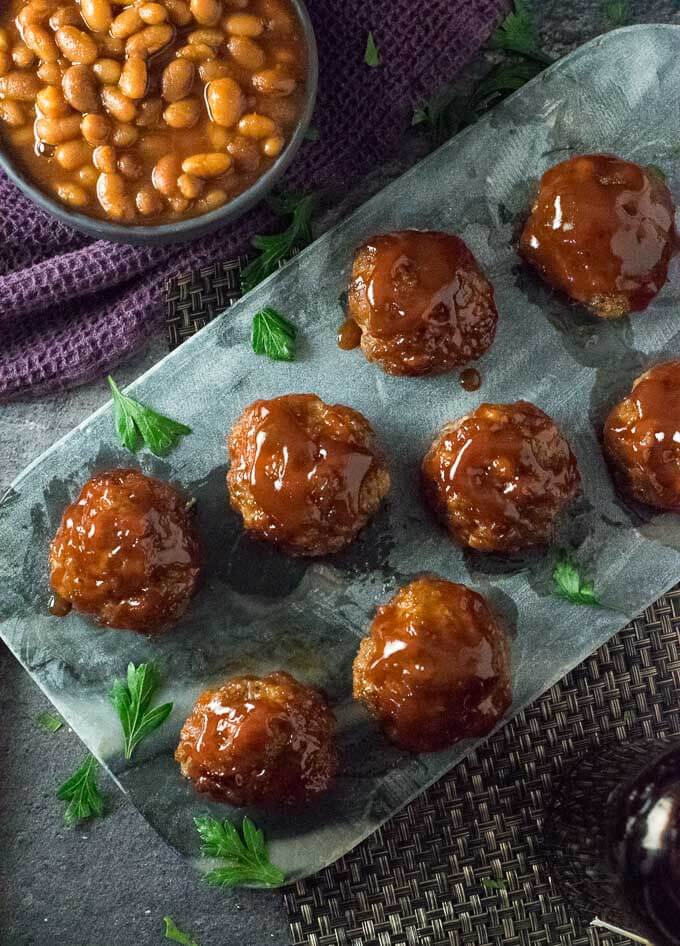 How to Cook BBQ Meatballs
You have a few options to cook your BBQ meatballs. My recipe calls for baking them in an oven at 375 degrees for 20 minutes, which is a tried and true method of course. However, if you want to add additional texture you can quickly sear them in a skillet prior to baking them, or you can also finish them off under the broiler to caramelize the BBQ sauce into a nice sticky lacquer!
However, if you are up for it, the most flavorful way of cooking meatballs will be to grill them. I do recommend packing the meatball a little more tightly together if you are throwing them on the grill so they don't crumble as you turn and rotate them throughout cooking.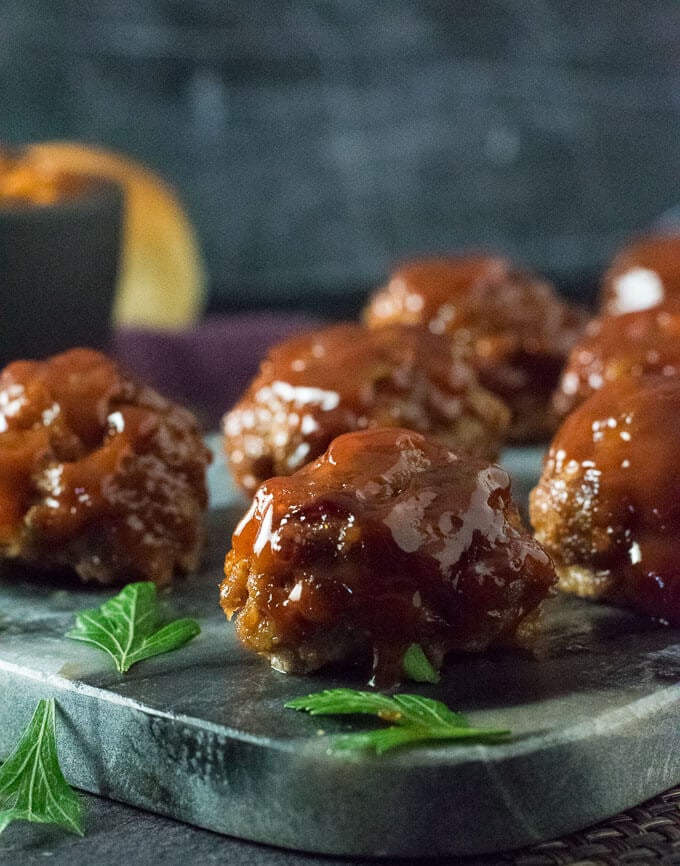 Crock Pot BBQ Meatballs
A lot of people cook meatballs in the crock pot for the simplicity of it. You can certainly add your BBQ meatballs to the crock pot, along with enough BBQ sauce to fully coat them, and they will cook just fine.
However, I think the crock pot is best used for keeping the meatballs warm after you cooked them. Otherwise, as the meatballs cook they are going to release fat that will just pool in the bottom of the slow cooker, which I don't find as appetizing. You also will find the texture isn't as good when prepared in a slow cooker.
How to Serve BBQ Meatballs
If you are trying to figure out what the heck you are going to do with BBQ meatballs, I have a few options for you. First of all, you can use them as is for a simple party appetizer like my cocktail meatballs in garlic butter sauce. Otherwise, throw them in a bun like these easy meatball subs, or grab some skewers and make some BBQ meatball kabobs! If you really want to get creative make BBQ spaghetti... don't knock it until you try it! Simply combine BBQ meatballs with spaghetti noodles and toss with your favorite BBQ sauce!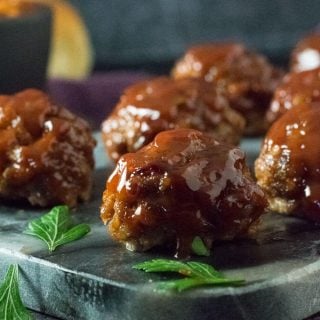 BBQ Meatballs
These mouthwateringly tender BBQ meatballs are boldly seasoned and painted with a sticky barbeque sauce. Easily throw these together for a delicious evening meal or a perfect party appetizer!
Print
Pin
Rate
Save
Saved
Ingredients
2

lb

80/20 Ground Beef

4

slices

White Bread

(crust removed & cubed)

6

tablespoons

Milk

2

Eggs

2

teaspoon

Worcestershire Sauce

1

tablespoon

Brown Sugar

1

teaspoon

Salt

1

teaspoon

fresh Ground Pepper

½

teaspoon

Smoked Paprika

½

teaspoon

Garlic Powder

½

teaspoon

Onion Powder

1

dash

Cayenne Pepper

BBQ Sauce

(as needed)
Instructions
Preheat oven to 375 degrees.

In a small dish, soak the cubed bread with milk, ensuring it is completely saturated. Let soak for 10 minutes.

While bread is soaking gently crumble ground beef into a large bowl

In a separate bowl add eggs,

Worcestershire, brown sugar, salt, pepper, paprika, garlic powder, onion powder, and cayenne pepper. Mix to combine and ensure eggs are beaten.

Add soaked bread to the bowl with seasonings and work together to incorporate and break down bread so there are no large chunks.

Add the seasonings bowl to the crumbled beef and gently work it together with your fingers to ensure seasonings are evenly dispersed among the meat.

Scoop out 2 tablespoons of meat at a time and gently roll together between your hands to form into a ball and set on a jelly roll pan. Repeat with all remaining meat.*

Paint meatballs with BBQ sauce and place in the oven for 20 minutes, or until internal temperature reaches 160 degrees.

Remove from oven and serve with additional BBQ sauce on the side.
Notes
*Tip: I like baking meatballs on a wire rack sitting on top of a jelly roll pan. Wrapping the rack with foil and poking holes in it allows the fat to drain away from the meatballs while they cook.  The foil ensures the meatballs don't stick to the rack.
IF YOU LIKED THIS RECIPE be sure to check out my BBQ Meatloaf recipe too!
Nutritional Information
Calories:
470
kcal
|
Carbohydrates:
11
g
|
Protein:
29
g
|
Fat:
32
g
|
Saturated Fat:
12
g
|
Cholesterol:
163
mg
|
Sodium:
1393
mg
|
Potassium:
496
mg
|
Sugar:
3
g
|
Vitamin A:
390
IU
|
Vitamin C:
0.2
mg
|
Calcium:
98
mg
|
Iron:
4
mg
If you enjoyed reading my BBQ Meatballs recipe then you should probably like me on Facebook and follow me on Pinterest too. That's what I would do at least, because if you don't get to know me but you still use my recipe it is kind of like taking candy from a stranger, and your mom taught you not to do that. Don't disobey your mom, subscribe to Fox Valley Foodie today.