Meatballs and gravy is the ultimate comfort food. Tender seasoned meatballs swim in a thick and cream thyme-infused cream gravy, perfect for serving with mashed potatoes or egg noodles.
Meatballs and Gravy
My meatballs and gravy recipe is similar to the popular Swedish meatballs but just different enough to warrant a different name. Meatballs made with beef, pork, and a generous amount of parmesan cheese are bathed in a creamy gravy dressed up with heavy cream and fresh thyme.
How to make meatballs
There are a few basic components required to make great meatballs: meat, breadcrumbs, egg, liquid, and flavorings. Striking the right balance is the secret to crafting perfectly tender meatballs that are loaded with flavor.
Meat - I use an equal blend of ground beef and pork. However, if you only have one or the other on hand, using strictly beef or pork will work just fine. Heck, you could even use venison meatballs in this recipe.
Breadcrumbs - Breadcrumbs make the meatball tender and soak of moisture. ½ cup per pound of meat is the perfect ratio. You can even use a panade instead, as I recommend in my meatball making tutorial, but breadcrumbs are easiest.
Egg - Egg is used as a binder that helps hold everything together. Without it, you will have really tender meatballs, but they will fall apart. One egg per pound of meat is perfect.
Liquid - Liquid must be added to saturate the breadcrumbs, giving the meatballs added moisture. I recommend 3 tablespoons per pound of meatballs. I typically use milk, but beef broth or beef stock works well too.
Flavorings - This is where you can get creative. The possibilities are really endless. In this recipe, I use parmesan, grated onion, Worcestershire sauce, garlic, ground sage, salt, and pepper. However, fresh herbs are a common addition as well.
Once you are happy with your ingredients, mix them together in a bowl, and use a tablespoon to grab a moderately heaping scoop. You are aiming for balls between 1 - 2 tablespoons each.
Tip: Keep a dish of water near you when making meatballs and occasionally dip your hand in it to keep it wet. This will prevent the meatball mixture from getting tacky and sticking to your hand.
How to make gravy
As with most of my gravy recipes, this one also begins as a traditional brown gravy, which I then dress up with soy, Worcestershire, heavy cream, and fresh thyme.
Begin by making a roux, which is a mixture of butter and flour. It is important to cook the roux on low, or medium-low heat to ensure the flour doesn't scorch. You always need to ensure the roux is heated long enough to cook out the raw flour taste.
At this point, the liquid can be added to the roux to create the gravy. Dribble smaller amounts of beef broth in at a time, while stirring, to ensure it fully incorporates. I add the fresh thyme as soon after half of the gravy has been added, to give it added time to impart its flavor. The heavy cream can be added right after the beef broth, then let everything gently simmer until it thickens.
Tip: If your gravy is too thin, let it simmer long. If it is too thick, add a couple of dribbles of water into it to thin it back out.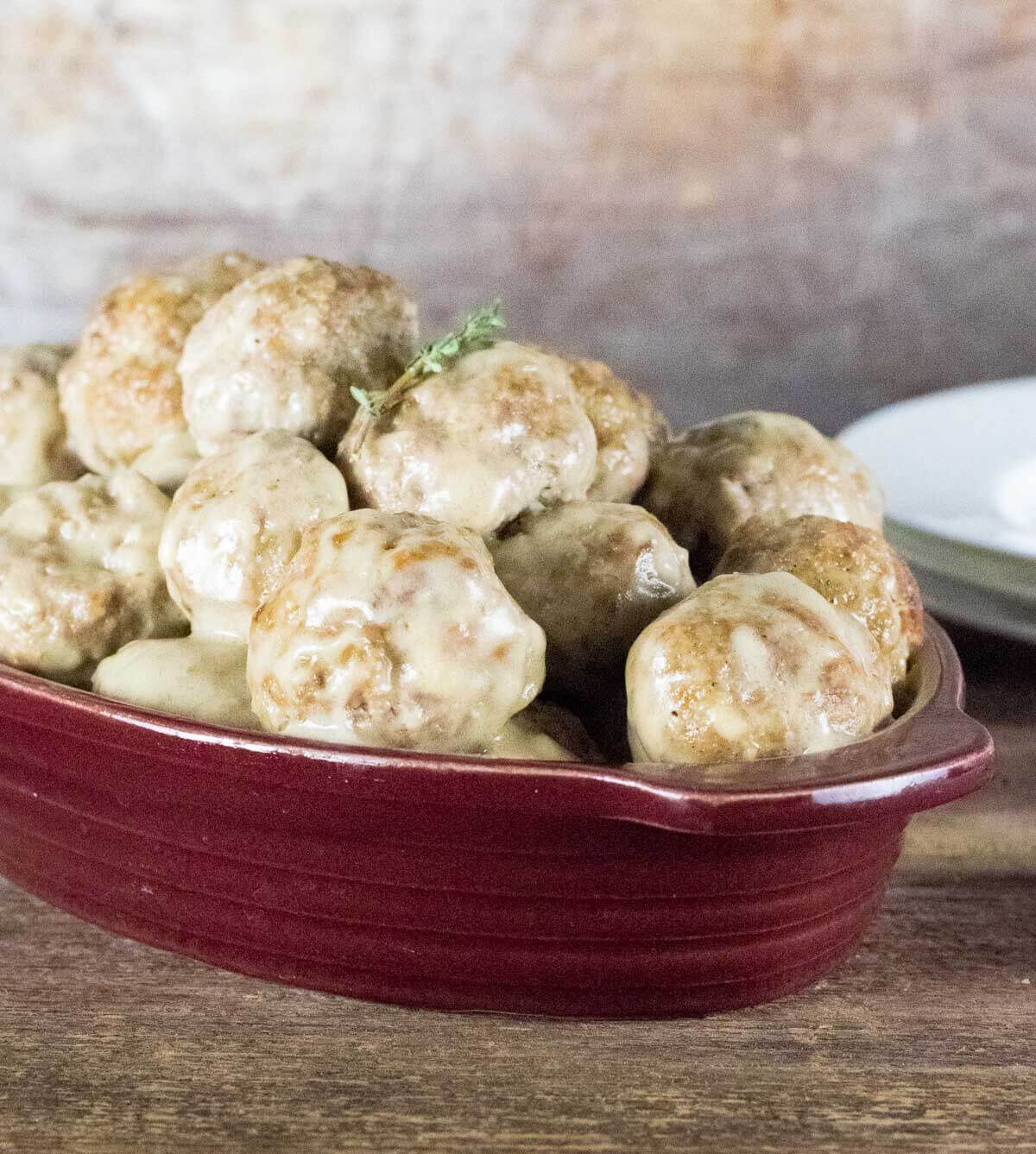 Ways to serve this dish
The best way to serve this dish is over fluffy mashed potatoes, or egg noodles. However, you could even get creative and use my French onion mashed potatoes instead. I get that would be a phenomenal combination. Although not at all traditional, this would even taste great served over homemade spaetzle or German potato pancakes.
Tip: This is a great dish to serve a crowd because it can be kept warm in a slow cooker for serving.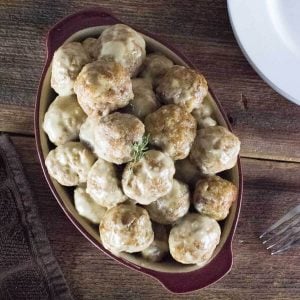 Meatballs and Gravy
Meatballs and gravy is the ultimate comfort food. Tender seasoned meatballs swim in a thick and creamy thyme-infused cream gravy.
Print
Pin
Rate
Save
Saved
Ingredients
Meatballs
1

pound

ground chuck

1

pound

ground pork

1

cup

breadcrumbs

6

tablespoons

milk

2

eggs

½

cup

grated parmesan

⅓

cup

grated onion

2

cloves

garlic

(minced)

1

teaspoon

Worcestershire sauce

1 ½

teaspoon

kosher salt

½

teaspoon

ground sage

½

teaspoon

black pepper
Gravy
¼

cup

butter

¼

cup

flour

2

cups

beef broth

½

teaspoon

soy sauce

½

teaspoon

Worcestershire

1

sprig

fresh thyme

¼

cup

heavy cream
Instructions
Meatballs
Preheat oven to 350 degrees.

Create the meatballs by first gently crumbling the beef and pork into a large bowl. Add all remaining ingredients and mix thoroughly to combine.

Scoop out 1-2 tablespoons of the meatball mixture at a time and form into balls. Place each meatball on a baking sheet, ensuring there is space around each one to allow for even cooking.

Place meatballs in the oven for 20 minutes, or until they reach 160 degrees on the interior.
Gravy
Prepare the gravy while the meatballs bake. Begin by melting butter in a medium sauce pan set over medium-low heat.

Once butter is melted sprinkle in the flour to form a roux and mix with a whisk for 3 minutes.

Slowly add beef broth, a few dribbles at a time, while still stirring. Ensure the liquid is fully incoporated, and repeat until all beef broth has been added. Add fresh thyme sprig, soy, and worcestershire sauce and stir to combine. Finally, stir in heavy cream as well.

Gravy will be thin inititially, let it simmer for approximately three minutes, or until it thickens.
Serving
Place cooked meatballs in a large serving bowl and pour gravy over the top.
Notes
This recipe yields approximately 32 meatballs.
Nutritional Information
Calories:
658
kcal
|
Carbohydrates:
19
g
|
Protein:
36
g
|
Fat:
48
g
|
Saturated Fat:
21
g
|
Cholesterol:
205
mg
|
Sodium:
1373
mg
|
Potassium:
565
mg
|
Fiber:
1
g
|
Sugar:
2
g
|
Vitamin A:
558
IU
|
Vitamin C:
1
mg
|
Calcium:
190
mg
|
Iron:
4
mg