These flavorful baked venison meatballs are so tender they will practically melt in your mouth. Make a batch to use in pasta sauce, meatball subs, or as appetizers.
My favorite thing about having venison in my freezer is finding exciting new ways to prepare it. Making your favorite classic dishes with wild game adds a flavorful twist on an otherwise routine meal.  Even if you have eaten a thousand regular meatballs in your lifetime, crafting them with venison adds a distinguishably different flavor. It is the perfect way to revamp mundane meals!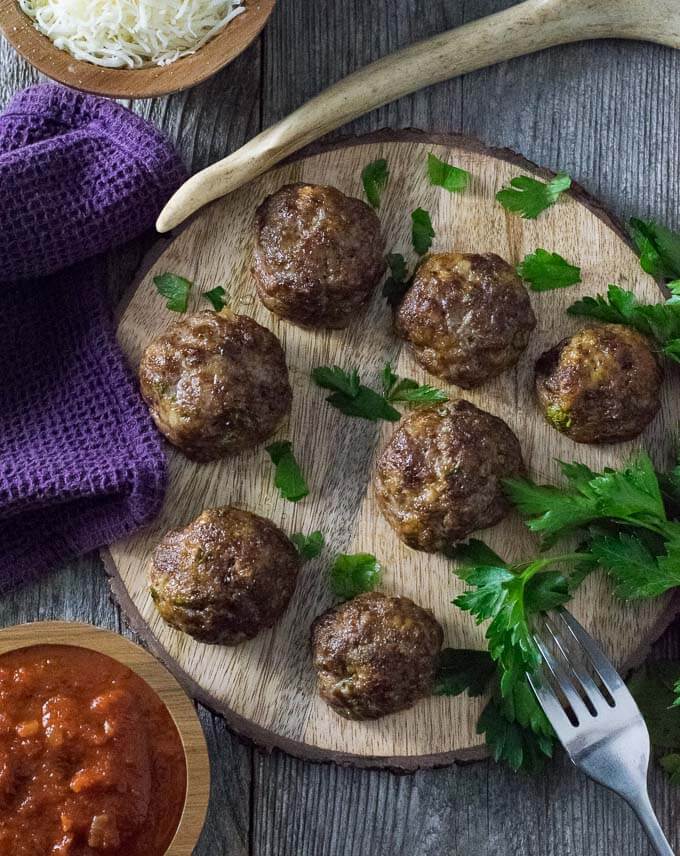 The Venison Meat Mixture
My venison meatball recipe can be made from 100% deer meat, or if you prefer you can blend it with ground beef, veal, or pork. If you wish to blend it with other meats, I would recommend 1 pound venison and 1 pound substituted meat.
How Much Fat in Ground Venison
Venison is a very lean meat so fat should be blended into it. This makes a huge difference because it will add more flavor and moisture. Luckily, if you brought your deer to a butcher to be processed, the butcher most likely added the fat for you. If you are grinding your own venison at home, adding 20% pork fat or beef suet would be ideal for making venison meatballs, and venison burgers too. Personally, I use and love the LEM Big Bite Grinder for processing my own game. 
If you are unsure if your ground venison contains 20% fat, you can always ask your processor. Leaner ground venison is great for tacos or venison chili, however, if it is too lean it will make a dry meatball. In this case, I would recommend using half lean venison and half ground pork shoulder.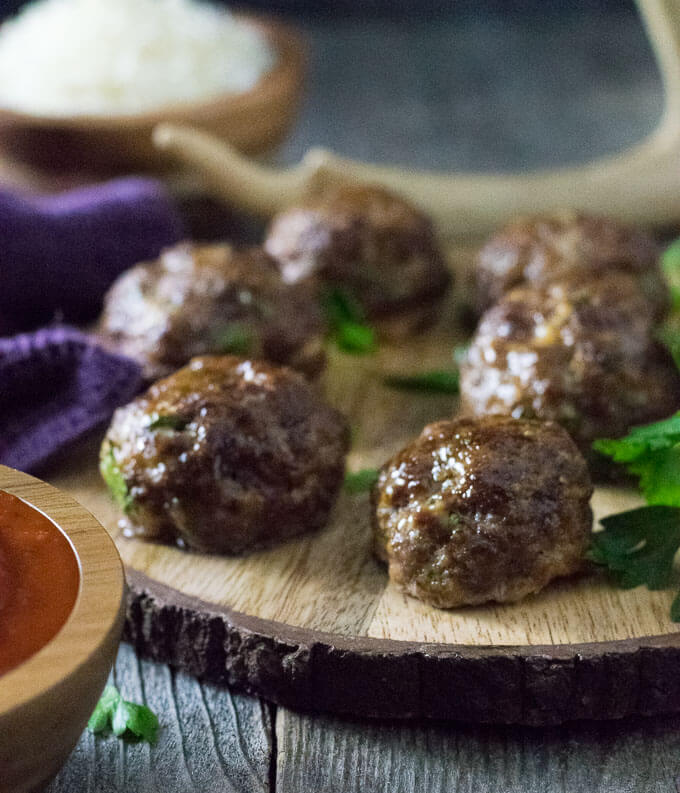 Meatball Mixture Ingredients
Ground Venison 
White bread - 1 cup of breadcrumbs can be substituted instead.
Milk
Eggs
Onion
Parmesan cheese
Fresh Parsley 
Tomato Paste
Garlic
Worcestershire sauce
Seasoning: Kosher salt, black pepper, smoked paprika, and ground sage.
How to Make Venison Meatballs
Making meatballs is easy! First, soak the bread in milk for ten minutes to completely saturate it. While the bread is soaking crumble the ground venison in a large bowl, and add all of the remaining meat mixture ingredients, including the soaked bread once it is ready. Then mix everything together thoroughly.
Now you are ready to form your meatballs. I typically make my venison meatballs two tablespoons in size. Using a cookie scoop for consistent sizing works well. Roll the meatball mixture together between my hands to form perfect round balls.
Tip: Get your hands wet to prevent the meat from sticking to your skin when you form meatballs.
Check out my tutorial on how to make great meatballs for a more in-depth discussion.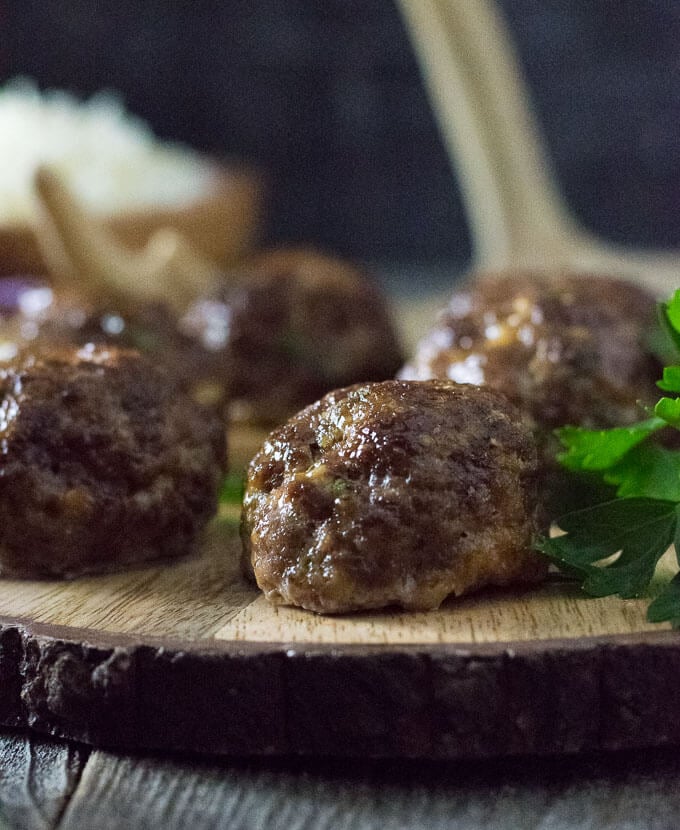 How to cook meatballs
The easiest way to cook meatballs is to bake them in an oven. They should be placed on a rimmed baking sheet and baked at 350 degrees for 20-25 minutes, or until the internal temperature reaches 160 degrees.
Tip: If you plan to serve your meatballs in pasta sauce or tomato sauce, you can broil them for 5-10 minutes and then let them fully cook in the simmering sauce rather than baking them.
Tip: For the best texture and browning you can bake them for 5 minutes less and finish them under the broiler or sear them in a large saute pan over medium heat with olive oil. This will help develop a delicious brown crust on the meatballs.
How to Serve Venison Meatballs
These venison meatballs are great all-purpose meatballs that can be used in a variety of applications. I like using them to make easy meatball subs, however, they would also be great to use as cocktail meatballs in a garlic butter sauce too!
Otherwise, simply serve them over egg noodles, or adding them to your favorite spaghetti recipe is a tried and true favorite as well. If you plan to serve these at a party they can be made in advance and kept warm in your slow cooker.
Can you do me a favor? If you enjoyed my post would you mind sharing it with your friends? You can see more of my recipes by liking me on Facebook and follow me on Pinterest too. Otherwise, stay up to date by getting each new post sent directly to your inbox by subscribing today.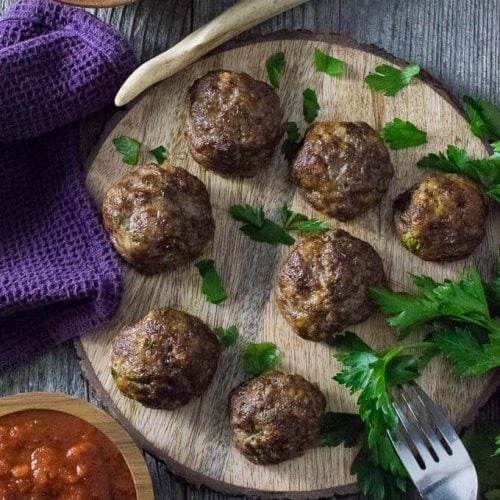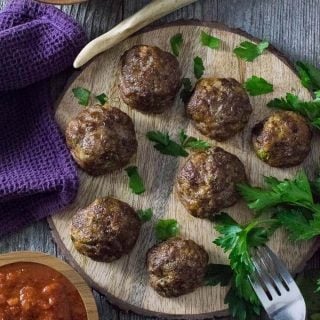 Venison Meatballs
These flavorful all-purpose venison meatballs are so tender they will practically melt in your mouth. Make a batch to use in pasta sauce, meatball subs, or as appetizers.
Print
Pin
Rate
Save
Saved
Ingredients
2

pounds

Ground Venison

(20% fat recommended)

4

Slices

white bread

(Torn into ½" cubes & crust removed)

6

tablespoons

Milk

2

Eggs

⅓

cup

grated Onion

⅓

cup

grated Parmesan

⅓

cup

Parsley

(finely chopped)

2

tablespoons

Tomato Paste

2

cloves

Garlic

(minced)

1 ½

teaspoon

Kosher Salt

1

teaspoon

Worcestershire sauce

½

teaspoon

Black Pepper

½

teaspoon

Smoked Paprika

¼

rounded teaspoon

Ground Sage
Instructions
Preheat oven to 350 degrees.

Place bread cubes and milk into a separate dish and mix with your fingers to ensure bread is completely saturated with the milk. Let soak for 10 minutes.

While bread is soaking gently crumble venison into a large bowl.

In a separate dish add remaining ingredients and mix to combine.

When bread is done soaking, remove any bits that are still firm, and work with your fingers to break down the remaining soaked bread. Add this to the dish with the seasonings and mix together, then add everything to the dish with the venison and gently mix to fully incorporate all of the ingredients.

Scooping out 2 tablespoons of meat at a time, gently form into meatballs by rolling venison mixture between your hands. Set meatballs on a large rimmed baking sheet and place in the oven for 20-25 minutes, or until cooked all of the ways through.

Optional: When meatballs are almost done cooking you can set the broiler to high if you wish to sear a crust onto the top of the meatballs for added texture.
Notes
Venison meatballs can be added to pasta sauce to use with spaghetti, made into meatball subs, or combined with your favorite meatball sauce to serve as an appetizer.
IF YOU LIKED THIS RECIPE you will love my Venison Meatloaf too!
Nutritional Information
Calories:
344
kcal
|
Carbohydrates:
11
g
|
Protein:
39
g
|
Fat:
14
g
|
Saturated Fat:
6
g
|
Cholesterol:
181
mg
|
Sodium:
942
mg
|
Potassium:
645
mg
|
Sugar:
2
g
|
Vitamin A:
595
IU
|
Vitamin C:
5.9
mg
|
Calcium:
155
mg
|
Iron:
5.8
mg
Don't forget to check out the rest of my mouthwatering venison recipes too!