These flavorful Italian meatballs without eggs are just as tender and delicious as traditional meatballs. The secret is adding enough liquid.
That's right, you can make incredibly delicious and juicy meatballs the whole family will love using simple ingredients, and no one will know they are eggless meatballs. So if you are scrambling at the last minute because you don't have eggs on hand, relax! You can still craft deliciously tender meatballs that are going to turn out great.
Why are eggs in meatballs?
Eggs are used when making meatballs to serve as a binding agent that holds all of the ingredients together and helps the meatball hold its shape. However, prior to cooking, the eggs also act as a liquid helping the minced herbs and seasonings disperse more evenly throughout the meat mixture.
Did you know you can make meatloaf without eggs as well as pancakes without eggs too?
What can I use in meatballs instead of eggs?
If you forgot to grab eggs at the grocery store, don't worry. The liquid and breadcrumbs are sufficient to hold the egg-free meatballs' shape and ensure the meatballs are tender. However, we do want to add a little extra liquid to make up for the lack of egg. The extra liquid will help all of the ingredients mix evenly in the absence of eggs.
Instead of adding extra milk, you can also use plain yogurt instead. The main benefit to using yogurt is the extra tangy flavor it also will add.
Ingredients and Substitutions
Ground beef - You can also use ground pork, veal, or any combination.
Plain breadcrumbs - Panko breadcrumbs or crushed saltine crackers can be substituted.
Milk- For a richer flavor use beef stock instead.
Parmesan cheese - I recommend using grated Parmesan over shredded, but either can work. Regardless of which you choose, ensure you are using fresh Parmesan cheeses.
Onion - A sweet onion is my top choice, followed by a yellow onion.
Fresh parsley
Garlic cloves - You can substitute one teaspoon of garlic powder, but fresh garlic is best.
Worcestershire sauce - Soy sauce can be substituted, or both can be omitted.
Fresh oregano - Other fresh herbs such as basil or thyme are the best substitutes. Dried Italian seasoning can be substituted as well, but only use half of the amount called for.
How to make eggless meatballs
Making your homemade meatballs without eggs is very easy. Begin by crumbling the lean ground beef in a large bowl so it is broken into small pieces. This will ensure the ingredients mix more evenly. Then sprinkle in the breadcrumbs, milk, cheese, onion, Worcestershire sauce, garlic, herbs, and seasonings. Working with clean hands, mix everything together until it is well combined.
Use a large spoon or cookie scoop to scoop out approximately two tablespoons of the meatball mixture at a time, or roughly about the size of a golf ball. A good trick is to wet your hands with a little water to prevent sticking and roll the raw mixture between the palms of your hands until a ball forms. Place it on a rimmed baking sheet and repeat until you have made all of the meatballs.
How to cook meatballs
Baking meatballs - The easiest way to cook your meatballs is simply throwing them in a 350 degree oven and bake meatballs for 20 minutes.
Broiling meatballs - The best way to cook meatballs, in my opinion, is baking them for 15 minutes and then finishing them under the broiler. This helps them form a delicious brown crust.
Pan-seared meatballs - Another great way to get better texture on your meatballs is to sear them off in a frying pan in some olive oil and then finish baking them in the oven.
You can use any of the different ways listed above when serving them in marinara sauce or a homemade pasta sauce as well. Cook the meatball until it is almost done and then place it in the sauce on a low simmer to finish cooking.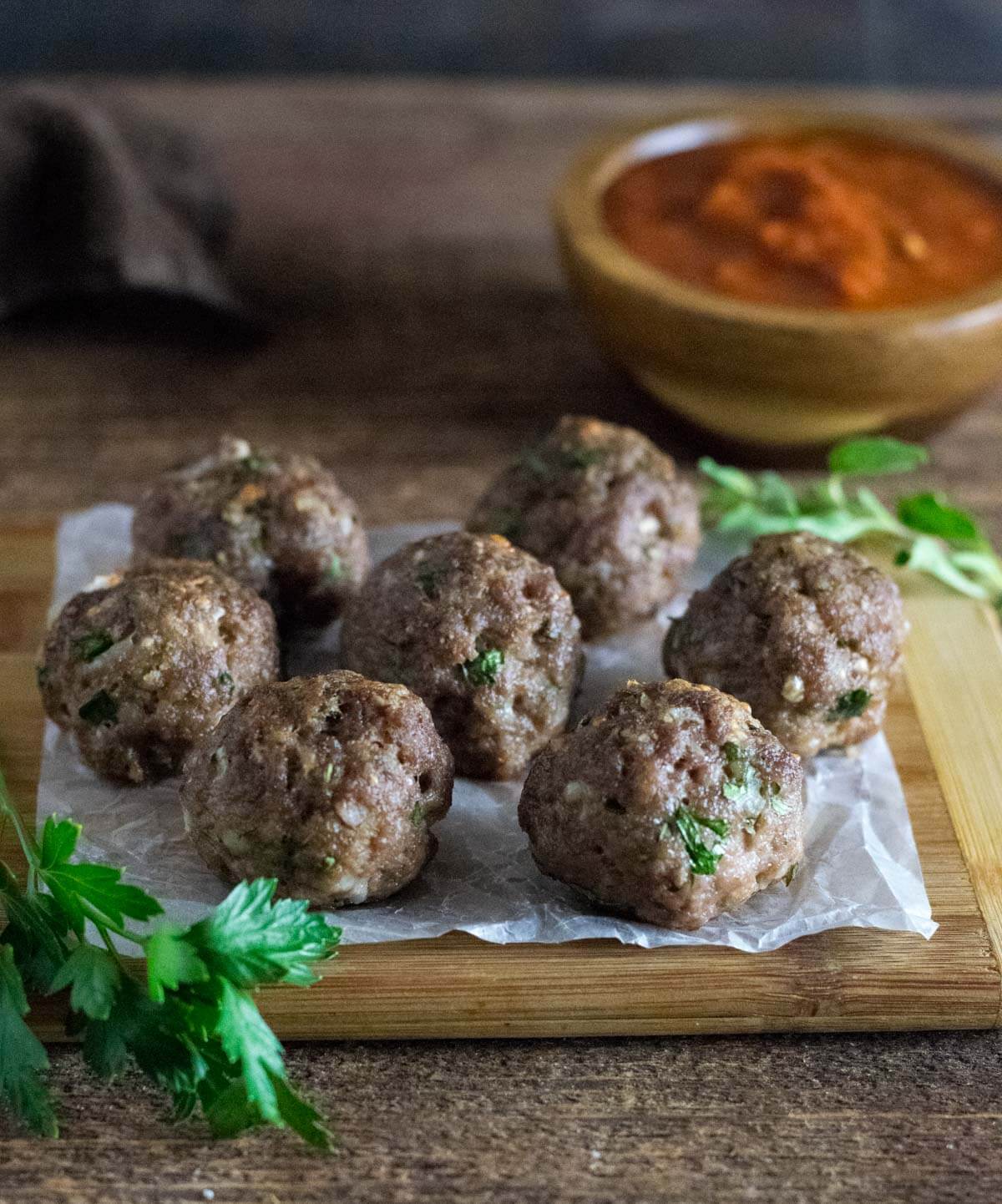 Meatballs FAQ
Can meatballs be made in advance?
Yes! You can either make the raw mixture in advance and keep it in your refrigerator stored in an airtight container until you are ready to cook them. Or you can place them in a freezer bag and freeze the raw or cooked meatballs and enjoy them up to three months later.
How do I reheat meatballs?
The best way to reheat meatballs is to simmer them in tomato sauce on the stovetop. This will gently raise the temperature without drying them out. Alternatively, you can gently reheat small batches of leftover meatballs in the microwave.
More Homemade Meatball Recipes
Can you do me a favor? If you enjoyed my post would you mind sharing it with your friends? You can see more of my recipes by liking me on Facebook and follow me on Pinterest too. Otherwise, stay up to date by getting each new post sent directly to your inbox by subscribing today.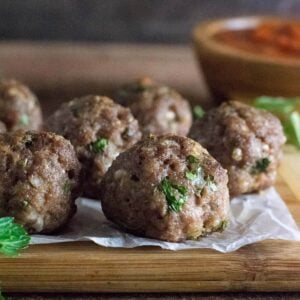 Meatballs without Eggs
These flavorful Italian meatballs without eggs are just as tender and delicious as traditional meatballs. The secret is adding enough liquid.
Print
Pin
Rate
Save
Saved
Ingredients
1 ½

pounds

ground beef

¾

cup

plain breadcrumbs

½

cup

milk

¼

cup

grated Parmesan cheese

¼

cup

grated sweet onion

¼

cup

chopped parsley

3

cloves

garlic

minced

2

teaspoons

Worcestershire sauce

2

teaspoons

chopped fresh oregano

1

teaspoon

table salt

¼

teaspoon

black pepper
Instructions
Preheat oven to 350 degrees.

Crumble the ground beef into a large mixing bowl and then add all remaining ingredients.

Work together all of the ingredients until evenly mixed and well combined.

Scoop out approximately two tablespoons of the meatball mixture and roll it between the palms of your hands to form a ball. Repeat until all of the mixture have been made into meatballs.

Place the raw meatballs on a rimmed baking sheet lined with parchment paper and place in the oven for 20 minutes, or until the internal temperature reaches 160 degrees.
Notes
For more color on your meatballs, bake for 15 minutes, and then set the broiler to high heat and finish cooking the meatballs under the broiler.
You can use fresh thyme or basil instead of oregano, or use two teaspoons of any combination.
This easy recipe yields approximately 24 meatballs.
Nutritional Information
Calories:
569
kcal
|
Carbohydrates:
20
g
|
Protein:
35
g
|
Fat:
38
g
|
Saturated Fat:
15
g
|
Polyunsaturated Fat:
1
g
|
Monounsaturated Fat:
16
g
|
Trans Fat:
2
g
|
Cholesterol:
130
mg
|
Sodium:
1007
mg
|
Potassium:
633
mg
|
Fiber:
2
g
|
Sugar:
4
g
|
Vitamin A:
440
IU
|
Vitamin C:
6
mg
|
Calcium:
190
mg
|
Iron:
5
mg