Many people need to make their family meatloaf without breadcrumbs due to dietary restrictions or personal preferences. Using some easy substitutions, there are a lot of fantastic options to make this mouthwatering comforting meal without reaching for processed bread.
Typically a classic meatloaf recipe, like my wildly popular brown sugar meatloaf, will call for breadcrumbs because they help hold moisture in the loaf, while also making it more tender overall. However, I love this recipe because the meatloaf is juicy, exceptionally tender, and is lacquered with a tangy balsamic-ketchup glaze. This meal will soon become a family favorite, even if you don't have special diet needs.
What can I use instead of breadcrumbs in meatloaf?
The best meatloaf is the one you feel good about eating. My recipe calls for oatmeal, but you can use any of the suggestions below to make a good meatloaf without compromising your diet. After all, you know your family best, so create a meal the whole family can enjoy together!
Oatmeal - Quick oats or rolled oats are both fine, but I like quick oats best.
Panko - These are a great option, but unfortunately pose many of the same dietary concerns as breadcrumbs.
Almond flour - Is often found in a keto meatloaf recipe.
Pork rinds - Crushed up pork rinds are great for anyone on a keto diet craving low carb comfort food.
Grated parmesan cheese - This will add moisture to the loaf, but it doesn't absorb liquids like oats or bread will.
Diced vegetables - Diced mushrooms, green pepper, or onion will help create a moist meatloaf and prevent the meat from overly compacting.
Ingredients You Will Need for this recipe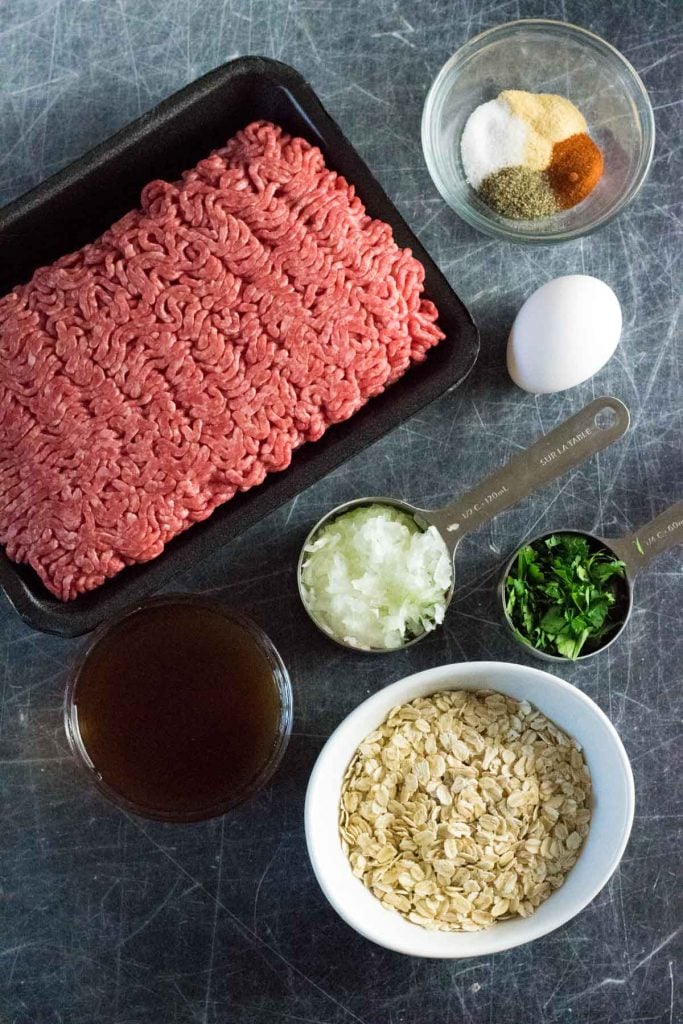 Ground beef - I use 80/20 beef, but 85-15 is also great. Lean ground beef will create a drier meatloaf, so it is important to include some fat.
Quick oats - They can be left whole, or grind them up for more of a breadcrumb texture.
Grated onion
Beef broth
Fresh parsley
Egg
Worcestershire sauce
Seasonings - Garlic powder, paprika, black pepper, and salt.
Meatloaf Glaze
Ketchup
Balsamic Vinegar
Dijon mustard
The balsamic ketchup glaze for this recipe is such a simple sauce to prepare. In a small bowl combine the three glaze ingredients and it is ready to use. I recommend putting a couple of spoonfuls of glaze under the meatloaf to prevent it from sticking to the pan. The rest is painted on top of the loaf.
How do I make it?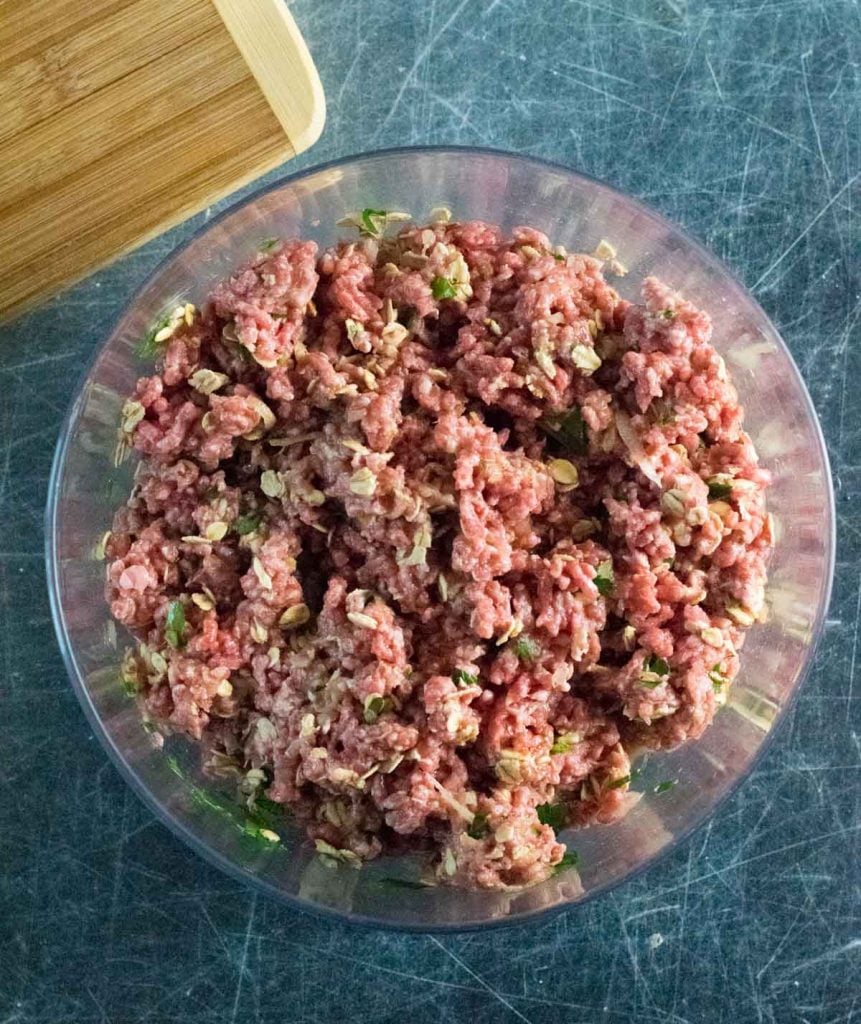 Begin by crumbling your ground beef into a large bowl. Then add all of the other loaf ingredients to the bowl and mix to combine.
Note: You can leave the oats whole if you like the texture of the large flakes, or chop them up into smaller bits to resemble breadcrumbs.
The meat mixture needs to be formed into a loaf. This can be done on a rimmed baking sheet, but it is easiest to use a loaf pan. With either choice, I recommend placing aluminum foil or parchment paper under the loaf to prevent sticking. I also spoon a little glaze under the meatloaf so it doesn't stick to the foil either.
Note: If using a baking sheet, you will have to create the loaf shape yourself, which isn't difficult. However, the loaf typically sits flatter, which can result in faster baking times.
Once the loaf is formed, paint the top of the loaf generously with the remaining glaze. Now it is ready for the oven. Place it in a 350 degree oven for one hour and ten minutes, or until the interior reaches 160 degrees. Finally, remove it from the oven and let the meatloaf rest for 5-10 minutes to allow the juices to settle.
Note: The total baking time will vary depending on how thick your meatloaf is. I recommend keeping a probe thermometer inserted in the meat as it cooks so you can monitor the progress.
Meatloaf FAQs
How do I store meatloaf?
Store your leftover meatloaf in an airtight container in the refrigerator for up to four days. Use the leftovers to make incredible meatloaf sandwiches!
How should I reheat meatloaf?
Meatloaf slices can be reheated in the microwave, but the best way to reheat meatloaf is to place it in a 350 degree oven until warmed through.
Can meatloaf be frozen?
Yes, you can prepare the raw meatloaf in advance and freeze it. You should wrap it in plastic wrap and place it in a freezer storage bag to prevent freezer burn. Making multiple loaves and freezing them makes meal prep on busy weeks easy.
What to serve with meatloaf?
Finish rounding out your meal with any of these great options.
Can you do me a favor? If you enjoyed my post would you mind sharing it with your friends? You can see more of my recipes by liking me on Facebook and follow me on Pinterest too. Otherwise, stay up to date by getting each new post sent directly to your inbox by subscribing today.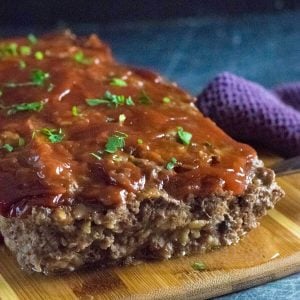 Meatloaf without Breadcrumbs
Many people need to make their family meatloaf without breadcrumbs due to dietary restrictions or personal preferences.
Print
Pin
Rate
Save
Saved
Ingredients
Meatloaf Mixture
1 ½

lbs

ground beef

80/20 beef recommended

¾

cup

oatmeal

½

cup

grated onion

¾

cup

beef broth

¼

cup

chopped parsley

1

egg

beaten

2

teaspoons

Worcestershire sauce

1

teaspoon

table salt

½

teaspoon

garlic powder

½

teaspoon

paprika

¼

teaspoon

black pepper
Meatloaf Glaze
½

cup

ketchup

2

tablespoons

balsamic vinegar

1

teaspoon

Dijon mustard
Instructions
Preheat oven to 350 degrees.

Crumble the ground beef into a large bowl and add all remaining meatloaf mixture ingredients. Mix well to fully combine.

Prepare the glaze by mixing together the ketchup, balsamic vinegar, and Dijon mustard.

Line your loaf pan with foil and add a couple of spoonfuls of glaze to the bottom of the pan to prevent sticking. Then add all of the meatloaf mixture to the pan and press firmly to form into a loaf. Paint the top of the meatloaf with all of the remaining glaze.

Place the meatloaf in the oven for 1 hour and 10 minutes, or until the internal temperature reaches 160 degrees. The total cooking time will vary depending on how thick your meatloaf is.

Once finished, remove the meatloaf from the oven and let rest for 5-10 minutes prior to slicing and serving.
Notes
Quick oats or rolled oats both work, I like using quick oats best. You can also chop or grind them for a finer texture.
If you don't have a loaf pan, a rimmed baking sheet can also be used. You will just have to form the meatloaf independently.
Nutritional Information
Calories:
358
kcal
|
Carbohydrates:
12
g
|
Protein:
22
g
|
Fat:
24
g
|
Saturated Fat:
9
g
|
Trans Fat:
1
g
|
Cholesterol:
108
mg
|
Sodium:
801
mg
|
Potassium:
480
mg
|
Fiber:
1
g
|
Sugar:
6
g
|
Vitamin A:
438
IU
|
Vitamin C:
5
mg
|
Calcium:
44
mg
|
Iron:
3
mg