Crafting the perfect meatball is more than following a recipe, it is about mastering the technique. Let me show you how to make freaking great meatballs!
As a child, I loved playing in the mud. Heck, I actually even asked for mud for Christmas one year. Why Santa didn't give that to me, is beyond me. I was letting him off cheap! With a few more Decembers in my rearview mirror now, I no longer find myself squishing mud through my fingers, instead, I have graduated to raw meat. Not only is it far more socially acceptable, you can play with it in the house, and it tastes better! At least when you turn it into meatballs!
I have endured more lackluster meatballs in my life than I care to admit. Dense rounds of cooked meat, with all the flavor and texture of a golf ball, pressed together with a force that could evict a diamond out of a Kingsford briquet. You can have the best recipe in the world, but if you don't understand the technique, your meatballs will haunt diner's dreams for all the wrong reasons.
So, how do you make great meatballs from scratch? Let's take it step by step.
What is the Best Meat for Meatballs
The first consideration when making meatballs is what meat to use. It is important to use fatty ground meat, or the texture will be dry and crumbly. However, any combination of beef, pork, or veal will work well. Personally, I enjoyed the more rounded flavor of half beef and half pork. I think ground pork is one of the most under-appreciated meats in the grocery store (pork burgers anyone?). Though, if you only have ground beef on hand, your meatballs will still be great,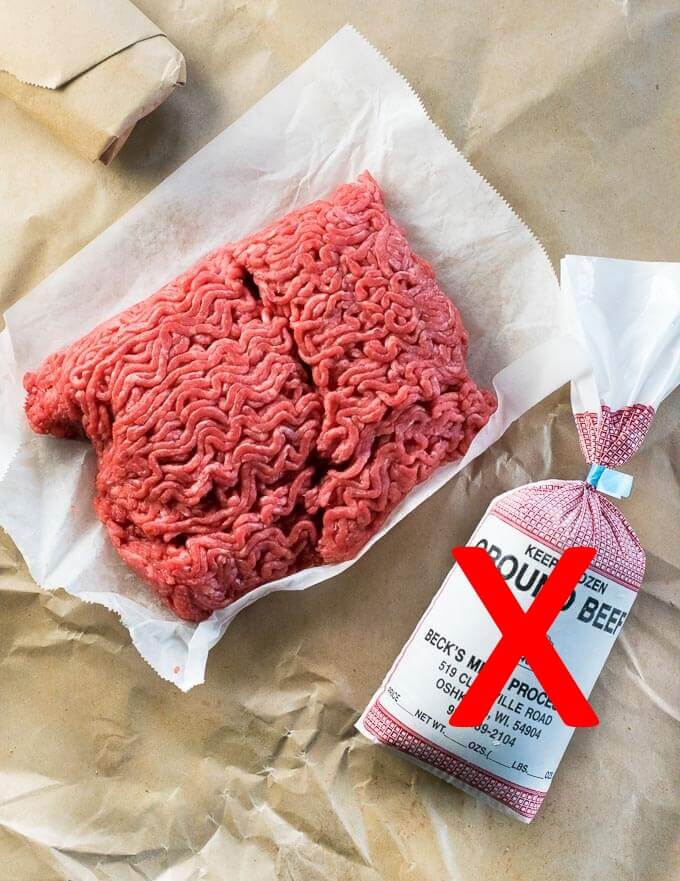 Regardless of which variety of meat you use, it is important to buy it freshly ground so you can still see the individual strands of meat from the grinder (as shown above). Skip the prepacked tubes of meat, as the meat has already been overly compacted. You want the looser strands of meat because when gently combined with the other ingredients it will make a far more tender meatball.
How to Make Meatballs without Breadcrumbs
The most common addition to meatballs is breadcrumbs. Breadcrumbs help bind the meat together, however, believe it or not, it is actually better to make meatballs without breadcrumbs. Rather than using breadcrumbs, slices of white bread are far superior. Removing the crust from white bread and cutting it into ½" cubes allows you to make a panade. Basically, a panade is bread soaked in liquid till mushy, and then it is used as a binder or thickener. Soaked bread has all of the binding power of breadcrumbs, with none of the dryness. You will get a far more tender meatball when making a panade.
Tip: If needed, you can also make meatballs without eggs.
How to Make Meatballs
The most important step to any meatball recipes is how you actually make the meatballs. There is more to it than mixing the meat and forming balls. You want to work the meat as little as possible. The more the meat is stirred, squeezed, and squished, the denser your meatballs become.
One trick I discovered is to mix all of the ingredients with the panade, separate from the meat. This allows you to ensure everything is mixed homogeneously before simply blending it with the meat. Also, it is important to use your hands to do the meat mixing. This will give you a more gentle touch than using a mixer.  Finally, when forming the meat mixture into balls, gently roll it in the palm of your hands pushing only enough to hold the meat together.
How to Make Meatballs in the Oven
Personally, I think the best way to make meatballs is in the oven. Baking and broiling are great options, but I think broiling is the best. Not only is broiling quicker, the high direct-heat forms a nice crust on the exterior of the meatball which provides fantastic texture. Once browned sufficiently the meatballs can finish cooking by simmering in pasta sauce on the stovetop.
If you wish to bake your meatballs, place them in an oven preheated to 350 degrees until the interior reaches 160 degrees with a digital thermometer. This takes 20 minutes for me, but I've seen some recipes claim as much as 35. That is why it is important every kitchen has a digital meat thermometer.
This post contains affiliate links. Any Amazon purchases made through these links help support FoxValleyFoodie.com at no additional cost to you.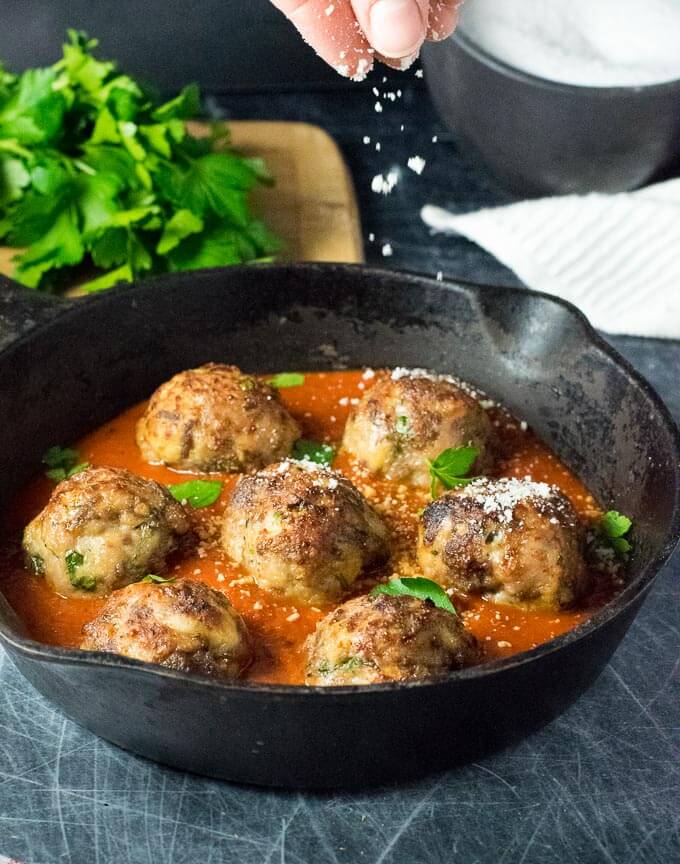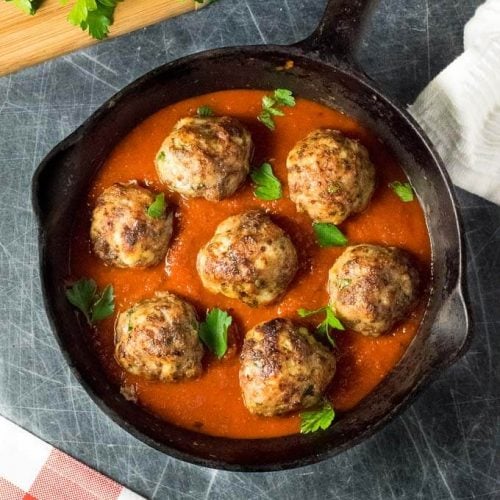 How to Make Freaking Great Meatballs
Crafting the perfect meatball is more than following a recipe, it is about mastering the technique. Let me show you how to make freaking great meatballs!
Print
Pin
Rate
Save
Saved
Ingredients
1

pound

ground chuck

80/20 beef

1

pound

ground pork

2

cups

white bread

(½" cubes & crust removed)

6

tablespoons

milk

2

eggs

½

cup

grated parmesan

½

cup

parsley

(finely chopped)

⅓

cup

grated onion

2

cloves

garlic

(minced)

1

teaspoon

Worcestershire sauce

1 ½

teaspoon

kosher salt

½

teaspoon

pepper
Serving
48

ounces

pasta sauce (optional)
Instructions
In medium bowl add cubed bread and milk to create a panade, tossing to ensure bread is fully saturated and let sit 10 minutes to soak.

While bread is soaking gently crumble beef and pork into a large bowl.

Prepare remaining ingredients in a separate dish and when bread is done soaking add them to the panade. Mash the soaked bread with your fingers to break it down and combine with the other ingredients. Any bits of bread that aren't fully saturated can be removed, otherwise add additional milk if much of the bread is not yet mushy.


Pour bread and seasoning mixture over the crumbled meat and gently combine with the meat using your fingers. Work the meat only as much as needed to blend with the ingredients.

Scoop out 2 tablespoons of meatball mixture at a time and gently form it into balls by rolling between your palms. Keep your hands wet to avoid sticking.

At this point, meatballs can be frozen for later use, or cooked immediately.
Cooking Meatballs
BROILING: Set broiler on high and place meatballs on a greased baking pan. Broil until the exterior of the meatball browns. Finish cooking the interior of the meatball in simmering pasta sauce, 5-10 minutes.

BAKING: Preheat oven to 350 degrees. Place meatballs on a greased baking pan and bake for 20 minutes, or until the interior of the meatball reads 160 degrees with a digital meat thermometer.
Serve
Serve the meatballs in pasta sauce with spaghetti or with buns and Italian cheese to make meatball subs.
If you enjoyed reading How to Make Freaking Great Meatballs then you should probably like me on Facebook and follow me on Pinterest too. That's what I would do at least, because if you don't get to know me but you still use my recipe it is kind of like taking candy from a stranger, and your mom taught you not to do that. Don't disobey your mom, subscribe to Fox Valley Foodie today.