There are a lot of ways you can prepare asparagus, however learning how to roast asparagus in the oven is the tastiest of all! The high oven temperature slowly chars and crisps each tender stalk, coaxing out flavors you didn't know existed! Whether you are looking for a healthy meal, or just a flavorful side, roasted asparagus won't disappoint!


It is spring again; birds are chirping, snow has melted, and we can crawl out of hibernation! It's my favorite time of year! Well not really, I just have to say that because I'm a food blogger and we need to sound all happy and annoyingly cheery while promoting a blog post so you think "Everything is Awesome!" (That phrase has to sung like the Lego Movie theme song… if you don't know what I am talking about consider yourself lucky)
In reality I only like spring because it is not winter. I much prefer summer and fall, when nature doesn't look all crusty and dead… except, of course, when fall is all crusty and dead. But that doesn't count. Spring does have it perks though. One of my favorite side dishes, roasted asparagus, is in season during the spring time! I love me some on-sale produce!
There is a lot of ways you can prepare asparagus, but I think by far the best tasting of them all is roasted asparagus in the oven. This recipe is dead simple, and super healthy. This dish was one of my staples when I lost 45 pounds a few years ago. Even though the asparagus is tossed in oil, it is olive oil which is heart healthy and full of omega-3s. So let's dive into how to roast asparagus in the oven.
How to Roast Asparagus in the Oven
To have tender roasted asparagus you need to trim it properly. Don't worry if you aren't an expert in the kitchen, it is actually quite simple to execute. As a general rule you only need to trim the bottom inch or two of the stalk. That is section is fairly woody and fibrous, so it isn't as enjoyable to eat. If you are unsure where to trim exactly, try breaking the lower portion of the stalk in half. The point at which it breaks is pretty close to where you should be trimming.
As you'll see in the recipe below, the asparagus is roasted at 475 degrees for 15 minutes. The high heat helps crisp the asparagus and develops additional flavors you wouldn't be able to enjoy when roasted at a lower temperature.  Though, if you are reheating asparagus for leftovers, then I recommend using a lower oven temperature. 350 degrees would suffice.
I simply season the stalks with salt and pepper, but if you are looking to jazz up the recipe, sprinkle some freshly grated Parmesan over the asparagus before or after roasting. A squeeze of lemon juice is a nice touch too, prior to serving.
There isn't any special equipment needed for this recipe. A large jelly roll pan will do the trick. I like those because they have raised edges so the asparagus doesn't fall off the sides when you are moving them around.
The above link is an affiliate link. Any Amazon purchases made through the link helps support this blog without any additional charges to you.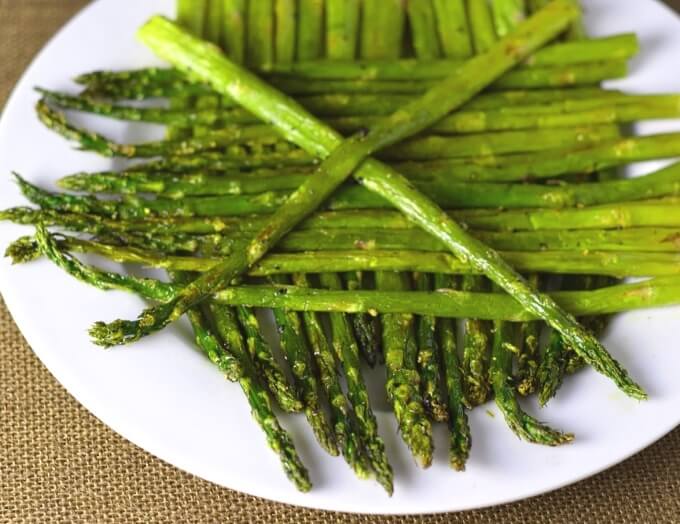 How to Roast Asparagus in the Oven
Roasting asparagus in the oven is one of the easiest and best tasting methods of preparing this side dish. This dish is as healthy as it is delicious!
Print
Pin
Rate
Save
Saved
Ingredients
1

bunch of asparagus,

woody ends trimmed

1

tablespoon

Olive Oil

Kosher Salt

Fresh ground pepper
Instructions
Preheat oven to 475.

Toss asparagus in olive oil and seasoning.

Place on single layer in a jelly roll pan and roast for 15-20 minutes, turning once. Asparagus should be slightly charred but not burnt.
Notes
Sprinkle with Parmesan cheese if desired.
IF YOU ARE LOOKING for the perfect entree to serve with this, check out my Coffee Crusted Steak recipe!  It is a match made in heaven!
Nutritional Information
If you enjoyed reading How to Roast Asparagus in the Oven then you should probably like me on Facebook and follow me on Pinterest too. That's what I would do at least, and if you are willing to take my advice on the food you put into your body you should probably follow my advice on that too.
How to Roast Asparagus in the Oven was originally published April 6, 2015.